What is geofencing and how can it help my business?
We carry our phones with us everywhere, and we use them for everything — to browse the internet, to shop, and yes, to communicate with each other. So it shouldn't be surprising that this has resulted in monumental shifts in marketing. And these shifts have opened up new marketing avenues for small businesses — with associated benefits — that were normally only reserved for large businesses. One such method is geofencing. But what is geofencing?
As a small business owner, you're probably well aware of the importance of marketing, especially when it comes to right person, right place and right time. And geofencing can certainly make that connection happen. In this article, I will introduce this marketing method and explain how it can help your business, with some real-world examples of companies using geofencing effectively.
What is geofencing?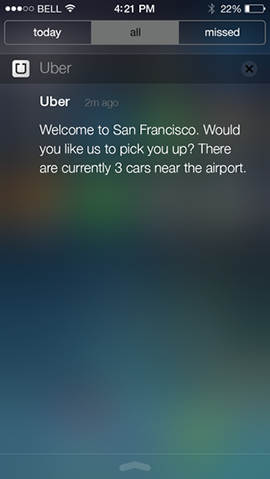 A geofence is little more than a virtual perimeter you define around a specific geographic location. It could be the precise location of your business, a larger region around your business, or even the location of your nearest competitors. You're then able to send push notifications or text messages, or display a relevant ad in browsers or social media feeds, whenever any of your customers enter or leave the geofenced area.
Customers are typically identified by:
Using your business's mobile app
Social media profiles
Browser and search history
And this all happens automatically, with you having to do little more than define your geofence, segment your customers, and decide what marketing messages are sent. For example, Uber places geofences around large airports, sending helpful notifications to travellers to try and stir up business.
How to implement geofencing
The three most common methods for identifying the location of your customers in real-time rely on leveraging data collected via mobile apps, social media and modern internet browsers. This information can be used to launch highly effective geofencing marketing campaigns.
Mobile app. If you have already launched a mobile app for your business using a DIY app builder, then there's a good chance it includes geofencing abilities. If you used a developer or agency to create your mobile app, speak to them about geofencing solutions you can incorporate.
Social media. Defining a hyperlocal audience based on location has been available on all the major social networks for some time now. You are able to target your social media ad campaigns based not only on demographics, behaviour and interests, but also fairly narrow geographical locations.
Facebook allows you to define a location right down to within a one-mile radius of a precise address.
On the other hand, the narrowest you can define on Twitter is within postal codes of specified locations. In essence, this is geotargeting rather than geofencing, but there are ways to combine social media use with geofencing.
Internet browser. Depending on which advertising network or agency you use, you can create ads that are only shown to customers (existing and potential) when they are within a predefined (geofenced) location. Denny's used this approach to first boost click-through rates on their ads before refining the campaign to boost in-store visits.
Benefits for your business
The benefits of geofencing to your business depend on how you implement geofencing, and how well you manage it. There is a fine line between adding value to your customers lives and being annoying, so it is important to find the right balance. Consider the following three benefits, along with real-world examples of businesses enjoying them.
Cost-effective marketing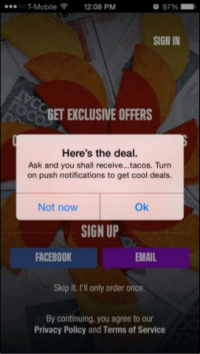 Many marketing decisions are based on cost and return on investment (ROI). At the start of this article I mentioned right person, right place and right time — and a marketing campaign that uses geofencing brings you closer to that at a lower cost.
With the right segmentation, you're not only reaching your ideal customer, but you're also reaching them when they're in close proximity to your business. Take this Taco Bell app, for example. Users can customise, place, and pay for an order without being inside a Taco Bell restaurant.
Taco Bell highlights the value in enabling push notifications for their app, which are later used to send targeted messages when users are close to any of their locations.
They're alerted when customers are near, and customers get to place orders ahead of time, meaning their food is fresh, hot and ready-to-go when they walk through the door. They also use geofencing to send targeted push notifications to users under 30 whenever they are close to a Taco Bell restaurant. And, their annual sales increased by six percent.
Draws customers in
Beyond promoting your brand, geofencing works by giving customers a reason to visit your business. They might be nearby, but that doesn't mean they're aware of what you have in stock or of any promotional offers — unless you tell them.
In 2011, The North Face started experimenting with geofencing, sending text messages to customers who had opted in for the service. Initial messages focused on deals and new arrivals, but eventually expanded to include weather alerts for hikers and skiers.
The immediate result was a 79 percent increase in store visits from people receiving the notifications, with 65 percent reporting that they had made a purchase as a result of the reminders.
A variation on this approach — labeled geo-conquesting — is to geofence the locations of your competitors and deliver messages and ads promoting your business to customers in the vicinity of your competitors.
And if you're hesitant to poach customers from your competition, co-marketing geofencing campaigns could be a different option. You could try targeting customers in businesses whose services and products complement your own. Think of a barber targeting visitors to a men's formalwear store or a chocolatier targeting a florist's customers.
Better insights into customer behavior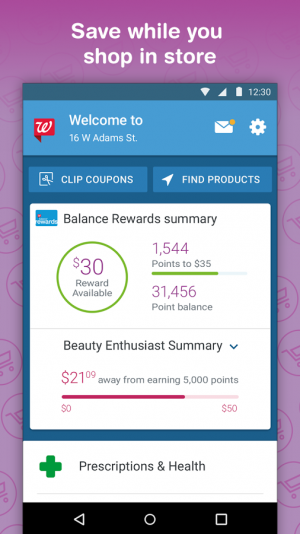 The amount of personal information you have on your customers will depend on what you have collected from them and whether you're using geofencing in conjunction with a mobile app or social media and internet browser. But with careful analysis of your geofencing data and other business data, you can create more detailed segments of your customers, enabling you to target them better with ads, social media posts and push notifications that are more relevant to behavior and interests.
Because customers are faced with so many businesses vying for their attention and loyalty, they tend to respond more to those with offers and messages that are tailored to their interests and behaviour.
Walgreens has been experimenting with geofencing for some time now to better understand their customers and ultimately improve their experience. They haven't found the perfect solution yet, but they have managed to integrate geofencing with their loyalty program. Whenever a Walgreens customer breaches one of their geofences, the customer receives a push notification which, when swiped, opens the Walgreens app, displaying the customer's reward card and a list of personalized coupons.
In conclusion
There are other location-based services available, from iBeacons that allow you track (and engage with) customers more accurately inside your business, to QR codes for "checking into" your business and even for accessing coupons. But geofencing remains the most accessible to both large and small businesses with the widest range of possible uses. And as long as you don't become too intrusive or annoying, there are countless ways in which geofencing can benefit you and your customers.
Image by: Nanagyei via VisualHunt.com / CC BY