There's a well-known moral exemplified in The Hare and the Tortoise fable — "slow and steady wins the race." The same is true for ecommerce marketing.
Once you launch your website, it takes time to build a loyal customer base. You need persistence and a variety of marketing tactics and channels to reach your target audience, turn them into purchasers, and create a reliable stream of new and returning customers. You don't want to overwhelm or irritate buyers with aggressive marketing to try to build your business faster. Effective marketing requires patience to allow new customers to become familiar with your brand over time and purchase once you've built trust.
Build your business using multiple marketing channels to engage and attract new buyers and build long-term relationships with them. These are techniques any business can add to their ecommerce marketing strategy on any budget.
1. Spread the word on social media
Social media can get your brand in front of new eyes with little investment. And people like to interact with brands on social, so it's worth setting up a profile.
90%

of people on Instagram follow a brand, and

54%

have made a purchase after seeing a product or service on the channel.

Two-thirds

of Facebook users visit a business page at least once a week on the platform.

Over 90%

of YouTube users discover new brands or products there.
Social media marketing is all about consistency and connection.
Post regularly to frequently reach and engage your followers, so they get in the habit of interacting with you.
Generate relatable content that shows off your brand's personality, so people have a reason to follow you. Your social media posts aren't ads. So while you should share links to your website and products on occasion, aim for no more than 20% promotional content. Create unique value for your followers by adding something entertaining or useful to their feeds.
Healthy Roots Dolls has used social media to triple the brand's mailing list, increase brand awareness, and spread the brand's mission.
And no need to be everywhere at once. Start with just one or two social profiles so you don't spread yourself thin. Focus on the channels your audience is actually using. Ask your customers where they like to follow brands through a quick social media survey, look at your competitors to see if they've built a following, and compare your audience to the demographics and interests of the platforms you're considering. For example, according to Pew Research, Pinterest's users skew slightly older and women outnumber men on the platform by 2.9x. While YouTube is very popular with millennials and Gen Z and has a relatively even gender balance between men and women.
Make social media posting a breeze without constantly monitoring your accounts by using a social media marketing tool like Buffer, MeetEdgar, or Hootsuite. They allow you to schedule posts ahead of time and track their performance from one central hub.
2. Have an SEO (search engine optimization) strategy
38% of traffic to online retailers comes from organic search. Optimize your online store to show up in search engine results and increase traffic by incorporating relevant keywords into your product listing titles and descriptions.
Identify relevant keywords with an SEO tool like Ahrefs or Moz. Then, optimize your ecommerce store for search based on the most relevant keywords to your brand.
Beyond product pages, you can also create SEO-optimized landing pages that answer common questions and optimize your blog posts.
3. Launch a blog
Ecommerce businesses across industries use blogs as a primary element of their content marketing strategies. Blogs help online businesses reach new audiences, build trust, and provide customers with valuable information.
Write on topics adjacent to your products that your customers would find valuable. For example, skincare brand Dear Brightly shares skincare tips for various skin concerns and information on skincare ingredients. Travel backpack company Tortuga recommends travel products and gives packing tips on its blog. And sustainable tooth care brand Bite writes about eco-friendly living.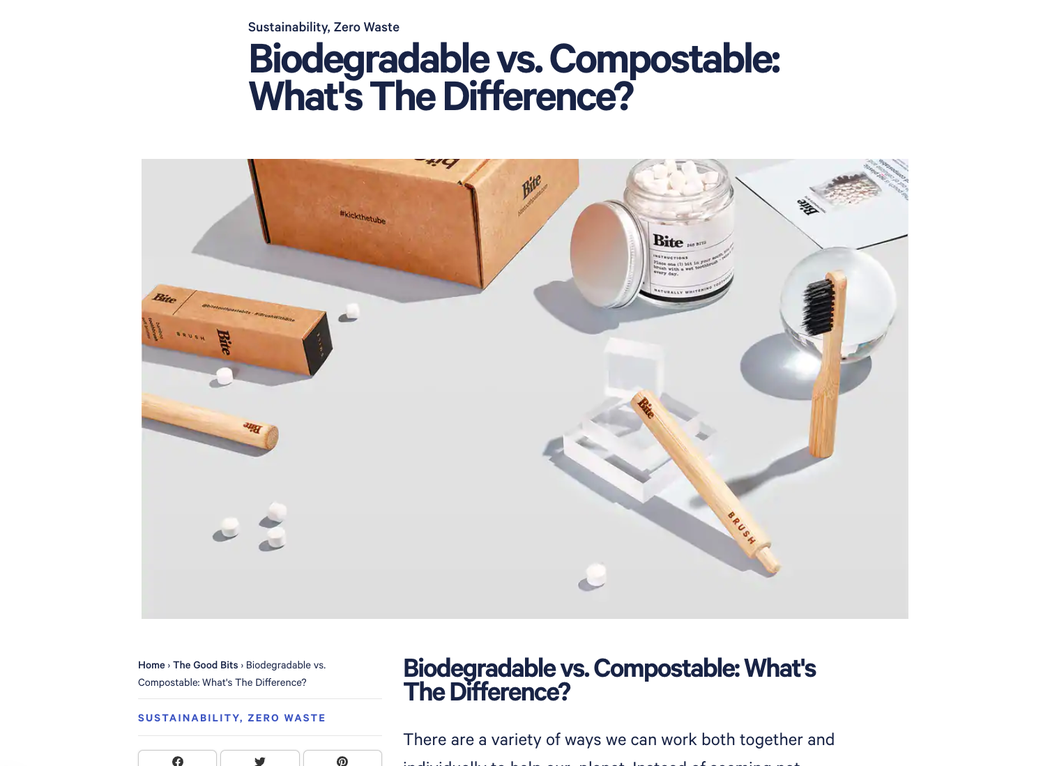 [Source]
The content doesn't necessarily promote their products, but it builds trust by connecting with customers on shared values.
And all three brands use an SEO strategy for their blogs to reach more people.
4. Develop an email strategy
Email is a great way to build connections with your customers. And it's an essential channel to continue the conversation with incoming website visitors who decide not to buy right away. Once you get people to your site, it's important to keep their attention. And as consumer data privacy changes take third-party data away, it's all the more important to own your relationships with your customers. An email subscription earns you the right to speak directly to your customers, and it means they want to hear from you.
According to a survey by Litmus, retail, consumer goods, and ecommerce companies see $45 in return for every dollar spent on email marketing.
Email automation flows are the most effective way to engage your subscribers. Email flows are designed to reach customers at the right times to encourage purchases based on their actions. For example, a welcome series has a conversion rate 20x higher than regular email marketing campaigns like newsletters, according to Klaviyo's 2021 benchmark report.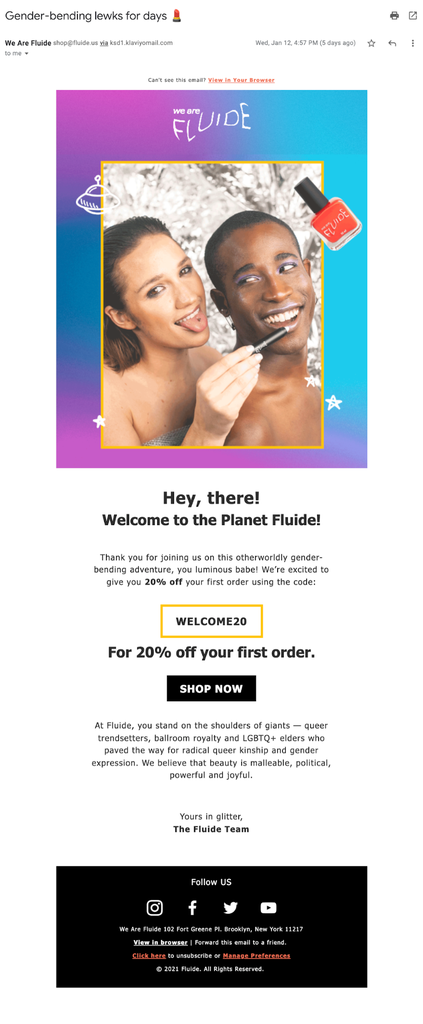 [Source]
You can use flows like browse abandonment and cart abandonment to reach buyers when they're on the brink of a purchase. Flows like these are essential to any email strategy. Carts are abandoned in the range of 76-90% on desktop over the last two years, and even more frequently on mobile. But Klaviyo's report shows that abandoned cart email flows have an average conversion rate of 3.9% across industries — 39x the conversion rate of regular email campaigns.
And you can weave customer retention strategies into your email efforts too. Keep customers coming back with thank you flows, replenishment emails, and a winback series.
Haircare company Briogeo nudges customers on items right when a customer is likely to run out.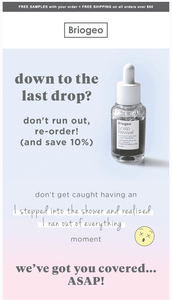 [Source]
Email platforms like Klaviyo were built for ecommerce. You can connect Klaviyo to your online store to track the impact of your email campaigns, build automated flows to engage new and current customers, and integrate all your other marketing software to see audience insights and improve personalization.
5. Get your brand featured on blogs
Partnering with websites that have purchase influence over their audience is an effective way to get your brand in front of new potential customers. Contact relevant blogs and publications to see if they'd be interested in reviewing your products. And invite them to join your affiliate marketing program so there's an incentive for them to feature you.
Consider finding websites that already rank for search terms relevant to your brand like travel backpack company Tortuga does. The brand finds new reviewers by seeing which blogs already rank for terms like "travel backpack" or "best travel backpack." The brand sends those websites a backpack to consider for that ranking page. When they land a placement, they see thousands of visitors on an ongoing basis.
That's how the brand landed this top placement in Travel + Leisure's best carry-on backpacks round-up.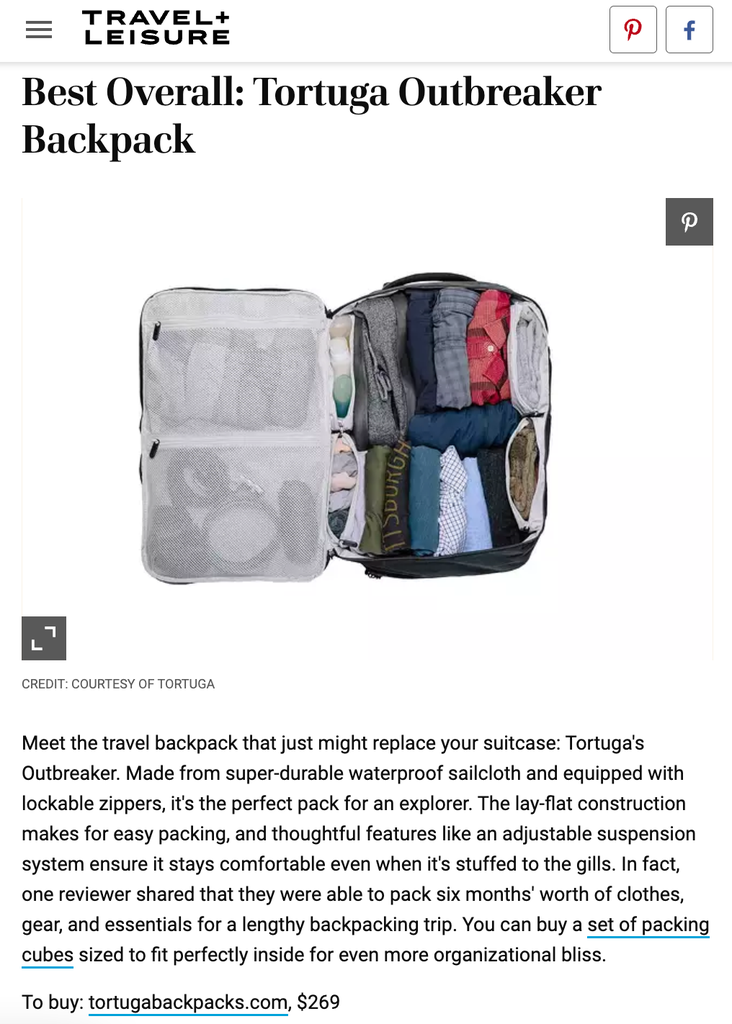 [Source]
You can also find top blogs that review products on Feedspot.
6. Collaborate with creators on social media
Influencer marketing earns $5.78 for every dollar spent, so it's worth considering adding this channel to your marketing strategy. In addition to helping you reach more people, content creators on social media, or influencers, can make new content you can use in ads or on your website.
You don't need to spend a lot of money to work with creators with a large following either. 70% of brands work with micro-influencers — social media accounts that have fewer than 60,000 followers. And smaller accounts typically see more engagement from their followers anyway.
Pet food brand Stella & Chewy's partners with more than 100 creators to spread brand awareness and generate content that can be used in other marketing efforts.
One of those creators made a cute video for Stella & Chewy's that the brand repurposed to promote a giveaway.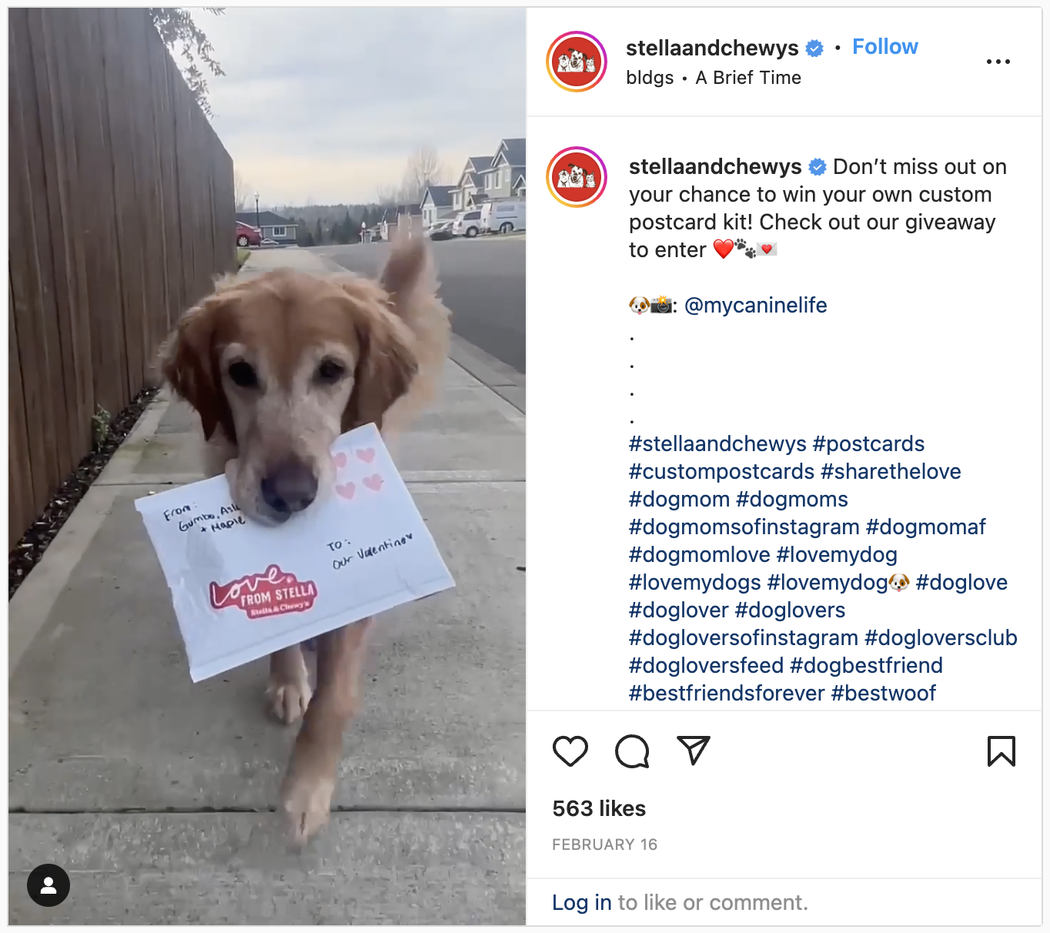 [Source]
Use an influencer marketing platform like Aspire that helps you streamline campaigns and find relevant, vetted creators for your brand.
7. Encourage product reviews
Reviews build trust for your store and products. Online buyers can't see items in person, so social proof is crucial to purchasing decisions. Store visitors learn about customer experiences through product reviews to decide whether they should buy your product.
Encourage customers to leave reviews in post-purchase emails. Try incentivizing reviews by offering discounts, loyalty points, or entry into a contest in exchange for feedback.
[Source]
Yotpo is a popular tool for ecommerce brands to collect customer reviews.
8. Start a customer loyalty program
79% of customers would purchase from a brand again if they're appreciated for their loyalty. And research shows that each time a customer comes back, they're more likely to return for yet another purchase. Reward your best customers, and encourage them to keep coming back, by offering special privileges through a loyalty program.
Online retailer Doe Lashes sends customers an email to join their rewards program after their first purchase. That email flow brings in 1.2x as much revenue as their welcome email series — which for context, sees 9x higher conversions than the industry standard for health and beauty.
From there, Doe encourages loyalty members to redeem points for goodies like free products and earn better perks with each loyalty program tier.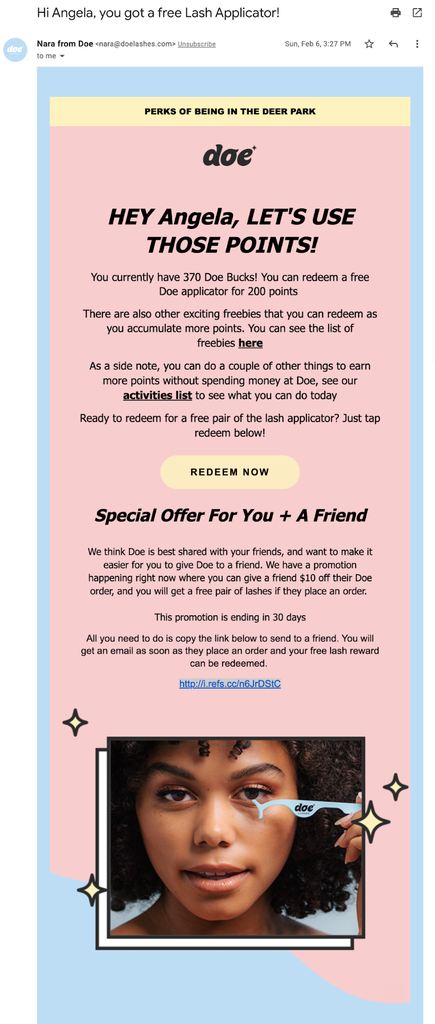 [Source]
9. Boost word-of-mouth with a referral program
93% of consumers trust their friends and family for product recommendations, making it the #1 most trusted source to learn about brands. Referral programs can be a powerful acquisition channel to support your business long-term.
Outdoor Voices offers an incentive to the customer and their friend for referrals, which pairs nicely with their value of "moving your body and having fun with friends."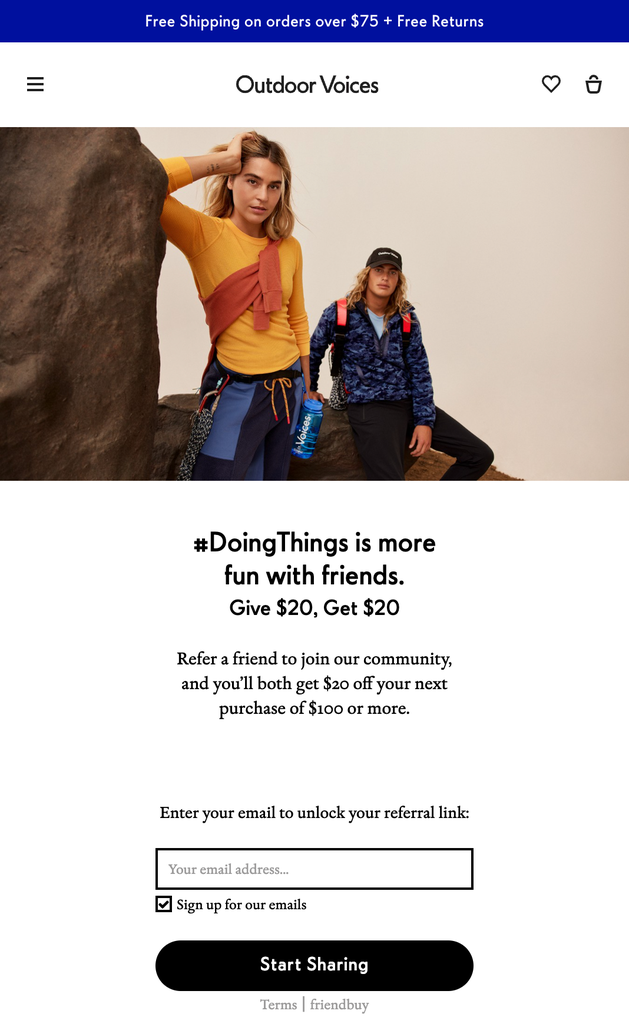 [Source]
10. Form strategic brand partnerships
Grow your audience by networking with other brands in your industry and creating partnerships that benefit both of you.
Determine your goal, whether that's to drive traffic to your website, grow your email list, or gain new social media followers. Then find brands that can help you achieve those goals.
Eco-friendly brand Pela partners with other eco-conscious brands for a Valentine's Day giveaway:

[Source]
There are many ways to partner with other brands. You could create brand awareness through a giveaway that requires participants to give their email addresses or follow both brands on social media. Or you might consider sharing customer mailing addresses to direct mail each other's customers. You could also try partnering with a brand to include a promotional postcard or free samples in their customers' orders.
11. Use pay-per-click (PPC) advertising
PPC advertising is simply an ad you pay for by the number of clicks it gets. You measure campaign effectiveness by comparing the ad costs to the amount of traffic and online sales generated by the ad. The most common types of PPC are search engine advertising and social media ads.
Google Ads is the most popular digital marketing ad platform, though other platforms like Amazon are worth considering, too.
Google Ads appear in Google searches based on an auction process. You bid on the keyword you want your ad to appear in searches for, and ads are chosen based on bid amounts and the ad's quality score.
These brands all show up for a search for "fruit baskets." But the ad results will be different for each user depending on a variety of factors like search history, device type, location, and more.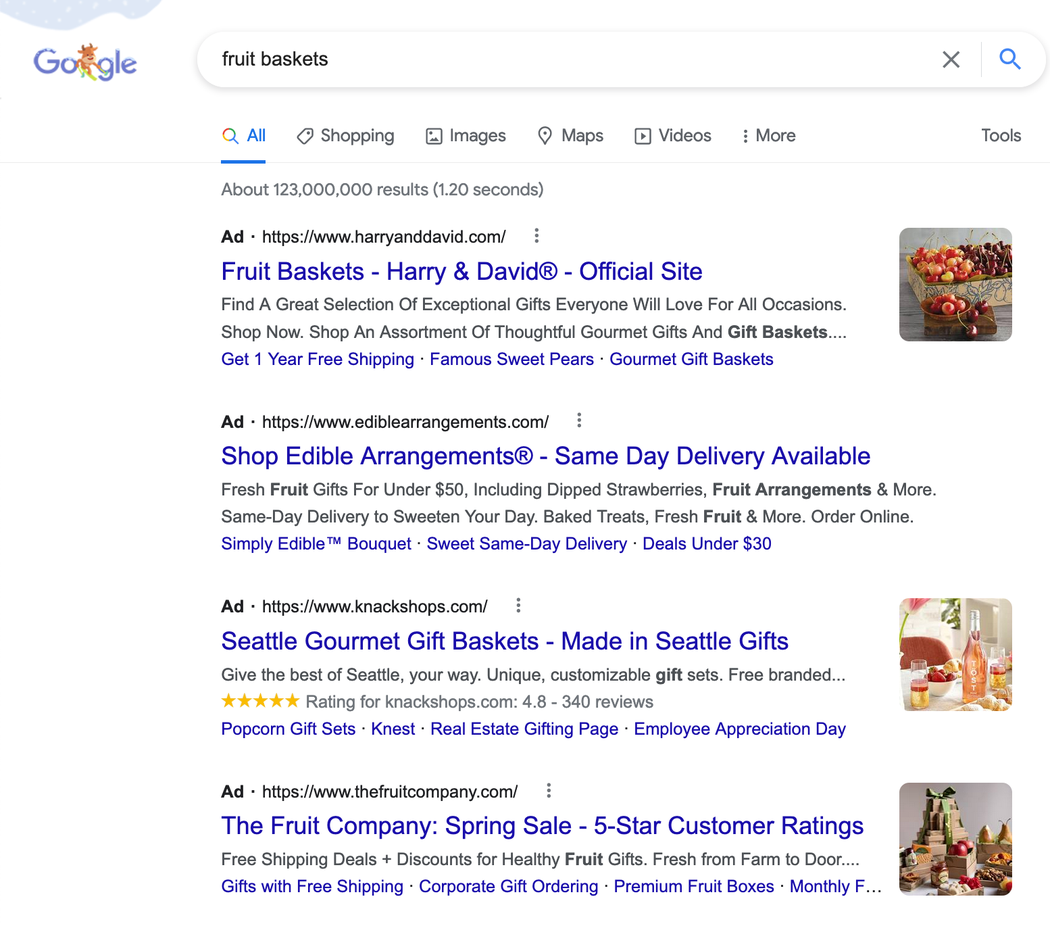 [Source]
Connect your Google Analytics and Google Ads accounts to measure the impact your ads have on website activity.
12. Set up ads on social media
Social media advertising appears on a user's feed or timeline. You pay by click (CPC) or thousand impressions (CPM). TikTok, Instagram, Facebook, Pinterest, LinkedIn, and Snapchat all run on these models.
Here's a targeted ad from reMarkable on Facebook that shows up in the feed among posts from friends.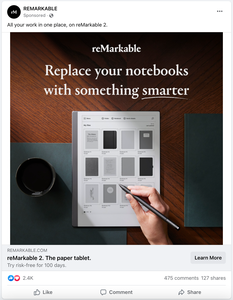 [Source]
Testing and iterating on your PPC campaigns on an ongoing basis is essential for success. Check your paid ad performance regularly to ensure your marketing budget is translating into traffic and sales.
In 2021, Google announced it would be removing third-party cookie tracking from its Chrome browser by late 2023. Apple's Safari and Mozilla Firefox already got rid of third-party cookies, but Chrome holds two-thirds of the browser market share. So this is a big deal for marketers that rely on third-party data to grow their business. Read how to plan for a cookieless future, so you can make the most of your ads.
13. Advertise on podcasts
Podcast ads are another avenue to introduce your brand to audiences that might be interested. For an ad under one minute, you can expect to pay $20-30 for every 1,000 listeners.
Coffee alternative Rasa and bedding brand Buffy advertise on The Highest Self Podcast. The ads run in the middle of the episode, which is smart because ads at the beginning or end of an episode could be more likely to be skipped over. Theoretically, when someone starts a podcast, they're on their device and ready to skip past those intro ads. At the end of a podcast, they know it's over, so they have no need to keep listening. When an ad is in the middle of an episode, someone might be in the flow of listening so they may be more inclined to just listen through the ad.
Podcasts come with a unique tracking challenge. Your link can be added to the show notes, but because people are listening, they'll likely look you up without going to the show notes first. Use special links or dedicated promo codes to encourage more trackable traffic and conversions. For the episode above, Rasa set up a landing page with the podcaster's name, and Buffy used the podcaster's name as a discount code.
If you're unfamiliar with podcasts, a site like Audioboom can help you find the right podcasts for your brand to advertise with.
14. Sell on social media
Social commerce, or direct selling on social media platforms, is expected to boom to a $1.2 trillion industry by 2025 — that's three times faster growth than traditional ecommerce.
Selling right on your social media platforms takes extra steps out of the customer journey. So there are fewer opportunities for customers to drop off the customer journey, and more of your audience become customers.
Your customers already use social media to find their next product. Consumers get product recommendations from friends and influencers, read reviews from other customers, and interact directly with brands in comments and messages. Take out the friction of extra steps to go to your website. Let them buy right on the platform.
Fanm Djanm organizes its Instagram shop by product type to make browsing easy.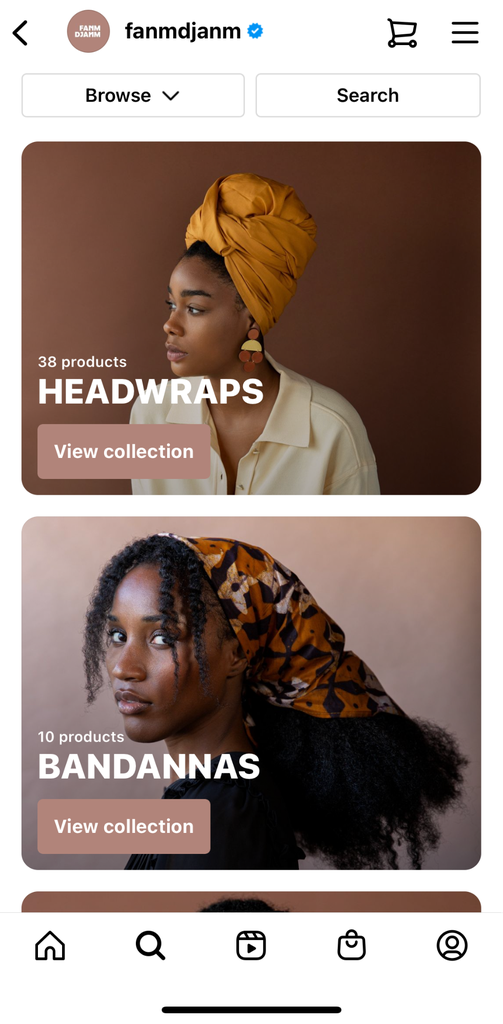 [Source]
And the brand uses product tags in posts so the Fanm Djanm's fans can find a product they've fallen in love with.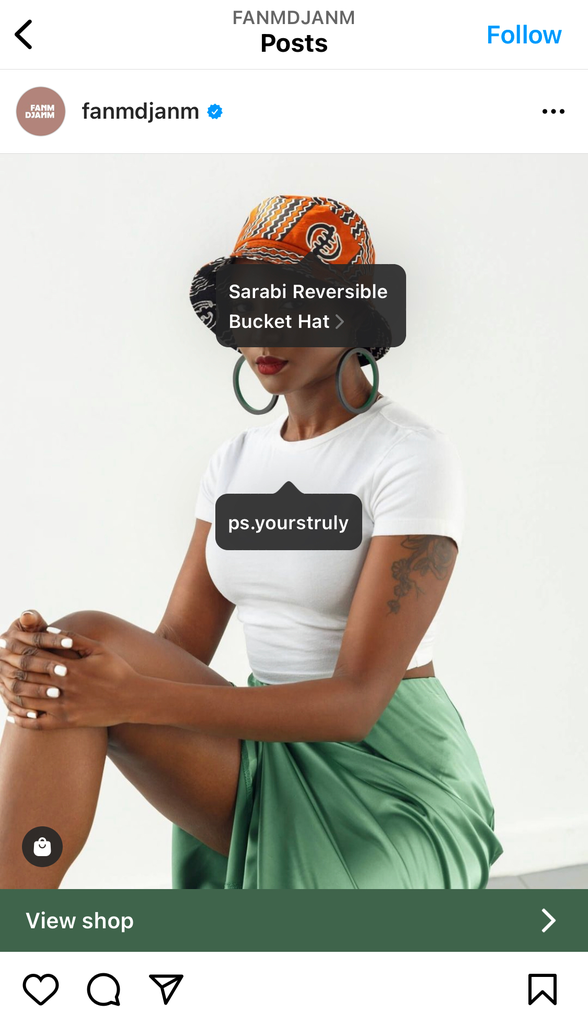 [Source]
Social commerce is particularly effective for low-cost merchandise. So if you sell on social, prioritize impulse-buy products.
15. Expand your reach by going multichannel
Go multichannel by selling on other marketplaces, like eBay, Amazon, or niche venues like Etsy. Our research indicates that merchants who sell on three or more channels sell 144% more than those with one or two channels.
Each marketplace has different visitors who may not have found your brand if you were only selling in on your ecommerce website.
Introducing customers to your products on marketplaces sets these buyers up to develop brand loyalty and explore your products more on your website.
In addition to their website, Beauty Bakerie sells on Amazon.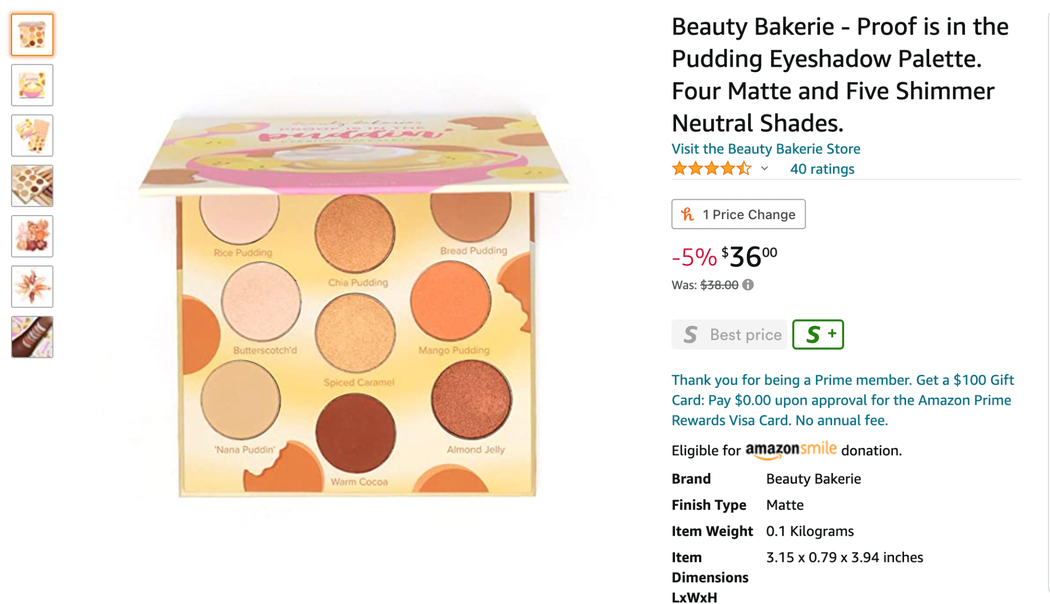 [Source]
Of course, going multichannel, you need to have a cohesive inventory management to avoid problems with overselling and delivery. Using an inventory management software like Sellbrite makes it easy to manage listings and fulfill inventory across channels.
Slow and steady wins the race
Ecommerce growth has remained 30% higher than pre-pandemic levels, so increased competition among online sellers is here to stay. It's more important than ever to put effort into making your online shop stand out.
When developing your ecommerce marketing plan, you'll increase your chance of success with a diverse set of marketing tactics. You reduce the impact of risk by not being too dependent on a single channel. So experiment across channels and fine-tune your approach as you go.
Now that you have people on your ecommerce site, invest in creating great experiences on your owned channels. Earn their permission to keep the relationship going and gather data to personalize communications. Learn how to increase ecommerce sales with personalization.