What WordPress 5.0 means for businesses
If you are among the millions of WordPress users, you should take note that big changes are coming with the release of WordPress 5.0.
For many long-time WordPress users, the overall core has not changed much over the last few years. The TinyMCE WYSIWYG editor has been a tool used day in and day out by users to create content and posts, add and manage products into eCommerce catalogs, and design home pages.
WordPress 5.0 has one mission in mind: to overhaul the way people use WordPress and adopt the visual editing technique that has become more popular over the last few years.
Through Gutenberg, WordPress hopes to do just that.
What is Gutenberg?
Gutenberg takes the spotlight in the new release of WordPress 5.0. It is the new post editor that will replace the classic WYSIWYG editor in WordPress. Gutenberg will help users create posts and pages through the use of blocks.
The editor will endeavour to create a new page and post building experience that makes writing rich posts effortless, and has 'blocks' to make it easy what today might take shortcodes, custom HTML, or 'mystery meat' embed discovery." ~ WordPress.org
Blocks and visual editing have been a staple in the WordPress community when it comes to taking a website from design to development, as well as managing content and products. These visual editors use "blocks" to help users build content-rich home pages and structure content in a way that is visually appealing. Currently, third-party plugins are required to use blocks. Gutenberg will bring that functionality to WordPress and make it easier than ever to create awesome-looking, content-rich pages.
What are blocks?
As described by WordPress, blocks are "the abstract term used to describe units of markup that, composed together, form the content or layout of a webpage."
Blocks are made up of various content formats including text, images, plugins and videos.
Blocks can be arranged in many different ways by simply moving them around to the desired placement on a page. By using blocks, businesses will be able to put content at the forefront of design and make it easy for developers, designers and new WordPress users to make their websites look visually appealing without having an extensive coding background.
How will this impact eCommerce websites?
WordPress 5.0 is no small change, and the WordPress community is still exploring the different ways this will affect various types of websites. WooCommerce, one of the most popular eCommerce plugins for WordPress, is still experimenting with Gutenberg to fully understand the impact.
Adding products into WordPress could be easier with the new release, although it might take some getting used to.
Other eCommerce plugins will also need to take an in-depth look and make the necessary changes to ensure that integration into WordPress 5.0 is seamless and improved.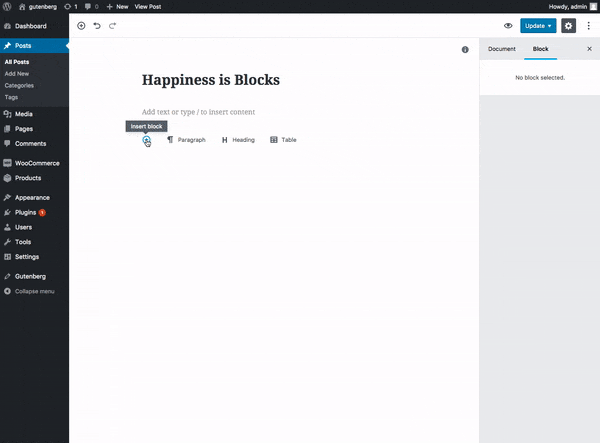 eCommerce integration will be simplified through the use of blocks. The user can simply build the page through the use of blocks and insert all the pieces they would like added to the page.
Pros for eCommerce
Blocks are a promising feature of WordPress 5.0 that appear to make the management of products and home page design easier for eCommerce sites. It offers a way to structure content and build block product templates without having to code. This improved process can result in lower development and maintenance costs.
Cons
eCommerce sites are complex and not necessarily one-size-fits-all. The way in which products are added and managed will change, meaning this will require time to train and educate in-house teams. Many themes and plugins might also not be compatible when WordPress 5.0 first releases. More extensive testing will be needed for eCommerce sites as they are much more complex than other sites.
Things to consider
eCommerce site owners should be preparing their teams and planning for this change to truly understand how this new release will affect their businesses before fully upgrading their sites to WordPress 5.0.
We recommend you use a sandbox environment to test your site by installing the beta version of Gutenberg test the new features.
Check out the WordPress Beta Testing Handbook for guidance in running a successful beta test of WordPress 5.0. You can download the Gutenberg plugin to start testing things out. You should also reference documentation from your eCommerce plugin developer to see how they are planning for this change.
What does this mean for bloggers and content creators?
The way that content creators and bloggers use WordPress to make posts will drastically change. Gutenberg's movable blocks are promising, as it allows easier-than-ever additions of content like images, text and videos. Blocks will also allow content editors who might not be code-savvy to arrange their content in a visual way that might have been difficult in the current text editor.
Let's take a look at the differences between the existing editor and the upcoming blocks editor.
The current WYSIWYG post editor:
The new WordPress 5.0 blocks editor:
Each element in a post will be added in as its own individual block — each headline, paragraph, image, quote, etc. Plugin shortcodes can also be added and customized through blocks.
Pros
Arranging content through the use of movable blocks will revolutionize the way bloggers and content creators structure their posts. This takes the time and headache out of trying to make posts look good, as content can now simply be moved around where needed. Using blocks also allow for a visual understanding of the changes being made in real-time, taking the pain out of having to constantly save and preview changes.
Cons
As with all UI (user interface) changes, there will be a learning curve. Plugins and themes currently in use might also not be fully compatible with WordPress 5.0 when it first launches. If you are using a plugin that is crucial to your posts, we recommend you test Gutenberg before fully upgrading.
Things to consider
Blocks makes posts and writing much more intuitive and less time-consuming. Blocks will also make content-rich posts much more visually appealing and easier to create. Bloggers and content writers should start considering not only the content they are writing, but also how the content is structured visually to captivate the audience.
What does this mean for website designers and developers?
For most WordPress designers and developers, blocks and visual builders are not entirely new. Blocks have been the quickest and most efficient way to take a website design and execute it into a fully developed website. The only difference is that now a third-party plugin won't be needed to use blocks, and WordPress 5.0 makes time-consuming processes much quicker.
Here's how WordPress 5.0 might affect various areas of development and design.
Website maintenance becomes easier for your clients
The integration of blocks will make it easier than ever for your clients to make basic changes to their own websites after development is completed. We have all received those basic requests from clients to swap out an image on the home page, update links, or re-arrange content. With blocks, your clients can make changes themselves without altering code and potentially breaking the website.
Building custom themes
Custom theme creation with blocks will be much quicker and require very little coding knowledge. Curious as to how building a custom theme will look like in WordPress 5.0? Check out this video.
Using a custom theme that has already been created
If you are using a custom theme that has already been created in WordPress 5.0, you can use blocks to fill in the blanks and customize it to your needs. Check out this video to see what that process looks like.
Visual and block editing will be standard
Third-party plugins that bring visual and block editing to the current version of WordPress might eventually not be needed, as this will now be built into WordPress. This also makes purchased theme installs seamless, as you will no longer need to install plugin packages to keep the visual editors and templates made by template authors. Plugin developers will also find it much easier to integrate their products into the block builder rather than the classic post editor.
Remember: first test, then execute
As with all betas and new major releases, issues and bugs are to be expected during the initial launch of WordPress 5.0. While WordPress has made large strides in advancing their product, some features we are used to seeing on third-party plugins might not be available. Try installing the Gutenberg plugin and see for yourself how this UI change will change the way you work and to determine when fully adopting WordPress 5.0 would be a good idea.
When will WordPress 5.0 launch?
WordPress has not yet given an official release date other than mid-2018. When the update is available, you should expect a notification within the WordPress admin updates page. In the meantime, you can test-drive Gutenberg and see the upcoming changes for yourself.
Ready to try Gutenberg?

Start preparing for WordPress 5.0
The upcoming launch of WordPress 5.0 and blocks is the change that WordPress needs to ensure it remains competitive in the ever-growing website-creation industry. The introduction of Gutenberg sounds scary, but I think we can all agree that it's necessary and will positively change the way websites are built in the future.
The best thing you can do in preparation of the release is to start testing the beta release and explore how this will change has the ability to revolutionize every aspect of WordPress websites — from design and development, to creating and structuring content, and even the way you add and manage products on an eCommerce website.