We're thrilled to be back at WordCamp Europe this year.  After a long hiatus for WordPress events in person, it's finally time for the WordPress community to be together in person again. This year's event is occurring in Porto, Portugal for the 10th anniversary of WCEU.
Can't join in person this year? Tune in to watch in Track 1 and Track 2. See the full schedule on WCEU's site.
Join along as we share live from the event all that our GoDaddy Pro, Pagely, Sucuri, and ManageWP teams experience. Jump to your favorite parts of the event:
Super Bock Arena and picnic
Oh, but this morning's yoga sesh at the Wellness Track was just ?. @WCEurope #WCEU #WCEU2022 pic.twitter.com/ljQ7P0bnlH

— The WP Minute (@TheWPMinute) June 3, 2022
Meditation for the body & soul #WCEU #WCEU2022 pic.twitter.com/W8GdnLo3cD

— WordCamp Europe (@WCEurope) June 3, 2022
Pirate Party
We set sail aboard the Pagely Pirate Party on Wednesday, June 1.  Guests dined on delicious local food, listened to the band perform, and took in all the sites while cruising.
Contributor Day
Contributor day is an opportunity to learn about the 20 different teams across the WordPress project and begin contributing to the teams. The day began with an overview about the various teams and what they'd be working on during the day.  We then broke off into those teams. It is an amazing opportunity to ask questions in person and get familiar with team members.
Look at the amazing setup of the main dome area for today: Contributor day! #WCEU #WCEU2022 pic.twitter.com/KkmQccf3a1

— WordCamp Europe (@WCEurope) June 2, 2022
So we had 800 folks joining the Contributor Day at @WCEurope which is the biggest one in WordCamp history! ??#WCEU2022 #wceu pic.twitter.com/oS6Obk9dX7

— Afshana Diya (@AfshanaDiya) June 3, 2022
During lunch a group photo was taken.
Look at the turnout for Contributor Day at #WCEU! It is fantastic to see that so many people want to contribute to WordPress ? #WCEU2022 pic.twitter.com/evyZ0BU0MQ

— WordCamp Europe (@WCEurope) June 2, 2022
At the recap of Contributor Day, it was announced that this was the largest Contributor Day ever held. Over 800 people attended! #WCEU #WCEU2022 pic.twitter.com/nPpZ2EO8Ag

— WordCamp Europe (@WCEurope) June 2, 2022
Contribution is a serious business, concentration please. #WCEU #WCEU2022 pic.twitter.com/nggxBTayf7

— WordCamp Europe (@WCEurope) June 2, 2022
Contributor day has begun! #WCEU2022 pic.twitter.com/2Xu1f7FvAp

— Shifter – The Jamstack WordPress Platform (@GetShifter) June 2, 2022
Speaker, sponsor, volunteer dinner
To celebrate those that make WordCamps possible, often there is a speaker, sponsor, and volunteer crew dinner.  The trip across the city to the Porto Cruise Terminal and tuk tuk ride to the venue led to a breathtaking view of the shoreline at dusk. We mingled over supper with a DJ, and took in the best views from the balcony overlooking the shoreline. A surprise by traditional music performance featuring a Galician gaita, which is similar to a bagpipe.
Day 1 sessions
Missed a session? Tune in to Track 1 and Track 2.
It wouldn't be WordCamp Europe without a family photo – hello everyone! ? #WCEU pic.twitter.com/NMbr3CmRio

— WordCamp Europe (@WCEurope) June 4, 2022
If you remember #WCEU Berlin in 2019, I want to say I took this photo in Porto today, for #WCEU2022 standing on top of a LADDER ?. You're welcome! pic.twitter.com/azixWRmXij

— Val Vesa (@adspedia) June 2, 2022
Best of both worlds.#WCEU #WCEU2022 pic.twitter.com/tdI3AsZMjN

— WordCamp Europe (@WCEurope) June 3, 2022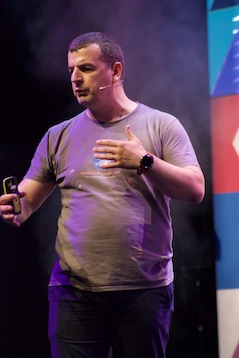 Milan Ivanovic helped us reflect upon how Covid has impacted the WordPress community, and why we still do community.
Milan shared a quote from Plugin Review Team, Mika Epstein.
Besides just inviting people from different backgrounds, we need to do a hell of a lot better with keeping them.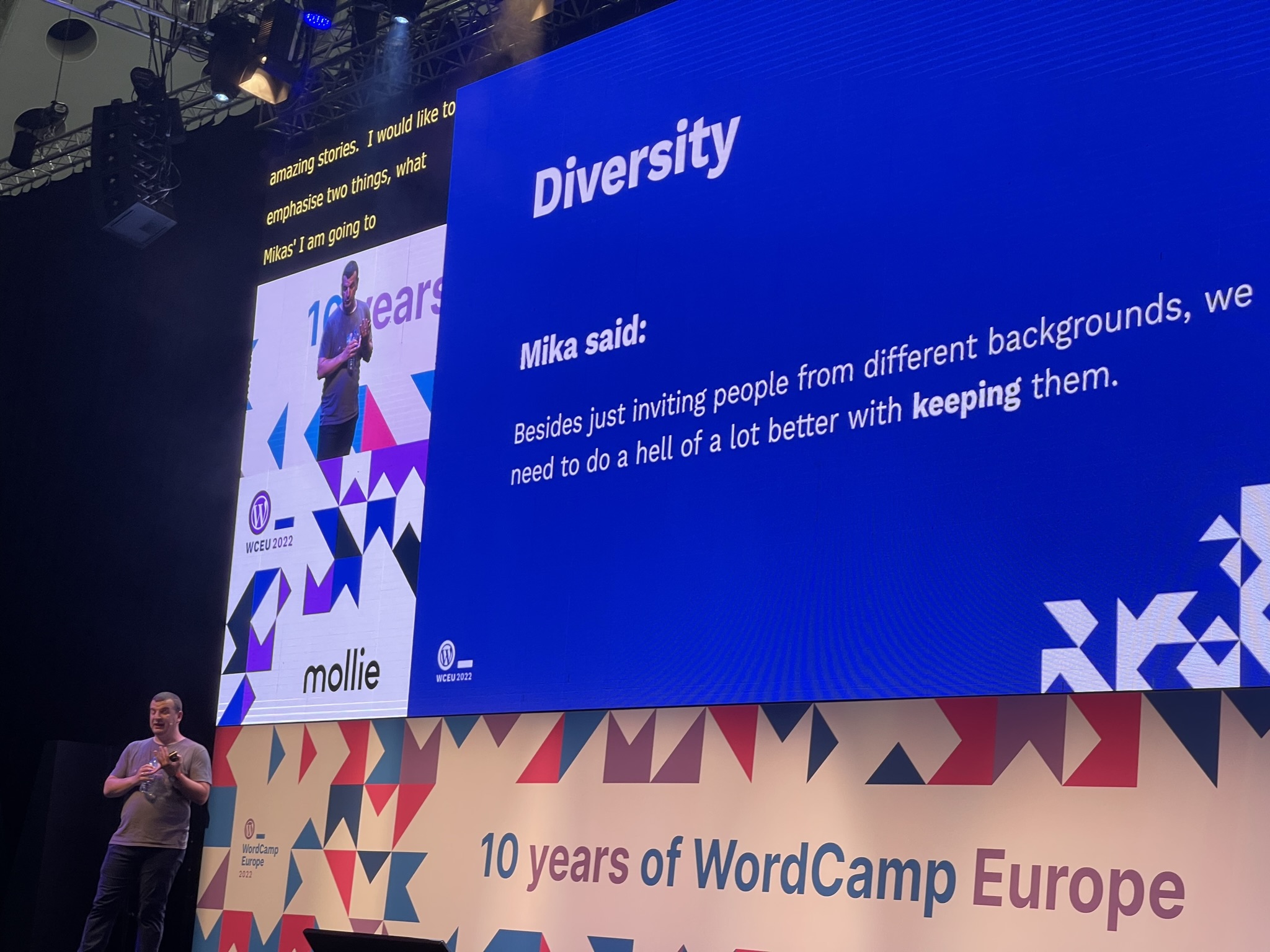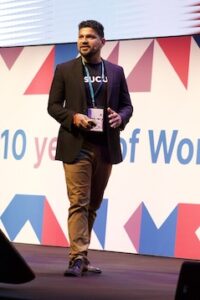 Victor Santoyo shared about "Security lessons learned from 2021".
As Covid caused businesses to shift online, more websites were created during that time.  We now face more websites that have out-of-date plugins, themes, and software.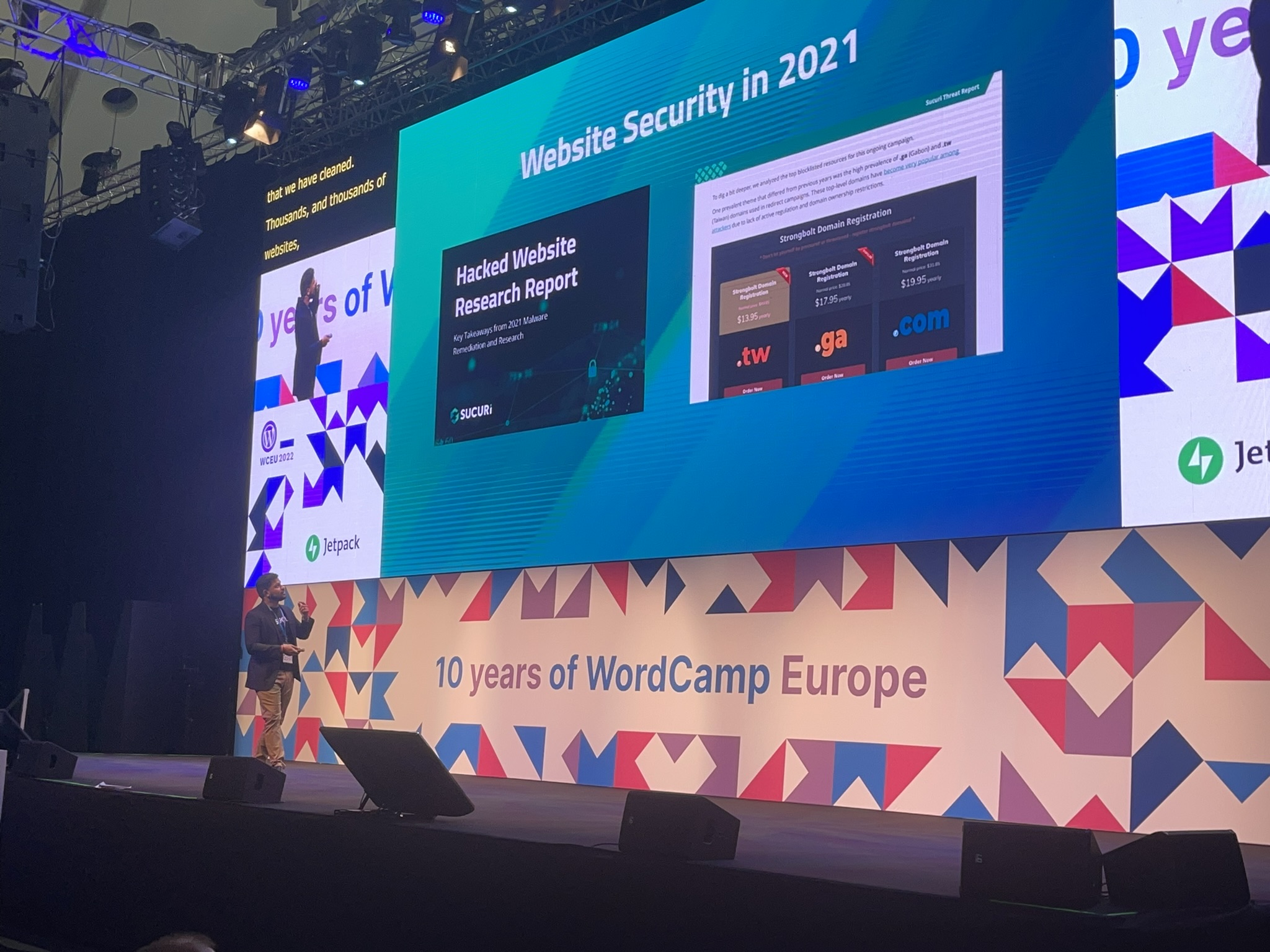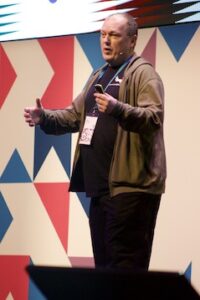 Sean Blakely inspired us to think about how to be more efficient in our build processes with the block editor to create delightful experiences for our end users.
Wearing many different hats doesn't scale well, which leads us to need a modern app and the Block Editor is a modern solution available to solve this.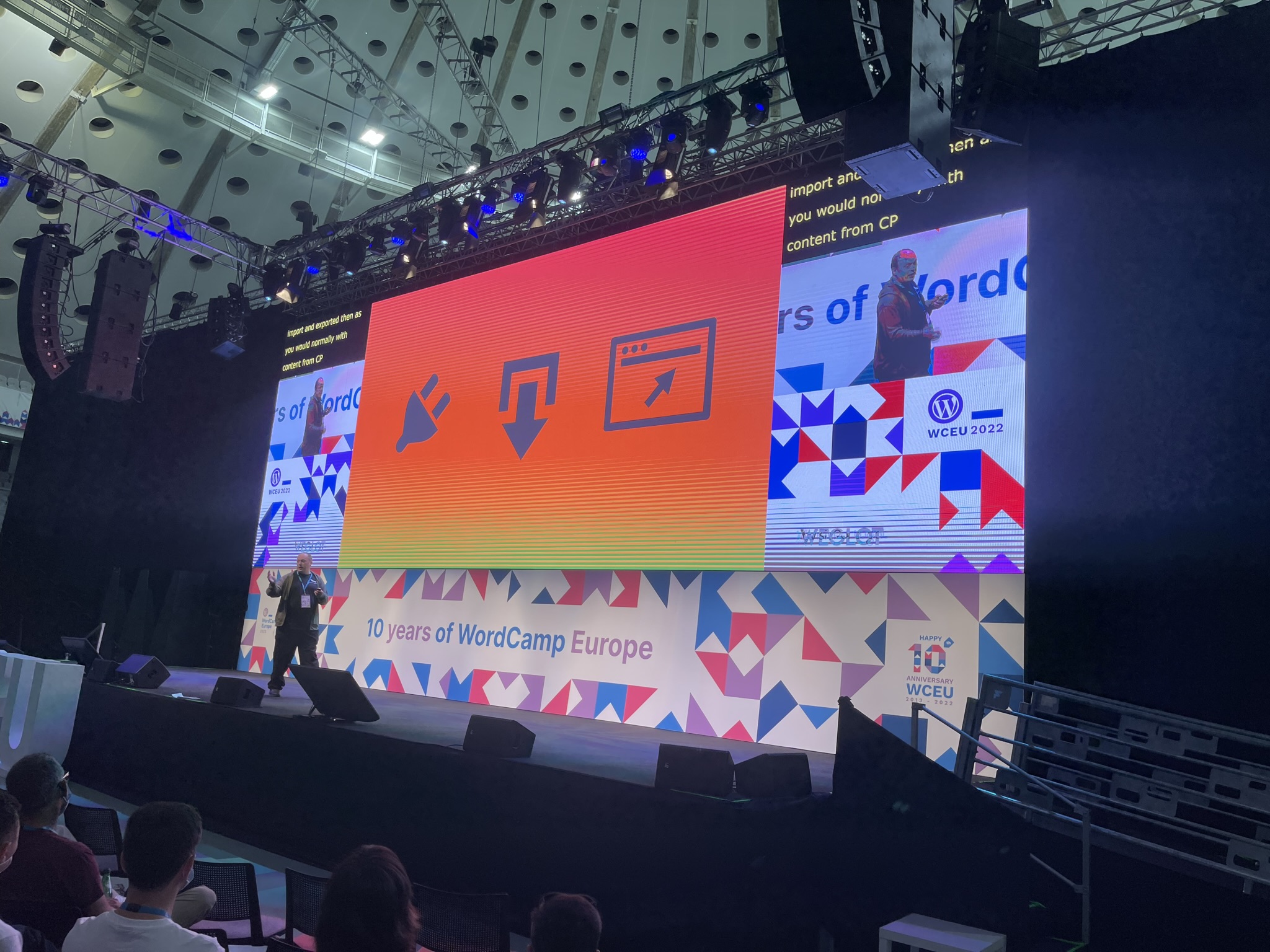 Vito Peleg walked through the many steps to onboarding a client and launching a project.
Many suggestions and resources a processes were shared, including contracting out services at various price points.
We hear you @schlessera, we need to stop taking shortcuts and instead use modern features as intended. #WCEU pic.twitter.com/edcBf3JG84

— WordCamp Europe (@WCEurope) June 3, 2022
During the Acquisitions in WordPress panel, Marieke van de Rakt (Yoast), Shane Pearlman (Modern Tribe, The Events Calendar), Joshua Strebel (Pagely), and Devin Walker (GiveWP) provided a great deal of insight into the workings of an acquisition process.
Shane likened the acquisition process to having a part-time night job on top of the day job of keeping daily company operations running. Marieke clarified that there are areas that founders are not permitted to reveal as part of the disclosure agreements.
Day 2 sessions
Day 2 was capped off with a Questions and Answers chat (timestamp) with WordPress co-founder, Matt Mullenweg, and WordPress executive director, Josepha Haden Chomposy. Frequent questions during this time were asked by contributors across the various team, citing a need for contributors, multilingual support, and more.
Happening now at #WCEU: @photomatt on stage and answering questions from the #WordPress community. pic.twitter.com/4qQunDLWwi

— WordCamp Europe (@WCEurope) June 4, 2022
Workshops
Throughout the 2 days of sessions, workshops were also happening.
It's a full house at Workshop 1, learning how to work with WordPress through the Terminal with @DjevaLoperka Milana Cap.#WCEU #WCEU2022 pic.twitter.com/u1da86NDBy

— WordCamp Europe (@WCEurope) June 4, 2022
We are installing the tools to create the first block theme in WordPress! With guidance from the wonderful @DaisyOlsen #WCEU #WCEU2022 pic.twitter.com/BFz74gLMAd

— WordCamp Europe (@WCEurope) June 3, 2022
Rodolfo Melogli @rmelogli "Successful online courses solve a problem. Ask your audience what they are struggling with." – now in Workshop 2 pic.twitter.com/ATM1EJOWqj

— WordCamp Europe (@WCEurope) June 4, 2022
You get a layout, and you get a layout, everyone gets a layout! Juan Pablo Gomez @jupago is turning the browser upside down for some tips that will change your perspective on the browser.#WCEU #WCEU2022 pic.twitter.com/aPjJx13r0M

— WordCamp Europe (@WCEurope) June 4, 2022
Hallway, WP Café, vendors, and lunch
Livestream interview with @sjblom Sjoerd interviewing attendees Yvette and Santana about what could be improved from their point of view in next WordCamps and about some of their preferred locations to organize them.#WCEU #WCEU2022 pic.twitter.com/g8hiSuD9b5

— WordCamp Europe (@WCEurope) June 4, 2022
Today's first discussion at WP Café is about choosing themes and plugins. It's interesting to see on what criteria different people are choosing their themes and plugins.#WCEU #WCEU2022 pic.twitter.com/GOQzEwTbR9

— WordCamp Europe (@WCEurope) June 4, 2022
Do you want to know more about blogging with WordPress? Come join us at the WP Café! #WCEU #WCEU2022 pic.twitter.com/mj4PS4leMN

— WordCamp Europe (@WCEurope) June 4, 2022
WP Café on developer relations and discussions on Gutenberg development and documentation.#WCEU #WCEU2022 pic.twitter.com/VoHwVc8W7Y

— WordCamp Europe (@WCEurope) June 4, 2022
Come hang out with me in the WP Café at #WCEU and let's chat about getting involved in the community. @WCEurope 2022 pic.twitter.com/ArLSKuVVBE

— Yvette Sonneveld (@yvettesonneveld) June 4, 2022
Join us on the third discussion of the morning at WP Café, Advanced SEO for WordPress!#WCEU #WCEU2022 pic.twitter.com/J5DcJ5TAJN

— WordCamp Europe (@WCEurope) June 4, 2022
Having an awesome coffee here at @WCEurope #WCEU2022 pic.twitter.com/2r6blWz6Aj

— Ignat Georgiev (@igeorgiev02) June 2, 2022
Reminder: Don't forget to pickup your t-shirt and water bottle from the registration desk outside Gate 6! #WCEU pic.twitter.com/NvlYFYdZTQ

— WordCamp Europe (@WCEurope) June 4, 2022
Who's excited for day 2 of WordCamp Europe 2022? #WCEU Schedule: https://t.co/vajhyXeaWl pic.twitter.com/1rWuV3DvAK

— WordCamp Europe (@WCEurope) June 4, 2022
Amazing seeing all the sponsors on the floor helping make @WCEurope happen! #WCEU2022 #wceu pic.twitter.com/QAmJ3oFEdw

— XWP ?? (@XWP) June 3, 2022
Enjoying the Community Booth at #WCEU with my lovely @RianRietveld @topher1kenobe ❤️? cc/ @WCEurope pic.twitter.com/6iVUnB5plq

— Rocío Valdivia (@rociovaldi) June 3, 2022
Well, I thought I would catch up on some photos from @WCEurope @RobertJacobi @robbieadair @VitoPeleg #WCEU2022 pic.twitter.com/jSwqLRO6ZY

— Do_the Woo ?️ WooCommerce Builder Community (@DotheWoo) June 7, 2022
Good morning WordCampers! Last day of #WCEU2022 has started, let's make the most out of it! Stop by our booth if you're up for some fun! #WCEU #YITH pic.twitter.com/G5t887K6YV

— YITH (@YITHEMES) June 4, 2022
Livestream with @EvangeliaPappas interviewing members of the Serbian community about their experience with the WP community and their reasons for being a part of it.#WCEU #WCEU2022 pic.twitter.com/ESqR1F80Cs

— WordCamp Europe (@WCEurope) June 4, 2022
After Party
#WCEU2022 after party! Love seeing @GoDaddyPro in the bright lights ✨ #WCEU pic.twitter.com/NfRXdYGpfJ

— Nealey (@Justinnealey) June 4, 2022
Afterparty time at #wceu with a Queen tribute band! So stoked. Now, can you play my favourite Queen song please?! Everyone needs to hear Under Pressure. pic.twitter.com/kuzttBMfDv

— James Giroux | 제임스 (@jamesgiroux) June 4, 2022
What ?? an ?? after ?? party @WCEurope! #WCEU2022 #WCEU pic.twitter.com/YMBrThABae

— The WP Minute (@TheWPMinute) June 5, 2022
Hey @WCEU2023, here's your pic for the after party announcement! ??
Courtesy of @emily_kaija of @xwp for the pic. ?
Can't wait to meet the Greek #WordPress community as our formidable hosts! ??#WCEU #WCEU2022 @schlessera pic.twitter.com/QBtouqZuRn

— Carole Olinger ??? (@CaroleOlinger) June 4, 2022
Starting the #WCEU2022 #wceu after party. pic.twitter.com/9ZE8IsJdy6

— Angela Bowman (@askwpgirl) June 4, 2022
We've finally established our relationship. The This week in WordPress podcast will never be the same again. #WCEU #WCEU2022 pic.twitter.com/8jRLDLlPDz

— Taco Verdo (@TacoVerdo) June 4, 2022
Thank you organizers
The incredible organizers of @WCEurope #WCEU2022 ? on one stage pic.twitter.com/RLc465SwhL

— Filip Galetic (@fgaletic) June 4, 2022