Customer
Sam Goulden
MNML GOLF CO

Industry
Sporting Goods
Golf Equipment

Results
Provides necessary flexibility & customization.
Founded in January 2020 by golf professional Sam Goulden, MNML GOLF CO offers golf bags and accessories from its studio in Redondo Beach, Calif. While customers can walk in for purchases, most sales come online through the MNML GOLF CO website.
The company traces its origins to a sketch on a hotel napkin. Sam came up with a new approach to the golf bag at a time when, he admits, he was searching for passion and inspiration in his own life. Having recently left the grind as a touring competitive golfer, he made a living with instructional golf videos posted online — but soon tired of this "beach bum" lifestyle.
"While I was on a surf trip in Bali, I actually saw MNML. I had the idea for a golf bag that was minimalistic. I live a pretty minimalistic lifestyle, and I saw that the game of golf was going in that direction.

"Shorter rounds, faster pace, less stuffy country club, more like T-shirts and tennis shoes. I saw this whole brand idea and knew that a golf bag that suited this type of play would be a successful venture."

—Sam Goulden
Today, MNML GOLF CO offers its flagship MNML Golf Bag, which features a minimalist design, sustainable materials, and customization options like Bluetooth speakers, charging stations and hand-painted artwork.
To suit the play style of the modern golfer, MNML Golf Bags include smart details like an exceptionally light weight (5.5 lbs.), zipperless magnetic pockets, and a special pocket for recording your swing.
With this raft of functionality and a reasonable price point, MNML GOLF CO products have grabbed the attention of media outlets including The Today Show, Forbes and Golf Digest.
"We can't have a cookie-cutter website because we don't have a cookie-cutter product. Our product is highly customizable. We need a website that's highly customizable, too."

—Sam Goulden
MNML GOLF CO also takes sustainability seriously. With their Trade It Forward program, customers can trade in a used golf bag toward a new Trade-It-Forward V2 Bag. MNML GOLF CO covers the cost of shipping, and then donates the used bag to an underserved golfer from the SCGA Junior Golf Foundation.
The problem
Much of the difficulty in launching MNML GOLF CO was mental. Sam needed to make a big shift, from recording videos on the beach for a few hours each month, to launching a full-blown company with employees, suppliers and financial overhead.
"I personally don't want to sell a product that's exclusive. The whole mission is to influence, through our company, other brands and golfers to understand the sustainability effort. So, the more of our product we can get out there, the better, the more influence we can have."

—Sam Goulden
With most of his business coming online, Sam needed a scalable platform that would allow MNML GOLF CO to grow, while providing the functionality needed to offer highly customizable products.
For example, customers needed the ability to build upon the basic MNML Golf Bag by adding bespoke elements like tech features, their initials and even custom artwork hand-painted by one of MNML GOLF CO's certified artists.
All of that needed to happen while maintaining operating costs that would allow Sam to make rent, pay his employees a decent wage, and keep his retail prices low enough that his brand would remain accessible.
The solution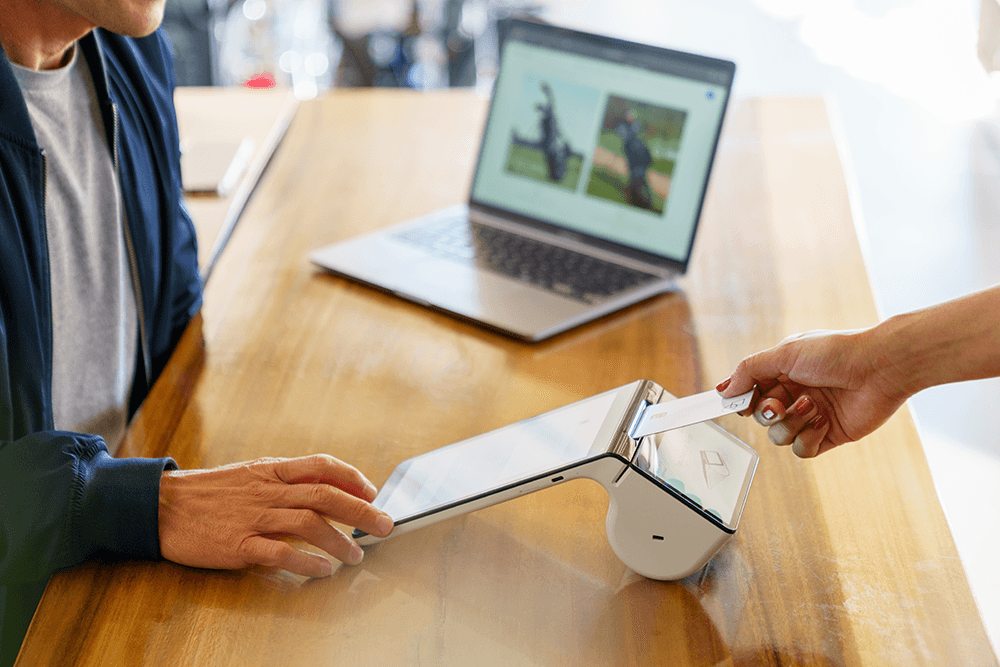 Sam was already familiar with WordPress and WooCommerce, having used the platform for his online golf lessons. He knew it would be able to offer the flexibility needed to provide the customer experience he'd envisioned while allowing MNML GOLF CO to continue growing.
He was also familiar with GoDaddy. While Sam wasn't aware of the breadth of products and services that GoDaddy offers to support ventures like his, he'd spent a good amount of time on the website, perusing domain names to match his entrepreneurial ideas.
"When the customer's trying to check out and buy a golf bag, we need to be able to say, do you want it with tech? Do you want black? Do you want white? Do you want your logo? Do you want initials? Do you want the side panel artwork"

—Sam Goulden
After a period of evaluation, Sam returned to GoDaddy to purchase a Managed WooCommerce Stores plan to power the MNML GOLF CO ecommerce website. He also uses GoDaddy Payments to handle payment processing, while GoDaddy's POS payment terminal has proven so easy to use, anyone at his studio can manage walk-in purchases.
The results
For Sam and MNML GOLF CO, success has been all about flexibility. Managed WooCommerce Stores lets him offer customers an incredible range of customization options while keeping his price point within reach.
On the back end, he's able to continue adding and modifying products with ease, while Managed WooCommerce Stores doesn't miss a tick during periods of heavy traffic, when the website is bringing in tens of thousands of dollars in a given month.
"At the end of the day, I chose this. I wanted to do something that was fulfilling, and I wanted to do something that was meaningful. And I love it. That's just the two sides of the coin. For it to be as beautiful as it can be, you have to have some challenges and endure some struggles.

"So, I'll take it."

—Sam Goulden
For Sam, perhaps the greatest satisfaction comes from being able to provide customers with a product of the highest quality, at a price within their reach, and a style that's entirely their own.