It's no secret that the business world and working environments have changed drastically since 2020. With fierce competition in recruiting for skilled labor becoming a critical issue for businesses, having employees in varied locations around the U.S. or even internationally has become an increasingly common solution. It looks like this distributed work model is here for the long haul, so it's time to get your business on board.
What is distributed work?
Distributed work is defined as a business that has one or more employees who work in different physical locations. This can range from having different in-person office locations, remote work or a blend of the two — often termed "hybrid work." Large companies having a distributed workforce is nothing new, as having multiple locations allows companies to meet more of their customers' needs.
The difference now, though, is the massive increase in remote work triggered in large part by the COVID-19 pandemic, ramped-up competition for skilled workers, and how those factors have combined to impact smaller businesses.
If you're struggling to keep up with today's workforce demands, take heart. Distributed work can provide some solutions.
Millennial and Gen Z workers strongly prefer flexible working environments and a distributed work policy fits into that preference nicely. Additionally, distributed work structures have the benefits of increased access to international talent, more productive employees and higher job satisfaction.
How to adapt your small business for distributed work
Making the leap to a distributed workforce can feel daunting, but it doesn't need to be. Software solutions tailored specifically for supporting a distributed work environment can help ease the transition and make your business run efficiently.
In this guide, we're going to take a look at important adaptations needed to bring your small business up to speed for distributed work and how to accomplish them.
Get your business security up to date.
Tap into global talent pools.
Maintain quality communication between employees.
Let's take a closer look at each point below.
Get your business security up to date
When remote work exploded in early 2020 due to COVID-19 office closures, it quickly became obvious that improvements to business security protocols were necessary. Now with many businesses planning how their company will operate going forward, security continues to be a crucial consideration.
What are some security considerations important for businesses with distributed work environments? Here are a handful of important security features you'll want to think about:
1. Avoid losing business documents with automatic saves
The stress from losing hard work or entire documents altogether is something most people have dealt with at some point. Having to backtrack and redo lost work is tedious and unproductive.
The best way to avoid that ordeal? Automated saves.
With Microsoft 365, your Office documents are automatically saved for you. Whether it's a document in the company Sharepoint or in your own OneDrive account, your hard work won't go to waste.
Additionally, Sharepoint allows your company to collaborate on documentation without having to worry about whether the current document is the correct version. An average of 83% of the current workforce loses time daily due to document versioning issues. Microsoft 365 makes it easy to avoid lost time and frustration, with the added benefit of simplifying collaboration.
2. Maintain business security across all user devices
In the United States, 68% of organizations reported being hit by a public cloud security incident when polled in 2020. Attacks like these can cripple your business' productivity and lower public perception of your company as a whole.
Both Sharepoint and OneDrive offer multiple layers of security to keep your business documentation safe on the cloud servers themselves, including:
Virus scanning for documents
Suspicious activity monitoring
Password protected sharing links
Real-time security monitoring with dedicated intrusion specialists
Ransomware detection and recovery
With these built-in protections, you can keep your company safe no matter where your company's distributed work happens.
3. Adopt company-wide security policies
Effective company security policies protect your organization's data by clearly outlining employee responsibilities with regard to what information needs to be safeguarded and why.
Having clear guidelines set ensures that both your company information and your employees are safe from security threats.
Items to include in your security policy might include:
Remote work policies
Password update policies
Data retention policies
Employee training guidelines
Disaster recovery policies
This list obviously isn't exhaustive, so we'd recommend using a security risk assessment tool to pinpoint specific areas your business should address.
Note: Social engineering and phishing are major security threats for businesses of all sizes. To avoid becoming a target, your company must implement strong security practices for your users. For example, using a secure two-factor authentication setup can help prevent unauthorized users from accessing company documents.
4. Ensure communications are secured
Having a distributed work environment tends to mean that most (if not all) communications occur digitally. As such, keeping digital communications secure should be a top consideration.
Using Microsoft 365, you can ensure that your communication remains encrypted.
If video calls are a major part of your business needs, Microsoft Teams offers robust encryption for your calls. Additionally, email through Microsoft 365 offers top-tier anti-phishing protection for your business.
To learn more about available tools for secure business communication, refer to the Microsoft documentation here.
Tap into global talent pools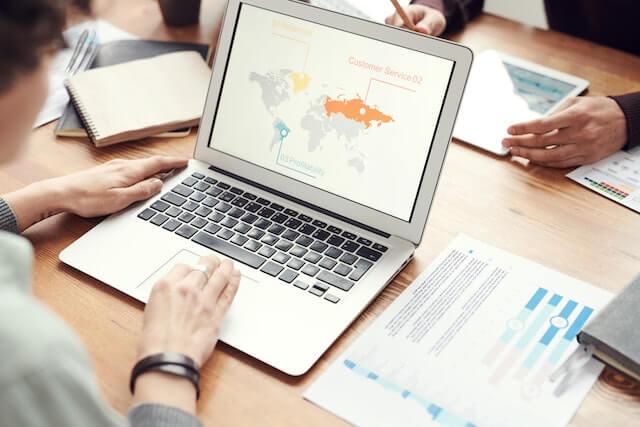 The pandemic triggered a drastic reshuffling of how workers view their jobs, leading to what has been dubbed the Great Resignation. In the United States, more than 11 million jobs were sitting unfilled as of January 2022. With jobless claims on the decline, the domestic labor pool is small and competitive.
It can be easy to feel overwhelmed as a small company attempting to attract talent in the current labor market. You'll want to ensure that you're offering competitive wages and benefits, but it can be difficult to go toe-to-toe with large corporations.
However, this is another instance where distributed work can help. One solution? International talent.
The distributed work model makes employing remote workers worldwide more seamless than ever before.
A few considerations here to keep in mind, though.
You'll need to apply for certification from the U.S. Department of Labor to hire outside the country.
Be aware of additional taxes that might result.
For more information, review the official documentation for this process.
Note: The same standards do not apply to international contractors, but there are special considerations for contractors as well. Read this guide for more details.
Maintain quality communication between employees
Successful businesses rely on open communication for everything from keeping employees up to date on company information to maintaining morale. Let's go over a few ways to implement quality communication in a distributed work environment.
1. Cultivate a healthy work environment
Company culture can feel like an afterthought when your teams work separately from each other. However, cultivating a strong company culture is vital, especially for distributed work environments.
The first step here is to clearly define the company culture that you want. By setting the company standards early, your employees will be able to benefit from a solid starting point.
Second, reinforce the culture that you'd like to create. Setting goals, establishing performance metrics, fostering accountability, building trust with employees, and being open to feedback from workers all help reinforce a healthy company culture.
And third, it's important to prioritize the mental and physical health of your employees. Encourage vacation time, allow for flexible working arrangements, and make mental health support a priority.
2. Foster open communication
Digital communication is key for distributed work environments, so keeping open and transparent channels for communication is imperative.
Email and chat tools are communication fundamentals, but fostering communication itself can feel a bit daunting.
Here are a few suggestions on building healthy communication for your distributed work teams:
Make empathy a priority.
Greet employees every day.
Create a virtual water cooler to encourage socialization.
Announce company updates directly.
Give recognition and feedback regularly.
By encouraging clear, focused — but also fun — communication, your teams will grow to trust each other and interteam collaboration can flourish.
Distributed work is the 'new normal'
Building your business toward a distributed work model is a solid investment in growing your company in the future. Tools like Microsoft 365 offer an all-in-one solution to take the pain out of transitioning your business, so take charge of your business' future today.