Today we're speaking with Detroit Hives founders Timothy Paul Jackson and Nicole Lindsey. Initially starting with an idea to bring local raw honey to the Detroit area, Detroit Hives has expanded to include tours and education around their apiaries. Detroit Hives focuses on the conservation of bees, education about bees for locals, and the overall revitalization of the Detroit area. Read on to learn their story.
Q&A with Timothy Paul Jackson and Nicole Lindsey, founders of Detroit Hives
This interview has been gently edited for length and clarity.
GoDaddy: Tell us a bit about how you got started with Detroit Hives.
Timothy Paul Jackson: So around the summer of 2016, we came across an article in the newspaper where the city of Detroit currently had 90,000 vacant lots and they were looking for residents, non-profit organizations, and community block clubs to buy some of these vacant lots to address some of the issues we were having in our community. Issues around crime, violence and the vacant lots were serving as grounds for felonies. So, from there, many people didn't know what to do with vacant lots.
There were a lot of people who were giving up their hands, they wanted to do something for the city that was planning to take these properties. So we salvaged the opportunity to give back to our community and to focus on changing the narrative on what people think about the city of Detroit, but also what people think about people of color in our communities.
We began to jot down some ideas, but we knew that inside this had to be radical, we had to be game-changers, we had to be breaking new ideas. Originally, we thought of creating a peacock bar, an outdoor photographer's studio, or an urban campsite. And of course, a community garden was a place for these vacant lots to reimagine some of the vacant landscape.
And all of these were great ideas that we had on our vision board, but in actuality, Nicole and I would go back to our day-to-day jobs, and we put these projects on the back burner. Until I got sick, around December 2016, I began to suffer from this really bad cough and cold. I tried almost everything to get rid of it from home remedies, to over-the-counter medication, to even going to a doctor to be put on antibiotics.
Unfortunately, I was still suffering from this cough and cold, and I didn't know what to do. I pretty much gave up and had this really bad cough and cold, but I suffered for who knows how long.
Until mistakenly, and I do mean mistakenly, I came across the power of local raw honey, in a very unconventional way.
I went to a local convenience store that I normally stop through and get some snacks and some refreshments to head back to my office. I kept coughing a lot, just like I normally do, so badly that the store owner recognized it and he said "Young man, you should try some of our local raw honey. It can help with that cough and cold that you're experiencing."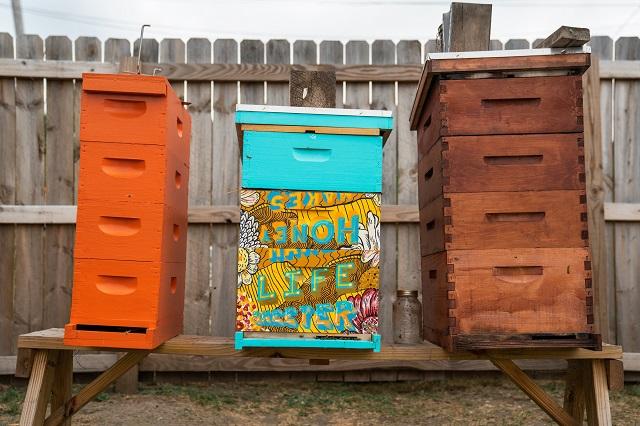 As soon as he said that, I said "Man, yeah right. That honey is not going to do anything for me, I've tried X, Y, and Z home remedies, over-the-counter medications, even some antibiotics, and none of it will work." He insisted this honey that he sold there was different. He said it was local, it was raw, and that he got it from a beekeeper.
And I asked him, "What's so special about local raw honey?"
He gave me this long rundown on how honey and honeybees provide antibodies and provide immunotherapy. So he sold me on this concept, and I began to consume local raw honey for a few weeks. I tried it morning, noon, and night, and over time within a few weeks, my cough had gone away.
Surprised by the results, I began to read and learn more about local raw honey. I began to learn about the positive side effects on your skin, you can put it in your hair, and it never expires, it never gets old. So we bought more honey — we bought a whole lot of honey. It was probably all that we had, and then I began to look and try to find where I could find sources of local raw honey, and Nicole made a suggestion, she said, "How about we transform a vacant lot into a bee farm at home?"
GD: Nicole, what gave you the idea to put aviaries at these vacant lots?
Nicole Lindsey: At the time [when Timothy was sick], we couldn't buy honey extremely local — I didn't know where to go in Detroit where we could find actual local raw honey. We had to drive two-and-a-half hours or more to get a local source of honey from an actual beekeeper.
We have so many vacant lots, we're already thinking about ideas, why don't we just transform that into a bee farm?
We didn't have any background knowledge prior to that honey, so it was a brand new idea. We were both learning something new, and trying something new, and bringing something new to our city. And so, we went with a bee farm. We're like, "Let's just go for it."
GD: Can you tell us about the day-to-day for Detroit Hives?
TPJ: Detroit Hives is a non-profit, focused on creating sustainable communities and bee populations by transforming, or reimagining, vacant landscape to create educational bee farms.
And whatever happens at Detroit Hives, it leaves Detroit Hives.
People are sharing what happened at this outdoor learning space. They're sharing their experiences about going inside the hive, overcoming their fears, and most importantly learning about bees.
NL: We wanted to create an opportunity where the community can actually come and experience beekeeping and have hands-on experience with honeybees, something that he and I never had before. And we wanted to invite the community in. We have tours, we come in or the schools can come in, and it's just a family spot.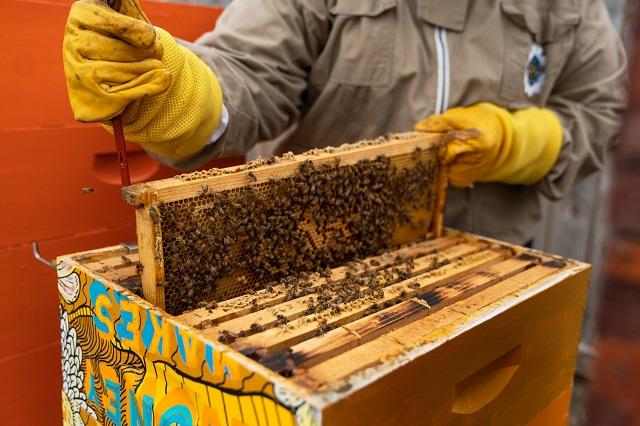 TPJ: What we love most about it is that we invest in people, our planet, and our community. It has a social-environmental impact on our community.
GD: What did the early days of Detroit Hives look like?
TPJ: Oh, very damning. There were a lot of naysayers that they had their notions of whether this could potentially work in a community. So, we had a lot of people that were in doubt, but for us, there was so much passion. That passion's still there, but it was pure joy. It was something new, so we're very excited, we're very enthusiastic.
We had to become knowledgeable about beekeeping. So, we became certified beekeepers. We began to dive more into depth about learning about conservation.
So from there, I began exploring the magical world of environmental stewardship. I think there are many layers to it.
I think it all starts with trying to be more grateful, and more appreciative.
And then learning about the importance of being outdoors and being with nature. From there, that made us a little more optimistic about the idea of even keeping bees.
GD: Why did you choose to start your business in Detroit rather than the suburbs?
TPJ: We chose to stay with Detroit because this is our home.
We're both Detroit natives, we're both born and raised here, we never left.
We stayed here through the thick and thin.
But also, we want to change the narrative of what people think about our city. When some people think about the city of Detroit, at one time it was deemed unsafe, it wasn't safe to visit communities. It wasn't the place to be. We wanted to change that narrative, and make Detroit the place to be.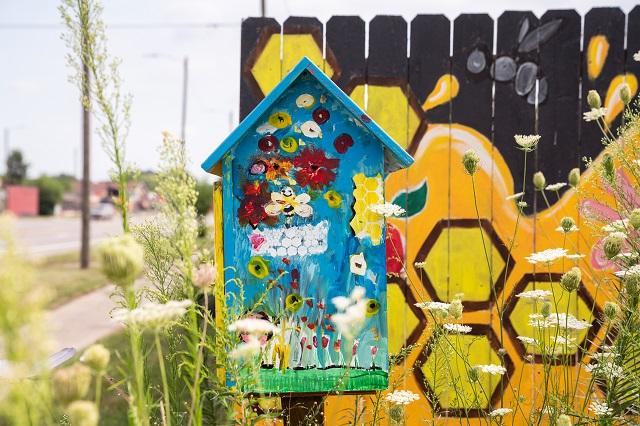 NL: We saw the opportunity in our city, and what it could be.
We've seen the downtown area thrive. And it seems like our communities and our neighborhoods were being left out.
We had so many vacant lots, we figured that there's something that we can do to give back to our own city. We were born and raised here, so of course, we want to see our city thrive, and change, and provide solutions for the problems that we were having.
So, why not let it be us, and why not let it be Detroit?
This is our home, so we want to see it change.
GD: What role does Detroit Hives play within the community of Detroit?
NL: Urban areas like Detroit can actually create this natural field environment because of the vacant lots that we have. So, we have more people in contact with nature and open up their eyes, open up their subconscious to engage with nature.
TPJ: It's important to have a green space in your community.
Once again, the number one reason for the decline of wildlife is the loss of habitat. So we created this habitat for people, plants and pollinators. A lot of times when people are developing communities, they leave out our insects, or they leave out nature. It's important to have those. We support pollinators here in the city of Detroit. In fact, we were instrumental in working with the state on the policy to pass a resolution to recognize the city of Detroit as an official bee city.
And what does that mean? That means that we now support 450 types of native bees in Michigan. And when we refer to bees, we're referring to our native bees, not honeybees.
NL: Another thing we did along with the city of Detroit is that we co-founded Natural Urban Beekeeping Day. So, it was to highlight our urban beekeepers that remain in the city of Detroit, but nationwide also.
GD: What do visitors to Detroit Hives learn?
TPJ: When visitors come to our aviary — guests, students, local residents — they're able to come to learn everything about bee conservation. They can suit up in the beekeeper suit and explore the hive, learning about the importance of each role within the colony. They can spot the queen, they can taste the raw honey.
They can see people in their community make positive changes.
It's really important that we also recognize people of color. There are some people of color that have been very instrumental in the beekeeping industry. We educate visitors on people like Dr. George Washington Carver. He was a professor at the Tuskegee Institute, which is now Tuskegee University. He was instrumental in having an aviary at that university. But also every student at Tuskegee had to learn beekeeping.
GD: What does it mean to you to have people of color gain an interest in beekeeping?
TPJ: When we first started learning about beekeeping, we just thought we were by ourselves. We didn't think that there would be other people of color learning or interested in beekeeping, and boy were we wrong.
When we took our second course right here in the city of Detroit, we saw other people that looked like us. And it means a lot, because now we can actually have these conversations. We're not weird after all. We're able to actually talk and engage with other people of color, and share stories about why we're interested in learning about bees, and they were able to do the same thing.
But also, it means so much because we come from the same background, we come from the same neighborhoods. We walk, we talk, we look like each other. And we can just identify with that, and that means a lot to us. A lot of times when we go outside the city of Detroit, there isn't too much representation.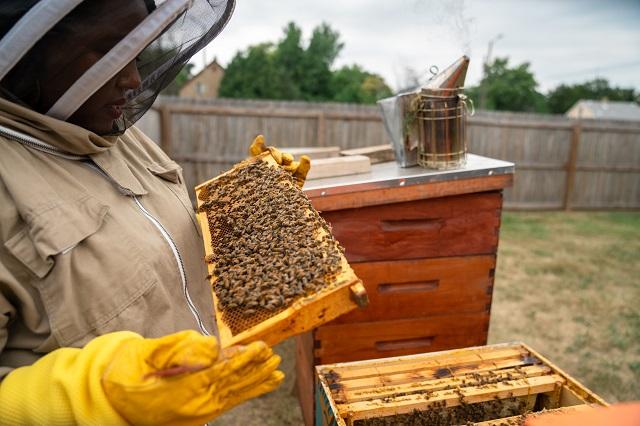 NL: It means a lot to us to be in this space because now we can inspire the next generation to go into environmental conservation, or beekeeping, or just try something new.
GD: Can you tell us more about your Bee the Change program?
TPJ: Bee the Change is our youth program, an opportunity where we get to educate students on important bee conservation, and environmentally sustainable practices. We started initially with six high school students and taught them how to combat vacant lots and reclaim vacant lots in their community and about the importance of environmentally sustainable initiatives.
From there, we've been able to work and educate students on important bee conservation. But due to COVID, we had to cancel a lot of our in-person educational opportunities or programs, and switch to a virtual program. So we were able to work with local students on bee conservation through a virtual program.
Because of that, we've been able to be fortunate to be awarded a grant from the National Recreation Foundation to continue our efforts on our Bee the Change program.
GD: Tell us about your favorite part of running Detroit Hives.
NL: Personally my favorite part about Detroit Hives or doing this work is to educate young girls. We get a lot of young girls that come out and visit. And they are terrified when they come out to visit. At one point, I was the same way.
And so, I just want to make them more comfortable in the space. And I want to show that this is a place for us as well.
You can get over your fear.
And they do get over their fears after they leave the bee farm. So, this is a space for us to come together, and we can get over this fear, and learn about the importance of bees in the world.
GD: What would you say to somebody with a fear of bees?
TPJ: I would say that bees are misunderstood. They're misidentified, and nine times out of 10 what you're seeing or experiencing is not a bee — it's a wasp. A bee will only come up to you for two reasons, either you look like a flower, or you smell like a flower. Once the bee sees that you're not a flower, they'll fly away and mind their business.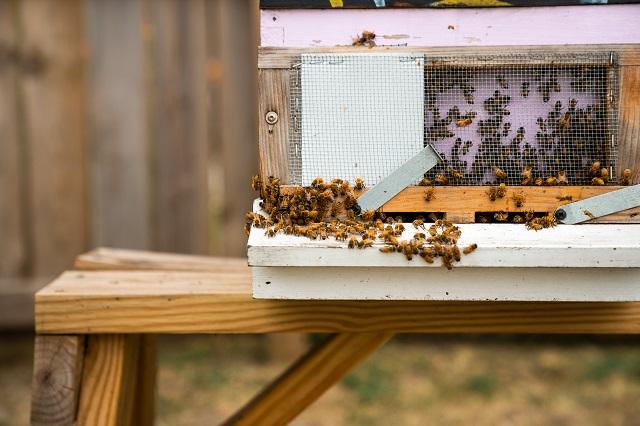 GD: What do you hope that people will take away from your journey?
TPJ: Be whatever you want to be, do whatever you want to do.
Do what you love.
If I can give any advice for those that are exploring the idea of entrepreneurship or social enterprise, do what you love.
Only do what you love, and you will find a reason to right a wrong. You will stay motivated those days when you just want to give up. People will see that love, it will reflect into that.
NL: That's it. Do what you love. And even though this is cliché, it is never too late. You can start at any age, anywhere, just continue to do what you love.
Thank you so much to Timothy Paul Jackson and Nicole Lindsey for sharing their journey with us. You can check out Detroit Hives online for more information about their business and their non-profit efforts.