Weary about free WordPress themes? You should be. There are several core characteristics to consider when looking for a well-developed theme. Ignore these, and you could end up with a poorly designed dud that runs slowly, isn't optimized for search engines, renders shabbily on a mobile device, or is difficult to update. So where does the good stuff reside? Start your search with the following list of 15 free WordPress themes worth their weight.
Are free WordPress themes too good to be true?
Nope. Experienced WordPress theme designers do an incredible job to ensure their themes aren't simply beautiful, but that they're also high performing and easy to maintain. That requires experience and quite a bit of effort. So why would theme developers work so hard on something they give away for free?
For starters, WordPress is a community of folks who profit from the use of the platform but also give back as contributing members. Secondly, free WordPress themes are one way to promote their brand or their services. Why? A well-designed theme could garner a ton of attention.
What makes a free WordPress theme worthwhile?
It's certainly possible to find a free WordPress theme that has everything you need. I'm pretty picky, so in selecting my faves, I focused on several problem areas that cause issues during implementation. My criteria for construction, maintainability, and performance is as follows:
Looks — Of course, the first thing I checked for is whether the theme is beautiful and has a modern, popular styling to it.
Responsiveness — I looked for a responsive theme that are mobile friendly. The easiest way to do this is to use Google's Mobile-Friendly Test.
Proper markup — I viewed the source of the main page, an internal post and a single page to ensure the code is marked up properly. HTML5 markup is a plus, indicating the key content in comparison to the sidebar, header, navigation, and footer content. Within the page, I looked for one h1 heading tag, then usage of h2 and h3 tags as well. I also checked to ensure all the image tags have alternative text associated.
Solid style sheets — I looked for a well-written style sheet and no inline style tags that would be difficult to modify.
Library check — I ensured additional jQuery and other script libraries are not installed in addition to or instead of the libraries that already come with a WordPress installation.
Customization — I looked to see that one could customize all viewable text, navigation, and images utilized in the theme. There is nothing more frustrating than having to search and replace hard-coded text or images in theme files.
Shortcodes — I checked for a set of shortcodes that enable certain layouts — especially columnar layouts that are difficult to write CSS for and make responsive.
Free of frameworks — I avoided themes that have dependencies on other frameworks, which often require more maintenance and updates by experienced developers.
Bonus features
Gilded themes, by my measure, also cover the following bases:
Multiple post style and page style templates that a user could select from.
Readily available child themes, making it even easier to modify the theme without changing the original code.
Supported, and complete with released updates. There is nothing more agitating than finding out, a month later, that there's a bug in your theme and it's never been updated.
Supports WooCommerce integration so you can build out and include a store on your site.
Top 15 Free WordPress Themes
Without further ado, dig into my list of 15 free WordPress themes.
1. Receptar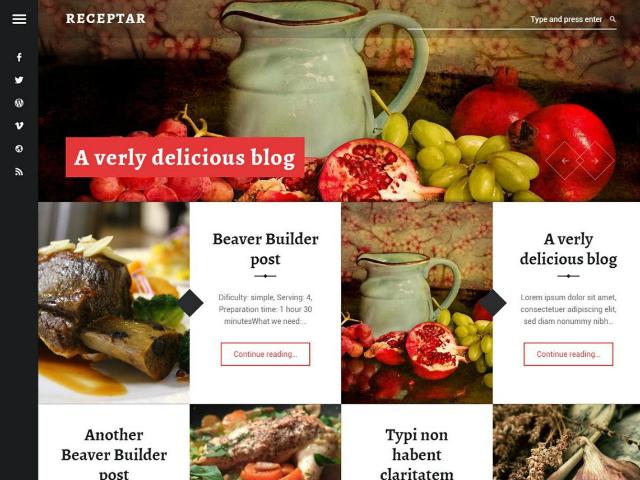 Receptar averages more than 250 downloads per day in the last month and features split-screen, book-like design inspired by a modern cookbook, with emphasis on beautiful imagery and typography. If your content is as much about the imagery as the written word, and you want a modern site to stand out from the pack, Receptar could be the right choice.

2. Ample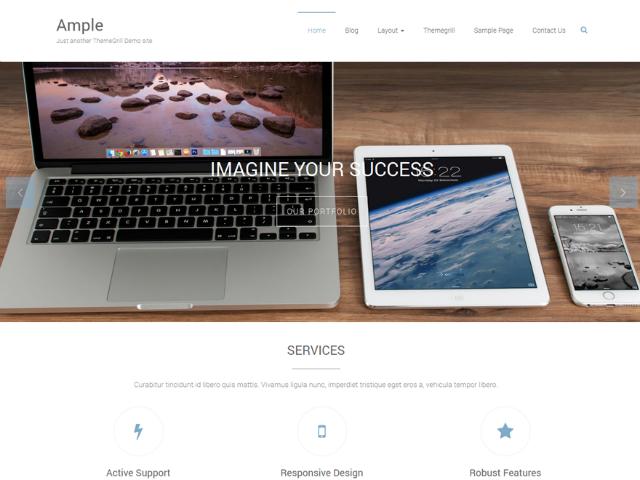 At almost 500 downloads per day in the last three months, Ample proves itself as a multipurpose responsive WordPress theme helping users create professional looking sites in no time. It is extremely flexible, and provides numerous built-in options to give your site the look that you want with only a few tweaks.

3. i-excel
i-excel is a popular boxed/wide layout theme for business websites, and includes several premium features like the included plugin "templatesnext toolkit," providing SEO enabled headings, portfolio carousels, testimonials, call-to-action sections, and a custom slider. One of the key differentiators for i-excel is that it does not use theme settings to store content, allowing you to switch themes without losing your content.

4. Enigma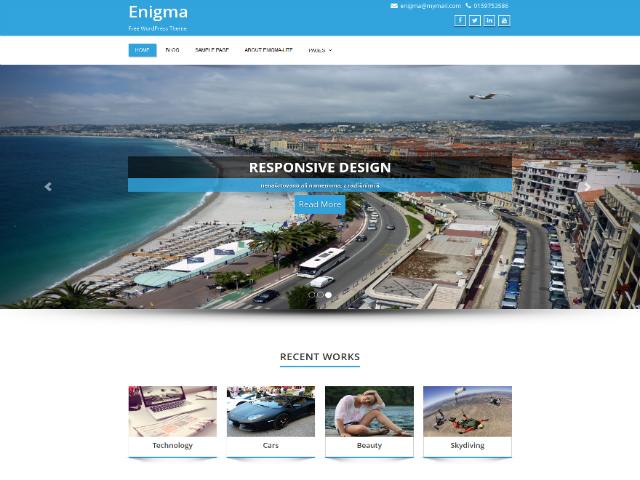 With more than 250K total downloads, Enigma can be utilized for many different purposes. It is WPML compatible and based upon the BOOTSTRAP CSS framework that adapts your website to any viewing environment. It has four-page layouts, two-page templates, and five widgets available (one sidebar, four footers). Enigma also has a custom widget to show your photos from Flickr with a solid carousel slider.

5. Ascent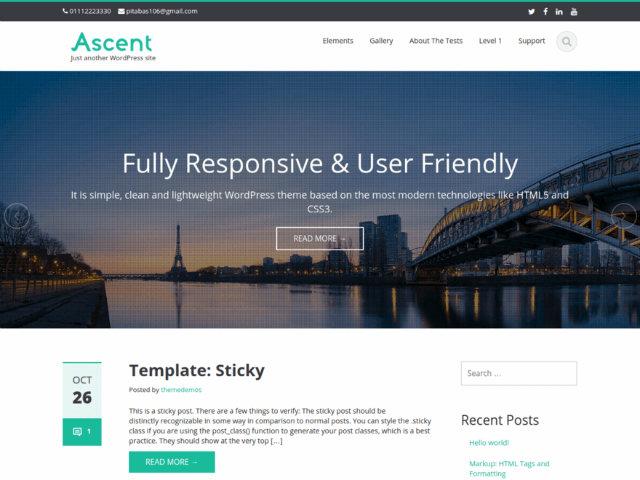 Ascent is a simple, clean, and lightweight WordPress theme based on the HTML5 and CSS3. If you are looking for a fast loading site with a clean look, this might be the right theme for you. As you would expect, this theme does not have a ton of extras or features like several others evaluated, but if performance is a top priority, this theme leads the way.

6. FlatOn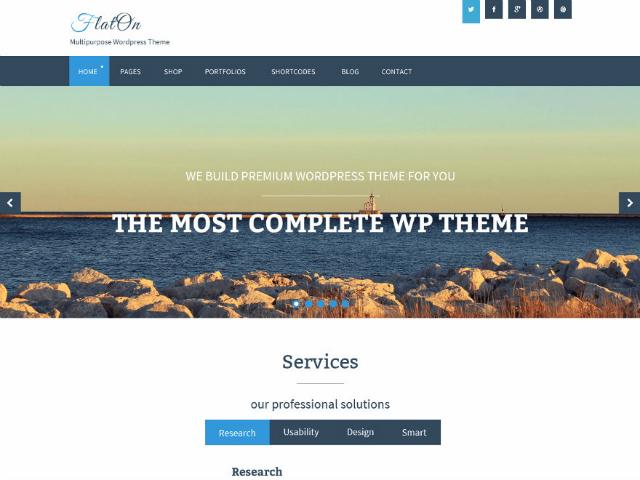 True to its name, FlatOn allows you to embrace the flat design trend while providing a responsive design. Well suited for corporate or business blogs, FlatOn has four footer areas and allows custom CSS via the theme panel. To minimize CSS, it uses a skeleton framework for grids and has two different color schemes along with a SASS generated stylesheet to maintain DRY CSS architecture principles.

7. OneTone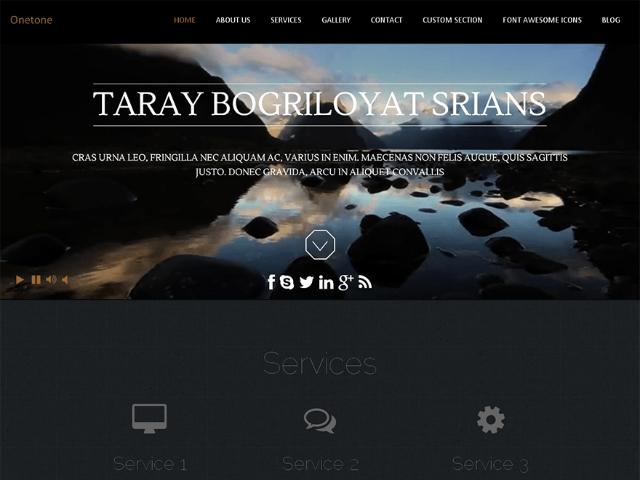 OneTone is a one-page, parallax scrolling, business theme where all required information displays on a single page with clear order according to users' preferences. Basic sections like services, about, gallery, and clients are pre-loaded with an extensive admin panel to add more sections or make adjustments as needed.

8. Auberge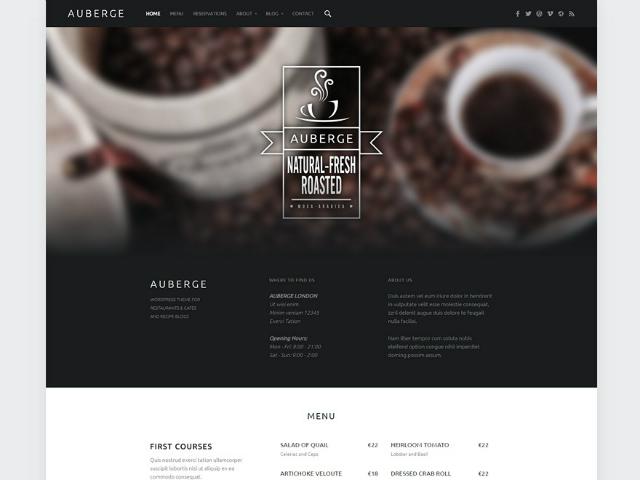 Another winner from WebMan Design, Auberge is an ideal theme for a modern restaurant or café. Primary features include a Jetpack plugin to create a food menu, translation-ready code, and header slideshow for photos of menu items.

9. Awaken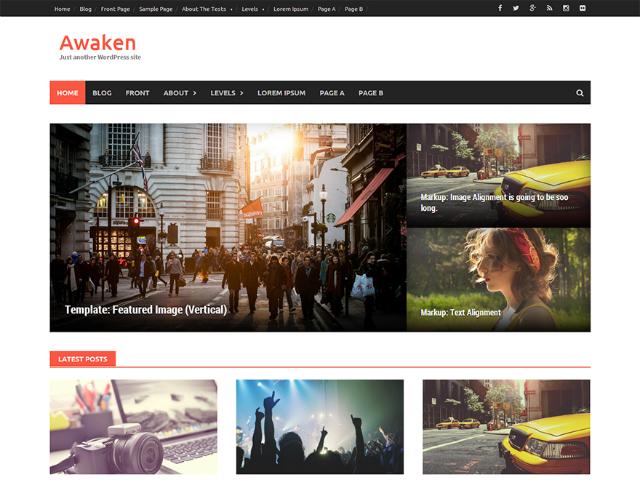 With its two-widget area and magazine layout, Awaken is an ideal WordPress theme for magazine and news sites. It has three post widgets to display posts in different styles and some of the main features include a slider, ad widgets, YouTube video widget, and social media icons.

10. Esteem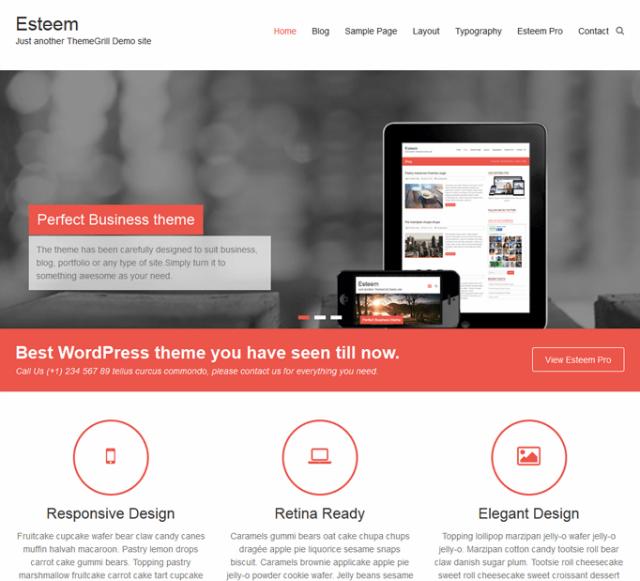 If you are looking for a theme with a clean layout and want to focus on iconography, Esteem will deliver a great experience for your users. The theme supports a custom header, background, widgets, and page templates, and is fully compatible with popular plugins like contact Form 7, WP PageNavi, and Breadcrumb Navxt.

11. Zerif Lite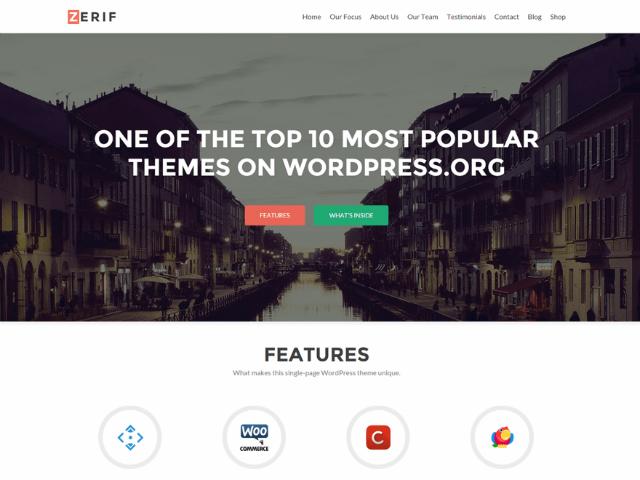 Zerif Lite is a great one page, parallax-scrolling theme for web agencies, freelancers, or business portfolio sites. It is full screen, clean, modern, flat, and minimal allowing for your creative work to be the focus.

12. Sequential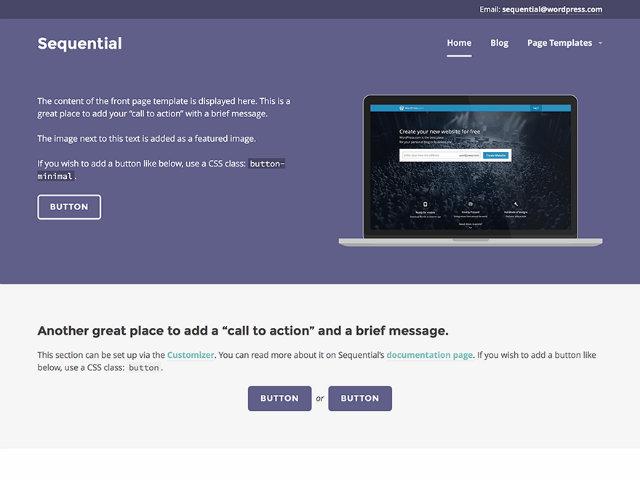 Sequential is another in a long line of great themes from Automattic In my opinion, the best utilization for this theme is to highlight a single product or service with the focus being the call-to-action. If you find the need to create several custom landing pages for PPC or social advertising, this minimalistic theme will deliver an experience solely focused on conversion of your desirable outcomes.

13. Maskitto Light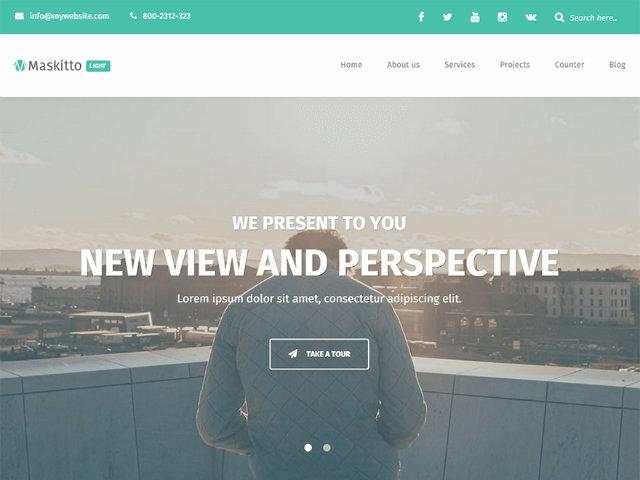 Maskitto Light
is a lightweight, clean, and simple WordPress theme for everyday use. It is best suited for non-designers looking for easy-to-learn and easy-to-maintain administration. Features include several useful color schemes and a slider with lots of options.

14. Zerius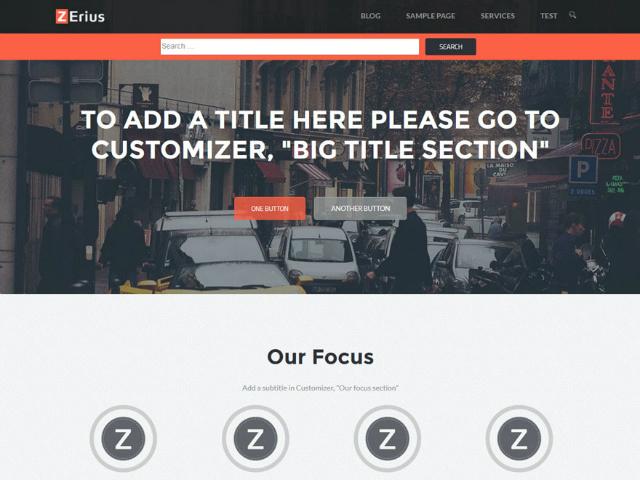 Zerius is a clean, modern, and animated free one-page parallax WordPress theme. I think it's best for those who need the parallax scrolling experience but still want the fastest possible loading site.

15. Spacious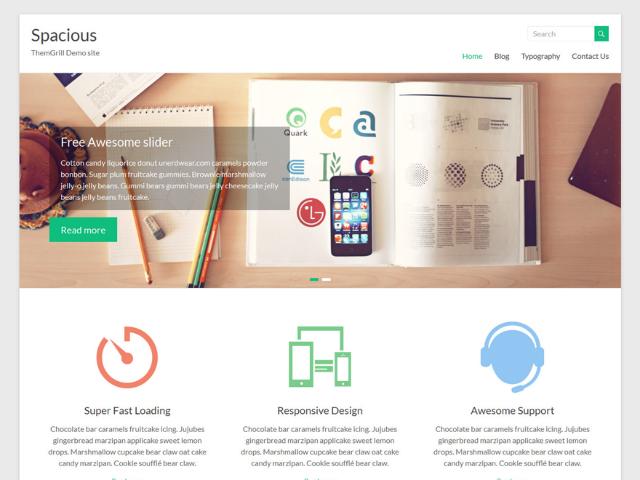 Spacious
Spacious is a responsive theme that provides one of the best full-screen site experiences. If your business needs a showpiece website to highlight in presentations and the wide-screen view, this theme will be the right choice for you. It has four-page layouts, two-page templates, four blog display types, and 13 widgets areas, including five custom widgets focusing on business.

Have you found any other shining yet free WordPress themes not mentioned above? Share your discoveries in the comments section below.