In the life of every WordPress user, the time will come to change themes. It could be that you have changed your business focus, you feel limited with the layout, you need something mobile-friendly, or it just sounded like a good idea as you were nodding off to sleep last night. Whatever the reason, if you haven't done it before, you might end up breaking out in a cold sweat, fearing the impending doom if you attempt it. There are just so many unknowns.
Where will my content go?
This is probably your biggest fear. You have sacrificed precious time and hard work for those dozens of blog posts you have churned out. You cannot count the number of edits you made to get the pages on your site just right. And all those images.
You can take a deep breath of relief now. The content you have created will remain intact when you switch out your theme. It might not be listed in your new navigation bars, but it's still there. You just need to reassign those menus to your new theme's layout.
And you might find other pages, like your home page, where the content appears to have suddenly gone south. Likely it's still there somewhere, you just need to find it.
Rule of thumb: Native WordPress content is not lost when changing themes.
First, all the content you have created that is native to WordPress — like your posts and pages — will always be there, unless you delete them.
Second, there are exceptions — with certain content. Many themes have custom post types specific to that theme. Say your home page starts with a large image and some text that overlays the image. When you set that up, you go into the theme settings. There you will have a field where you put in the content that lies on top of the image. If you change themes, poof, that is gone, as it was done in the theme settings.
Things can and will go wonky
Don't be surprised if some things go a little wonky when you're changing your WordPress theme. That just means you likely will need to do some redesign to set up your new layout. This is especially true of your home page.
If you have several widget areas, the widgets in those theme-specific widget areas will get confused. They don't know where to go. When you change the theme, they pop around, looking for a new home. The widget that was in a bottom area of your home page might have decided to end up in the new header widget area. You just never know what might happen, and neither do your widgets.
For example, look at my site below. On the left is a screenshot of it a few months back. I am using a theme called Hub from WooThemes. Now, in the middle you will see the demo of the theme I am going to activate. And lastly, on the right is what it looked like when I hit the activate button.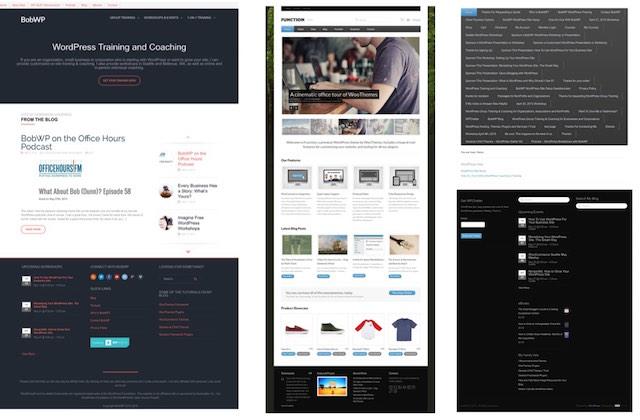 Pro tip: The more features your current theme has and the more features your future theme has, the more work you will need to do. If you have a simple blog and are switching from one simple layout to another, chances are your job will be easier. No promises, though.
Previewing the theme
In your dashboard, you can preview your theme before activating it. Simply install your theme and, instead of activating it, click on the Live Preview button. It will open in the Customizer and you can check it out. While you are in the customizer, you can also play around with some of your theme's settings.
As you can see below, my menu has grown quite a bit. But remember, don't save and activate unless you are ready to move ahead.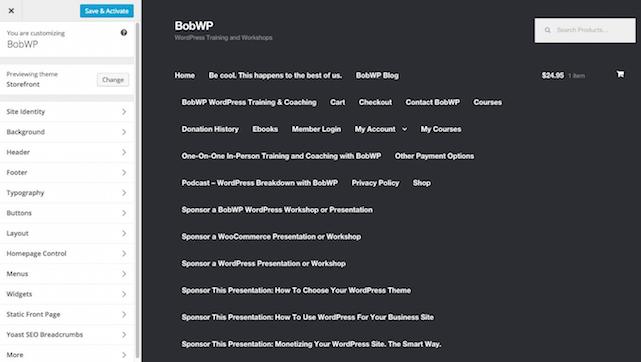 The other option is to use staging, a service that comes with some WordPress managed hosting. In fact, GoDaddy Managed WordPress includes such a luxury. This allows you to move your live site into a staging area, change themes, and play around with it to your heart's content — while your current site stays live and in one piece.
WordPress staging gives you the freedom and control to go through your site and prepare for the job ahead of you.
Be safe, not sorry
No matter the precautions you have taken, when you are ready to dive into the switch, back up your site before you start. I want you to get up now, go to a mirror, and watch yourself as you say repeatedly, Yes, I will back up my site. Once you have this mantra memorized, you can return to your computer, use your favorite plugin or your hosting service, and do a full backup of your entire site.
Why? Just in case!
That's it. Now, when you are ready to do that theme change, you will be better prepared.