What's the difference between SEO and CRO?
Well, do you know that amazing feeling when you see a spike in your website's traffic? When your efforts have finally paid off and organic traffic is your top traffic source? Great feeling, isn't it?
It can only be shadowed by the realization that said traffic didn't bring any conversions. Nada. Zilch. No one inquiring about your products, no one buying your services.
Briefly put, this is the difference between SEO and CRO.
Ask most people and they will say you can either hire a copywriter to help you with CRO, or an SEO content writer to help you boost organic traffic. But the two should never be mutually exclusive.
Let's take a closer look at them to understand why.
The difference between SEO and CRO
Moz, the " target="_blank" rel="noopener noreferrer">ultimate authority in the field, defines SEO (Search Engine Optimization) as, "The practice of increasing the quantity and quality of traffic to your website through organic search engine results."
Marketing Sherpa defines CRO (Conversion Rate Optimization) as, "The practice of improving the conversion rate in any advertising, marketing, sales or other business practice that has a goal of getting a person to take an action. (The conversion rate measures the number of prospects who take an action that you're requesting.)"
In other words: SEO attracts traffic, while CRO turns it into cold, hard cash.
But what if you could get them all in a single, neat package?
Related: Beginner's SEO guide — Search engine optimization for small business websites
How to reconcile CRO and SEO
It could be said that the difference between SEO and CRO is the goal. They are both digital marketing tactics, but the outcome differs. That's partially true.
In order to be effective, any marketing tactic needs to be aligned with your business goals.
Organic traffic in itself is meaningless. It doesn't bring any money and it doesn't pay the bills.
Unless you run AdSense on your blog, traffic is a vanity metric.
CRO copywriting is designed to convert — aka to bring in cash. But without SEO writing, how will you attract the visitors to convert? The Catch-22 isn't as problematic as it seems — not if you circle back to user intent, the concept that should be the cornerstone of both SEO and CRO.
You see, the days of keyword stuffing to gain better rankings are (thankfully!) gone. Today, the SEO writers who are worth their salt know that repeating the same short keyword ad nauseam will get them nowhere. Not only will they get penalized, but their content will also be illegible and unable to convert anyone.
When you add user intent to the mix, you don't just get conversions, you also get the keywords that you should be optimizing for — the keywords that internet users who are ready to buy look for.
Due to the rise of voice search and mobile internet users, short keywords are a thing of the past. Sure, you can try to optimize for keywords made of one or two words, but it will likely cost a fortune to surpass the giants. And they won't bring in any sales.
Related: Voice search and SEO — What's the big deal?
Long-tail keywords, especially those with commercial intent, sell the best.
Why, you ask? Well, because these keywords help you create content that matches your users' intent.
For example, if you optimize for "running shoes," you might get a ton of traffic (it's a high-volume keyword). But the user intent is not clear. Are the users trying to find the best running shoes brands? Are they just starting to jog? Do they simply want to see how runners' shoes look like? You'll never know.
On the other hand, if you optimize for "Adidas white women's shoes clearance sale" you are definitely targeting someone who is ready to buy. They did their homework. They know the brand they want, the color they want and they also know they want to score a good price. Granted, you won't be getting as much traffic (fewer people search using very specific queries). But you will get the traffic that matters.
If you can match all these criteria, your CRO and SEO efforts will be working hand in hand to do what any marketing tactic should do: pad your bottom line.
About a year ago, a client approached Idunn, the agency I run, asking for SEO copywriting services. They were running a small wedding dress boutique and they wanted content optimized for "wedding dress." Naturally, right? Sure, but barely doable.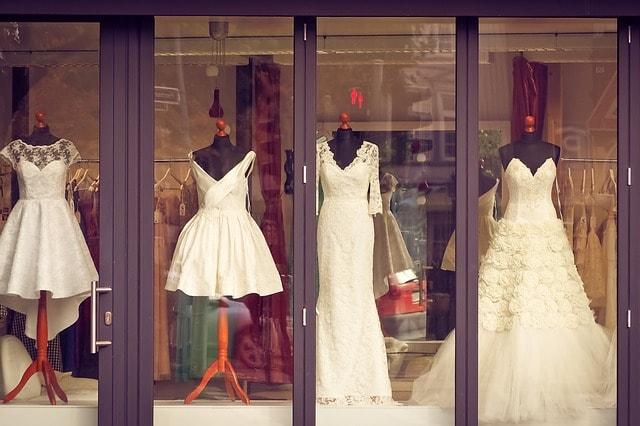 I explained to the owner that they would have to spend tens of thousands of dollars fighting off the giants of the industry. And even then, provided they managed to climb to the first page of Google results, they might not get any sales.
When someone searches "wedding dress," they are most likely window shopping. Perhaps they don't even have a date set yet. "A-line ivory wedding dress," "wedding dress shop in Tampa, Florida" or "white wedding dress on sale in Florida," on the other hand, are all queries someone who knows what they want would make. Someone who's past the window shopping stage of their purchase cycle and who's ready to make the buy.
I explained all this to our client. I told them we could charge them for hundreds of articles that will probably bankrupt them. Or that we could work on getting them both sales and rankings starting from the intent of their potential customers.
Luckily, they took our advice. Three months later, they were making their first sale through organic content.
Final recommendations
If someone tells you to choose between SEO and CRO, run! You shouldn't have to make that choice. SEO can sell.
Start your keyword research with user intent in mind. What would they search for? How would they phrase it exactly?
Then move on to writing the copy so that it speaks to your audience's pains and needs. Your keywords should fit right in, effortlessly and without making your content sound unnatural.
The end result is copy that attracts visitors and converts them into paying customers. In other words, the full package.