With businesses all over the world rushing to start selling online, eCommerce is more important than ever. In our recent GoDaddy Pro webinar series, WooCommerce 101, we partnered with Gareth Allison and Jonathan Wold from WooCommerce to give a basic introduction to setting up eCommerce websites. Now we're following up with more tips to help you continue to streamline your web design and development business and create successful online stores for your clients.
In our Bricks to Clicks series, we're going to talk about the different hosting solutions for websites you build as well as some considerations for WooCommerce stores.
Bricks to Clicks - Webinar Series Schedule
How to choose the right hosting plan for your business
10 opportunities for WooCommerce stores: Customer acquisition
---
Choosing the right hosting plan for your business model
Selecting the right hosting plan is a crucial part of starting a new website project. There many different hosting providers and types of hosting, and the choice can be overwhelming.
GoDaddy alone has several different hosting options. Even if you're a veteran web designer and developer, you might have trouble navigating all the options as you try to keep up with new technology.
For this webinar, we brought back a familiar face: Justin Nealey. As a project manager for GoDaddy and a WordPress designer with 8 years in the industry, Nealey is an expert on web hosting. Focusing on GoDaddy's products, he provided an overview of hosting options to help you decide which one is best for you and your clients.
GoDaddy's spectrum of hosting options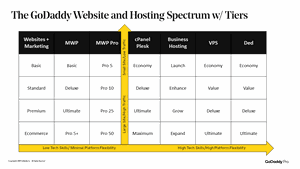 GoDaddy has a variety of website hosting options, varying in level of technical skills required and platform flexibility as well as website size and traffic they support.
On top of that, each type of hosting has its own plan tiers, making it easy to fine tune your hosting to your needs without paying more than necessary.
You can use this chart as a reference point while deciding which option best fits your requirements.
Should you make your client purchase hosting in their own account?
When it comes to purchase your client's hosting, you have a choice: Purchase in your account or purchase in theirs. If you're not sure which route to take, consider the use cases Nealey has outlined for each.
Purchase hosting in your account if:
You manage all aspects of their online presence.
You provide a white glove maintenance and hosting package.
The client isn't tech savvy enough to manage it.
You are the first line of all tech support.
Purchase hosting in the client's account if:
The client contains ownership of the website, and you manage it through GoDaddy Pro.
You want your client to be responsible for their own hosting billing.
You still provide maintenance and services, but it's not all-inclusive.
You want to focus on what you do best.
To summarize, you may find it's best to purchase hosting in your own account if you plan on handling everything for your client and want to send them one all-inclusive bill.
However, you may want to have them purchase hosting in their account if you don't want to be responsible for everything, so you're only accountable for the services you provide directly.
Which hosting plan fits your needs?
With a variety of hosting options, GoDaddy has a solution for every type of website and every skill level.
This website builder is easiest way to get online fast. It can be used for a static site, online store, blog, appointments, and more.
With SEO, Google My Business, and other marketing tools built it, it's a great all-in-one solution for clients who need a simple website with a lot of value-added features that they can manage themselves after you build it.
You may decide not to use this solution if you need advanced features and customization. Since it is a website builder, it will have some limitations.
Managed WordPress Hosting is a WordPress-specific hosting solution. It's great for clients who want all the power of WordPress without the hassle of managing the site.
One of the best features is the automatic daily backups that are kept for a rolling 30 days; if anything happens, you can just restore!
This solution may not work for you if you want to build with anything other than WordPress.
This can host almost any type of website, and it a familiar control panel that you're used to seeing on most shared hosting plans. It is great for websites that need more flexibility or control over their environment.
You may not want to use shared cPanel hosting for websites with heavy resource requirements, or if you have a large number of websites to host.
Plesk Shared Hosting
This is a Windows-based hosting solution that is typically used to power ASP and MSSQL websites. However, you can use it to host almost any type of website.
If you aren't building a website in ASP or MSSQL, the best solution will still be cPanel.
Business Hosting
Business Hosting provides a good middle ground between a virtual private server and shared hosting.
It's best for clients who have an established business need for higher resources on a large, high functioning website, and you plan to be the one managing it.
Avoid Business Hosting if you need root level access to manage things like opening ports and running custom software.
You can sell off space from your server to generate recurring revenue while giving your clients access to their own cPanel accounts. This is a great option if you want to offer hosting services to your clients while letting them control their own hosting accounts.
This option involves more technical work, and there is a lot of setup in WHMCS. You might not want to use it if you don't want to handle all the setup.
These are the most powerful and flexible hosting options available. You will maintain full root level control of your environment. It's a great option if you'll be hosting your clients websites and want to make sure they run exceptionally well or if your clients need root level access for their software to work.
Avoid this option if you're not super technical or if you don't have time to learn. There's a lot more responsibility needed for running a VPS or dedicated server.
Editor's note: Try the GoDaddy affordable hosting plan, which includes a free domain.
Choosing the right eCommerce hosting
Selling online is probably at the top of everyone's list of hosting requirements. Luckily, every solution we've discussed has the ability to support online sales for you or your clients.
You might choose one of the higher-powered solutions, like VPS or Business Hosting, if you're building an online store for a well-established business with heavy resource needs.
However, if your client is just getting started, you might opt for one of the easier solutions, like Websites + Marketing or Managed WordPress.
If you're looking to go beyond hosting and learn more about the business side of eCommerce, join us for the next webinar. We'll be talking to Ronald Gijsel from YITH about WooCommerce and the customer journey.
---
Customer acquisition for WooCommerce stores
Ronald Gijsel from YITH joined us for a 2-part session to identify 10 steps of a customer relationship journey with your store, from the first interaction all the way to being an expired customer. In this first session, we run through the first 5 steps from bringing customers to your site to making that first purchase.
Equally important factors, not covered in this session:
Website design & navigation
Site speed & performance optimization
Organic traffic & SEO
Three targets, one goal:
Get more customers
Increase your customer value
Earn repeat business from your customers
What's your customer journey?
The traditional customer journey assumes a straight path from visitor, to customer, to expired (churned/lost) customer.
In reality, there are different paths to conversion from visitor to customer.
For example: An online store might have an average of 4 interactions before the customer makes a purchase.
How do you know what the customer did before converting? That's where attribution comes in.
If you haven't enabled Attribution views in Google Analytics, now's the time to do it.
Looking at attribution paths will show you more about how customers move from awareness through conversion.
Related: Overview of Attribution modeling (Google Analytics)
You'll also see that there are many different paths that customers take. Hundreds, even.
Digging into the different channels and attribution models, e.g. first touch vs last click, will give you more insights into what's working.
It'll also give you a better idea of where you can lean in to achieve high impact through low effort.
Look for ways to nurture your customers through their journey.
Before the purchase:
Increase traffic, e.g. by showing up on Google or making it easy to share products
Engage with visitors before they buy, e.g. with wishlists
Use prompts to push them to conversion
More interactions with visitors before the purchase = more purchases.
During the purchase:
Use up-sells and cross-sells to recommend additional products
Lean on scarcity and urgency, e.g. one-time special offers
If you've set up Google Analytics for ecommerce, you can look at average order value (AOV) reports to see the impact of increased order sizes.
Related: Analyze Enhanced Ecommerce data (Google Analytics)
WooCommerce plugins by YITH that can help
Increasing traffic:
Engage users before they buy:
Use prompts to push customers to conversion:
Use up-sells and cross-sells to recommend additional products:
Lean on scarcity and urgency:
In the next session we'll look at the continuous customer journey.
---
Customer retention for WooCommerce stores
Recording coming soon.
A recap of the customer's journey
Not yet a customer > Customer > Expiring Customer
There are different touchpoints in each phase
Understand that the "not yet a customer phase" is a lot more complex
Spot the opportunity to engage after the purchase
Look at Frequency & Recency
In Google Analytics reports: Audience > Behavior > Frequency & Recency
Compare date ranges and measure results
Things you can implement
Driving short-term "bounceback" (repeat purchases within 1-2 days):
Adding loyalty points, a bit of a gamification angle
Urge people to come back - loyalty points instead of discounts
Offer an incentive for leaving a review
Driving medium-term repeat purchases:
Running a remarketing campaign via Facebook or Google Ads
Offer a smooth checkout experience to make it as easy as possible
Automate emails and post-purchase reminders to bring people back
Engage > Sell > Repeat: Driving repeat purchases over the long term
Discounts and offers, using the data you have on your customers
Offering perks for a subscription fee, similar to Amazon Prime
Special email reminders, e.g. for birthdays, special occasions
Get more referrals from your existing customers
Value of customers starts to decrease over time:
They're still valuable, due to your built-up relationship
Use them to get referrals to other potential customers, e.g. "refer a friend"
You can incentivize through offers and discounts
Monitor, learn, improve, repeat:
Make sure you have on-site search set up through Google Analytics
Use it to inform future decisions
Lessons learned
The path to conversion is much longer, and can be influenced
Sell before, during and after checkout to increase AOV
Discover the opportunities after purchase, automate this process
An expired customer is not a lost customer - win back again
Focus on three metrics:
Customers
Order Value
Frequency
Thank you to Ronald from YITH for joining us again. You can follow Ronald (@Just2Ronald) and YITH (@YITHEMES) on Twitter, and explore the full suite of YITH plugins for WooCommerce over on their website.
Editor's note: Looking for an easy way to build your next WooCommerce store? Check out our WordPress Ecommerce Hosting plans, powered by WooCommerce. They include 40+ premium WooCommerce extensions for free.