Email marketing remains one of the most effective digital communication tools available. But of course you can't just start sending out emails, you have to have a list of contacts to send to! One simple way to gain email contacts, especially for brick and mortar businesses, is to grow your email list in-store.
Building up an email list is an ongoing process that you will start and never stop.
The key to capturing contacts is to be consistent and insistent, making sure everyone who wants to stay in touch has the opportunity to.
If you have a brick-and-mortar business, one of the best ways to do this is by growing your email list right there in-store or at the register. Capture those contacts while the customer or potential customer is actively engaged with your business and see your list grow before your eyes.
10 ways to grow your email list in-store
Not sure where to start on growing your email list? Here are 10 tips to help you get the ball rolling:
Just ask.
Offer a discount.
Use the trusty ol' fishbowl.
Incentivize your staff.
Set up a prize wheel.
Add it to your receipts.
Use a paper sign-up sheet.
Offer guest Wi-Fi.
Utilize signage.
Run a raffle.
Let's get started!
1. Just ask
Truly the simplest way to get it done is to just ask. After a transaction or an interaction just simply ask if they would like to sign up to receive email correspondence from your business. You can input the information right there yourself, have them sign up on an iPad if you have that technology on hand, or just keep a paper list you input at the end of the day.
2. Offer a discount
One of our digital marketing clients had a stagnant list for months before we started working with them. They'd always ask people to "join the mailing list" at the register, which gives no incentive to the subscriber.
Instead, we shook things up:
Instead of join the mailing list, we asked customers to "Join The Family"
We offered a 10 percent discount on any service
We set up an automated welcome email to provide the coupon right away
They were even able to extend the offer online and grew their list like gangbusters!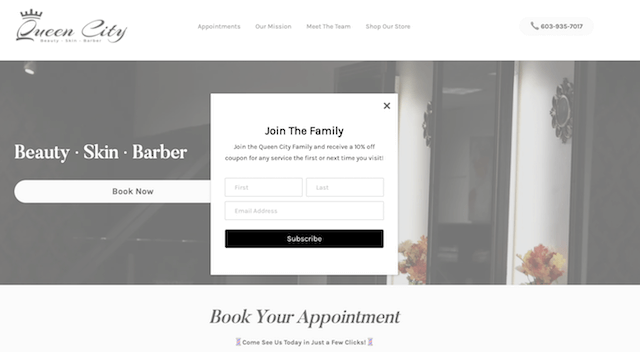 If you find that your customers or potential customers need a little incentive, then give them one!
Offer a small discount when they subscribe to the mailing list right there in-store or at the register to use on their purchase that day. This is a great way to get them to sign up and also a great way to boost conversions. They are already in the store and this may make it more likely that they will make a purchase.
3. Use the trusty ol' fishbowl
We've all been to a store and seen a fishbowl full of business cards at the front desk or register.
This is an easy way to grow your email list in-store and is also pretty hands-off.
If you want an easy way for people to leave their information without having to be in their face, leave a fishbowl at the register with a sign and little slips of paper and a pen encouraging people to write down their email addresses or drop in their business cards.
Even better, pair it with a giveaway! Run a giveaway for an item, discount or a gift card and make every email address an entry. Be sure to ask each entrant to provide their name, phone number and email address.
4. Incentivize your staff
Get your staff involved! Make getting email addresses a game for your staff and give away prizes or bonuses when they reach email milestones. A happy, motivated staff can truly work wonders!
Once people get comfortable working asking for email addresses into their normal sales, it becomes second nature and becomes a natural part of their process.
5. Set up a prize wheel
If you're crafty and like a bit of fun, try out a prize wheel.
Each entrant gets a spin on the prize wheel. The prizes don't have to be expensive, but be sure to have something desirable on there to drive engagement. This will add a little bit of fun to the environment and boost everyone's mood, along with your email list.
6. Add it to your receipts
Another great way to grow your email list in-store is to add a quick link to sign up to your mailing list on the bottom of your receipts. You can do this by adding a shortened link or a QR code that can be scanned by any mobile device.
7. Use a paper sign-up sheet
If you want to start simple, you can utilize a simple paper sign-up sheet right at the register on the customer's side. Be sure to fill in a few of the first lines of the sign-up sheet to make it look like others are signing up even if there hasn't been a ton of activity yet that day.
8. Offer guest Wi-Fi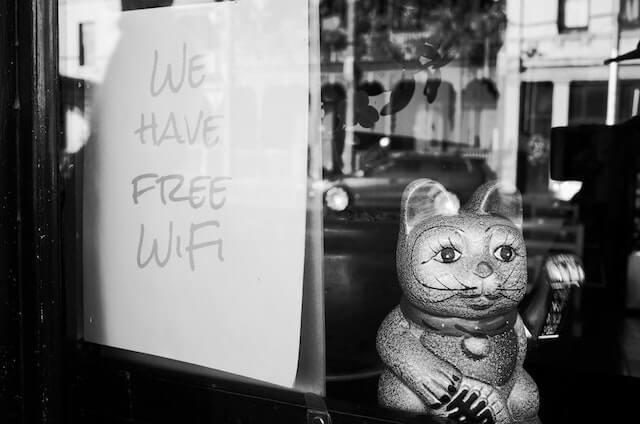 If your business offers guest Wi-Fi, this is a great opportunity to collect email addresses. You can easily set up a gate to your Wi-Fi network that will make anyone trying to connect first provide an email address before accessing the Wi-Fi. If this is something that you already provide, then it would be an easy add-on that could boost your list. If you don't already offer it and it wouldn't be an additional expense, look into it with your Wi-Fi provider.
Note: If you do go this route, you must let your guest know that you are collecting their email addresses and you must give them an option to opt-out.
9. Utilize signage
If you want to make sign ups easy for people, set up easy signage with a QR code or a text message number so that people can easily sign up from their phone while they are browsing in the store.
Hoping that people will remember to sign up when they get home won't always work, you want to capture them while they are immersed in your business.
10. Run a raffle
Who doesn't love a raffle? Select the products or gift card you'd like to offer as a prize and raffle it off. Make each email address a submission and run it for a specified amount of time. You can repeat this tactic as much as you want with whatever rules you like as long as they are specified clearly.
Wrapping up
Building an email list should be a marathon, not a sprint. The idea is always quality over quantity.
You want to communicate with people who are actually interested in what your business has to offer. This is one of the reasons you should never buy a list of contacts, aside from the obvious spam issues and that it's generally very uncool. Sending emails to people who don't care is just a waste of your precious time.
Once you gather the emails, be sure to add them to your email list as soon as you can and double-check to make sure their information is correct. Bonus points if you can set up an automated welcome email to remind them why they subscribed and provide them the offer you promised. More importantly, you want to build a consistent email marketing strategy, so you keep them engaged and wanting more in their inbox.
Remember to always let your customers and visitors know that you are collecting their email addresses and always give them an unsubscribe option.
Happy collecting!
Related: Email automation 101 — 5 steps to automating email marketing