Yesterday, Adam Ostrow from Mashable ran HOW TO: Optimize Your E-mail Marketing for Social Media Results. It features some of what you'll see below, but I wanted to fill out an aspect of it that fell outside of the article's scope, namely the underlying factors that you should consider when you integrate email with social media. I also want to add that I'm definitely into you guys sharing thoughts about this below.
Integrate email with social media
Dan Zarrella, Social Media Scientist at Hubpost, says, "Ask people to follow you, not share your emails."
This approach is the one I take when I craft our company's monthly newsletter, and it works for us. It's easy, doesn't require architecting highly optimized landing pages or expensive content. The goal? Simple. This opens up a new channel of communication between me and my customer.
This approach is best if your emails do not have content that lends itself to viral sharing, and by viral sharing, I mean highly impactful visual content, or valuable stuff being given away for free.
The focus on sharing within users' social networks
Basically what I'm trying to explain here, is when you focus on getting your customers to share your ballyhoo with their friends. While there is certainly merit in this approach, we find across GEM users, the vast majority are focused on the "Ask people to follow you, not share your emails." thing. To sound a little more sophisticated, I'd say opening up the Facebook and Twitter channels for greater communication with their current subscribers. (Note that this can also have a viral effect outward to subscribers' social networks eventually, but that's only a secondary goal.)
Want simple integration with Facebook, Google Analytics and more? Try GoDaddy Email Marketing.
Want an example?
Recently, some of our clients (like Timbuk2) have shown they are not only looking for more ways to communicate channels with their customers, but rather direct social media shares are their preferred undertaking. In this context, when Timbuk2 sends an email with a giveaway or bargain, it's convenient for a recipient to use a click or two to easily share that. Given that services like Facebook are already made for this sort of sharing, companies that have content or promotions to share should take advantage or that, and build their viral stuff around Facebook rather than building it around an email alone.
All things considered, the success of your social media integration with email will depend on the answer to this question:
Do I want to expand my communication pipeline with existing connections or do I want to immediately drive new users to my brand?
It's important not to confuse these two, or to have more than one clear call to action for the user. See what Timbuk2 did:
Timbuk2 Facebook Competition Email
Socially integrated promotion with a focus on direct social network shares and virality - new user growth.
Timbuk2's emails always have great visual content. A recent email of theirs had success with a Facebook competition that the email served to drive initially. This campaign was sent to just over 110,000 subscribers.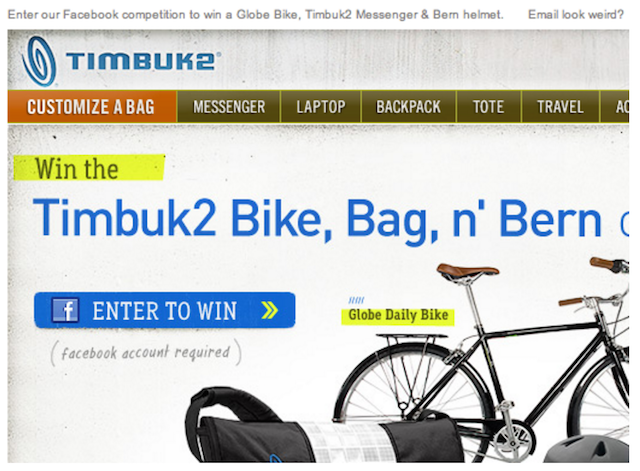 This email was to promote a contest the company is running on Facebook. Because Facebook is optimized for shares, Timbuk2's strategy is to use a Facebook application to handle the contest rather than setting up and optimizing a landing page of their own. From their email, the Facebook Giveaway links were clicked by over 7% of the recipients.
By comparison (and not surprisingly), their Facebook follow icon on the very bottom of their page was clicked about 9 times, their Twitter icon just 6 times.
The Timbuk2 campaign is actually a good example of accomplishing both goals at once - expanding the relationship with existing email subscribers to Facebook (note the user must 'like' Timbuk2 on Facebook in order to enter the contest), and encouraging the user to directly and immediately share the content with their social network.
Conclusion
Social media integrations with email marketing are highly context-sensitive - it depends on the marketer's goal and the content of the campaign. For some marketers, the goal is to expand the relationship with the subscriber to the marketer's social media presence. For others, encouraging subscribers to directly share the brand's content with the subscriber's social network is more appropriate. Know which one you're after and please don't present more than one call to action.
In either case, the pitch can be implicit (great brand or great content) or explicit (get something for doing it). And keep in mind that we find the most effective emails are relatively brief to avoid fatiguing Twitter or Facebook audiences.
What I'd like to invite from readers, are questions and feelings about email and social media, the way they play together, the role email is playing in your marketing life and the way social media is factoring into that. Please don't be afraid to share even if you feel that your grasp and ownership of the social medium is just beginning. I'm here to open a discussion about this stuff and see if we can make sense of it all together. :-)