Many web designers and developers get that call from a former client whose website just went down. Turns out, nobody's been running updates since it went live. This is a frustrating conversation that tiptoes around the fact that, barring some previous agreement, website security is ultimately the responsibility of the site owner.
After all, the guy from the pet store doesn't swing by on the regular to feed that goldfish he sold you, right? You could easily transpose that relationship to you and your clients.
But is that the most ethical way to handle web development? There's an implied trust in this relationship. Rather than ghosting once you get paid, it makes more sense to turn to the Hub from GoDaddy Pro Sites. This platform makes it easier to handle mundane tasks like running updates for your clients.
In fact, we'll also explore how it can turn chores like these into a business opportunity. And if you still haven't joined GoDaddy Pro Sites, now's the time. It's free and gives you access to the GoDaddy Pro platform.
Running updates is a really (really) big deal
For web designers and developers, CMS solutions like WordPress Hosting from GoDaddy (which even includes bulk plans) are a certifiable win. They make it easier to build a gorgeous website that does everything clients expect. In fact, recent statistics show that WordPress, the world's most popular CMS, now powers more than one-third of the entire internet.
But the widespread adoption of the CMS has attracted the attention of bad actors online. To see the impact of this, let's turn to the 2019 Hacked Website Threat Report, a free resource from Sucuri, GoDaddy's partner in website security.
The report indicates that 56% of infected websites handled by Sucuri were outdated at the point of infection. Those points include CMS plugins, themes and modules.
Once there's an infection, your client could end up with a blocklisted website that doesn't even appear in searches. Or worse, the site could be hosting a bot that sends out phishing emails or facilitates a DDoS attack. Not money well spent, to say the least.
It highlights the risks involved with expecting clients to keep their own websites updated. Obviously, it also brings up the hassle with credentials for every site you build, not to mention running updates and QA.
Fortunately, we're about to look at a solution that cuts down this process — from hours to minutes.
Maintenance is easier with Bulk Safe Updates
If you've started using GoDaddy Pro Sites, you're already familiar with adding websites to your dashboard. (It's easy for both WordPress and other platforms.) Once they're all added, you can use the Bulk Safe Updates feature to address any outdated sites you're managing, all at once.
If you're just now hearing about Bulk Safe Updates, here's what it does:
Creates a restore point for rollbacks, if necessary
Sends HTTP requests to all sites before updates
Takes Before screenshots
Updates WordPress cores, plugins, and theme files
Sends HTTP requests to check on sites post update
Takes After screenshots
Compares Before and After screenshots
Bulk Safe Updates are included with Premium Backups, as it's necessary for backup points. With those features added to GoDaddy Pro Sites, you're ready to get started.
Running Bulk Safe Updates on client websites
This snazzy feature lets you prepare sites for updates, run those updates, and then verify everything looks good — in just a few minutes. Let's get started.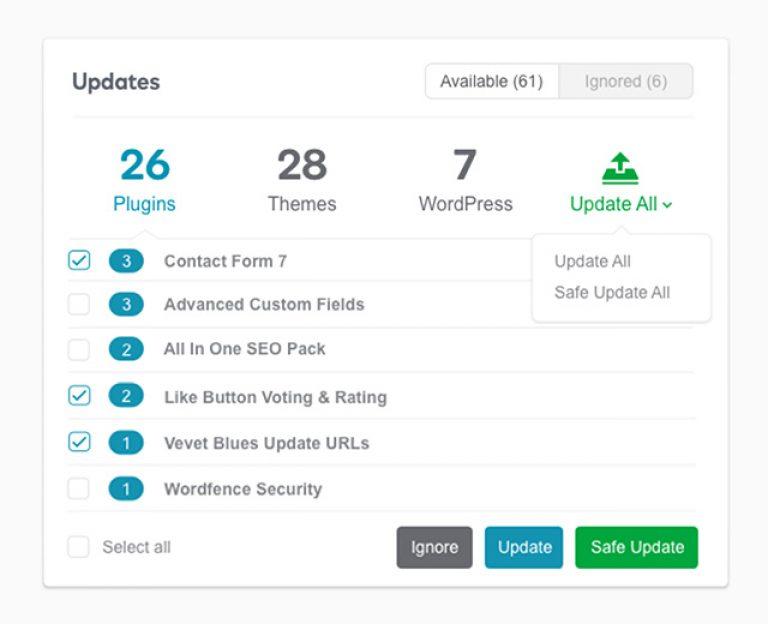 Use the Updates module in the top-left of your GoDaddy Pro Sites Overview dashboard. It's the only place you need to go to run Bulk Safe Updates.
Log in to the Hub.
Click Overview, and then click Updates.
Select the updates you want to run, and then click Safe Update. Alternately, hover over Update All, and then select Safe Update All.
A notice displays when updates complete.
Review the Before and After screenshots.
Boom, done.
GoDaddy Pro Sites can increase website security — and revenue
Now that we've explored using Bulk Safe Updates to get vulnerable client websites back up to date, let's discuss turning it into a profitable service.
This might be as simple and inexpensive as running timely updates. However, the Hub also streamlines other routine tasks like backups, security monitoring, checking site performance and uptime, and more.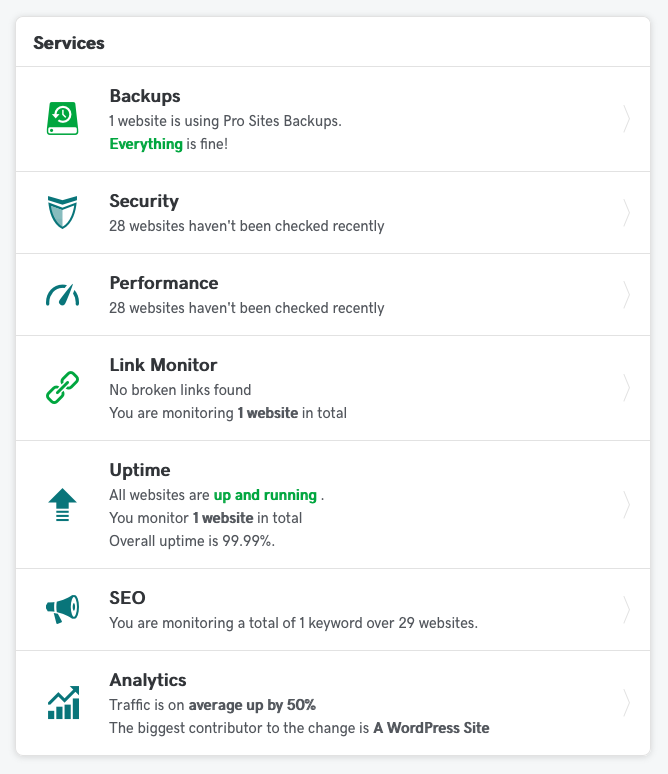 Use the Services module on the right side of your Overview dashboard. Take a look around and see what you could include in a maintenance plan.
And if you really want to round out your offerings, agency plans from Sucuri let you white-label a full suite of website security services, with plenty of room for profit. No expertise is necessary — you can hand over any issues to their support teams.
Being a web professional isn't just about publishing sites and cashing checks. But on the flipside, you shouldn't be expected to master every nuance of website maintenance and security.
The resources we've just discussed will empower you. Start building and supporting your brand as a savvy web professional with the ethics and know-how to provide a superior experience for clients.
Ready to get started? Join GoDaddy Pro Sites for free today.