I can't tell you how many times I've heard the horror in a client's voice when I suggested using some stock photos for their website design. Yes, horror. Isn't that going to look cheesy? Aren't the photos I texted you from my phone better? It happens — more often than you might think. In many cases, we designers suggest stock images when clients 1) don't have high-quality photos for their website and 2) don't want to pay for a custom photo shoot. And that's fine.
There are times when using stock photos on your website is a fantastic way to give it a more professional look.
So I think it's time to dispel some of the top myths related to using stock photos for website design. Let's get started …
Myth: Personal photos are always better.
While using photos of your own business, staff and customers on your website certainly can be more effective than using general stock images, it really depends on the quality and subject of the image.
For example, let's say you're starting a website for your plumbing business. You plan to splash what's actually a low-resolution (although you don't know that) photo of your business sign across the top of your home page. Don't! In this instance, a high-quality, professional stock photo is a better option. You can choose a much better image that's relevant to the services you provide to keep the look of your website professional.
A strong photo that represents your business or industry — like a friendly-looking person repairing a busted pipe — will be more effective at drawing visitors into your website than a fuzzy photo of your business sign. It's true, I promise.
Myth: All stock images are cheesy.
Yes, often the first thing that comes to mind when I say "stock photo" is an image you might describe with words like "over-staged," "unrealistic," "clip arty" or just plain "cheesy." And they're out there, for sure. (For a laugh, check out these super awkward stock images.) But there also are gazillions of great stock images.
Compare the three images below (all are free stock images from the same site, https://pixabay.com), and you'll see how much the style and quality can vary for the same search term, "tools":
There are great stock images beautifully crafted by professional photographers available to you – and many sites are free! Just be extra-careful to read all the fine print and use stock images respecfully.
The aptly named DeathToTheStockPhoto prides itself on free stock photos from a more artistic perspective. One of my favorite free stock image websites is Unsplash, which features a somewhat limited but eye-catching gallery. Imagine how great this image from Unsplash might look on a travel agent's website: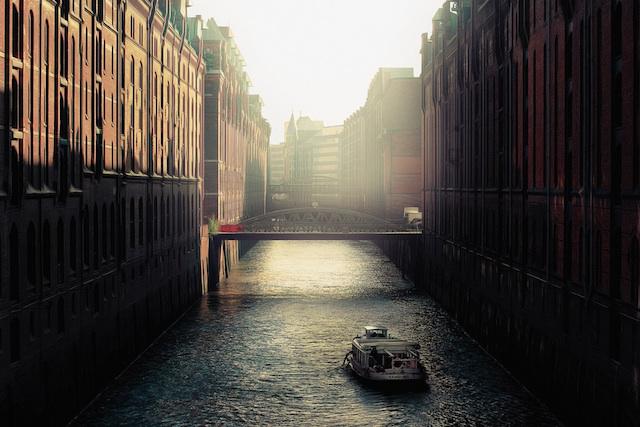 Myth: Looking through millions of stock photos takes too long.
Agreed! You shouldn't be blindly combing through stock photos hoping to find a "gem." Good stock photo services and websites allow you to quickly and easily search for specific types of images. The resulting images from your searches will be specific enough that you shouldn't need to search through very many to find the perfect photo for your website.
Myth: Nobody cares if you copy a photo from Google Images!
The original photographer cares. A lot. Google and other search engines gather and display image search results from a vast variety of sources online, including other companies' websites. Using a photo without explicit permission from the photographer or a valid licensing agreement is considered copyright infringement. You don't want to go there. Take it from Bonny Clayton of Your Web Chick, author of "If You Build It They Will Come: And Other Social Media Myths That Could Be Damaging Your Online Presence":
"Navigating the web for photos to populate your website, company newsletter, or other marketing tools can be like tip-toeing through a minefield. You might emerge on the other side completely unscathed, but one wrong step can blow up into a legal morass."
Purchase stock images from reputable websites to ensure you've purchased the rights to use the image on your website. It'll only take you a few extra minutes to follow the rules for using stock photos — but the images you end up with can have a lasting positive impression on your website visitors.