You finally sold that domain to the perfect end-user and got the profit margin you wanted. Now what? It's time to turn the domain over to the buyer.
Today we are going to give you some tips on how to complete the domain account change process with less stress for everyone involved.
If you've never dealt with an account change before, it is the process used when moving a domain name between two different GoDaddy accounts. It will require both the current domain owner and the new owner to participate in the domain move process.
Don't stress, though. We're here to help make this process simple and pain-free.
First, when you initiate the change of account request, you can reduce additional steps by not changing the registrant information during the account change.
To do that, you will want to choose "Yes" when asked, "Do you want to copy the current domain contact information to the new account?"

If you choose "No" for this option, then a second set of approval emails for the change of registrant request will need to be approved before the domain changes accounts.
The registrant change can be done later when the new owner has possession of the domain in their GoDaddy account.
Once you have initiated the account change, the gaining party will receive the email pictured below.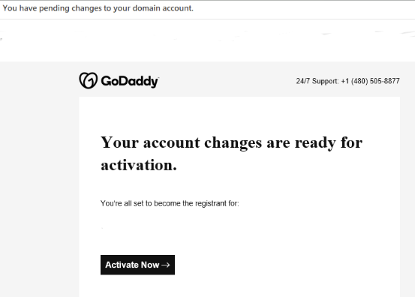 If the new owner isn't seeing this email, be sure to have them check their spam or junk folders. There is an active link in the email and some mail systems may perceive the message as spam.
Once they find the message, have them click the "Activate Now" button to accept ownership of the domain.
Pro tip: If the gaining party is having issues with the button, have them paste the "Activate Now" link in an incognito/private browsing window.
The gaining party will then accept ownership of the domain from within their GoDaddy account on the "Pending Account Changes" page.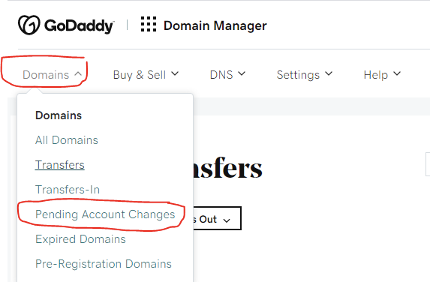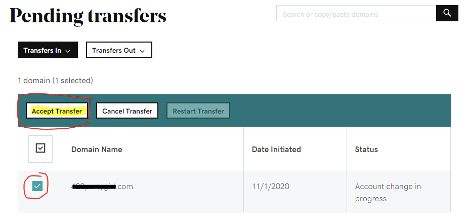 Once accepted, the domain will be active in the gaining account within a couple of hours.
And that's it! You can now pat yourself on the back and get back to selling more domains.