You know how this works: July was last week; August was yesterday and tomorrow it's November! Okay not really, but it sure does feel like the year is flying. That's why planning your October social content early on is key for staying ahead of in-demand holiday trends this year.
If you're involved in marketing a business, this time is crucial for preparing all upcoming themes and events. It's especially true if you're a brand in the retail, fashion, interior design or restaurant space. Gearing up now will help you take full advantage of this demand, so read on and get inspired with the following tips below.
Prepping your October social content for the holidays
A majority of holiday sales are often finished by Cyber Monday at the end of November. This means that it's key to prepare the marketing for your target audiences well in advance.
Consumers also tend to plan their holiday celebrations early on, which means they're often shopping for interior and exterior design elements that fit the changing seasons. It's worth thinking about as you begin planning for your October social content.
Whatever industry you're in, this really is a case of "if you wait — you're late."
So, here are some October content ideas to get you prepped for the last three months of the year, well ahead of time.
Related: Reach more holiday shoppers with GoDaddy and Google
Winter is coming and what to plan for
This time of the year is the season for winter preparedness. Many homes and cars need to be prepped for colder weather (depending on geographic location) and are looking for products and services to help get them ready. See if your brand can meet this need and plan for ways to advertise accordingly.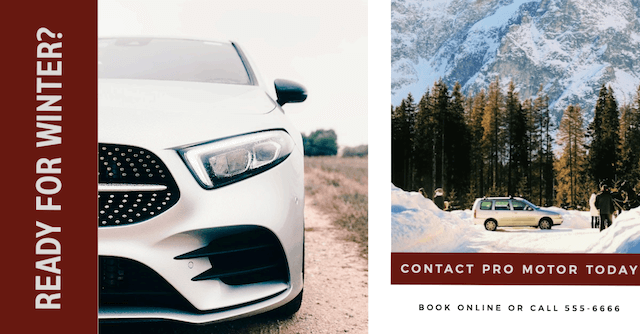 For example, an interior design or home services space could advertise how to help people prepare their homes for the colder months or take care of their houses if they go away on vacation. Winter home décor also begins popping up in stores around October. And while items like festive lights may wait to make an appearance in December, the following products typically get an early start during this time:
Wreaths
Candles
Throw pillows
Cozy blankets and more
Typically, these festive items begin making their way into living spaces as the weather changes. But many other industries, like art and design brands, also begin advertising their winter-specific décor in retail stores or online.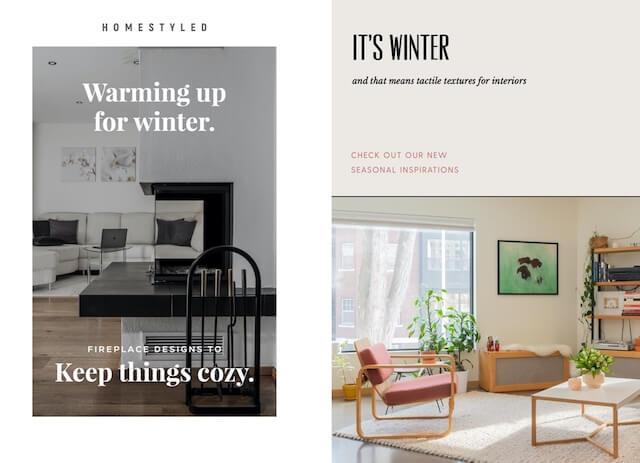 National holidays
Planning your October social content means making room for two major holidays: Thanksgiving and Halloween. Most people tend to prepare or celebrate them throughout the month, which means you'll have plenty of opportunities to get creative. Take a peek at the ideas below to see how your business can begin to plan for these events.
Thanksgiving (Canadian and American)
There are two options for Thanksgiving in North America: Canadian Thanksgiving on October 11 and American Thanksgiving on November 25. You can take this time in October to start your Thanksgiving promotions in the United States.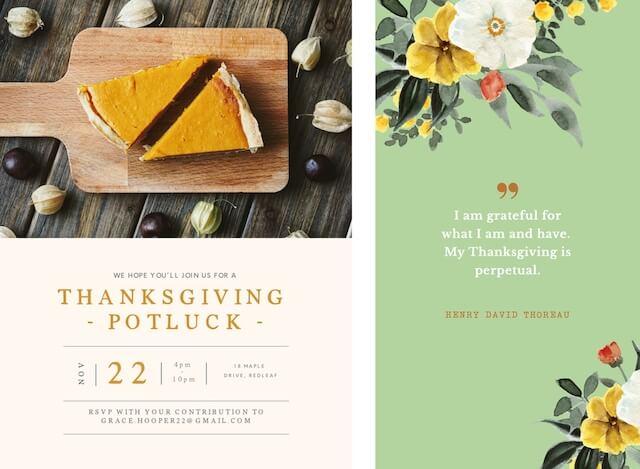 Thanksgiving Day presents an obvious moment for promotions. It's a time where folks often play out familiar rituals like eating with loved ones around the family table. This opportunity is great for anybody in the food and drink business to push their content to the front of the queue. Whether you're a brand or a blogger, you could consider sharing some of your secrets on recipes or décor ideas here. These often get huge search volumes at this time, so it's worth incorporating it into your October social content planning.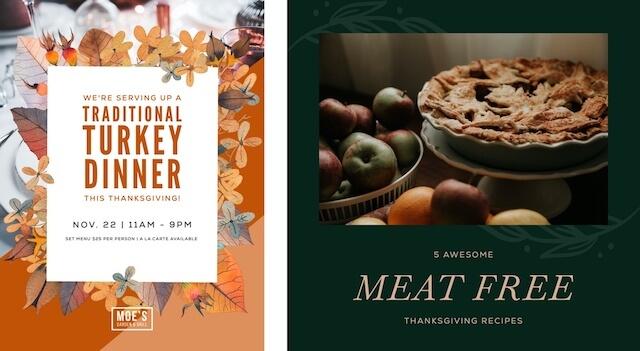 Of course, not everybody opts for the home-cooked route. Many restaurants, cafes, and bars also thrive during this time by promoting special offers and Thanksgiving menus. It's also the perfect time to post a beautiful quote or personal statement that projects an attitude of gratitude. You could even consider sending a card to somebody you appreciate.
At the end of the day, it's all about showing that you care.
Halloween
The last day of October is one of the biggest consumer holidays in the United States: Halloween. This holiday has gained so much traction over the last few years that it's celebrated in many places across the world, including the UK and Europe. Because it's now so widely recognized and accessible to any age, almost any brand can get involved – from food and drinks to beauty and retail.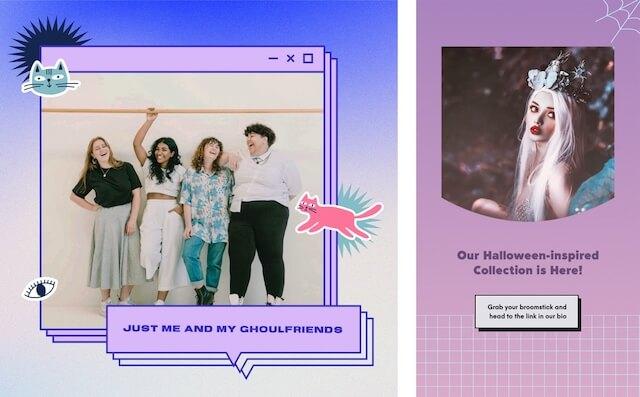 If you want to keep things simple, you could do a basic Halloween-themed social media makeover. This could include creating eye-catching imagery (like profile pics and logos) that align with all things scary and dark, or themed sales and promotions.
For example, you could create Halloween-themed cocktails or host Halloween parties if you run a bar. Other industries, like fashion or retail spaces, could hold a costume contest or get involved with competitions and events.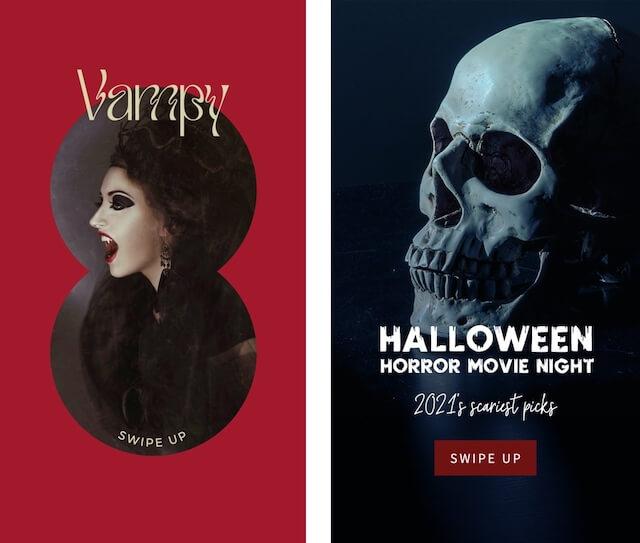 Popular ideas include:
Hosting a fashion show or performing beauty makeovers
Promoting Halloween-themed hampers as prizes
Selling food and drinks that are appropriately themed
Whatever it is, adding a darker edge to your offering will help you get into the spirit of things.
Awareness months
October hosts some important awareness events that you can use to highlight social causes, educate or inspire your audience. Of course, this will all depend on the space your brand occupies. Take a look at the examples below to get a feel for what you can add to your October social content.
Breast Cancer Awareness Month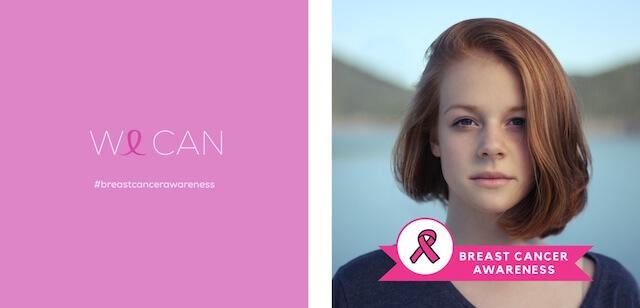 This annual international health campaign is organized by major breast cancer charities around the world to highlight the issue of breast cancer. It's a good opportunity for brands that market to women, in addition to businesses that are women-owned or women-led. You could create awareness and educate your audience on things like:
Early detection
Prevention
Fundraising
Companies and organizations that could benefit from raising awareness here, include:
Charities
Political organizations
Health and wellness companies
Medical brands
If you fit any of the industries above, try adding it to your October social content planner to communicate key subject points your audience can benefit from.
National Women's Small Business Month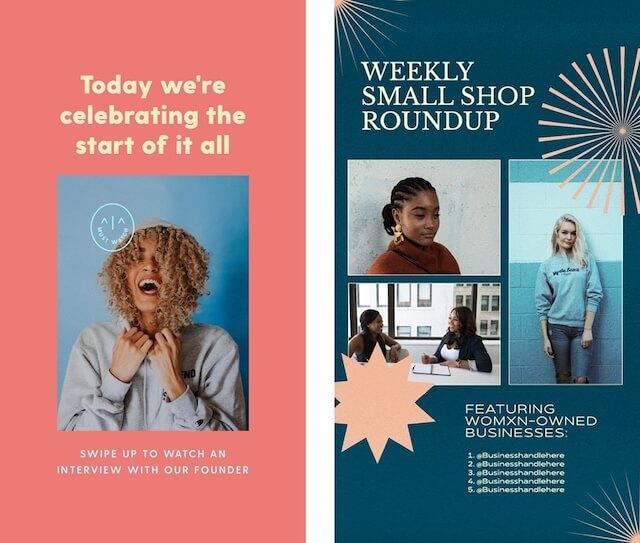 October is National Women's Small Business Month in the U.S. This celebration highlights the strides female entrepreneurs have made in the business world, despite gender barriers.
While progress still needs to be made, this month is a good chance for any female-owned small business to highlight the strides they're making. They could even promote other businesses they partner with to amplify the momentum. Any degree of awareness you can generate can help grow female entrepreneurship in the U.S. It's a worthwhile initiative to support and include on your October social content calendar.
Related: Planning ahead — How to create content calendars and why you need it
Trending months
Looking for month-long celebrations to plan for? Check out these trending events you can play with to spark interest in your business and boost engagement.
National Pizza Month
Could pizza be the world's most favorite food? It's possible. This simple staple is the hero food during the month of October and worth adding to your social content calendar if you're a restaurant or food retailer.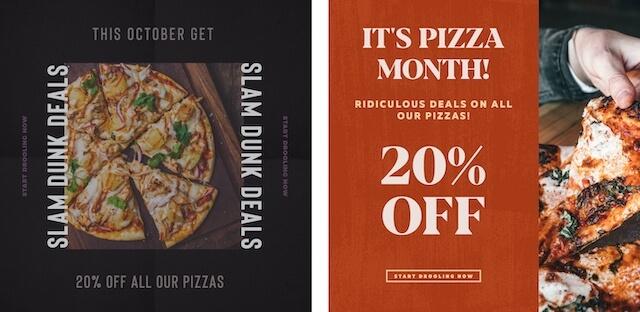 Even if you're not in the food space though, there's plenty of ways you can get creative with your advertising here. Try considering the following:
Adding a pizza "food truck" popup on your premises
Partner with a local pizza brand to compliment what you're selling. Pizza and locally brewed beer, anyone?
Create pizza-themed merchandise (think pizza-print bow ties)
The opportunities are endless here, so make sure you get your slice of the pizza pie by adding it to your October social content calendar.
Vegetarian Month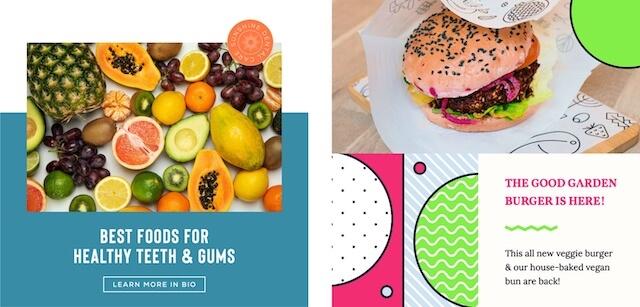 Recognized globally, October is the month to celebrate all the veggies among us. Vegetarianism is a growing trend worldwide and it's also good for the planet.
If you're a restaurant, celebrate the vegetarians in your target audience by highlighting or adding more non-meat options to your menu. Need ideas for a bar? Try adding some vegetable-inspired cocktails like arugula in a gimlet or fresh carrot juice with ginger and vodka.
Other brands that can get involved here, include:
Food bloggers
Organic farmers' markets
Plant sellers/nurseries
Whichever veggie-inspired direction you decide to go, it's sure to draw extra engagement to your October social content.
National Book Month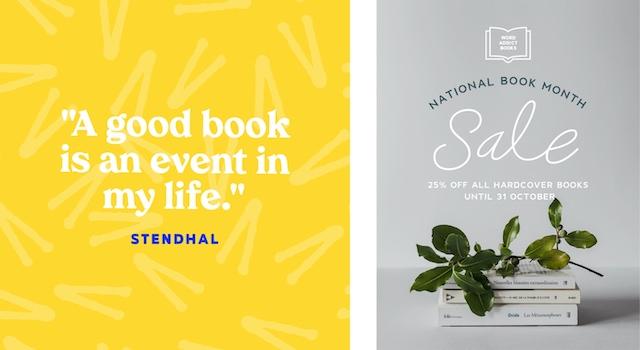 This important literary event is celebrated each year in October, with the overall aim to honor the country's best authors and books. It's all about encouraging reading, writing and the noble art of telling stories.
Who can get involved? The opportunities are endless.
Obvious examples include the education industry and bookstores, but even those in the beauty or fashion sectors can jump aboard the book train.
You could ask your employees to share their favorite reads with your audience or engage users online by asking them what books they're reading. Enabling these conversations helps you learn more about your customers, too.
After all, we all love talking about books and the best ones tend to change our lives in meaningful ways.
Trending Days
International Coffee Day
Ah, the humble coffee – one of the world's most widely consumed beverages. First started in 2015 in Milan, International Coffee Day on October 1st is used to celebrate this popular beverage. It also helps promote fair trade practices and raise awareness for the plight of coffee growers.
If you're in the food and drink business, a simple way to mark the day on your October social content calendar is to offer discounted or free cups of coffee. This is especially useful for restaurants, cafés, grocery stores or actual coffee brands to help gain more buzz around the products or services they offer.
Alternatively, travel and tourism businesses (or any lifestyle brand really) could try writing educational posts on the coffee trade or creating content on how coffee is enjoyed differently around the world. Retailers could even jump in on the action by offering discounted coffee accessories to sell.
World Smile Day
In 1963, Massachusetts commercial artist Harvey Ball created the smiley face – now one of the most recognizable symbols of goodwill on the planet. As the years passed, Ball became concerned with the over-commercialization of his symbol and how its original meaning had become lost. Out of that rose his idea for World Smile Day, celebrated on the first Friday of October each year.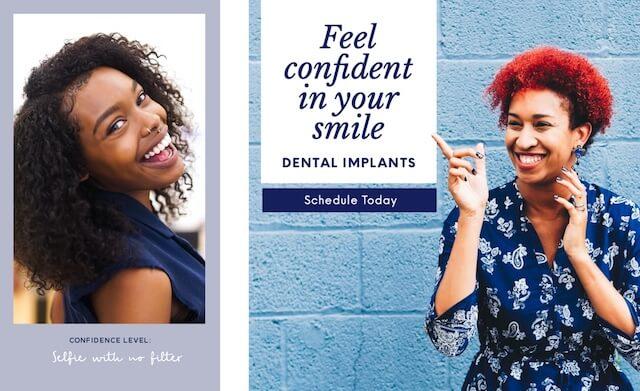 In these times of upheaval, we could all benefit from more smiles. So as a brand, take the initiative to celebrate this day of positivity and aim to make content that brightens up someone's day. The sky's the limit here!
You could also take the idea further and celebrate the smile itself by:
Showcasing selfies of your customers' smiles
Hosting comedy nights
Celebrating dental hygiene (teeth are an integral part of the smile, after all)
The concept of a smile is also personal and unique, which are great qualities that can connect you to your target audience.
Create on-trend promos with GoDaddy Studio
If you're creating posts on any of the themes or events we've mentioned, it's super easy to temporarily update your brand identity for maximum impact. Do this for a day, a week or a month in line with the item or event you're celebrating.
You could even run a proper campaign and use relevant moments on the calendar to propel your brand even further.
Having your templates ready and accessible in GoDaddy Studio is the best way to keep the whole design process quick and uncomplicated. It makes creating your October social content simple and can save you so much time and hassle.
Try it out right now, for free, and start using beautiful visual content to fast-track your success.