We've all probably heard it and maybe even live by it: Organization is the key to success. This applies to everything, from your business to your home, all the way to the websites you work on. Many web developers start off fresh and clean, and design an amazing, responsive website, but the backend — the WordPress admin dashboard — can be a huge mess with plugins, alerts, posts and more just cluttered everywhere.

This can be extremely annoying, counterproductive, and even stressful, having to navigate through irritating clutter whenever you visit the dashboard.
It may seem unavoidable, but it doesn't have to be. From my experience as a web developer and designer, and as someone with an often annoying tendency to ensure everything is correctly organized and in its place, there are certain strategies that have helped in organizing the dashboards of sites that I have designed and developed, making my WordPress life easier and satisfying.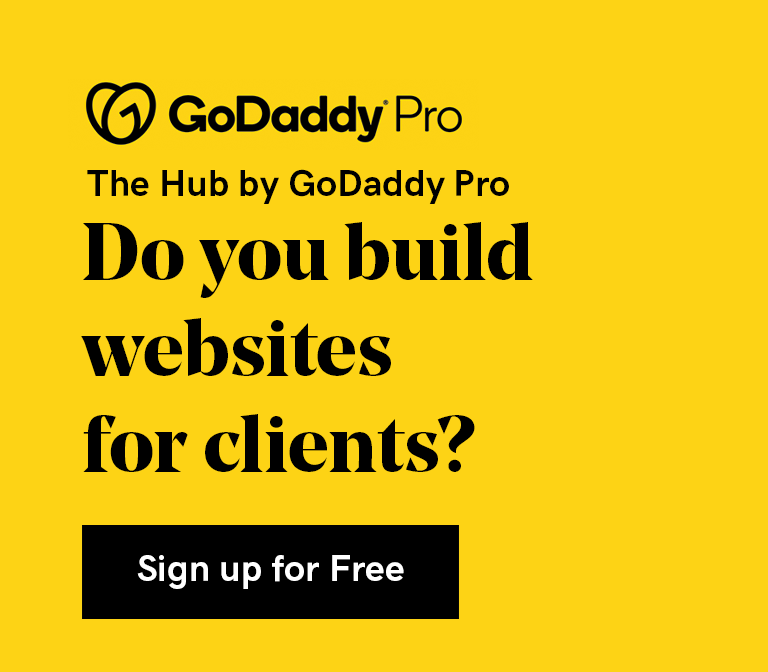 And here are five notable ones:
1. Organize the WordPress dashboard
Often neglected and underused, the dashboard is something we often always see but rarely ever use to our advantage. But I don't blame you, there's just an overload of unnecessary information there, from upcoming WordPress events to unneeded "overviews" of published posts, articles, and even notifications.
How can we make the dashboard useful so when we log in, we see information that can provide us important insight?
How do you declutter your dashboard and remove what you don't want? Why bother seeing the same information and widgets whenever you log in that you don't ever use? The easiest way to do that is a tiny button at the top of your dashboard labeled Screen Options.
Clicking this brings down a dropdown menu of screen elements, or these dashboard widgets, that you can hide or show with a click of a button. You don't want to see the Site Health Status or the Welcome Message? You don't need to, just uncheck those boxes and declutter your dashboard.

A quick plugin I'll mention here is Dashboard Widgets Suite that includes a bunch of awesome widgets you can add to your dashboard to help with a variety of tasks, from displaying system info and error logs (as well as resetting error logs), to adding notes for users and displaying RSS feeds.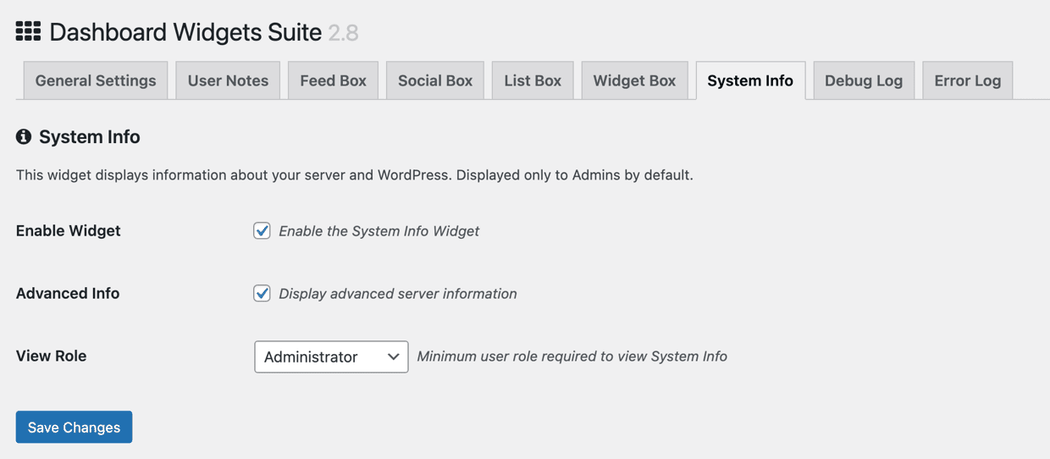 I love using it for the system information since it shows me everything about the server, the WordPress application, database, PHP, and security and gives me a wonderful overview just from the dashboard itself. No more cluttering, now we're adding useful stuff to our dashboard!
2. Organize the WordPress admin menu
Another area that you can organize and minimalize is the admin menu, the black horizontal menu in WordPress backends. It can often get cluttered with items as you download different plugins and use different themes, and that can get very confusing.
Some plugins end up going under Settings, others have their own main menu entry, some are under Appearance. It can be a nightmare finding the right settings for plugins you just installed! However, there's an extremely handy plugin that can come to our rescue here.
Admin Menu Editor does exactly what its name suggests: edits the admin menu and lets you customize it as much as you want.
You can change the ordering, change the name or the link, and even create submenus. You can also group different menu items together, like grouping together all plugin menu items, or all theme related menu items, etc.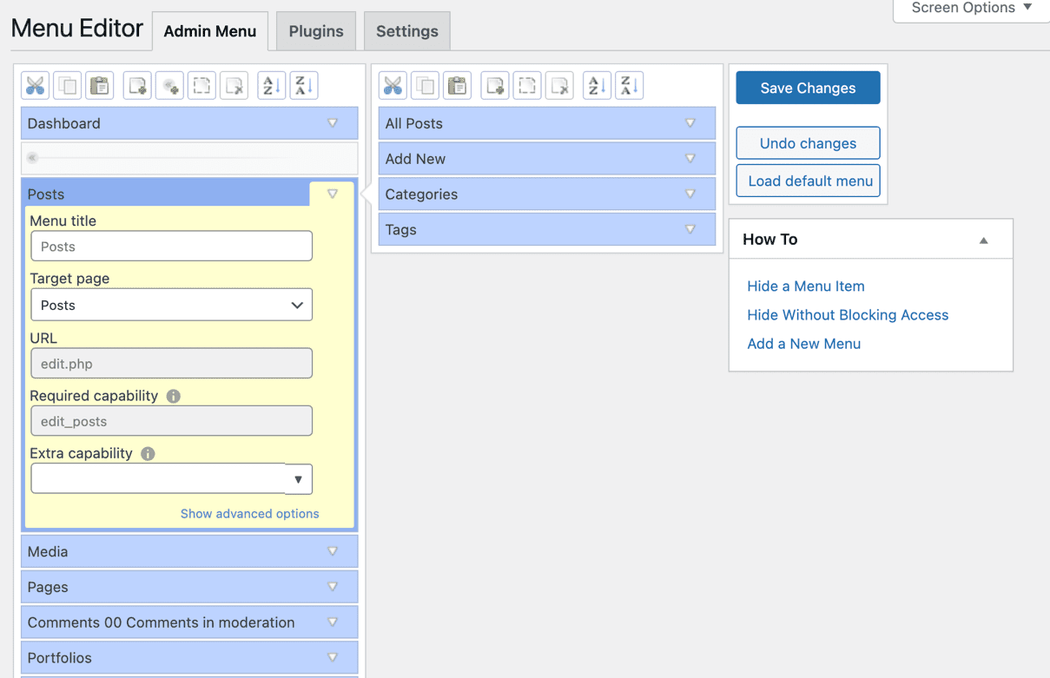 You can also completely remove menu items you never use. On top of that, you can also set role-based menus for different users, make menus open in new tabs, make them available for specific users only, and more.
You can customize your heart out and organize the admin menu to have a cleaner and more efficient website backend, one that works for you!
3. Get the most from folders
The concept of folders, in my opinion, is the simplest yet one of the most powerful and time-saving inventions ever. From actual physical folders to organize files and documents on your desk to folders on your desktop (and folders inside those folders inside those folders), I don't think anyone can imagine how life would be without folders.
Imagine having every single file on your computer scattered all over your desktop, without any structure, hierarchy, or association, and no folders.
You wouldn't even want to touch that computer.
Unfortunately, though, this is how it feels whenever I go to WordPress' media or posts and pages sections. Every single image that I uploaded, every post or page just displayed out there in a grid or list, sorted by the date uploaded, but no smart structure or association. Wouldn't it be cool if you could organize them into folders so you can find them easier later?
Well, there's good news; you can! Folders is an amazing plugin that, as its to-the-point name suggests, helps you organize your images, posts, pages, and more into folders. You can activate folders for anything, from media to posts, pages, portfolio items, menu items, anything.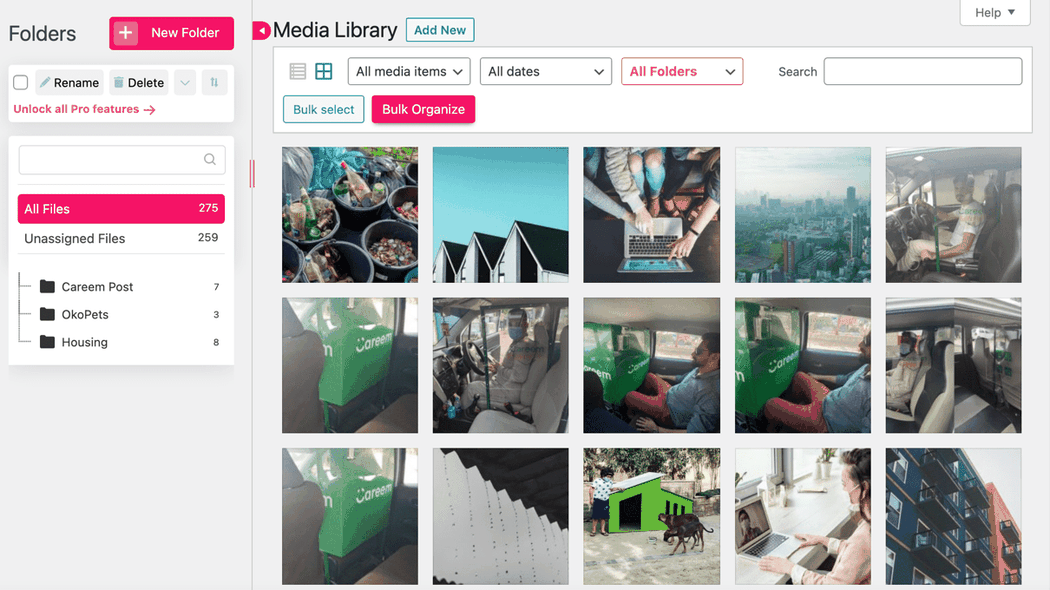 And within them, you can put an image/post in multiple folders, make special folders by starring them, name them whatever you wish, and organize your website like never before. It gives you a whole new dimension in helping organize your website, making it easier for you to navigate through the backend with less clutter.
4. Categorize & tag everything
Labeling your posts and content with categories and tags is another great way to not only have an organized site for your visitors, but it helps organize your WordPress backend as well. Whenever you create a blog post or any custom post/item, like products, items, courses etc., you can set both categories and tags to sort them out and help filter through them later.
There are two distinct tools here: categories, which are more for general grouping, and tags, which as the name suggests, help in tagging posts with certain keywords.
So for example, if I have a blog on cloud computing, I could use different categories to describe which cloud service I'm using, for example "Azure" or "AWS" or "Google Cloud," and the tags could be used more liberally describing what the blogs are talking about.
Tags could be about "cloud computing", "machine learning", "storage", or more. Most WordPress themes and blogs can sort posts according to categories and tags, which makes it easier for visitors to get what they want, and in the backend, you can also see which posts are in which categories or contain what tags.
You can then filter them out with a click of a button. So, if you want to review all the posts you have about "Azure" to add in a link you want, you can simply click "Azure" in the categories and get every post written about "Azure."
5. Sign up for The Hub by GoDaddy Pro
Saving the best for the last, the ultimate tool in organizing all your WordPress websites in one place: The Hub by GoDaddy Pro. Think of The Hub as a control center for all your WordPress sites. You can add sites hosted both on GoDaddy and other hosts/servers, login with your credentials, and manage important aspects of your sites all in one place.
The Hub is an amazing way to organize all your websites in one place, instead of you worrying about tracking login details for every WordPress site you have, and allows you to bulk update plugins, set up and perform periodic security and performance checks, set up alerts for any performance or security related issues, and even allows you to back up your sites.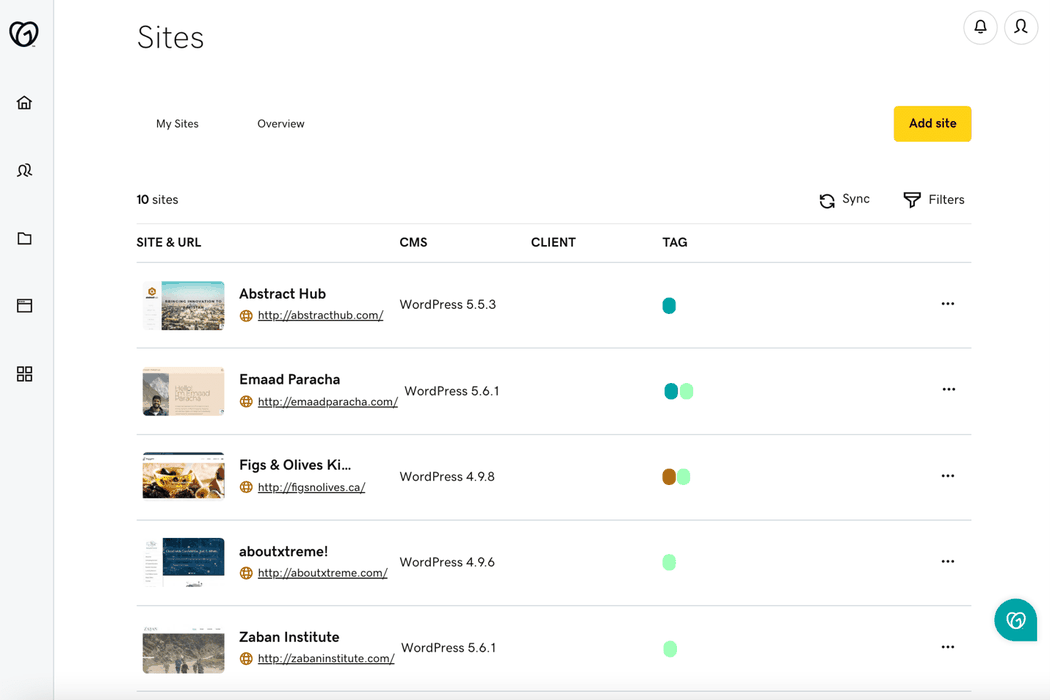 And my personal favorite, it allows you to manage your GoDaddy clients and attach sites and projects to them, allowing you to organize a list of your clients and the sites you've made for them, as well as letting you login directly to your client's GoDaddy backend (given you have the right delegated permissions), and create "Projects" within the Hub, keeping your progress and work-to-do organized and in check.
The Hub truly takes WordPress management to a whole new level.
You can also do other periodic cleanups, such as going to your website occasionally to delete unneeded pages or posts, or deactivating old plugins once every month or two months, but just organizing the dashboard, menu, media, and posts as described above, and using The Hub to organize all the WordPress sites you manage, can help immensely in decluttering and organizing your website(s), making working in them a pleasure rather than a chore, having to navigate through rubble.
---
More time = happier clients
When you use the Hub by GoDaddy Pro, suddenly there's more time in your day to focus on what matters most. Forget about juggling admin tasks. Reclaim your time and use it to make clients feel like the center of your universe.