When looking to generate sales, most business owners think about how they can get customers to buy more. An often overlooked method that merchants forget about is reverse logistics — or returns, as most people call them. Although it's an afterthought for business owners, for customers, it's very important.
Eighty-eight percent of customers review return policies, and 66 percent do so before purchasing.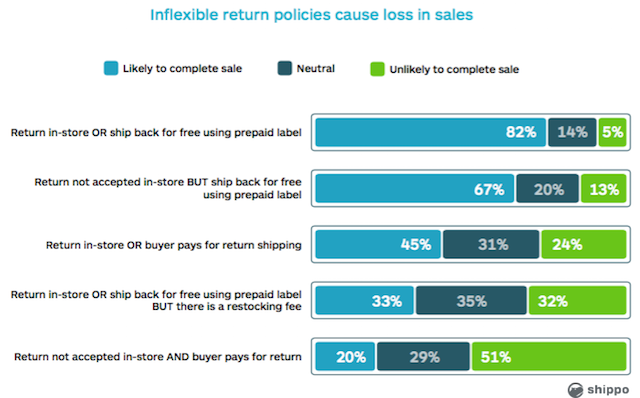 Depending on your return rates, how you handle reverse logistics can help you remain profitable — or it can heavily eat into your profits. As you start to scale your eCommerce shop, here are some ideas to consider for your return workflow and operations.
1. Clearly outline your returns policies for all reverse logistics.
The biggest mistake merchants make is not having clear return policies in plain, easy-to-understand language. Make sure to include:
which items can or cannot be returned
the time frame which you will accept returns
who pays for return shipping
whether the refund will be in cash or store credit
an outline of the returns process
It's perfectly fine to not accept returns for all the items you sell — you just need to be upfront and clear about the limits.
Separate your international returns policy.
Dealing with international returns is a potential nightmare for the customer and the business.
Make sure you have a clear policy in place for international shoppers.
Consider only allowing returns on items that make sense to ship back, or be clear that international customers have to return items at their own cost. Unfortunately, you probably can't afford to have the same policy for international customers as you do for domestic customers.
2. Set up a return merchandise authorization flow.
Return Merchandise Authorization (RMA) is a process where the customer is required to contact you before returning an item. There are a host of benefits to putting this system in place, such as:
The ability to work with consumer on an alternative resolutions
Estimating expected arrival times for returned items at the warehouse
Protection against fraudulent returns
However, an RMA means you need support staff or website capabilities to authorize the returns. It adds an extra step for the customer to take, and they might already be dissatisfied with the purchase.
3. Get scan-based return labels.
Make it easy for your customers to send back their order. In case something doesn't turn out, they'll feel more at ease with a straightforward return process.
You can use scan-based return labels with all your orders. You will only get charged for these labels if and when they are used to ship something back. If your customer never uses the return labels, then you will never pay for the label. This can increase customer happiness at minimal cost to you.
And if you're an online store, you can benefit from these shipping strategies to help boost your sales.
4. Beware of the free shipping and free returns combo.
As a business owner, you're apt to run promotions from time to time. Let's say you're currently offering a free shipping deal, given that the total purchase is above a set amount (and of course, you've included free return shipping in case the items don't work).
You've gone out of your way to accommodate your shoppers, but it's important to be wary of the free-shipping, free-return combination. Some shoppers will purchase items to meet the minimum, and then they'll use free shipping to return the unwanted items. It might be in your best interest to only offering free shipping on high-value items in order to eliminate this disincentive.
5. Track what items are being returned.
Part of efficient reverse logistics involves tracking which items are being returned (and if possible, why). Make sure to track the return rate as percent of total sales on a per item basis. Chances are, you will be able to identify a handful of items that have a high return rate, at which point you need to figure out why the items are being returned.
Make sure to investigate all the possible causes, including:
Bad description and/or photography on your website
Poor use instructions
Poor product quality
If you can eliminate the high percentage of return products from your inventory or fix the issue causing the returns, you can easily save time, money and customer frustration.
Returns done right
Take a second look at how you're handling returns right now. Making these operational adjustments can drastically help you improve sales and increase margins. And that's just the beginning — when you're ready to handle more people (and potentially more returns) you can grow your business by increasing traffic to your site.