It's time we talk about the "S" word: Shipping. If there's one thing that turns online shoppers away fast or makes them have second thoughts about purchasing an item, it's shipping. You've probably been there, when with a simple mouse click a reasonably priced product becomes expensive with high-rate shipping costs. Sure, some customers might proceed to purchase (shaking their heads along the way), but most will look into other options and abandon their shopping cart.
That. Is. Depressing. But there's a silver lining: You have the power to save your shopping carts from desertion. Check out a few online store shipping strategies that will attract customers, save lost orders, and simplify your life.
Offer free shipping or shipping promotions
Offering free shipping is a good way to get your customers' attention and score more sales. Why? Because people love free. Sometimes this option can cut into your profits; however, it will give you a leg up on the competition. Especially if none of them are offering the same perk! If you choose to offer free shipping, make sure you advertise it on your site and promote through your social media channels to increase conversion rates.
To maximize your profitability, you could offer free shipping once an order total reaches a certain amount. This free shipping threshold will encourage your buyers to add another item to get the free shipping. Amazon leverages this strategy well. In the case that the minimum price is not met, you can select a fallback amount that is charged.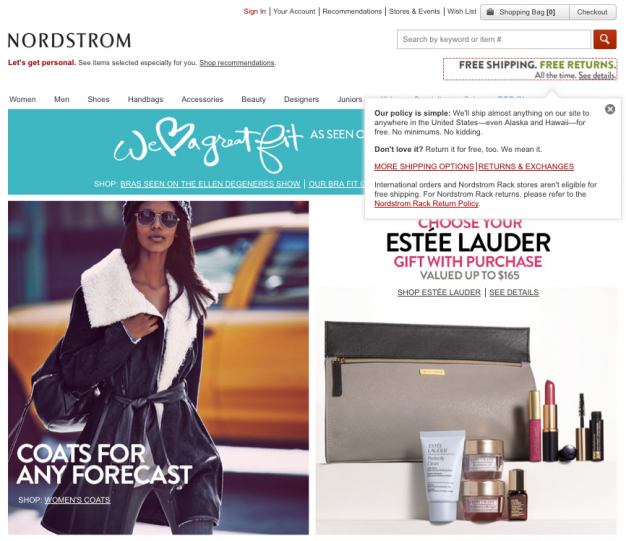 One of my personal favorite sites for online shopping is Nordstrom, in large part because the retailer is known for its free shipping and free returns. Talk about customer service! If an item doesn't fit, I can send it straight back without damaging my wallet. I always feel confident ordering from the Nordstrom website. And that's how you want your customers to feel.
Flat-rate shipping
This popular shipping method requires some pricing research on your end. You don't want to undercharge or overcharge your customers. With flat-rate shipping, you have two options: fixed amount or fixed percentage.
Fixed amount shipping costs let you charge the same amount for every order — no matter the weight or price. It's a great option if most of your products are lightweight and if you know the average shipping price.
If you want to charge a percentage of an order's cost, you can use the fixed percentage shipping option. Shipping costs increase as the order cost climbs. With this option, you'll take less of a chance on cut profits while still offering your customers a great deal.
Another of my favorite online retailers, J. Crew, offers a hybrid shipping model — free shipping for several product lines and orders tallying at least $150 and $5 flat-rate shipping for all other orders. No doubt this established company has developed an effective shipping strategy based on lots of research and experience. It's up to you to do the same for your online store.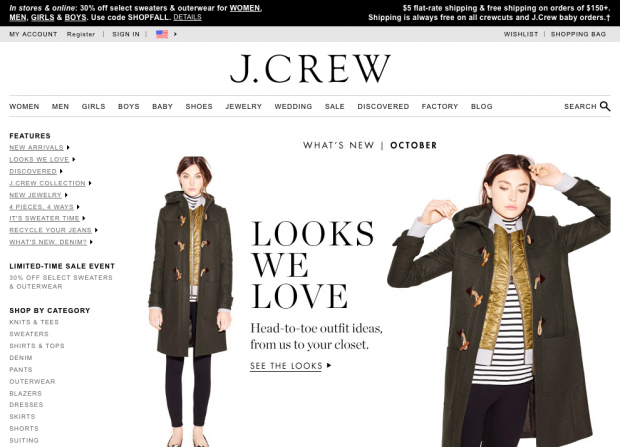 Weight-based shipping
Do your products vary significantly in weight and size? Then this shipping method is for you! It lets you create multiple weight range-price options. For example, you can specify a $5 charge for orders that weigh between 0 and 10 lbs, and $7 for orders that weigh 10 pounds or more. You set the weight ranges and their according price ranges. It's especially easy to set up weight-based shipping with an Online Store from GoDaddy.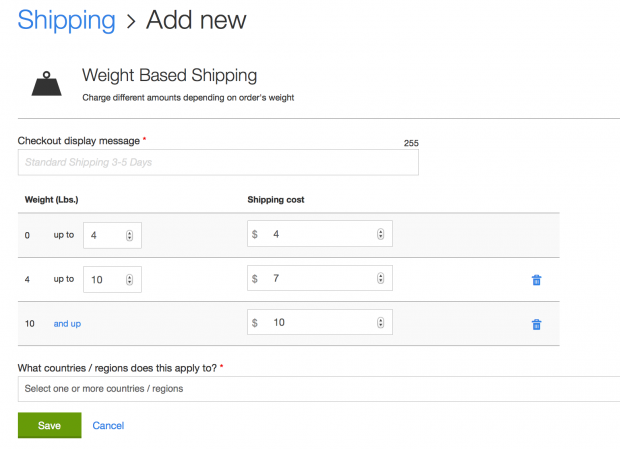 Shipping can make or break the success of your e-commerce site, so it's important to take the time to choose an option that will work best for both your customers and your bottom line. And if your online store shipping sets you apart from the competition, be sure everybody knows about it!