In 2018, social media marketers saw organic reach on Facebook decline to as little as 2 percent of their total audience. Still, Facebook and Instagram remain the highest trafficked online platforms. In fact, one out of every minute spent online on a mobile device is spent on Facebook or Instagram. As Facebook continues to make changes to what content gets priority in user feeds on both platforms, it has become more difficult for brands to reach and influence consumers.
Because of these changes, paid advertising on Facebook and Instagram has become an essential component of a successful social media strategy along with engaging organic content. Advertising on these platforms has been proven to increase brand awareness, attract new customers and increase revenue for businesses of all sizes.
One marketer saw an 876% return on investment from a Facebook campaign with a $4,000 budget.
Interested in generating similar results for your franchise network?
Follow these tips to launch and manage ad campaigns on Facebook and Instagram to strengthen your franchise brand and win local customers.
Develop a national strategy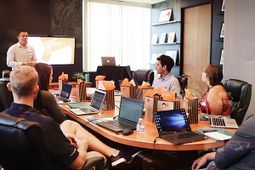 Within a franchise network, advertising budgets and goals are often split between the franchisors and franchisees making it difficult to align on an overall strategy. Unfortunately, having conflicting strategies can reduce the efficacy of your Facebook and Instagram campaign. Your potential customers might get bombarded with disjointed messages or you could drive up your advertising costs by competing within your network to reach the same audience.
A successful Facebook and Instagram campaign begins with a sound national strategy. As a franchisor, you can work with franchisees to determine shared business goals and align on what you'll be promoting, how it will be promoted, and at what times throughout the year. This will inform the campaign themes and schedules for your network and set the stage for campaign success.
Define clear objectives
Campaign objectives on Facebook and Instagram aren't one size fits all. You'll need to select an appropriate campaign objective that aligns with your franchise network's goals.
Here are a few ideas to get you started.
If your brand is relatively unknown or looking to expand to a new territory, utilize Facebook's reach objective to generate awareness of your franchise brand among potential customers.

If you're looking to generate new prospects for your franchise, Facebook's lead generation objective allows you to collect email addresses, phone numbers and other relevant information from potential customers directly in the platform.

If you want to drive visitors to your corporate website to learn more about your products and services, see your menu, or book an appointment, Facebook's traffic objective is the most suitable.
Facebook optimizes your campaign toward delivering on the objective at the lowest cost. Selecting the right objective ensures that your campaign not only performs well on the platform but also delivers real-world results for your franchise.
Deploy and target locally
Having hundreds of franchisee social media profiles can make brand consistency a challenge for franchise networks. However, these profiles are beneficial for localizing and increasing the effectiveness of your Facebook and Instagram campaign.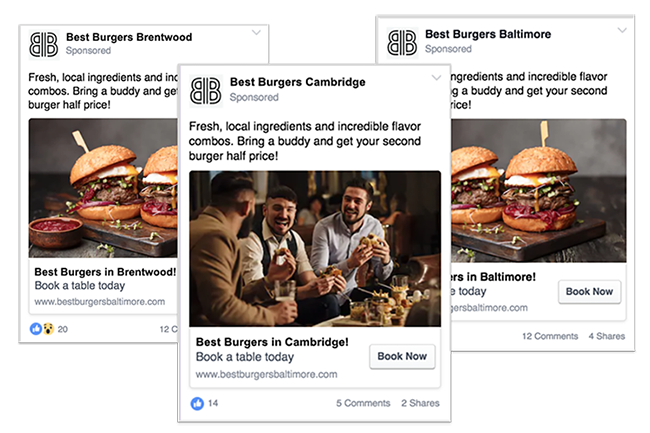 Launching your campaign from the individual location accounts delivers a number of benefits. Using each location's profile allows you to:
Tailor your targeting, media and copy to the local customer, making them more likely to respond to your ads.

Manage your budget and determine ROI by location more easily.

Extend your local customer service online by responding to consumers who engage with your ads.

Drive traffic to individual storefronts by utilizing Facebook's store visits campaign objective and other recent improvements to the platform designed to give prominence to local businesses.
Develop compelling, on-brand creative
Similar to all your other marketing tactics, your Facebook and Instagram campaign creative should be consistent with your brand. Using similar copy, logos and high-quality images ensures that your ads positively represent your brand and are easily recognized by your customers.
In addition to being on brand, your campaign creative must also be compelling. Facebook and Instagram prioritize content from family and friends, which is more likely to generate likes, comments, and shares. Your ad content must be similarly engaging to deliver the best results. Focus on creating content that resonates with your target audience. Ads that tell the story of your brand generate engagement, and, ultimately, reach more customers without increasing your ad spend.
Monitor, test and optimize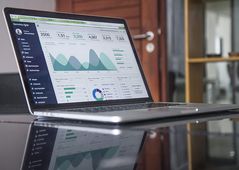 Launching your campaign is just the first step in advertising effectively on Facebook and Instagram. You'll need to monitor, test and optimize your campaign in order to be successful. Facebook does some of the lift with its dynamic ads and optimization by objective. Still, the platform doesn't offer much insight into additional variables that could be adjusted to improve campaign performance.
A/B testing your ad targeting, media, copy and CTAs on an ongoing basis can provide more comprehensive insights into who your target audience is and what influences their behavior. With this additional information, you can continuously optimize your Facebook and Instagram ads to improve results and reduce costs.
Take the next step
Advertising on Facebook and Instagram is a necessary component of a successful social media strategy for your franchise network. With the proper framework, you can begin to realize real-world results for your franchise brand and your franchisees.
GoDaddy Social has the team and technology to successfully manage Facebook and Instagram advertising for your Franchise network. We:
Create network-wide campaigns your franchisees can opt into, and we manage them from start to finish.

Ensure your brand message is consistent across all the locations in your network.

Continuously test and optimize your ads to get the best results, and we share these insights with you.
Start the conversation with our team today.