If your ecommerce revenue has plateaued, you may be wondering about how you can encourage growth. While manufacturing an entirely new product is often risky and costly, white labeling is the perfect solution to help an ecommerce business grow.
White labeling is a partnership between a manufacturer and a retailer.
The manufacturer provides the ecommerce business with completed goods to be sold under the ecommerce business's branding. The ecommerce business then markets and sells the goods at a markup, and both companies make money.
Similar to a corporate company with multiple teams, the manufacturer handles the design and development of the product while you handle the marketing and sales of the product.
How to help your ecommerce business grow with white label products
Here are some of the top reasons why you should consider selling white label products.
Reduces manufacturing costs
Lean operations
Improved customer experience
Instant access to knowledgeable staff
Pivot quickly with consumer trends
Ideal for rapid growth
Test product lines risk-free
Read on to learn more.
Reduces manufacturing costs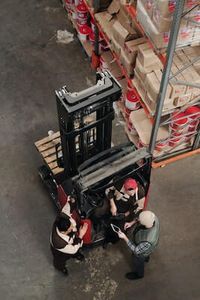 One of the main reasons businesses choose to sell white label products is because it significantly reduces manufacturing costs, which allows you to invest more revenue back into selling more products.
This is because if someone else manufactures products for you, your business doesn't have to pay a factory, employees, legal fees or raw materials.
Additionally, your business doesn't assume any of the risks of manufacturing. So if a product comes out defective or the raw materials arrive in poor condition, you're not responsible for sunk costs.
Lean operations
By operating as a white label store, your business will be able to be run lean, as you aren't locked into high manufacturing costs and have fewer employees on the payroll.
During COVID-19, many businesses were forced to shut down because their operating costs were too high. One of those businesses was Pier 1 Imports. Despite generating $1.5 billion in sales in 2019, they were sold for just $31 million.
It's essential that your business operates efficiently and can pivot quickly to adjust to the current market.
White labeling is the perfect solution to operate in a lean fashion.
Related: How to implement a sustainable growth strategy — fast

Improved customer experience
Statistics show that brands that prioritize customer experience generate 5.7 times more revenue than brands with mediocre customer experience. One of the best ways a lean team can improve their customer experience is by offering white label products.
By partnering with a large manufacturer, you'll reduce stock issues, limited varieties, and improve product quality.
As your resources are finite, partnering with a manufacturer will expand your resources and allow you to excel at your business's core responsibilities — providing amazing products and customer service to your customers.
Instant access to knowledgeable staff
Private label companies that manufacture their own goods and services are responsible for hiring and training new employees on new product lines. Rather than reinventing the wheel, white label partners allow you to leverage the knowledge of an experienced staff that already understands the product inside and out.
For example, suppose you want to know the advantages and disadvantages of a certain type of material. In that case, your white label partner should be an expert in this area and can advise you, depending on your brand's goals.
This eliminates a lot of trial and error that an ecommerce business would traditionally struggle with on their own.
Therefore, be sure that the white label partner you choose has a deep understanding of their products and are responsive to requests. They should want you to succeed and will therefore help you get the information you need.
Pivot quickly with consumer trends
Private label companies also deal with market pivot problems.
Let's imagine you're a fashion retailer and you decide to create a line of jeans that is currently popular. With traditional manufacturing, it may no longer be popular by the time your product is finished. As such, you would be stuck with high manufacturing costs, unsold inventory and zero new products to offer your current customer base.
However, if you have a white label partner, you can choose to sell one of their other currently trending lines or work with a different white label partner.
Ideal for rapid growth
If you're starting out, you may not have the capacity to manufacture multiple products.
By partnering with a manufacturer, you have instant access to their entire line of products.
Therefore, you can expand to a new market of consumers that wish to purchase multiple related items.
Let's say you are a private label company that only sells baseballs. However, some of your potential customers may want to purchase a baseball bat and baseballs together. Rather than buying baseballs from your store and a bat from a different store, your customers will likely choose to purchase both items from a different store.
By partnering with a manufacturer, you will have instant access to both the baseballs and the baseball bats and would therefore be able to sell to a broader consumer market.
Related: How to increase your average order value
Test product lines risk-free
If you're a young company that ultimately plans to private label, white labeling is still a great way to get started.
The process to start selling white label products takes a few short weeks, whereas private label selling may take months, if not years, to start selling as it requires you to find a factory, contract employees, create designs and purchase raw materials.
You could start by selling white label products to get some cash in the bank and then pivot to private label as the company grows.
Additionally, if you're trying out a new product line, you can test a white-label version to see how it will perform with your market, and then if it performs well, you can invest in creating your own line.
Editor's note: Just starting out as a new ecommerce business? Let GoDaddy help launch your business with our Online Store Builder.
The bottom line
White labeling is an easy way to get started selling, and it reduces your company's risk. Setting up a white label partnership is fairly simple and you'll instantly have a wide selection of products at your fingertips.
If your strengths are in sales, customer success and marketing, a white label partnership may be just the boost your ecommerce business needs.