3 business card trends worth the buzz
There are some times in life when you don't want to stand out — like when your alarm doesn't go off and you roll into your morning staff meeting 20 minutes late (with pillow creases in your cheek). But there are plenty of other times when you do want to make a lasting impression, like when it comes to marketing your business. You've probably spent lots of time thinking about ways to make your business stick in the minds of consumers — but, while you've been mulling over viral video concepts, you could've overlooked an opportunity to make a new splash with an old basic: business cards.
Business cards have long been the go-to physical reminder for business owners to hand out to potential clients and colleagues. "Keep in touch," they say. "Think of me next time you need XYZ." Unfortunately, a good number of these well-meaning paper rectangles get tucked into wallets, Rolodexes or the dreaded "circular file," never to see the light of day again.
But you can change that.
Business cards are in the midst of a renaissance. Smart, inspired designs are re-making this standard marketing tool into a memorable reflection of your brand. Check out three hot trends in business card design that can turn your calling card into a key for customer growth.
1. Play on the popularity of social media
Nearly three-quarters of all adults who are online frequent social networking sites like Facebook®, LinkedIn®, Twitter® and Google+™. Chances are, your target customers know exactly how a tweet looks, what a "share" means, and why you might want their "+1." Why not leverage that social brand affinity to strike a similar chord with your own brand?
In addition to including your primary contact info — name, phone number, email address, website  and street address — on your card, it's essential to add the social profiles you've set up for your business. Yes, in the digital age, the definition of "all relevant information" has expanded. Make it easy for people who accept your business card at trade shows and networking events to find you on Facebook and your other active social sites. That's an invaluable chance for you to connect with them. Some really creative business owners also are handing out cards that mimic the look of popular social sites, piggybacking on the popularity of those social brands.
2. Take your brand literally
Are you musician? How cool would it be to hand out business cards that look like concert tickets. Or leaf-shaped cards for your landscaping business, paper "dog tags" for your pet shop, snapshot-looking cards for your photography gig? Thinking outside the paper rectangle can get your business noticed. You can bet I'd be planning a session with the yoga instructor who slipped me this card!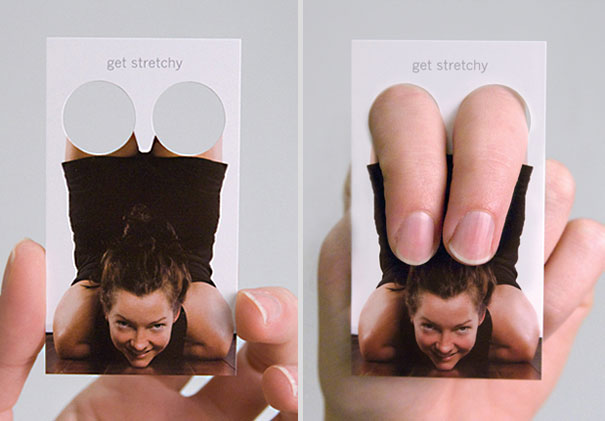 You also can get creative with your base material to make statement about your business. Are you eco-friendly? Print your cards on recyclable material. Work with fabrics? Stamp your info on colorful swatches. At the least, make sure your business card color palette matches the color scheme you've chosen to represent your brand on your website.
3. Keep it clean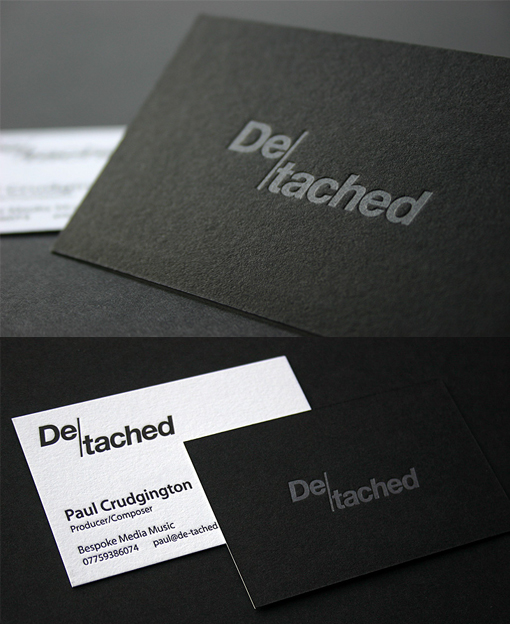 The simple, uncluttered design that's resonating with today's website viewers also enjoys popularity in the business card sphere. With so much information to share, it might be tempting to fill every square inch of your card. Remember, it's got two sides. Utilizing both of them to share your message in a clean and modern way. Consider going even more minimalistic by embedding pertinent information embedded in a QR code on the back of the card.
Pro tip: Like to design your own cards? You'll find endless inspiration online, including on Pinterest and galleries such as Card Nerd, Design Inspiration and Card Observer.