5 benefits of Microsoft Outlook email for entrepreneurs
Upcoming event: See how our commerce options can help your business adapt to the shifting landscape at GoDaddy Open 2021 on September 28.
Let's face it. When you're running a business, image is important. One of our first instincts as human beings is to judge what we see. Perception is key, and the validity of your business might be riding on more factors than you know. For instance, have you thought about how people perceive your business when you hand them a business card and your email address ends with gmail.com? Friend, it might be time to look at Microsoft Outlook email.
Imagine if you contacted a company you were thinking of making a purchase from, and you receive an email ending with anything other than their domain. What would you assume about that company? Wouldn't you think it's simply spam? These perceptions would shape your view of that company in a negative way — in fact, consumers are nine times more likely to choose a business with domain-based email.
5 reasons to use Microsoft Outlook email
Still not convinced that perception could be the difference between a sale and a trashed email? Here are five reasons to consider using Microsoft Outlook email
It's less expensive than you think.

It's fast.

Your tech stays up-to-date.

The technology continues to evolve.

You get multiple options.
You want to set the right first impression with your customers. Keep reading to see why Microsoft Outlook email is the solution.
1. It's less expensive than you think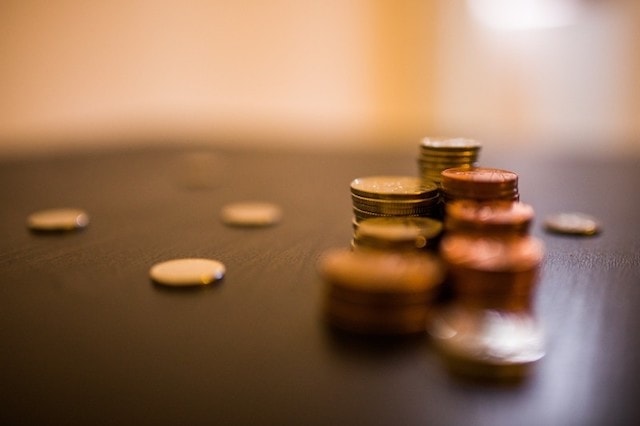 Enter Microsoft 365 from GoDaddy! It's a powerful platform that combines corporate-class email and productivity tools — in one solution. In fact, Microsoft 365 is the standard in the corporate world. You might be thinking it sounds expensive and complicated, and there was a time where that was true. But now you can get this corporate-class solution at a small-business price.
2. It's fast
As it turns out, not all email is created equal. Traditionally, we connected to our email using POP and IMAP protocols that allowed us to sync our email with computers and phones.
The problem is they only sync emails. Our computers and smartphones help us manage so much more — the traditional way of sending email locked down the capabilities of our devices, rather than unlocking their full potential.
Prior to this technology, email could sit on your server for 20 to 30 minutes before your device checked for new communications. Remember that send/receive button in Microsoft Outlook email? With Microsoft 365, that button is no longer needed. Email is pushed to your devices as soon as it hits the server — enabling you to get that important email right away. It's not only email, either. Microsoft 365 also syncs your contacts, calendars, and even more.
3. Your tech stays up-to-date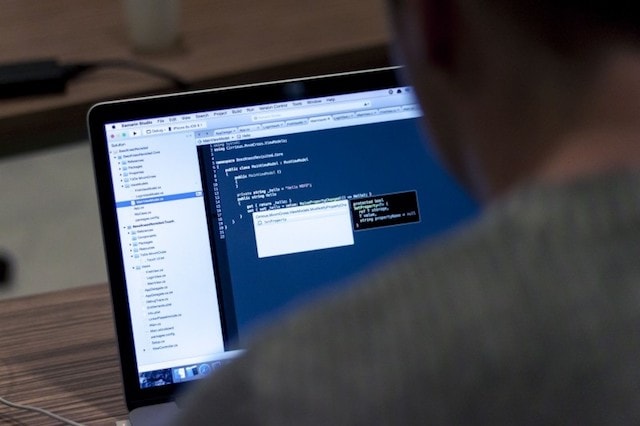 You've probably heard of Microsoft Outlook email already — it's part of the Microsoft 365 suite. Chances are, you've seen it in big-box stores, or you already have it on your computer. You're not alone. There are more than one billion (yes with a B) users. A majority of businesses and organizations already use Office programs such as Word, Excel and PowerPoint.
The problem with with new software is that it seems like you blink and it's out of date.
Then you have to choose between spending your hard-earned cash, or running your business on outdated software. Not a fun option! Operating your business on software from 2007 is like trying to remain as efficient as your competitors while using a flip-phone. While they are scheduling meetings and powering through the daily grind using all the latest business apps on the Samsung Galaxy or iPhone X, you are left in their dust.
By investing in Microsoft 365 from GoDaddy's Business premium plan, you are not only getting credibility and establishing the professionalism that comes with having domain-based email, but you also get the latest version of Microsoft software. The sweetest thing? When a new version comes out, it will automatically update on all your devices.
4. The technology continues to evolve
You live in a world where technology like Microsoft Outlook email establishes the professional and credible brand you are working so hard to build, while giving you the software to run a business. As great as that sounds, it's just the tip of the iceberg.
Microsoft always has their ear to the ground for their corporate and small business owners. As technology and business needs evolve, Microsoft adds and improves their offerings with Microsoft 365.
Need an easy way to for your customers to schedule an appointment with you on your website and have it automatically sync those appointments to your calendar? Bookings does exactly that!
Efficient communication with your customers is an obvious need, but how about interoffice productivity? What tools do you use to backup information and get to it on the go? OneDrive allows you to backup everything, and is can be used on computers and any of your mobile devices. To make things easier, when you access an Office document on your OneDrive, it will open in your browser without you having to download the file.
Productivity doesn't begin and end with a computer.
No matter what type of business you own, you will be able to find a plan that works for you. Whether you are in the medical industry and need HIPAA compliance, or in one of the many industries that require archiving your records, Microsoft 365 has the right plan for you.
5. You get multiple options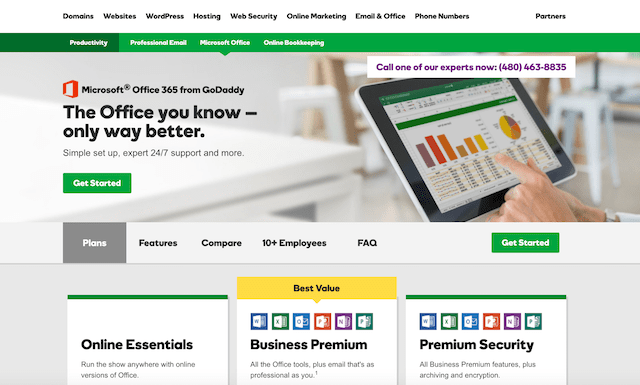 At this point, you might be wondering what your options are beyond Microsoft Outlook email. Let's take a look — just for fun. Most competitors offer POP or IMAP. To give you perspective, IMAP is the newer of the two, and the latest release was 1992. The main competition is business email provided by Google. I'm not talking about Gmail.
Google also offers domain based email called G Suite. Unlike Gmail, G Suite costs money, because it's meant for business.
G Suite offers multiple options with productivity apps. However, they are not able to include the rest of what you get with Microsoft 365. You will need to purchase the Microsoft 365 suite separately, and won't get complete integration.
By having everything from one company, you won't have to worry about compatibility issues. For example, as mentioned earlier, when you access a Word document through OneDrive, it's opened as a Word document in your browser. GoDaddy offers a few different tiers so you can pick the best solution for your business and your team.
In conclusion
Perception is important. With a business-class email from Microsoft 365, you're immediately putting your best foot forward, branding your communications with the same name as your business. That kind of dedication to your company shows your customers you care and that you're serious about the business you conduct. And now that you know all the benefits of Microsoft Outlook email, there's no reason to keep using that free email address.