5 effective communication tips for leaders
"Find your voice and inspire others to find theirs," Stephen R. Covey wrote in The 8th Habit: From Effectiveness to Greatness. It's a compelling call-to-action with communication at its heart — a reminder to aspiring leaders that a critical leadership quality in any organization, big or small, is being able to communicate well. While some leaders appear to do this effortlessly, many more have honed these skills over time. There's no time like the present to get started!
5 effective communication tips for leaders
Here are five key communication tips to work on if you want to become a better leader:
Use storytelling.

Use humor to make a connection.

The importance of being earnest.

If you don't know, don't speculate.

Listen to those around you.
Let's look at each tactic in detail, with some examples from leaders who have demonstrated these effective communication tips.
1. Use storytelling
Facebook COO Sheryl Sandberg's memorable commencement speech at Virginia Tech last year, in which she laid bare her personal experience of losing her husband, shows the great power of storytelling. Sandberg credits her inner circle of advisers with encouraging her to open up about herself. It isn't easy to make yourself vulnerable, but leaders who do this gain respect and admiration.
Storytelling can help make your message resonate with listeners.
You can bring all the facts and figures you want to an all-hands meeting, for example, but people aren't likely to remember what you say unless you tell them a story about what the numbers mean.
In an article for Forbes, Christine Comaford, author of SmartTribes: How Teams Become Brilliant Together, recommends the CURVE model for weighing the power of a story:
Curiosity: Does the story make the reader want to learn what happened?
Urgency: Does it create a sense of urgency?
Relevance: Is the story relevant to the recipient's situation?
Value: Does it reflect the speaker's values and provide value to the recipient?
Emotion: Does the story make an emotional impact?
These guidelines can help you use storytelling as a communication strategy that will help you connect with your listeners on multiple levels.
2. Use humor to make a connection
When James Comey spoke about his new book, A Higher Loyalty, in San Francisco recently, the former FBI director and political lightning rod demonstrated how to immediately put an audience at ease.
Comey walked onto stage at the Curran Theater, wearing a brown sport coat and no tie, and smiled while the audience sustained their applause. After thanking the crowd, his first words were: "I'm freaked out enough."
With that self-deprecating remark, he made an instant connection, putting everyone at ease and sending the message that he's just a regular guy.
We all know that Comey is no ordinary guy. He's playing a key role in history as the FBI director who was at the helm in the early days of the Russian investigation now being undertaken by Special Counsel Robert Mueller, a former colleague. Yet Comey used humor to make his points and bring the audience right along with him — demonstrating the second of our five effective communication tips for leaders.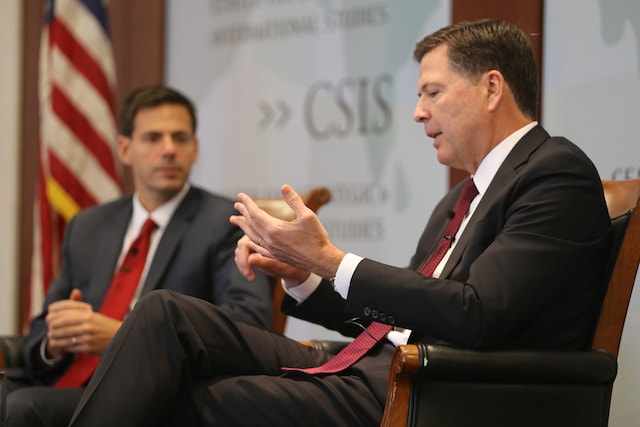 To learn how to weave humor into your leadership communication style, Inc. Magazine has some good tips. And if you're a leader who blogs, here's some advice on using humor — in the spirit of Mark Twain and George Carlin.
3. The importance of being earnest
The "Fake News" phenomenon has not only infected our political discourse, but it's also spilling over into our business culture. A survey showed that 59 percent of employees were concerned about "fake news" in the workplace.
For this reason, it's more important than ever for leaders to be truthful and transparent.
This article from Forbes offers some good ideas for nurturing a more transparent workplace culture, including:
Don't avoid difficult conversations.
Think before you speak.
Start a conversation, not a confrontation.
Let's say your company doesn't meet their revenue targets in a difficult financial quarter. While it can be tough to share this bad news, keeping employees in the loop by explaining what happened and why will pay off in the long run. It will help maintain confidence in your leadership and company. In addition, it opens a dialog with employees, who might have valuable ideas for making sure the company turns a profit the next quarter.
4. If you don't know, don't speculate
This next communication tactic is closely related to being truthful. Although some leaders feel they may need to have all the answers, there is also value in admitting when you don't know something.
"I think it's really important to know what you don't know, and listen to people who do know what you don't know," former President George W. Bush said at a leadership event in Dallas last year. Former President Bill Clinton agreed that those in power — especially those "who are real arrogant in office" — will be judged poorly by history.
If you're not able to answer a question fully and truthfully, it's always best to say so and explain why.
Leaders who do this win the respect of their colleagues.
Inc.'s Young Entrepreneur Council offers some advice for leaders on precisely how to handle yourself when you you're asked a question you don't know the answer to.
5. Listen to those around you
Although most people think of a great leader as a great public speaker, one of the most underrated communication tips is the ability to listen. As Stephen Covey noted in The 7 Habits of Highly Effective People, most people listen with the intent to reply instead of to understand.
But effective leadership requires the humility to truly listen to what people around you are saying, even if they are subordinates.
The best leaders listen to understand.
President Barack Obama was a master at this, Comey said, describing a sensitive classified meeting in which the commander in chief listened to his aides give the background. The president sat mostly silent, occasionally nodding or raising his eyebrows. When everyone stopped talking, the president waited what seemed like an eternity, processing the information, before asking questions that revealed he truly absorbed what people were saying.
Inc. has some great ideas on strategies to improve your listening skills.
Final thoughts
Even if the fate of the free world isn't depending on your communication skills, these are valuable takeaways demonstrated by those who have practiced leadership at the highest levels of government and business. Developing these five skills can put you on the path to becoming a more trustworthy and effective leader.
Image by: davide ragusa on Unsplash