7 fitness marketing ideas to bring in more business
Marketing to a fitness-oriented audience has never been easier than it is today. The incredible reach of the internet makes it possible to spread your message far and wide. Blogging, online ads, text messaging, email — the list of marketing tools at your disposal is long. But have you considered which efforts will truly help to grow your business? We've compiled this list of seven proven fitness marketing ideas to double the number of leads your marketing efforts bring through your doors.
Dedicated fitness buffs know that the best way to get the most out of their workouts is to set goals. What are your goals for your business? For example, do you want to increase membership, create evangelists from within your member base, or just raise awareness of your brand?
Knowing who your audience is, what they want, and what makes your service better than the competition is key.
This knowledge will enable you to more easily sense the type of phrasing and kinds of offers that would be most attractive to (and effective on) your desired leads.
7 fitness marketing ideas to bring in more clients
The key to success for any gym, yoga studio or personal trainer is a steady flow of new members or clients. Use these tips to bring them to you.
Position yourself as an expert.

Invite customer reviews.

Offer free consultations.

Start a risk-free trial.

Partner up.

Start a referral program.

Get active on social.
Choose one or two of these strategies to try, then add more as you have time.
1. Position yourself as an expert
You probably already know that social proof can be a powerful conversion trigger, turning casual browsers into buyers. Humans have a herd mentality. If you can show that others have chosen and approve of your services, more will follow. But you can increase your credibility still further by learning to position yourself as an industry expert.
The Milgram experiments conducted at Yale University highlight an aspect of social psychology and the effect that authority can have on people. In fact, just the perception of authority can have a substantial effect on the human brain. When we believe someone to be in authority, we are much more likely to key into and accept what that person has to say.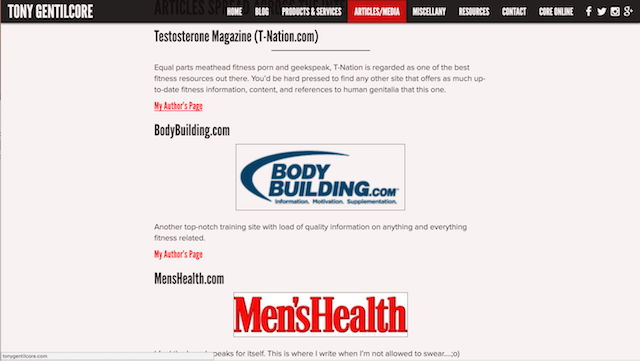 How to do this
It's important to keep in mind that nobody knows everything about their chosen field of interest. Even those who are now experts had to start somewhere. To position yourself as an expert, and in a way that will benefit your marketing strategy:
Offer solutions to your audience's specific needs.
Answer your customers' frequently-asked questions.
Show off certifications, endorsements or industry-worthy mentions of your brand.
Show testimonials or case studies of clients who have achieved their goals.
Do this on your website, in your signage and print materials, on your blog — everywhere.
Blogging is a proven way to hook fitness consumers looking for tips online. Start yours the easy way, with GoDaddy's Managed WordPress.
2. Invite customer reviews
One good way to build up social proof is to make use of online reviews from your clients. This is becoming more and more important in successful internet-based marketing. The reason? It works to bring in more customers.
Good reviews from satisfied clients have a cumulative effect.
They can generate interest and confidence in you that can cause more potential members to walk through your door, and even improve your business's authority in the eyes of search engines.

Amanda Brooks is a fitness coach who sells instructional eBooks on her website. For an example of how she uses reviews to make these eBooks more compelling to potential customers, check out one of her product pages.
How to do this
Keep things simple and try the following:
Ask customers to leave online reviews — most will if asked. Read this post for ideas.
Be sure to ask for a review within 24 hours of purchase of a product or upon delivery of a service.
Make it easy for customers to leave a review. Tell them where to go and what to do.
Once a review is left, follow up, regardless of whether it is good or bad (especially if it's bad).
3. Offer consultations
Consider this hypothetical question: Who is more likely to become a paying customer — a random email lead, or someone who books a free consultation and training session with you online? The answer seems clear, doesn't it? Why not start offering appointments with people interested in your service?
The automation of modern-day marketing has made it exceedingly simple not only to reach more potential customers than ever before but also to interact with them in new and more convenient ways. Try using Facebook local awareness ads to put your business in front of new prospects.
You can make your schedule available to potential customers, encourage them to take advantage of a free consultation and training session, and show them how to schedule it through your website. By doing so, you will begin to see that this type of marketing works, and attracts new visitors to your business.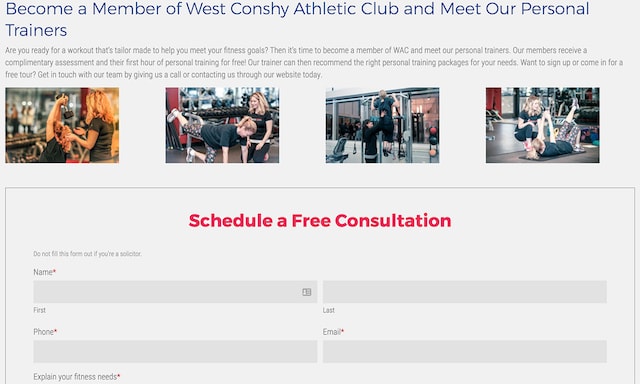 Take a look at how West Conshy Athletic Club pitches free consultations to visitors to its personal training page.
How to do this
Keep the process simple. People will not sign up for consultations if the process is overly complicated.
Make sure that the app you use works reliably. Use a trusted service dedicated to booking appointments online, such as youcanbook.me.
Offer real value to customers who book a consultation. This is your best chance to impress them. Make the most of it.
Call or text reminders to signups before their consultation.
4. Start a risk-free trial
In his book, Predictably Irrational, author Dan Ariely describes experiments that prove that more often than not, free offers trump a preferred choice. He attributes this preference to risk aversion.
People prefer a free option as there is little to lose, even when compared to a good bargain.
This principle applies perfectly to the fitness market. Who wouldn't prefer to try out a service for free, meet the staff and get a feel for your facility before they make a membership commitment? Charging high fees for casual first-time visits will only repel your potential customers.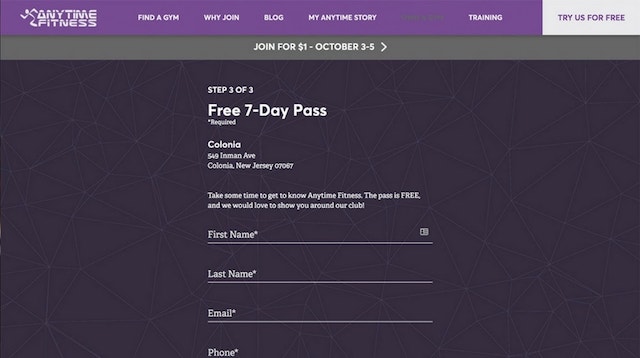 Instead, welcome them with an offer of a free try-out period. Offering your leads free passes can go a long way toward building a solid connection and long-term membership. Anytime Fitness is renowned for offering free seven-day trials to potential members. It's a strategy that has worked quite well in attracting new customers.
How to do this
Bring more potential clients in by:
Adding a free trial sign up to your Facebook business page and website.
Welcoming them to the facility each time they come in.
Giving short tours, highlighting your most popular features.
Encouraging them to ask questions.
5. Partner up
One often overlooked way of generating more leads is to partner up with another business or organization. This kind of partnership works best with another business that is not in competition with your service but has a very similar customer base.
Not sure how to begin? The first step is to identify the potential partners you'd like to approach. A good way to start is to think about your current membership. Where do your customers go before they visit you?
Where do clients go after their workouts — the nutritional smoothie shop down the street? The sports store in the mall?
Once you have an idea of the kind of partner that would be best, consider how partnership with you will benefit them. Business partnerships should benefit both parties, allowing each an avenue of introduction to the other's customer base through shared website content, guest blog posts — even webinars or courses. All of this can be shared between you or promoted by whichever business is not actively presenting what is being offered.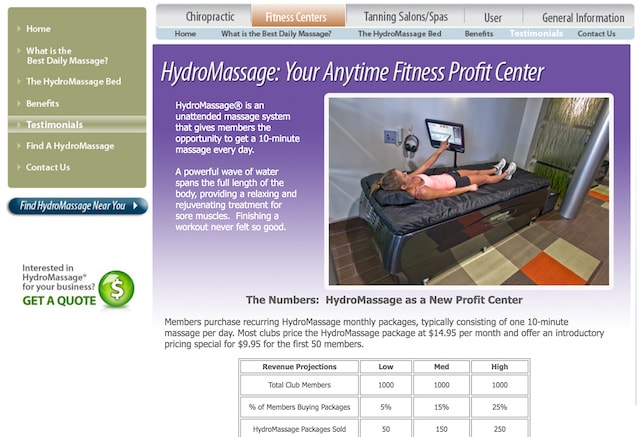 For example, many Anytime Fitness owners have partnered with HydroMassage to offer massage beds at their locations. HydroMassage currently offers a 37-percent discount to Anytime Fitness owners.
How to do this
When approaching potential new business partners, be sure to emphasize:
The prospect of valuable mutual benefits. Partnerships work only when both sides have something to gain, as is the case with Anytime Fitness and HydroMassage.
It's easy and worthwhile. Your potential partners will have their own concerns about growing their business, so the partnership program will have to be easy to implement and worth their while.
The broader range of potential new customers they might otherwise not reach. Emphasize the fact that bringing their product or service to your audience will bring them new customers.
6. Start a referral program
According to Nielsen, people are four times more likely to buy something or join a service when they are referred by a friend. Creating a referral system as a way of generating new leads for your fitness business just makes sense.
The lifetime value of a referral customer is 16 times greater than that of a customer who received no referral.
Again, the key is to make the process as easy as possible for your customers. Tools like ReferralCandy or RewardStream can be great ways to implement your program online. You can tailor your program to suit your customer base. Be sure to include information about it on your social media channels and other high-traffic areas of your site.
Rewards for referrals could include a free month for both the customer referring as well as the new lead, discount coupons, gift cards or merchandise.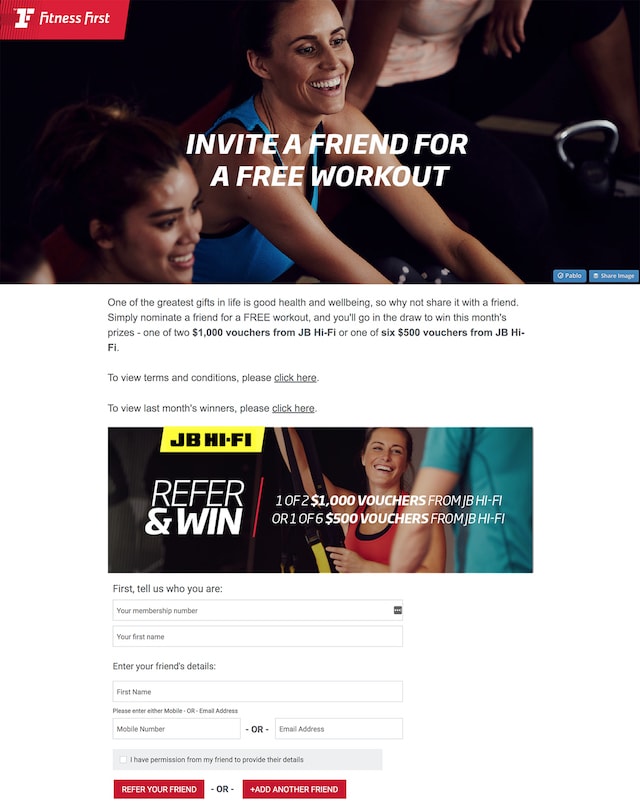 B2be promoted their referral program on their Facebook page and in the gym. They gave members VIP passes to give away to those they referred. That way, they could track the referrals and award points to members for each successful referral. Points could be redeemed for products on sale at the gym or at local businesses.
Fitness First uses the same strategy. They have a link to the landing page for their referral program in the main menu of their site.
How to do this
Ensure your referral program has these characteristics:
Simple and clear. Your program and its incentives should be easily understood at a glance.
Customers should be able to sign up for your referral program without having to fill out tons of information or go through lots of red tape.
Mobile-friendly or app-based. More and more people are relying on their smartphones as their primary device for online activities. You don't want to exclude them.
Fun. Incentivize your referral program any way you can, and work to make the entire experience enjoyable for the customer who is referring others and for those being referred.
7. Get active on social
It's no secret that social media is where most of your customers (and leads) are hanging out. Statistics from internet research group Pew Research back this up.
Facebook is most widely-used social media platform, with 79 percent of American internet users participating.
75 percent of male users and 83 percent of female users are on Facebook.
Most Instagram users are 18 to 29 years old, adding up to 60 percent of online adults.
Clearly, trying to engage people on social media platforms such as Facebook, Instagram and Snapchat makes a lot of sense.
But social engagement doesn't have to be limited to online spaces.
Hosting social events in the real world can make a big difference in creating the culture and atmosphere that you want at your gym. Organizing these events might require a little more work and time, but they are a fantastic way to build connections between your staff and your members. It gives them ways to interact and connect outside of a gym environment, where the focus can be very driven.
Be sure to feature and highlight these events on your social media accounts as well. It's a great way to show potential leads what they're missing by not being members of your gym.
The key to making your events successful and getting both current and prospective members to attend and engage is to make sure your event feels welcoming. This is where your team of dedicated staff can shine. Encouraging your team to welcome and engage with customers and interested newcomers, both online and offline, can make all the difference.
Read details on how The GYM attracted a ton of new members by hosting a social event.
How to do this
Start promoting your event early — at least a few months ahead of time.
Spread the word on all platforms. Don't overdo it, but make sure your audience is seeing a steady stream of content regarding your event in the period leading up to it.
Take photos and share them on your social media accounts and blog to draw the interest of new customers.
Profit from these fitness marketing ideas
Hopefully, these examples and suggestions have inspired you to think about some of the unique, surprising and successful new ways that internet-based marketing can double your leads. By being creative and consistent in the way you reach people through your online presence, you can open the door to so many opportunities to build your member base and make lifelong customers out of all the new leads.
Want more tips? Check out our free checklist: 5 ways to get more local customers
Image by: Martin Barák on Unsplash