To attract customers to your small business, you have to have a presence wherever those customers may congregate. From a simple sidewalk sign to an active presence in your community's Facebook group, the goal is to be top of mind when consumers need your products or services. One of the most effective ways to keep your business front and center is by creating a Google Business Profile.
Wait, is Google My Business dead?
No way! Google My Business is alive and kicking with a new name: Google Business Profile.
When I host Grow with Google marketing classes, I liken the Business Profile to a dating profile for your business. It's chock full of business information, customer reviews, photos, videos, and several other ways for customers to get to know your brand. Just like a dating profile, the more details and content you add, the better your chance to woo new customers.
For any local business owner, this is, by far, one of the most powerful ways to get noticed when people are searching on Google. But is it worth your time to build and manage a Google Business Profile? To answer that question, let's dive in to understand what it is and why it matters.
What is a Google Business Profile?
Is it a business listing? Is it a search result? Is it a social media page? Actually, it's all of the above.
A Google Business Profile is a business listing that lives on Google and contains all of the pertinent information that a customer needs to consider your business. The information and content you add to your profile shows up on both Google Search and Google Maps. It looks like something you might see on Yelp or TripAdvisor, but with higher visibility and more options to customize how you appear.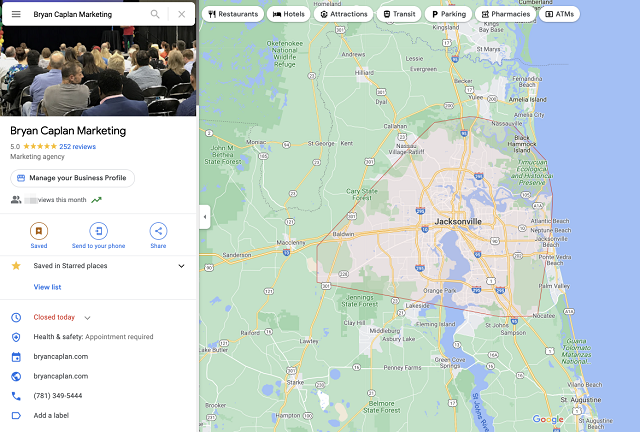 If you were to search Google for "nail salon near me," the first thing you'd most likely see is a list of three to four businesses that relate to your search. If you click on any of those business names, their corresponding pin on the map will change color and the information they've added to their Business Profile will appear on the screen.
These are all Google Business Profiles, and all of this information appears because it was most likely added to Google by the business itself.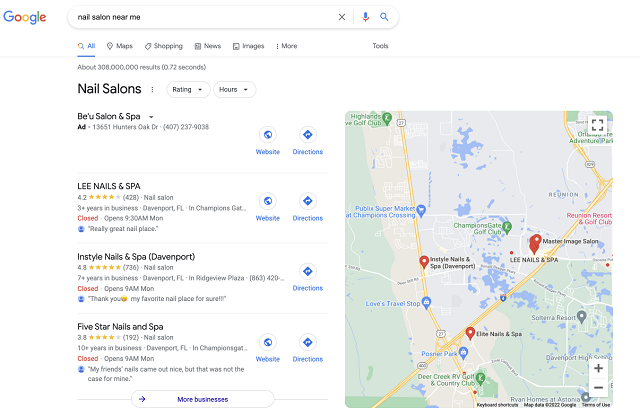 If you peruse through enough listings you will notice that some appear more complete than others because the business owners took the time to optimize their Google Business Profiles.
These optimized listings have a much better chance of showing up on Google because the extra detail signals to the search giant that the business owners care how they appear.
Google Business Profiles also allow you to add posts and offers to them which will appear prominently when someone visits your listing. In this way the platform functions like a social media platform allowing you to share photos, graphics, videos, blog posts and more!
Why Google Business Profiles matter
If you're sitting there thinking you don't have the time to create a Google Business Profile, allow me to play Devil's Advocate. Local businesses with Google Business Profiles get noticed! In fact, the average business is found in 1,009 searches per month, with 84 percent coming from discovery searches.
Local search is powerful
If people are going to learn about a new or existing business in their area, they'll most likely use Google Search. Sure, some may discover your business by driving by or hearing about it from a friend, but the vast majority of people will discover it by searching on Google.
Optimizing your Google Business Profile will help prospective customers discover your business more often and likely lead to higher transaction value because your attention shines through.
According to Google research, local searches result in a same-day purchase nearly 18 percent of the time. Simply put, you can convert 18 percent of searchers into customers just by making sure your profile is complete and up-to-date!
Micro-moments dictate our buying decisions
Through analyzing its data, Google has found that when people want a product or service, they are willing to forgo brand loyalty to fulfill their need as soon as possible.
Staying with the nail salon example, say you are running errands and you destroy one of your nails. It's sharp and dangerous, and you cannot wait to get it fixed. You pull out your phone and search "nail salons near me" to find a place to fix it right now.
This is what Google calls a "micro-moment."
A micro-moment is the instant a consumer needs to know something, go somewhere, do something or buy something.
These moments are critical for businesses because the consumer is ready to purchase and actively looking for your products or services! If you are easy to find online, and your business can satisfy their need, then you have a very good chance of winning new customers.
This micro-moment phenomenon happens more than you think. In a two-year period, Google has reported over 900 percent growth in mobile searches for "___ near me today/tonight," and that number has continued to grow. People want to know, go, do, or buy within 12 to 24 hours of the thought entering their head.
That's powerful!
Using our nail salon example, a potential customer may search for "manicure near me today" or "pedicure near me tonight." If your nail salon was open until 8 PM with vacant chairs and willing nail technicians ready for new customers, but you had not updated your Google Business Profile to say so, how would that customer know? Better yet, how would Google know that you were open and relevant to the customer's search?
If you make sure your Google Business Profile is robust and complete, those customers in micro-moments will be able to find you and make the decision to do business with you without having to go to your competition. You can't let them get away!
Put your business on the map
A Google Business Profile puts your business on the map — literally.
One of the most important functions of a Google Business Profile is that it actually shows your business on Google Maps.
Businesses with storefronts and physical locations cannot afford to be absent from Google Maps.
Creating a profile gives you the opportunity to add complete and accurate information about your location, products and services, and business hours, which will help customers find you.
How to create a Google Business Profile
Are you ready to create or claim your Google Business Profile? The first thing you need to do is sign in to your Google account or create one if you don't have one already.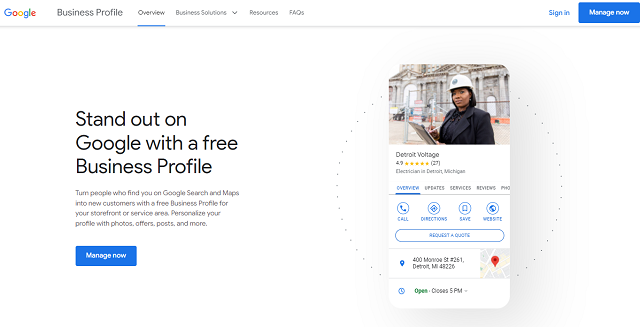 Once you are signed in, search your address on Google Maps. On the screen you will see the map on the right and the information on the left. If there is no profile for that address, you will see a link that says "Add Your Business" below the image and address. If there is already a listing auto-generated by Google you will see the link "Claim This Business."
Verify your business
Once you've created (or claimed) your Business Profile, you'll need to verify ownership.
This step exists to make sure that people aren't setting up profiles for businesses they don't own or flooding Google with fake Business Profiles.
Depending on a variety of factors, you may see one or more of the following verification options available:
Postcard: If you select to receive a postcard Google will automatically send a postcard to the address you have used as your business within five days. Once you receive that postcard you will log in and type in the five digit code on the postcard.
Email: In some cases you may be able to verify by email. If that option is available to you, select it and Google will send an email to you with a verification link. Once you click that link you are good to go!
Instant verification: You may be able to use instant verification if you have previously verified your business with Google Search Console. To use this make sure you are creating your business profile with the same Google account associated with Google Search Console.
Video verification: Originally introduced in 2018, Google has brought back video verification to make it much easier and faster to verify your business. You may be presented with a QR Code that will prompt you to record certain videos of your storefront and signage to be uploaded for Google's review.
Fill out your information
You don't have to wait for your profile to be completely verified for you to add in more details about your business.
Select what kind of business: Make sure you select what kind of business you are. You can choose from a storefront business if you operate entirely out of a physical location, service-area business if your business provides products and services in a specific area, or a hybrid business if your business does both.
Choose a category: From there you need to choose what category best describes your business. You cannot make up your own category, but Google has more than 3,000 selections to choose from, so be sure to choose the category that best fits your business. This is important because it will dictate what options you get within your profile and how your business shows up in Google Search. (Note: You can add up to nine additional categories.)
Write a description: What would make a customer want to do business with you? Keep that in mind when you write a business description. Tell them what you do and how you do it while adding in one or two keywords to help with your SEO. Don't include any hyperlinks in this area since it is not allowed and will look like spam.
Add operating hours: One of the most important things on your Google Business Profile is your operating hours. Be sure to accurately fill out your operating hours including any upcoming holidays or pre-planned closures.
Upload photos: Before your profile can be considered complete, you should upload at least five to seven photos of your business. For your cover photo, select what you think best represents your business because this image will be the most visible to searchers. Your profile photo can be a logo or a photo of your sign. From there upload at least five additional photos showing off different aspects of your business like your products, before and after service shots, or your team.
How to edit your profile directly in Google search
Once you build and verify your Google Business Profile, your job is not done. I always recommend setting a weekly or bi-weekly reminder to review and update your Business Profile.
Before you even attempt to find your business to edit the profile, you have to make sure that you are logged in to the correct Google account.
The first way you can access your profile is to visit google.com/business. This option will be phased out in the future and only be accessible to those who are owners of multiple Business Profile accounts, which brings me to your second option.
The better way to access and edit your Business Profile is through Google Search itself. While signed in to your Google account, simply search your business name or type the words "my business" and you will see it appear at the top of the search with the headline "Your business on Google." Click on "Edit Profile" and you will be able to start editing.
Final thoughts
Creating and updating a Google Business Profile is one of the most important things you can do for your small business. Search engines, especially Google, are how most people find the information they are looking for. If you spend your time making sure your business is represented correctly on Google Search, you are allowing those potential customers to find you!