How to accept credit card payments online
Join GoDaddy and Adam Griggs, CEO & Founder of CLARAfi.io, for our January 26th virtual meetup, as Adam shares his top recommend apps and how they can help you to be more successful in your business.
Have you ever wanted to know how to accept credit card payments online? Rest assured, our quick and easy guide to accepting online payments will have you ready in no time. There are a number of things you need to make sure you have in order before you begin to accept payments on the web, so let's dive in.
Shopping cart
If you want customers to purchase your goods online, you'll need an online storefront.
There are many options available to you when you decide to create an online shopping cart. The type of cart you select depends on your needs. Generally speaking, all cart options should let you design the look of your store, add products to your catalog, and select shipping, payment and tax options. Go online and search different carts to determine what's best for your business. Don't forget to check out GoDaddy Online Store while you're at it.
Merchant accounts
Being a small business doesn't mean you can't accept credit cards like the big guys. Having a merchant account allows your customers to purchase your products directly on your website. Plus, it adds even more credibility to your business.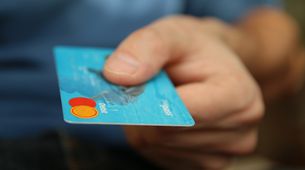 Merchant accounts let you accept all the major credit, debit and gift cards for your products. Most banks offer merchant accounts, but you'll want to do your homework on which merchant provider and plan you want to go with.
You might need a business license of some variety to get one, though. To do this, you'll need to contact your state's local business license office to determine how you need to proceed. For more information on specific states, check with the U.S. Small Business Administration.
If you start taking payments on your website (rather than linking off to a service like PayPal) you'll need to make sure that your customers' purchases are secure by placing an SSL on your website. For more information, read 5 Benefits of SSLs for Small Businesses.
Third-party merchant services
You can also use a third-party service to route your customers' purchases, like PayPal. These types of merchant services require your customers to click a link and use their website to make purchases.
Some services even allow you to use your cell phone as a credit card machine, like Square. This type of payment processor is usually used in a brick-and-mortar storefront as an option for a point of sale system. For example, if you own a restaurant, instead of having a cash register, you would use Square as your POS system.
Chances are you'll need to collect some sort of tax on your goods, too, so you'll want to make sure you contact your state to ensure that you're filing correctly.
Learn about the four types of SSL certificates available.
Wildcard SSL Certificate
Extended Validation SSL Certificate
SAN SSL Certificate
Organization Validation SSL Certificate