How to become a screenwriter
So much goes into movie making, but the first step is taking the idea and putting it into words. That's where the screenwriter comes in. However, for many aspiring writers like myself, the most daunting phrase is, "Where do I start?" My own journey of learning how to become a screenwriter started in 2009. Through a mixture of luck, persistence and a ton of books, I've learned tips and tricks that can help other new writers.
The basics of how to become a screenwriter
Screenwriting is more than just sitting down and busting out a script. A formal education will provide the structure you might need in order to get a jumpstart on your creative adventure.
The best option is a formal four-year film school, where you'll come out with a shiny degree and at least one polished feature under your belt — depending on the program.
This process takes a lot of work. Not all film schools are the same, and don't be surprised if ones you wouldn't expect are just as good as the "name brand" schools.
If a four-year university isn't in your budget, check out local community colleges. I attended Scottsdale Community College  in Arizona and was taught every tip and trick I needed to help me get ahead when I transferred to Columbia College Chicago a few years later. In a classroom setting, you have a built-in group of people who will provide support and feedback for your story. A classroom is the most common setting, but it's not the only option.
If you want to be a screenwriter, be prepared to read. A lot.
It's safe to say I own at least 10 books about screenwriting — my favorites being Save the Cat, The Last Book on Screenwriting You'll Ever Need, Your Screenplay Sucks! 100 Ways to Make It Great, and The Writer's Journey: Mythic Structure for Writers. They discuss story and structure, and provide useful tips for screenwriters from others who have been in the industry for ages. Whenever I start on a new project, I skim my dogeared and highlighted books to refresh myself, even though I have most of them memorized.
To get a handle on how a script is adapted to screen, read your favorite film. This helps hone your craft, especially when a project seems too daunting to handle.
When you're not writing, read; and when you're not reading, watch movies. Actively engage when you're watching, and pay attention to what works and what doesn't work in the film.
When I wrote my first feature — a heist film — I watched every heist film I could get my hands on at my local video store, and later Netflix. This sort of "education" costs nothing more than a subscription service feed, and provides so much room for growth.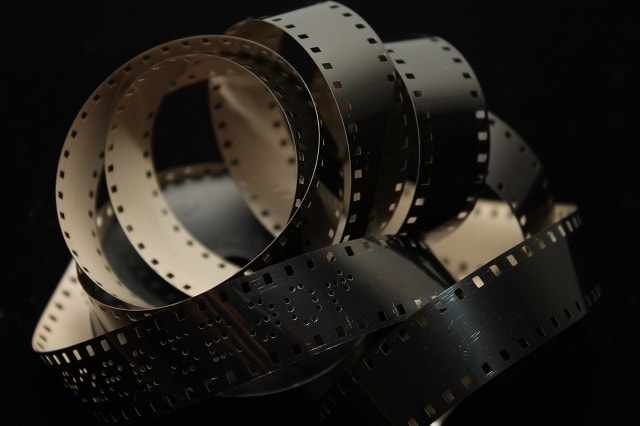 Tips to get started on your first screenplay
Now that you've read all of the screenwriting books, and have watched more films than the Academy, it's time to get to writing. Here are four tips to get you started:
1. Choose a software program
Finding the software program that works best for you is key. Since scripts require specific formatting, a screenwriting program is essential. I've used three:
Final Draft
Celtx
Writer Duet
I recommend doing your own research on these programs before paying for a full program.
Pro tip: Do not deviate from the format! Do not use Microsoft Word under any circumstance.
2. Set up a process
Outside of choosing a specific computer program, your process is your own. I use note cards, notebooks, pens and a ton of paper. I make it a habit to keep a notebook with me at all times just in case inspiration strikes when I don't have my computer. I find writing out my ideas helps "empty" the extra information out of my mind before I delve into a scene.
Having a clear mind is essential to writing.
There is no one way to do this — I make sure to clean up my writing space and put on music with no lyrics. I know some writers who work in complete silence, others in coffee shops among the hubbub of everyday life. Find a method that will work with your process and, more importantly, do it. Don't make excuses. Do it.
3. Be open
A successful screenwriter is two parts confident, one part humble. Get feedback, open yourself up to critiques and criticism, and learn how to take it in stride.
Say a producer has two choices: a great writer who refuses to take notes, or a good writer who takes notes and runs with them. Which one do you think he or she is going to pick? My guess would be the writer who will be easier to work with in the long run.
4. Consider self-producing or going online
Starting out, it is difficult to get a film made. Films are risky, and big studios are cautious about throwing millions of dollars behind an unknown writer on a project that could be a flop.
The best way to ensure your film is made how you want it is to self-produce.
The industry is changing and independent films are becoming more accessible. Being able to produce your work, while time consuming, will help you learn what a studio needs and how to keep your script within a budget. While you're just starting out and learning how to become a screenwriter, it might be your only way to get your work out there.
Pro tip: Do not discredit the web. A few years ago, I would never have thought I would say try to get your short films or series online. But with streaming services, YouTube, and Vimeo (to name a few), distribution of your stories is becoming easier than ever.

Use networking to your advantage
Like most industries, screenwriting isn't just about what you know, it's about who you know. The internet is your friend for making connections. Not only can you use it to stream your finished projects, you can use it to promote yourself. Use outlets like Facebook and Twitter to pitch ideas, chat with other writers, and see what works for other people.
Social media is a fantastic way to meet other writers, but nothing beats in-person contact. Find writers groups, reach out to contacts you made back when you were in school, find time to make friends within the industry, and share your work.
When an opportunity arises that I might not be able to take, I make sure to send it along to someone I know who would be fitting.
Pro tip: Festivals are another key way to get your name out there, and many will provide that essential feedback you need to improve your craft. Seek out festivals, research them, and submit your projects. People will remember your name in the future, and if your branding fits their brand, you might just get that call.
Build your personal branding
You're a brand. It's a strange concept to wrap your head around, but everyone is a brand in one way or another. What is your writing style? What genre do you write? When you think of films from writers like Jordan Peele, Kevin Smith, Diablo Cody, Quentin Tarantino, Tina Fey, the Coen brothers and so many more, you instantly know what type of film you'll be seeing.
Having a firm grasp of what kind of writer you are will allow you to market yourself and submit to the companies that will fit your brand.
Becoming a screenwriter is tough. New writers are coming up every single day. But with passion, drive and humility, learning how to become a screenwriter isn't as daunting as you'd think.