How to get a business phone number: 3 options for the always-on entrepreneur
Starting a business involves more than coming up with an idea for a product or service. You need a logo and business cards. Maybe you need a website or a social media page. Entrepreneurs definitely need an email address, phone number, and smartphone.
After all, being available to clients and customers is vital. And with smartphones, entrepreneurs feel like they have to be "on" all the time to take calls, reply to texts, and answer emails. Opening a new email account is easy. But what about getting a new phone number? Should you use your personal number as your business line, too?
Not only does that make separating your personal life from your professional life nearly impossible, but it can also annoy both your potential clients and your friends. Entrepreneurs have three options, each with pros and cons. We'll walk you through each one, and by the end you'll know how to get a business phone number using the option that best suits you.
Your personal smartphone
When you are deciding how to get a business phone number, the most obvious option is to simply use your personal phone number as your business line. While this is the least expensive option, the benefits stop at price. Ultimately, using your own personal phone number as your primary business line will make it harder to communicate to your customers with an appropriate level of professionalism, and it will make it harder for you to find a healthy work-life balance.
Con 1: You appear less professional.
When a customer calls your business, they expect to be greeted professionally. If your business number is the same as your personal number, you can't distinguish between work calls and personal calls coming from unknown numbers. The catch? You run the risk of answering a call from a potential client the same way you would answer a call from a personal contact.
Let's say you play it safe and answer all unknown calls as if they were coming from clients. During the beginning of the conversation — when you make your crucial first impression — you'll be more focused on determining whether it's a personal or professional call instead of listening to the caller's reason for calling.
When you aren't available to answer your phone, clients expect to hear an outgoing voicemail message verifying they used the right number. They may also learn about your operating hours or where to find product information. But without a way to separate incoming calls into business or personal, everyone will be greeted with the same generic message.
Con 2: You can't separate your business life from your personal life.
Even though entrepreneurs generally need to work long and hard to build their businesses, they still must invest time in their personal life. If you can't distinguish between the two types of incoming calls, however, it's easy to get stuck on a business call when you are trying to relax or on a personal call when you are trying to focus on work.
Using your personal phone line as your business line does not give you the ability to choose which calls to answer, or when. As a result, it becomes much harder to control when you're working and when you're off.
A second smartphone
The opposite approach to using your personal phone as your business phone is to purchase an entirely separate smartphone. Although this option would allow you to control your work-life balance and ensure that you always interact with customers in the most professional manner possible, it is very costly.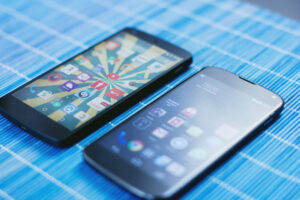 Pro 1: You can better control your work-life balance.
Moving all of your business communication onto a separate phone makes it much easier to separate your time and find a healthy balance between work and personal time. First, you will not have to give customers your personal number. If you really need time off, you can get away from work calls by keeping only your personal phone on you.
Secondly, you can easily tell which type of call is coming in, depending on which phone it is coming into, and then make an informed decision about whether or not to answer. No more surprise work calls when you are spending time with family!
Pro 2: You appear more professional.
Having a separate smartphone for your business also ensures that your interactions with customers are always professional. Whenever you answer your work phone, you will know right away that it is work-related and can put yourself in the right mindset before answering. If you can't answer the call, you can rest assured that the caller will not be thrown off by your voicemail and will get all the information they need.
Con: You need to spend a lot of money.
The pros are pretty great, but the con is, perhaps, greater. A new smartphone will easily cost you more than $400, and even the cheapest phone plans charge an additional $30 a month. Being able to separate your business calls and work calls is definitely important, but for someone trying to run on a startup budget, these high costs may be hard to justify.
Plus, you have two expensive devices to keep track of at all times.
A second phone number app
If you want the benefits of a second phone without the high costs, your best option is to use an app that allows you to make and receive calls on your own phone using a separate number. Apps like GoDaddy SmartLine make it possible to be professional whenever necessary and maintain a steady work-life balance at a fraction of the cost of a second smartphone.
Pro 1: It keeps your business communications professional.
When you use GoDaddy SmartLine, you can make sure that callers are met with a high level of professionalism every time. Because you can tell if a call is coming from your business line versus your personal line, you will know whether or not to let the call go to voicemail and how to answer the phone if you do decide to pick it up.
If you let a work call go to voicemail, the customer will be routed to a separate voice mailbox that is specific to your business, so they'll know that they've reached the right company. SmartLine also automatically transcribes voicemails so you don't have to jot down notes while listening.
You can send and receive texts from your new business phone number, too. After all, it's important to communicate with customers on their preferred channels, and many people prioritize texting. SmartLine even allows you to send picture messages in case you need to show your customer something rather than explain it.
Pro 2: It helps keep your business life separate from your personal life.
Just like you could with a second smartphone, you can easily distinguish incoming personal calls from incoming work calls using the GoDaddy SmartLine app. Choose to answer them, or let them go to voicemail — depending on whether you are working or are taking time off.
As an added benefit, you can set business hours and create a custom voicemail for anyone who calls outside of those hours. No more guilt from feeling like you need to return calls ASAP. This feature allows you to focus your attention elsewhere by knowing that a current or potential client will get the information they need, including when to expect your reply.
Pro 3: It's affordable.
At less than $10 per month, SmartLine is also much more affordable than a second phone. Spending at least $400 up front and then $30 a month after that for a new smartphone, on the other hand, might be too high a price point for early-stage companies trying to decide how to get a business phone number.
A sustainable solution for yourself and for your business
As a small business owner, you probably feel the "always on" pressure. Do yourself and your business a favor by getting a separate phone line that routes directly to your existing smartphone. Stay in control by choosing which calls to answer and which to ignore when it suits you.