Editor's note: This post was originally published on May 8, 2017 and updated on November 14, 2018 and March 2, 2023.
Keeping your work and personal life separate is difficult when you run a small business. As the go-to problem solver, you probably get a lot of calls off-hours, which, needless to say, can get pretty frustrating. And sometimes, a little embarrassing.
Separate your work and personal calls by adding a business line to your personal smartphone
Modern smartphones can easily accommodate multiple phone numbers.
Adding a business line to your mobile phone:
Gives you the flexibility of working from anywhere.
Limits when you give out your personal phone number.
Allows you see who is calling and lets you screen calls.
Factors to consider when adding a business line
Of course, you've always got choices — from free business phone services to VoIP systems. If you're looking to add a business line, factors you'll want to consider as you weigh your options include:
Cost. Just don't sacrifice quality of service for price.
Features. Do you need caller ID? Business hours? Voicemail transcription? Auto attendant?
Ease of use. You're busy. How much time do you want to spend figuring out how to install and use a second business line?
Domestic vs. international. Do you need to make international calls?
Land line. Do you also need to add a business line to a landline?
Technical support. Is quality support available 24/7 if you need help?
One mobile phone, two numbers
By adding a business line to your smartphone, you can keep your personal calls and business calls separate — without having to buy a new device. It's a quick, affordable way to up the professional ante for your business.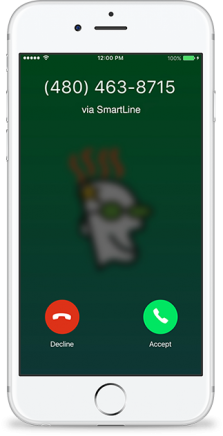 There are different ways to add a business line to your Android or iOS phone, including GoDaddy Conversations app. Conversations is a second phone number that rings on your existing mobile phone. One phone, two numbers.
GoDaddy Conversations gives you a hassle-free way to separate your business life from your personal life.
The many benefits of adding a business line via Conversations include:
Instantly know if a call is business or personal.
Keep your personal number private.
Read your voicemail and prioritize your responses.
All-in-One inbox to manage calls, voicemails, texts, and social media messages.