How to outsource the back office of your business
When you're running a small business, outsourcing tedious, non-monetary tasks is paramount. Not only for your business, but your sanity. There are many services that allow for these activities to be done for less than you could achieve on your own. Your time is best spent doing what you do best. If you could be using your skills to bring in a profit, why would you spend time on back office tasks?
First, a little background on me. I ran my first "company" at the tender age of 7. It was a devil sticks business. My dad would drive me to bike shops, ask them for spare tires, and cut all the wood I'd need. I was basically being paid for making arts and crafts. I made about $6,000 and bought my first computer a few years later.
My "back office" at that time was my mom showing me how to account for sales in a little ledger book. Since then, I've started both scalable startups with high margins and classic small businesses, like a landscaping company. You could say that I've graduated from a ledger book to more sophisticated tools.
Invoicing and bank runs
I hate doing bank runs. Why are checks still a thing? Invoicing isn't much better. Let's simplify that.
Get Symple
A young Y Combinator company called Symple automates your invoices and receivables in one place. Simple and easy. Not much else needed.

Deposit checks at a bank address
Here's an easy trick: have your checks sent directly to your bank. Many banks offer a service for as little as one dollar each check to deposit it for you. What's better than waking up with more money and not having to visit the bank?
Bonus: This is also covered in the accounting section, but Wave Accounting, FreshBooks and QuickBooks all offer electronic payment options right inside the invoice.
Bookkeeping and accounting
Easily the lowest value-to-time sink component of any of my previous businesses, but also something I couldn't get away from. There are a few pieces of affordable software I'd recommend to make bookkeeping more seamless.
Sway Finance
The team at Sway aims to replace all bookkeepers with an automated robot. Pretty cool in my book! The program takes care of all the inputs of your business. There is also a free Slack bot, which shows you expenses and money posted to your accounts.
FreshBooks
A scrappy startup from Toronto, FreshBooks is now a mega player in this space, and most times, the choice of freelancers. If you're not already using FreshBooks, give it a try. One feature I love is how easy it is to track hours to a project.
Wave Accounting
Compared to FreshBooks, Wave has a few more features for small businesses, in my opinion, with the added bonus of being free.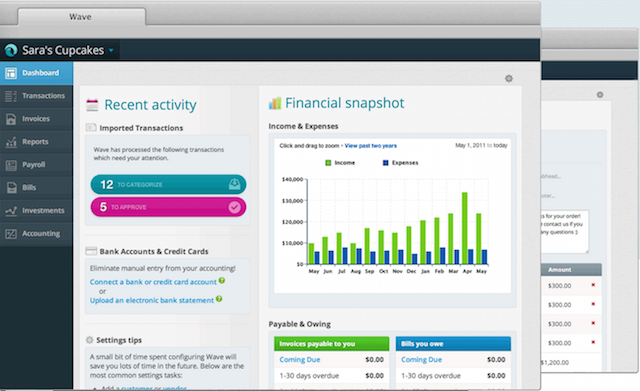 It also comes with a decent payroll and invoicing feature. I've run three businesses using Wave. I have found that you can grow out of it quickly, but it is excellent for small companies. One area I never tried, but really wish I did, was its marketplace of accountants. You can hire an accountant on an hourly basis to help out when need be.
QuickBooks Online (QBO)
QuickBooks is what I'm currently using for my company. I find QBO to be the most traditional of all the competitors included in my mini analysis. QBO is a solid program with a steeper learning curve, but I would die without their Receipt Bank Integration (which also is available with FreshBooks). There are plenty of other apps that integrate with the QBO platform so you can customize it to your desire.
Receipt Bank
The team at Receipt Bank gets a gold star. I really love this service. It works a couple different ways. You can forward business receipts via email to the platform, and it will categorize them automatically, which you can then publish to QBO. This makes it really fast to do expense reports, especially if you're using personal credit cards.
You can also take pictures of receipts with your phone, submit them to the Receipt Bank app, and it will parse all the data for you. I can't say it enough: this service is so great. It really gets rid of the need for the shoebox full of collected receipts and helps to streamline back office bookkeeping.
Editor's note: Another great option for bookkeeping services is GoDaddy Online Bookkeeping. Take organization to the next level with tracking, invoices, business reports and more.
Payroll
Payroll can typically be very expensive to do with a full-service company. But the good news is, there are plenty of affordable alternatives for your back office needs.
Gusto (formerly ZenPayroll)
Probably the hot startup on the scene right now and for good reason. Gusto makes payroll super easy. No fuss, no muss.
Wave Payroll
I used Wave's payroll for more than two years. I found it to be very simple and easy to use. There are a few limitations, however. It takes your money really early in advance of pay day. It's also probably sufficient for a team of two to five people. After that, I imagine you'd face some issues with customization needs.
QuickBooks Online
I have not tried QBO's payroll offering personally, but a few friends have, and they say the platform is adapting and ironing out kinks quickly. If you already use QuickBooks Online, check out their payroll service.
Wagepoint
For Canadian and U.S. companies, I find Wagepoint to be a cheap and simple payroll provider. Even better, it's not hard to get started with the service.
Random and miscellaneous
When it comes to your business's back office, there are a lot of to-dos that don't fit into easily discernible categories. Here are a few tools to cover the gamut.
Zapier
Need a service that ties your apps together and helps to automate your workflow? Zapier connects "this" to "that" SO easily. For example: Want a contact that's in a Google Form to go into your CRM? Done. Want to connect your CRM to a drip campaign? Boom. It goes on and on and on. Check it out.
Ohmygreen
Is going to the local store for snacks tedious? I guess it is. Having delicious snacks at your workplace can really increase happiness and reduce stress. Ohmygreen is another YC company. It specializes in healthy snacks that uplift your team.
Mindful Snacks
Mindful Snacks is a Toronto-based company servicing the Greater Toronto Area, Nova Scotia and New Brunswick. It is similar to Ohmygreen and offers good options for its pricing.
Bond
Handwritten thank you notes — outsourced? Yes, please. Bond is for U.S. companies and will write notes using a special robot that mimics human handwriting. Then they'll mail it off to your recipients.
Pro tip: You can even use Bond for HR purposes, like sending employees birthday cards.
Simplifying your back office
With trial and error, you're going to find the right mix of back office tools for you. Sometimes, too much automation results in too much time spent fixing errors or maintaining API hooks. So test out a few and grow your stack over time.
Thanks to Rustin, Liam & Mike for help on this post.