5 reasons Microsoft Invoicing is a smart choice for your business
Getting paid is naturally the lifeblood of your small business. Without reliable income from customers, the lights won't stay on for long. This is why a dedicated invoicing solution — such as Microsoft Invoicing — can be incredibly useful.
Microsoft Invoicing is a natural extension to the rest of the powerful Microsoft 365 suite.
In this post, we'll look at Microsoft Invoicing and discuss five reasons it can be an invaluable tool. Let's get started!
Related: Habits of business owners who get paid on time
Why you need a dedicated invoicing solution
There are a number of reasons why a dedicated invoicing solution makes sense.
Receiving prompt payment for the products and services you provide is crucial to maintaining your cashflow. At the same time, invoicing can become a significant hassle. While you can create invoices manually or use a standard Office app such as Excel, there are better ways to streamline the process and save yourself a lot of time.
Want to get paid fast by creating invoices and estimates in minutes? Check out Microsoft Invoicing in Microsoft 365 from GoDaddy.
Microsoft Invoicing is one such tool, offering a single interface that handles a lot of the work for you. It's a full-featured solution that ensures you can track, bill and receive payments seamlessly. As such, it's worth a look for just about any small business.
5 reasons why Microsoft Invoicing is a smart choice for your business
So, what is it that makes this particular tool so useful? Let's take a look at five of the top reasons to choose Microsoft Invoicing, starting with the developer itself.
Invoicing can be done on-the-go.
Your entire invoicing process can be centralized.
Customers have an easy path to payment.
You can create professional-looking invoices quickly.
Stability is important in money matters.
As you can see, there are quite a few reasons why Microsoft Invoicing might be the right call for your business. Let's dive a little deeper.
1. Invoicing can be done on-the-go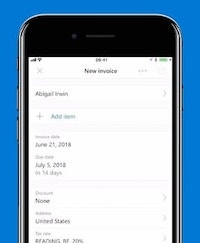 Running a small business requires more flexibility than ever before, which is making cloud-based solutions a must. Thankfully, Microsoft has recognized this fact and come up with the Microsoft 365 suite of tools.
This suite takes all the classic desktop apps and makes them cloud-based — including Microsoft Invoicing. As a result, you can create and send invoices and handle payments regardless of your current location or situation. This system also means that it's easy to hand off invoicing to another team member quickly if needed.
2. Your entire invoicing process can be centralized
One drawback of the traditional spreadsheet approach is that Excel and Outlook contacts aren't inherently linked. Of course, you can set that system up, but a fully integrated solution will save you a lot of time and trouble.
Microsoft Invoicing is a fully-featured management app, offering a wealth of functionality.
You're able to create invoices, add whatever information you like, and then customize their look completely. What's more, you can send them from the same app, and handle payments as they come in (either via your desktop or the cloud).
3. Customers have an easy path to payment
Often, the biggest issue you'll have when it comes to invoicing is actually getting customers to pay on time. A smooth and easy process is vital, since the simpler it is for a customer to pay, the quicker you'll likely receive your money.
We already mentioned that Microsoft Invoicing can handle customer payments, but it's worth reiterating what a useful feature this is. You can even include one-click payment options on the invoices themselves, via all manner of different gateways (such as PayPal).
For your customers, this means all they have to do is double-check the invoice and press a button. This is essential if your finances rely on fast payments.
4. You can create professional-looking invoices quickly
Even though it may seem unnecessary, design matters, even on invoices. If a client receives an invoice that looks unprofessional or confusing, they may be hesitant to pay, or unable to decipher what it contains.
The good news is that Microsoft Invoicing offers a number of templates and styles, so you can create documents that match your vision. You can also add your own personal branding, which helps your invoices stand out.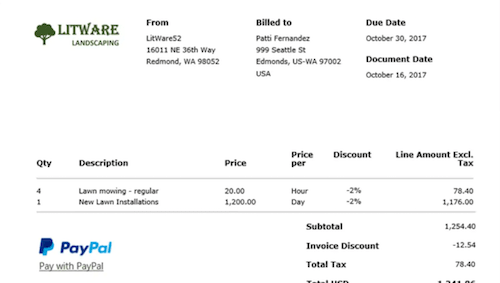 5. Stability is important in money matters
The technology landscape is littered with the remains of small companies that have closed their doors. Microsoft is a popular standby when it comes to software. As such, you can rest easy knowing Microsoft Invoicing is something that won't fall by the wayside in a few months or years, but is likely to grow with you over your business's lifetime.
Where you can find Microsoft Invoicing
If any of the benefits we've discussed sound appealing, you're likely wondering where you can find the Microsoft Invoicing software. The good news is that you don't have to look too far!
GoDaddy has partnered with Microsoft to offer Microsoft 365 packages to suit the needs of entrepreneurs everywhere.
Upon subscribing to a Business Premium plan, you'll get Microsoft Invoicing and a whole host of other benefits included. Of course, the Office classics are also represented, with online versions of Word, Excel, PowerPoint and more ready to roll.
You'll also get up to 1TB of secure cloud storage. This means you can leverage the power of the cloud to your advantage, without worrying about running out of space.
Related: 13 hacks to get the most out of your Microsoft 365 subscription
Closing thoughts on Microsoft Invoicing
Invoicing can be a stressful task, so having a powerful invoicing solution to help you out is vital. Microsoft Invoicing could be just what your business needs, especially given GoDaddy's partnership that provides the most essential Microsoft 365 apps at a cost-effective price.
In this post, we've looked at five reasons Microsoft Invoicing is a smart business move. Let's recap them:
You'll have peace of mind, knowing you're using a rock-solid tool from Microsoft.
Invoicing can take place in the cloud, for maximum flexibility.
The whole invoicing process is effectively centralized.
Customers can pay directly from their invoices, meaning you'll receive payments quicker.
There are plenty of easy ways to make sure your invoices look stylish and professional.
Here's to all your invoices getting paid right on time, and hearing that cash register ring.