New Wapuu collector pins for WordCamp US 2016
WordPress wouldn't exist without the support of its global community of talented contributors, outspoken advocates, and enthusiastic users. Gatherings like WordCamp US are great for bringing all of these people together under one roof.
But when you're at a massive event like WCUS, it's hard to know how the thousands of people around you are involved with WordPress. Are they users? Contributors? Designers? Developers?
Wouldn't it be great to know at a glance?
Introducing new Wapuu collector pins for #WCUS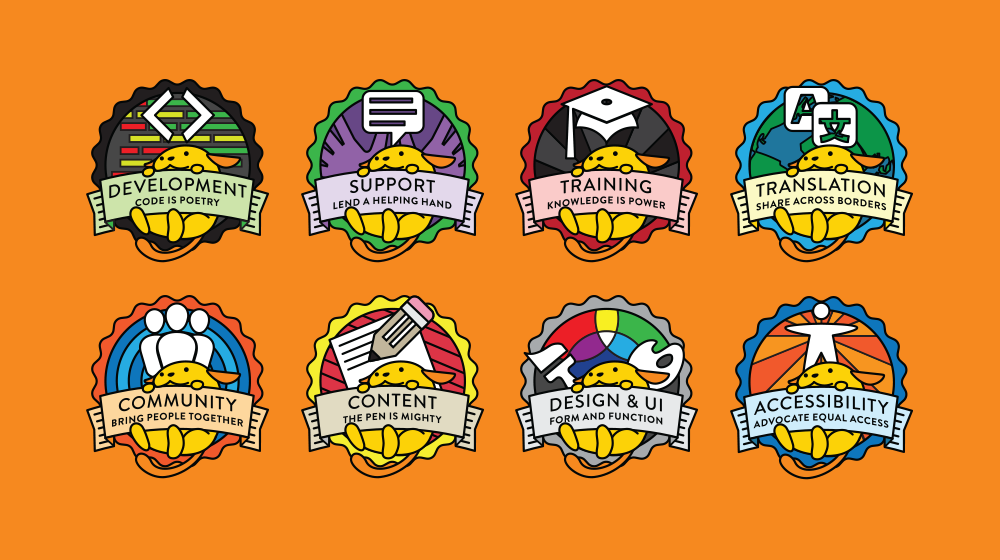 Wear your contributions on your sleeve. Or lapel. Or backpack. (Or hat. Or lanyard. Or wherever else you'd like to pin 'em!)
We've teamed up with the talented Michelle Schulp to create a set of eight original Wapuu collector pins, each representing a different aspect of the WordPress community. (If you attended WordCamp US last year, you might recognize the inaugural WCUS collector coins, which were also designed by Michelle.)
Have you gotten your community #wapuu pin at the @GoDaddy booth yet? Which one are you? #wcus pic.twitter.com/vkBActQJeD

— The Michelle Schulp☜ (@marktimemedia) December 2, 2016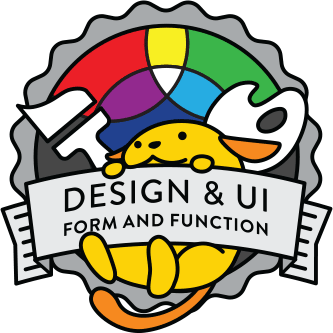 The Design & UI pin recognizes the people who make WordPress beautiful and usable, including WordPress core, themes, and individual websites.
| Pin | Description |
| --- | --- |
| | The Accessibility pin recognizes the people who ensure that WordPress is accessible for all users. You don't need to be an accessibility expert or core contributor to focus on a11y – building accessible websites and publishing accessible content with WordPress is just as important. |
| | The Community pin recognizes those who bring people together around WordPress. This includes WordCamps, local meetups, online groups, mentorship programs, contributor outreach, and diversity initiatives. |
| | The Content pin recognizes everyone who creates — or helps others create — with WordPress. It's things like crafting prose, cutting video, cropping pics, and pushing it all through WordPress. |
| | The Development pin recognizes all the code wranglers, bug squashers, beta testers, and QA reviewers who play a role in maintaining the health and extensibility of the WordPress ecosystem. |
| | The Support pin recognizes those who take on the daunting task of supporting the 27% of the web powered by WordPress. Whether it's in person at a WordCamp Happiness Bar, in online groups like WordPress Hosting and Advanced WordPress on Facebook, or WordPress Development on Stack Exchange. |
| | Do you remember how you learned how to use or build onto WordPress? It was surely someone who created instructional content or taught a class or spoke at an event. We're commending those educators, teachers, trainers, helpers, and mentors with a pin of their own. |
| | People all over the world are use WordPress to create sites, and they're doing it in their native language thanks to the rad multilingual creatures known as Polyglots. |
You can pick up your Wapuu collector pins at the GoDaddy sponsor booth, from our friends' booths, or from roaming GoDaddy team members.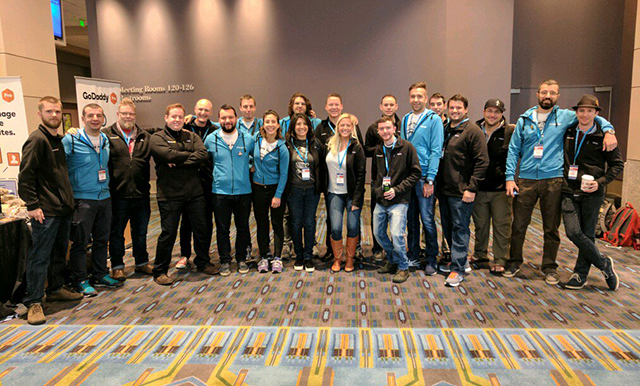 Collector pins are given out at random, and there's a limited supply. Trade with other attendees for the pin you want, or look for one of us and we'll gladly make a trade.
To all of the users and contributors who make WordPress possible: thank you for everything that you've done and continue to do. We hope you enjoy these new Wapuu collector pins. Wear them with pride!
Image by: gemmacevans via Visual hunt / CC BY