6 places to find stock photos of real, powerful women
This post was originally published on March 18, 2019, and was updated on Feb. 19, 2020.
Looking for realistic stock photos of women and feeling frustrated by the lack of choices? You're not alone. Sadly, the selection of stock photos featuring women has been dominated by cliché and unnatural poses for many years. You've seen them: young women (usually Caucasian) smiling vapidly at the camera in an obviously "posed" shot that you wouldn't see in real life. Some are so ridiculous they've even generated their own trail of memes and hilarious blog posts.
You might have seen "Women laughing alone with salad" (pictured above) in your stock photo search travels. In 2011, blogger Edith Zimmerman posted it on the feminist blog The Hairpin to highlight this stereotypical portrayal of women in media.
It's sort of annoying to see this kind of imagery when you are looking for something with more substance, but for years that kind of photo seemed like the right choice for many businesses. I'm sure you've seen a few beaming female grins over lettuce on websites and brochures. I know I have!
Thankfully, many stock photo suppliers have stepped up in recent years with more realistic pictures of racially diverse, powerful women.
And the choices are on the rise! This is great news.
6 sources of stock photos of strong, diverse women
The larger, more established stock agencies are making special efforts to supply more realistic images of women. There has been an influx of smaller, more specialized stock photo suppliers stepping up to the plate with more choices as well.
Here are a few stock photo resources that I recommend, along with some suggested search terms.
Let's look at the variety of great stock photos of women these sites offer.
Some searches I recommend using on Pexels are:
Strong woman: This search contained quite a few exercise and fitness shots, including a bunch of weight-lifting photos.
Woman leader: This section had many office shots and images of people in meetings, or in corporate office settings.
Portraits: This curated section had a lot of options with more serious face-to-camera shots that looked like very "real" people to truly capture the portrait theme.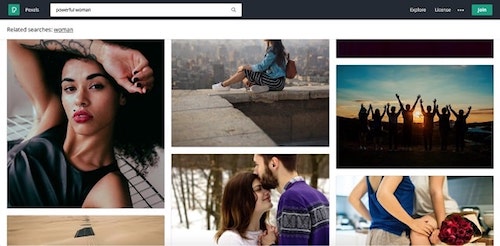 Searching "powerful woman" yielded some decent, but spotty, results. After a little scrolling, I found some really cool options though, like this one that has a particularly bad-ass vibe.
Some searches I recommend using on Unsplash are:
Confident women: This search was sprinkled with a few unexpected results, but overall, a pretty decent set of options.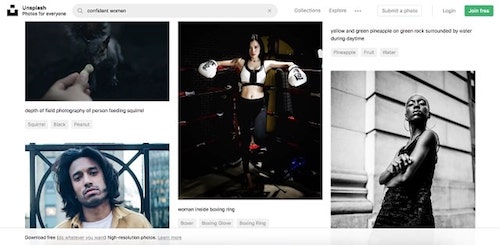 Strong women: This search yielded plenty of shots in more natural settings, with serious expressions on their faces. I think you can be powerful and still smile, but these are a nice change of pace.
Badass woman: This was pretty good, but not as diverse as I'd expect. I recommend you try adding an ethnicity to that search like: "Badass <ethnicity> woman." I thought this one was particularly stunning! Yes, she's smiling, but she looks real and genuine in a powerful way.
Unsplash also offers curated collections, such as Women Are Amazing and Diverse Women that may be helpful as well.
Related: How to use a stock photo 8 different ways
The Lean In Collection by Getty Images is an amazing resource for strong women stock photos. It's a special collection of more than 6,000 images described as "Jointly curated by Getty Images and LeanIn.Org, the women's empowerment nonprofit founded by Sheryl Sandberg."
These are top-quality photos — as is typical of Getty Images — with a wide variety of settings and themes to choose from. I'm not recommending any search terms for this one because they've done all the work for you by creating this curated set of images. So just dig in and see what treasures you find.
One additional benefit of this resource is that there are stock videos, too.
Sometimes still images aren't enough, so this is a great alternative to shooting your own videos from scratch.
You just filter by "video" at the top of the window.
That filter will give you results like this "woman working on her motorcycle in a garage" video clip. No salads here!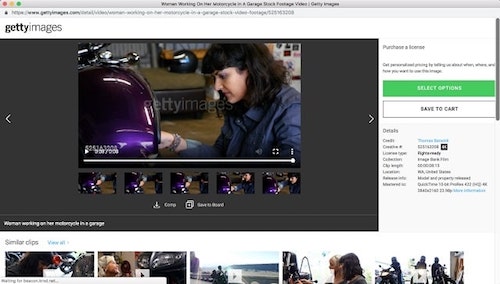 Related: Q&A with video marketing expert Adam LoDolce
You have to sign up for an account to browse this site, but the results are worth the effort.
I love Twenty20 because it showcases real people doing real things.
It's not staged and model-perfect. It's a breath of fresh air for your stock photo searches. I recommend searching "women leaders" and "strong women" on Twenty20.
They also had some handy filtered sections of themed shots:
Feminism and women's rights: There are lots of group protest images in this collection, which is described as: "A collection of feminism, feminist, feminists, gender equality, LGBT, LGBTQ, reproductive rights, #metoo, sexism, sexual harassment, strong women, girl power, and more."
Real women: Described as "a collection of portraits of real women from around the globe …"
Confident women: Described as "a collection of women, confidence and more."
Related: 11 places to find more diverse stock photos of people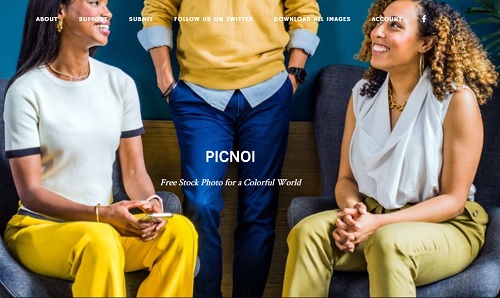 When trying to find basic stock photos, the lack of diverse models is glaringly obvious. With a company tagline of "Free stock photo for a colorful world," these stock photos show diverse women in everyday settings.
Largely featuring diverse and multicultural models, Picnoi is a wonderful resource for powerful stock photos of women.
Canva is an online design tool with some options for stock photos inside the design area. But not everyone knows that it also has a separate stock photo section you can look through all on its own.
I recommend you check out the Natural Women Photos stock resource area. It's chock full of some great options that fit the bill of "real" and "powerful." They call out this section with: "Inspire your audience with this empowering set of images featuring everyday women who are as diverse as they are beautiful."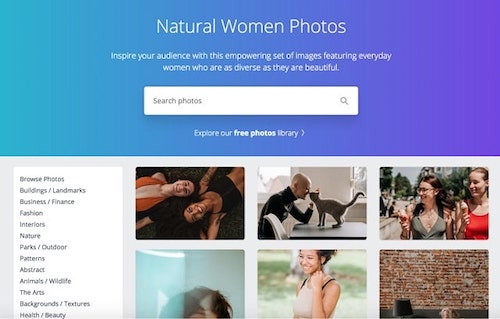 This one caught my eye as a fresh type of image I wouldn't see every day. It's beautiful, natural and real, and it captures a sort of depth and richness that is missing in the clichéd women stock photos of yesteryear!
More options than ever for great stock photos of women
Although I'm happy to report there are even more sites out there for you to peruse for powerful women shots, I can't list them all here today. There's definitely a crossover between "real powerful women" and "women of color" or stock photo sites committed to diversity.
It warms my freelance designer heart to have more plentiful options like these to choose from for my image needs.
I encourage you to think deeper with your photo needs for your business, too. It will attract more customers, and act as an inspiration to young women as well. Like they say, "You have to see it, to be it."
I know I'd rather my daughters see stock photos of real, powerful women, over ladies smiling with salads any day.
It doesn't take that much more effort to choose these types of stock photos. Just an awareness that they exist, and a desire to use them. Have fun curating your marketing with new and improved stock photos of real women.
Looking for more stock photo options? GoDaddy's Websites + Marketing site builder includes robust stock photo libraries that make it easy to find and use realistic stock images on your website.
---
Meet the 27-hour day.
We built The Hub by GoDaddy Pro to save you time. Lots of time. Our members report saving an average three hours each month for every client website they maintain. Are you adding that kind of time to your day?