Pokémon Go lures gamers to local businesses, domains
With the recent release of Pokémon Go, a location-based, augmented-reality game, Pokémon trainers everywhere are taking to the streets with their phones in hand. And if you run a brick-and-mortar business, you can use Pokémon Go's geographically based system to attract new customers.
Local business owners like Shawn Claypole couldn't be happier to get in the game.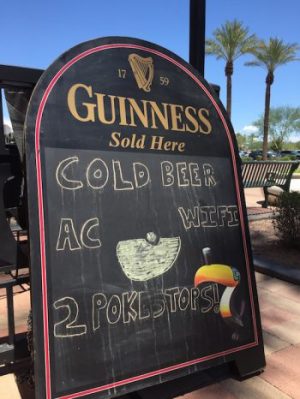 Shawn's business, The Harp Irish Pub in Mesa, Ariz., is smack in the middle of a Pokémon Go hotspot — a cluster of businesses and landmarks designated as PokéStops and Gyms. Pokéstops are locations where Pokémon Go players can swing by to grab in-game items to help them on their journey. Poké Gyms are centers where players can battle for control of a certain location.
Many gamers who catch a Pidgey or snag a potion at The Harp happen to grab a brew or two while they're at it.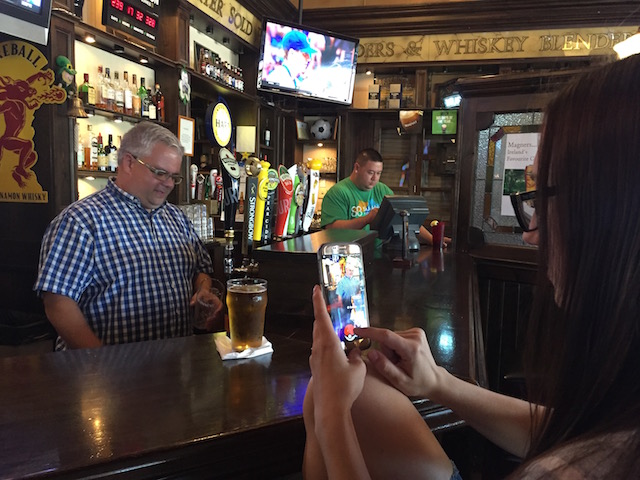 "It's kind of cool because it's bringing people in. July's our slowest month and business is up," says Shawn, who credits his own limited knowledge of Pokémon Go to the employees who've been doing their best to "catch 'em all" since Nintendo released the red-hot game earlier this month. "Crowds of people are walking around glued to their phones, and everybody's sitting at their table, swiping."
"It's been so insane. I can't even tell you how insane it is." ~ Matt Jenkins, Managing Partner, Pita Jungle — Dana Park
Like The Harp, neighboring business Pita Jungle announces its PokéStop status on a sidewalk sandwich sign. "We're having fun with it," says Managing Partner Matt Jenkins. "I do feel like it's raising awareness about our business. Our spot is hidden in a corner and [Pokémon Go] is drawing people in."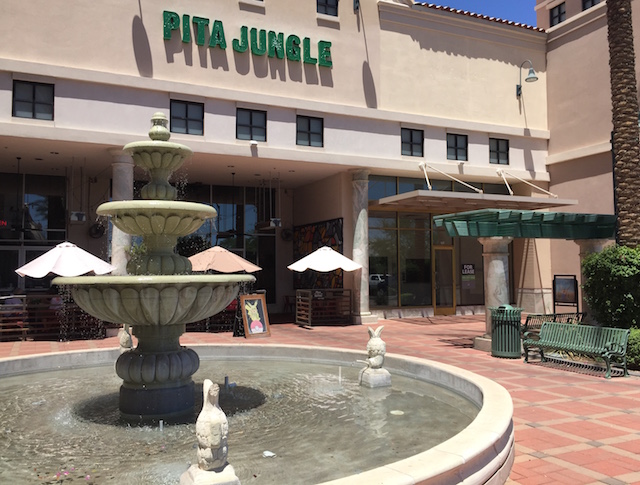 Matt considers the Pokémon Go frenzy both a blessing and a curse.
The insanity, he says, stems from the gamers doing PokéStop drive-bys at all hours of the day and night. "There are cars non-stop, one after another." Pita Jungle employees also encounter Pokémon Go players out back by the dumpster, where there's a nearby Poké Gym. "We're out there throwing out the trash and there are all these people looking at their phones. It's kind of weird."
But weird can be good.
As small biz expert Gene Marks noted in a recent Forbes article:
"The hit mobile game is taking over the world. There are millions of players. Nintendo's stock has gone through the roof. And it's having a huge effect on small businesses."
Pokémon Go is driving an insane amount of sales at local establishments. From pizza parlors in New York City to coffee shops in San Francisco and Chinese restaurants in Sydney, local shops are gamifying to lure in new customers.
How to get in the game
First things first: either download the app or find someone who has it, and then check out your business via the game. If you're in luck, your store will be registered as a PokéStop. Even if your business isn't registered as a PokéStop or Gym, Niantic — the developer of Pokémon Go — is allowing people to submit requests for new locations.
Now sit back and relax. Maybe drop a lure — an item that attracts Pokémon to your location for 30 minutes — and watch as people start to file in. Hopefully you'll be able to turn a few of those Pokémon Masters into paying customers!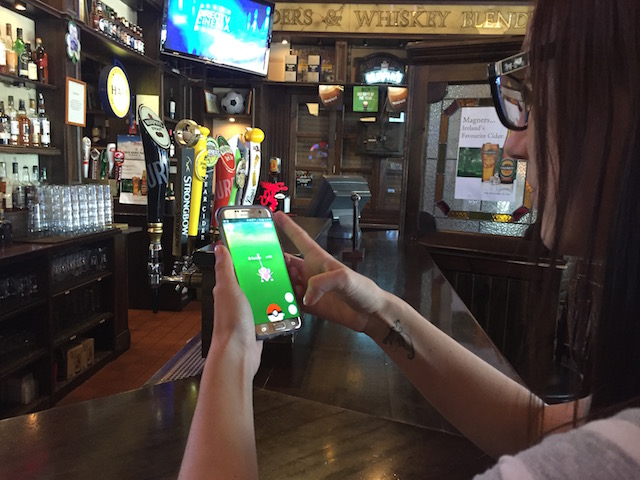 Pokémon Go sparks rush for related domains
Brick-and-mortar business owners aren't the only enterprising individuals capitalizing on the craze. Registrations for domains including the word "Pokemon" have skyrocketed since Pokémon Go hit the market, with more than 7,000 Pokémon-related domains registered as of July 19.
Elisabeth Levy, a real estate broker in the Denver area, jumped on the Pokémon domains bus to register six related domain names through GoDaddy — including pokemontourscolorado.com and pokemonbrewerytours.com. "I was thinking of a business for my sister to run and thought some sort of Pokémon tours would be an option," Elisabeth says. "Good business ideas are often about timing and marketing, so I wanted to obtain the web addresses on the chance she would pursue a business in this area."
For Scottish college student Luke Day, Pokémon Go brings back fond childhood memories:
"I was around 6 or 7 years of that prime Pokémon age when I was first immersed into the world of becoming the ultimate Trainer. Back then, however, it was the Game Boy Color with a slick yellow cartridge, which you had to give a swift blow from time to time else it wouldn't load … and the CARDS, omg … the cards! I remember spending many hours trading and battling friends in the school yard."
Cloaked in nostalgia, Pokémon Go offers an opportunity for Luke to share his passion for the game with a new generation of aspiring Masters. He registered three domain names — pokemon-go-crazy.com, pokemon-go-viral.com and pokemon-go-social.com — as online calling cards for fellow Pokémon Go enthusiasts.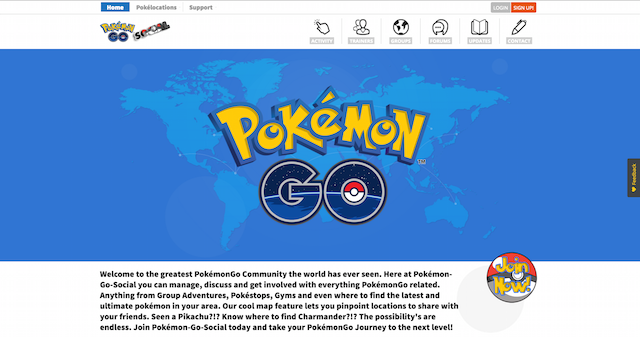 Luke launched a new website at http://www.pokemon-go-social.com and forwarded the other two Pokémon related domains to that URL. He describes the site as a "social hub for Pokémon users to chat and discuss anything Pokémon related, with a user profile area, activity feed and forum." Luke hopes Pokémon Go players will use his website alongside the game.
"My interest in Pokémon Go is strictly that it's the new trend — and where there's a new trend there will be money involved." ~ Ed Gabrielyan, Owner, Mr. Torino
Ed Gabrielyan, owner of Mr. Torino creative design agency in Los Angeles, picked up his Pokémon-related domains with affiliate marketing in mind. "Since Pokémon Go has had such an overwhelming following, it's only a matter of time before affiliate offers start hitting the market," Ed says. "As you can see here already, there are affiliate networks providing huge payouts for Pokémon Go."
For one of his new domains, MrPokemon.com, Ed envisions an eCommerce-based affiliate shop that will offer licensed Pokémon products or a landing page for a test offer. Another, PokemonMail.com, "may spark an idea for a mail app that works directly with the game, or could be a specific landing page, or can even be sold," he says. "Having 'Pokemon' in your domain or any sort of keyword related to it will help rankings along the way. Lastly, these domains are good to sell as-is, should there be a buyer."
Play by the rules
As DomainInvesting.com's Elliot Silver noted, you'll want to beware of trademark infringement when registering Pokémon-related domains. That's a sure way to ruin all the fun.
How are you getting in on the Pokémon Go action? Please share in the comments!