Smart questions to ask website design clients
"I'll know it when I see it." When spoken from the mouths of clients, these can be cringe-worthy words to website designers.
I can't tell you how often I've asked a client what colors they prefer for their website, and they respond, "Whatever you think is best." What if the color combination I like best also happens to be the palette of the client's alma mater's biggest rival? True story, and trust me, the client's ability to separate the colors from the rest of the design was touch-and-go for a while.
It's overwhelming for some clients to verbalize how they envision their future website, or even a singular aspect of it. This isn't what they do for a living, remember? They're busy making widgets, not adding them to a home page.
That's why it's essential to get to know your website design clients by asking questions that clue you into a little more than the basics of their business — target demographic, competitors and such. You want to find out the mood they're going for, what they like and what they don't.
Ask and ye shall receive
In 7 Questions to Ask a Prospective Design Client, designer and blogger Elaine Griffin shares the questionnaire she sends to all prospective website design clients. Yes, prospective. Even if she hasn't been hired, she sends the questionnaire as an opportunity to get to know the people who might hire her a little bit better. Pretty smart way to make a strong first impression, huh?
Designers, bookmark this post!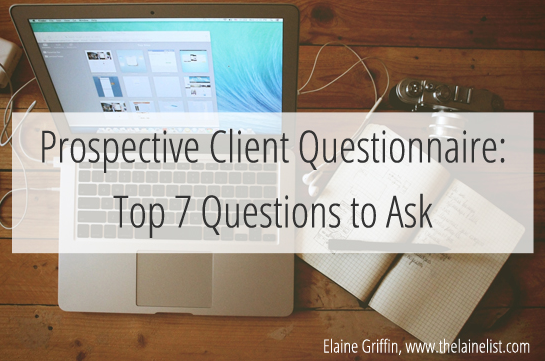 Elaine's questionnaire is a mixture of inquiries related to design and marketing. Some of the basic questions (such as preferred colors) are no-brainers. But others — like asking prospects to pick their three favorite websites and describe the design elements that speak loudest to them — are brilliant techniques for mining design opinions from non-designers. And she takes it one step further by asking prospective clients to share specific websites they don't like. I've done this, too, and it works. I think it's one of the best ways to discuss design elements with clients who feel overwhelmed by the idea of design-speak.
I also love what Elaine has to say about understanding a client's target market:
"When you are creating a brand for a client, you need to give the brand some humanity; something to relate to. Part of the process of creating a relatable brand is knowing the design aesthetic that target audience expects from a brand like your client's—including what they expect from a website."
Equally inspiring are the explanations behind Elaine's questions. The "why," if you will. Here's a good example:
"When someone views your logo, site, and social media (your brand), what do you want their first impression to be? Please list 3 or more adjectives."
In addition to using the adjectives to understand the personality the design should convey, Elaine explains the adjectives give her "something to search for when I'm brainstorming the design. That's right: I use these adjectives to search in Google Images™, to see how other brands have chosen to display their unique personalities."
If you're not already using Google Images in your design research for clients, you will be now!
Elaine's questionnaire is an example of how carefully considered questions can give a website designer an edge in design consultations (and client retention). From a client's perspective, think of the credibility you'll gain and the confidence you'll inspire when you speak knowledgeably about how everything from target audience to font type can help convey the desired personality of the business or brand. And more inspired designs lead to more client referrals.