Standout tools: GoDaddy GoCentral Online Appointment Scheduling
Are you tired of spending hours each week wrangling appointments for your business? Do you want your customers to sign up for classes and events on your website easily? Are you stuck in a mind-numbing communications loop — texts, emails, phone calls, you name it — as you scramble to coordinate appointments with clients and staff members? We hear you. And we're happy to let you know that there's an easier way.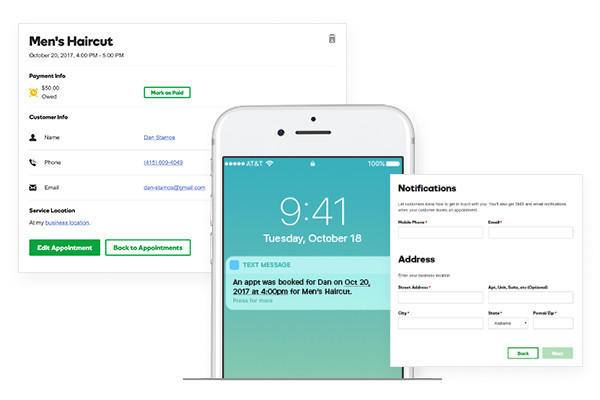 Introducing GoDaddy GoCentral's Online Appointment Scheduling
With Online Appointment Scheduling through GoDaddy's GoCentral website builder, you can invite your customers to schedule appointments on your website anytime, on both desktop and mobile.
Who's it for?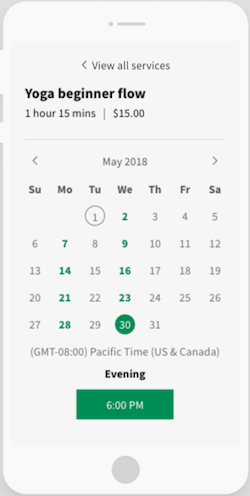 GoCentral's Online Appointment Scheduling feature is perfect for any small business owner who provides services, including:
… and so much more!
What problem does it solve?
While you're spending your time coordinating appointments the old-fashioned way, you might be losing potential income. Are you going to stop in the middle of an oil change or a haircut or a photo session to answer the phone or reply to a text or email?
Plus, consumers have busy schedules and don't always have time to call to make an appointment or sign up for a class or event during business hours. And even if you're able to connect via phone or email to schedule an appointment, you lose money when customers fail to show up on time or at all.
Scheduling can get even messier as your business grows and you need to coordinate appointments between staff members and clients. Who's got time for that?
How does the Online Appointment Scheduling solve these problems?

With GoCentral's Online Appointment Scheduling, you can:
Set your availability and block off times when you're unavailable.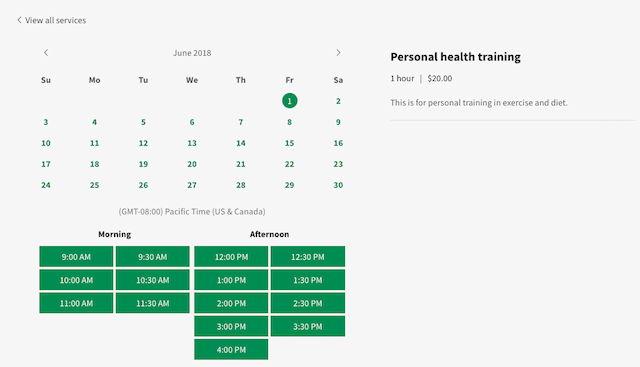 Collect payment at time of booking.
Require customers to pay online when they book the service, charge a deposit or cancellation fee online, or just collect the payments in person. GoCentral makes it a snap to securely collect payments using all major credit cards, PayPal or Square.
Sync your business and personal calendars.
Sync the booking calendar with your personal calendars, to easily manage both your personal and business schedules. GoCentral Online Appointments syncs with the most popular calendar apps such as iCloud, Exchange, Outlook, Office 365 and Google.
Set up recurring services.
Set up repeating services, classes and events easily, without having to add them one by one.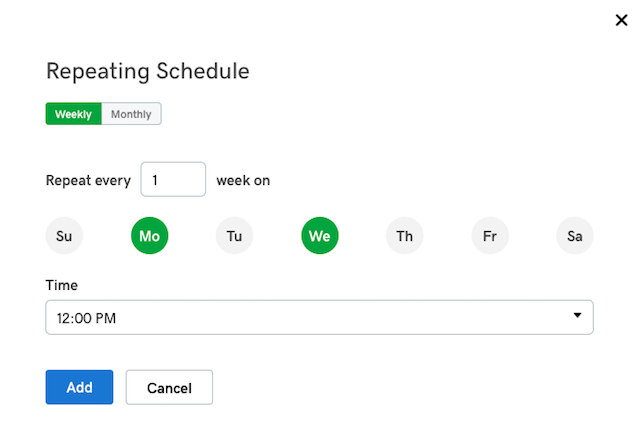 Offer multiple classes/events or appointments.
Have multiple staff members? Online Appointment Scheduling makes it easy to offer multiple services at the same time.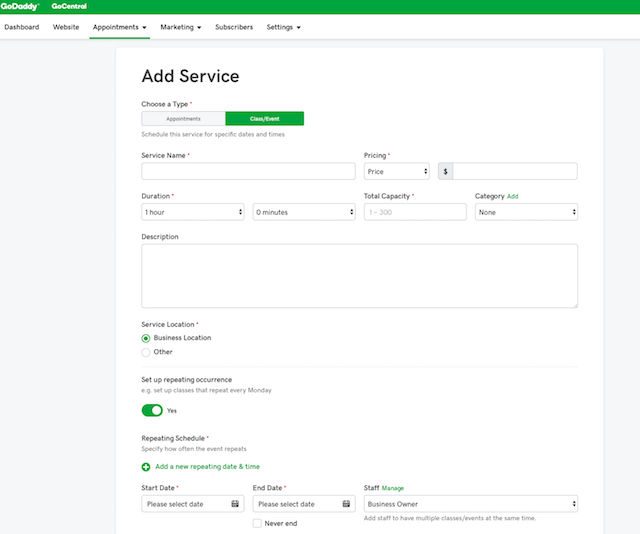 Auto reminders for your customers
GoCentral Online Appointments automatically sends friendly text or email reminders to your customers on your behalf about upcoming appointments, classes and events — saving you the hassle of having to manually sending out reminders, and helping to reduce no-shows.
Manage clients and bookings.
Manage clients and bookings with easy access to details like contact info, past and upcoming appointments, and payment history. You can even zoom out to see your entire client list in one view.
Take time for you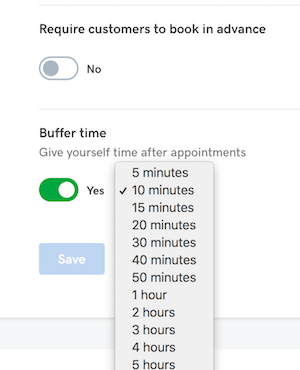 Need some time for yourself between appointments? With Online Appointment Scheduling, it's simple to build in buffer time for traveling between locations or taking breaks.
Just ask Megan Fish, owner of Megaphone Fitness in Baltic, Conn. She recently started taking advantage of GoCentral Online Appointment Scheduling on her website and reports that it has saved her a ton of time:
"The re-occurring booking system has been a lifesaver for me to keep my clients' group exercise sign-ups organized week after week. It's important because making that appointment holds people accountable so you're more likely to attend, just like you arrange a meeting at work. That's the one hour you booked for yourself to work on you."
Read more about Megan and her entrepreneurial journey here.
Start scheduling … the easier way
Ready to take the hassle out of appointment scheduling and start filling your small business's calendar? Try GoDaddy GoCentral's Online Appointment Scheduling for free!
Image by: Tim Mossholder on Unsplash