The 4 best websites to sell designer clothes (new or used)
Editor's note: GoDaddy GoCentral Online Store is now Websites + Marketing Ecommerce — an all-in-one solution that integrates websites, marketing and eCommerce tools with the guidance needed to achieve success.
Online retailing has skyrocketed and sparked consumer interest in recent years. But it's not just big-box retailers getting in on the action. Nowadays, just about anyone can buy and sell their clothes online. As a fashion blogger, I can't count the times that I've sacrificed one piece to get a new one. If you're like me, this list of the best websites to sell designer clothes is for you.
What do I do when it's time to refresh my closet? Often I use my personal blog as a marketplace, selling my pieces for lower prices than initially purchased. I have noticed that my readers prefer buying clothes online for certain reasons — usually they are unique pieces that can't be found in the stores. And who doesn't love buying cheaper/unique/quality clothes while lying on the sofa and eating pizza?
While the trend of online retailing began with fashion bloggers, people who don't even fall within the fashion spectrum still want to know how and where to sell clothes online and become retail gurus. Thus, I have collected some of the best websites to sell designer clothes to share with you today and make your life easier.
4 best websites to designer clothes
Hoping to unload some beloved pieces to make room for new favorites? Try these standout online marketplaces.
Vestiaire Collective.

eBay.

The RealReal.

Depop.
Fashion never stops moving. And if you're into designer clothes, it can get expensive. That's why I to sell last year's pieces before investing in new ones. Here's where to go when the urge to purge strikes.
1. Vestiaire Collective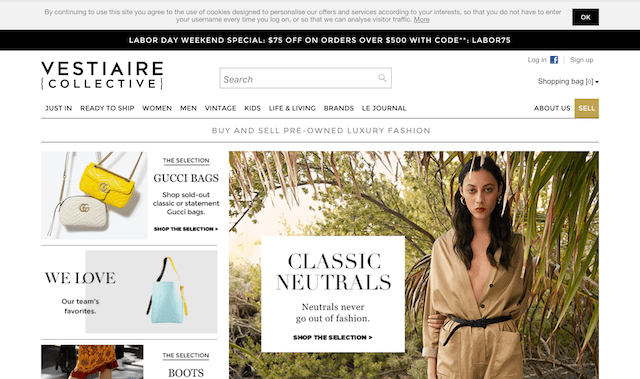 This website is the perfect fit for selling used designer clothes to cost-conscious luxury buyers. According to their website, they have six million fashion-savvy customers in 50 countries. Vestiaire Collective has made it quite easy for fashionistas to sell their items. They have some pretty good benefits, too:
I recommend paying very close attention to details when selling here, including your seller profile.
2. eBay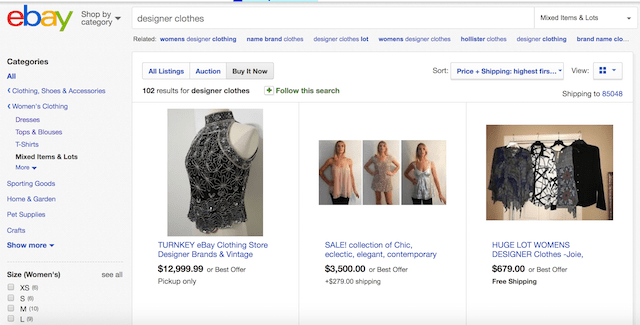 No. 2 on my list of best websites to sell designer clothes is eBay. The main advantage to selling on eBay is the scale of its online presence. eBay has a community of more than 160 million active buyers. There are a number of benefits to using eBay, like:
One caveat: As many experienced sellers will tell you, eBay favors buyers over sellers. Example? The six-month return policy where PayPal will refund eBay buyers the full purchase price of the item.
3. The RealReal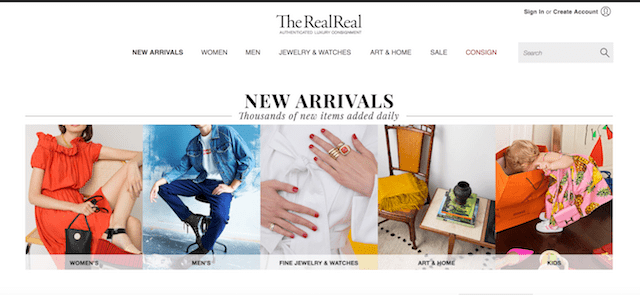 The RealReal is another online marketplace that I love browsing to find amazing designer pieces. The team of The RealReal believes in the "lifecycle of luxury and authenticity," and this is why it makes the list of best websites to sell designer clothes. Benefits include:
Pro Tip: Online marketplaces are even more susceptible to scams than brick-and-mortar stores. This is why it's important to review your buyers' profiles for comments left by previous sellers. Lot's of negative feedback? You might want to think about cancelling the sale. eBay even allows you to block bad buyers. This can be time-consuming, but it does ultimately benefit you in the long-run.
4. Depop
If you've fallen out of love with some of your clothes, where better to sell them than at Depop? In my opinion, Depop definitely belongs on the list of best websites to sell designer clothes. It's viewed as one of the secondhand shoppers' most preferred marketplaces. And here's why:
Pro Tip: When it comes to selling online, pictures are vital. Be ready to use your best photography skills. Also try to add a thorough and catchy description (you want to stand out, right?) about the item, note a good price, and you are done!
Sell from your own website
Creating your own eCommerce website is another way to sell designer clothing online. The good news? Beyond the payment processing fees, there are no commissions to pay when you sell from your own site. You also have complete control over the sales process, including how products are presented and returns are handled. And because there's no middle man, you can collect email addresses and start developing relationships that will result in more sales.
To create your own, unique eCommerce site, follow these steps:
Name your store
In order to have a website, you'll need your own domain name to serve as your web address (e.g., depop.com). Do your research first and brainstorm on your website name — it's always preferable to keep it short and catchy. Read more tips on coming up with a memorable name in this great post.
Choose a store builder
Next you'll need to choose an eCommerce site builder like GoDaddy GoCentral Online Store. Most eCommerce websites use Paypal, simple and ideal for making sure a transaction is carried out securely. Love WordPress? Just add WooCommerce to your fashion blog to turn it into a store (or start from scratch).
Build your store
To make your eShop as attractive as possible, add a number of pictures of each product, preferably taken in natural lighting. Always add a description about the item, along with the price. Styling tips would be another idea to consider.
People are often thankful for styling advice, especially when they like the piece but aren't sure how to incorporate it into their everyday look.
Adding pictures of celebrities or fashion bloggers and showing how they styled the piece would be another 10 points. Want tips on getting eCommerce right? Check out this six-minute read.
Invest in social media
Social media plays a significant role in attracting attention. Invest in online advertising, like sponsored posts on Facebook, to boost your reach even more (you can even sell on Facebook if you like). Post in a timely and regular manner, creating a schedule you stick to. People will start to expect (and look forward to) posts from you. This is how to establish authority as a thought leader.
Check out our Digital Marketing Suite and find out about all the tools that help you promote your business.
The best websites to sell designer clothes
Whether you're a fashionista looking to clean out your closet or a fashion blogger ready to share your styles with the masses, I hope my picks for the best websites to sell designer clothes inspire you to get started. My advice for anyone serious about designer fashion retail? Sell on one or more marketplace and from your own website. A little more effort could turn into a full-time career.
[advertisement id="25753″]
Image by: Gyorgy Bakos on Unsplash