The best domain names for natural food stores
One of the first things most natural food stores do is design a website. Smart! They'll need to promote themselves, and the best way to do this is online. Step one is to choose a domain name, as this will serve as your web address. Should it just be your store's name? That's not a question with a simple yes or no answer.
Domain names can play a big part in the success of natural food stores. They can also be one of the reasons they fail.
The best domain names are descriptive and easy to remember. As long as you're in business you'll want to keep the same one, for reasons we'll get into later. So make sure you take the time to choose the right one.
What's a domain name?
A domain name is what your customers will type into their browser's address bar in order to get to your website. For example, LilysBikes.com is a domain name. What's great about this domain is that it's pretty easy to tell from looking at it what the website is about.
Be sure to register your domain with a reputable domain name registrar. A domain can be registered for one or multiple years. You can almost always get a good deal by pre-paying for a few years.
Make sure you set the domain to auto-renew so that you don't ever forget to pay and end up losing it to someone else.
This is disastrous for natural food stores with an online following or active eCommerce website. These people will wake up to find your website has simply disappeared. Read this excellent article for more on domains and how they work.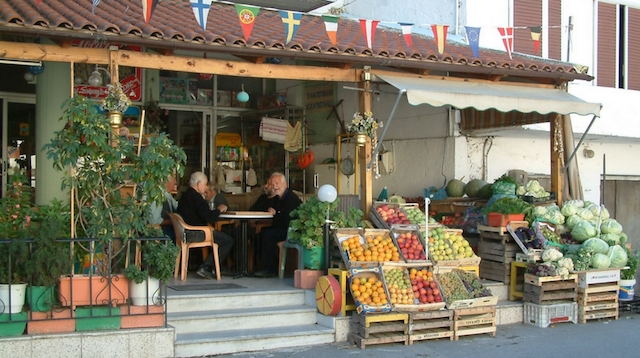 Choosing domain names for natural food stores
Your domain name is an important part of branding for natural food stores. It's also one of the first things people notice when they go to your website. Use your store's exact name in your domain if it's available. If it's already taken, you can try adding your city's name to the end of it.
Since .com has been around for 30 years, it might be difficult to find the exact name you want. The good news is, there are hundreds of new domain extensions for you to choose from, including:
Because these haven't been around as long as .com, you might have better luck registering your store's exact name with one of these extensions. These new extensions also give natural food stores the chance to be creative with their names.
Here are a few things for natural food stores to consider when choosing a domain.
Domain name length
It might not seem that important, but the length of your domain name affects many things.
First of all, it needs to be easy to remember. A short name would seem easier to remember, but only if the name makes sense. Many people now shorten certain words, or use a different spelling of it, which makes it harder for people to remember when they're not looking at your business logo.
Shorter domain names are easier to type and remember.
That being said, according to Moz, "the fewer characters a domain name has, the easier it is to type, the easier it is to say, to share, the less it gets shortened on social media sharing platforms and in search results."
You'll also be using your natural food store's domain name for your email address. Having a branded email address (e.g. service@LilysBikes.com) makes your business look much more professional. It can be annoying to put a long email address on all of your branding and packaging because of your domain name's length.
Search engine optimization (SEO) value
There are several different factors that Google uses in their algorithm to rank your website. This is important because most people searching for natural food stores only look at page one of their search results. So you want your website to be listed as high as possible on that first page.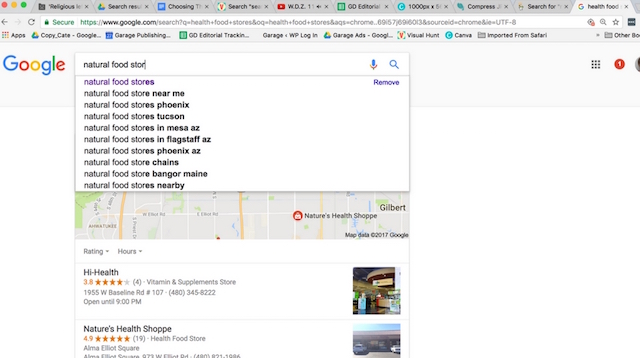 Domain factors that can boost your Google ranking include:
Keywords in your domain name.
A keyword as the first word in your domain name.
Domain history (if it was used before you and how it was used).
Country extensions (.cn, .us, .ca, etc.) — these can help you rank better locally, but not globally.
Domain age (when it was first registered) — the older the better, but not very important.
The key takeaway from this is that using the keyword "natural food" in your domain name can be beneficial to your Google rankings. Also, if you sell locally, using your country's domain extension can help you rank better for searches within your particular country. However, natural food stores that ship globally are better off using a .com for their web address.
.com or another domain extension?
As mentioned above, the domain extension you choose depends on a number of things.
If you operate in a local area, using your country's domain extension can help your search rankings. If you're a global business, you should be using .com.
Even local natural food stores might want to use a .com regardless of the search engine benefits. Because it's still the most widely used domain, people may automatically assume your website has a .com extension. When looking for your store, they might type .com after your business name out of habit.
Register additional domains to promote particular product lines, annual sales or simply to open more doors to your website.
There are also the new extensions to consider — .market, .shop, .store and others. If you decide not to use one of these for your website, consider purchasing one and forwarding it to your primary web address. Registering these domains also prevents others from buying them and using them to draw business away from your matching .com website.
Why natural food stores should choose domains with care
Your domain choice is something you'll have to live with forever. Having to change your domain name in the future can cause several problems. You'll need to update everything that has your web address on it. All of your links in the press and on other websites will become useless and your email address will have to change. You'll also need customers and suppliers to update their address books. And you'll lose all the search engine rankings you've built up for that name. It's never worth it.
Follow the advice in this article and take some time to think about your domain name. Once you have a name you're happy with, share it with close friends and employees to get a second opinion. The success of your natural food store might just depend on it. Now try our free Domain Name Generator tool to find your domain.
Image by: Visualhunt.com