The best plugins for backing up WordPress.org websites
You've worked hard to build a site for yourself or your clients. You've logged hours developing the right look, feel and content. The thought of losing all that work is scary, but it is a very real possibility.
It's critical to back up your WordPress website to keep your site safe and give you the ability to simply restore your site if you lose the content or design for one reason or another. 
But what is the proper way to back up your site? What tools are available? This guide for backing up WordPress.org websites will help you answer those pressing questions. If you are hosting a WordPress site using WordPress.org, it's critical that you have a backup plan in place in case the site goes down, crashes, or disappears completely.
GoDaddy Managed WordPress plans
Of course, self-hosting a site using WordPress.org offers a bunch of backup options for your site (see below). Or you can simply opt for GoDaddy's Managed WordPress plans. Managed WordPress uses the WordPress.org software and every GoDaddy Managed WordPress plan includes backup, hosting setup, management and support, plus a bunch of other features.
With GoDaddy's backup, you can recover your site in less than a minute. Managed WordPress accounts through GoDaddy allow for 30 days' worth of backups for your files, database, or both. Check out the plan page for more details.
Best plugins for backing up WordPress.org websites
If you are self-managing your WordPress.org site, you've got some strong backup plugin options. Understanding their differences can help you to make the best decision for your website.
VaultPress allows for real-time backup monitoring, daily site scans, and backup restoration in minutes. One of the best things about this particular plugin is that you don't need to do any work to create a backup. Instead, it runs in the background, syncing your site as you make changes or scanning your site for potential issues. There is a fee for this plugin, however, starting at about $10 a month.
BackupBuddy offers complete backup of not only your WordPress database but also your media library, themes, plugins and more. Backups are automated and easy since you can set your own automated backup schedules. BackupBuddy packages include plugin updates, ticketed support, storage and 10 iThemes Sync sites. BackupBuddy plans range from $80 to $150 per year, with a lifetime package for $297.
Updraft Plus enables you to create a backup of your site and store it in a number of locations. For example, you could download it directly to your computer or store it among a number of cloud services. Along with a free version, UpdraftPlus offers premium versions ranging from $70 to $145 per year. Premium versions include support, storage, upgrades and add-ons.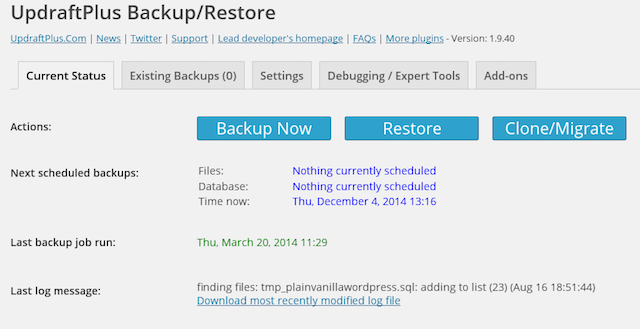 If you are looking for a free option, this is definitely one for you to try. However, WP-DB Backup will only help you back up the database portion of your WordPress site. It is extremely easy to use and doesn't take up a lot of space. But if you are looking for a bit more out of your backup service, you might want to look more closely at one of the other options.
One of the great things about BackWPup is that it allows you to save the entire installation of your WordPress site. You can then use a service like Dropbox, S3 or FTP to send the backup file to. This is also an option that offers a free service, but you can pay for a professional package to gain more benefit. Paid packages range from $75 to $190 per year and include updates and support among many other features.
BackUpWordPress is also a popular choice because it is easy to use and effective. You are able to schedule your backup to fit your specific needs and even create different schedules for your files and database. It does offer a free version, but you aren't able to store your backup to a cloud storage service. So, if you want to store your backup someplace like Dropbox, you will need to purchase the developer version for $99 per year.
Test your backup
Before you make your final decision, it is always best to review all the features that the plugins have to offer. And once your plugin is in place, you'll still need to do a few things — like making sure your content and database are being backed up properly.
Some plugins actually offer a way to test your WordPress backup, but this is not always the case. You might want to pick up another plugin that allows you to restore your backup at a different location. This means you can check periodically so you are certain everything is backed up properly without damaging your WordPress site. This important final step will help to ensure that your data is always secure and restorable.
How to restore your site
How you restore your site will depend on the program or plugin you rely on to create your backup. Most programs feature a simple restore — as simple as logging into the system, downloading a few files, and then uploading them into your hosting plan.
Most of the time, you will use phpMyAdmin to complete the restore process if you are self-managing your site. This is a tool that allows you to alter information within your WordPress site. Restoring your site through phpMyAdmin is as simple as uploading a backup file and waiting for it to process.
Yes, it's that important
Many people make the mistake of not backing up their site or not making it a priority. Think of backing up your site as insurance on your intellectual property and content. With a simple crash of the server, all those entries could be lost forever. All the content, SEO juice and links will be gone and you'll have to start your entire content strategy from scratch.
You never want that to happen — and it never has to. Backing up your site doesn't take a lot of time. With a few simple plugins and clicks of the mouse, you're done.
Pro tip: Make sure you back up both your site and your database for extra security.
Before disaster strikes your site, make sure you are backing it up on a regular basis.
Editor's note: Please note that all information in this post, including the pricing information, reflects information available as of November 2015, and may (and likely will) change at some point in the future.
Image by: Giorgio Montersino via Compfight cc