The best websites to sell electronics
Everyone could use a little more money these days. One way people are making that extra cash is to sell CDs, DVDs, games and other electronics they have around the house. But what are the best websites to sell electronics? If you've been wondering this, too, you're not alone. Below you'll learn about four websites to sell your stuff, and the pros and cons of each.
Putting pants on to get rid of your electronics? For shame!
I'm also going to give you some insider ideas on how you could turn selling electronics into a profitable side hustle. Let's dive in, shall we?
Four of the best websites to sell electronics
eBay.

Gazelle.

Facebook Marketplace.

Amazon Trade-in.
Let's look at each of these online sites to sell CDs and other electronics in more detail, shall we?
1. eBay
Admit it! You knew that eBay would be first on the list of best websites to sell electronics. Can you honestly imagine selling your stuff without thinking at least for a minute about eBay? You can sell CDs online, books, toys — heck, there was even a suit of armor for a guinea pig auctioned on eBay once. And yes, it sold!
Pros
Creating an account is relatively easy, and you're walked through how to sell an item, too. You can even search similar items and use it as a guide to create your listing.
There are options for selling multiples of items or creating a business seller account.
You can list up 50 items a month with 12 photos per item for free, and you pay eBay a cut when your stuff sells. The fee you'll end up paying eBay is listed on their site as a 10-percent final value fee, but they do acknowledge there could be additional fees added depending on your listing.
Cons
Your feedback rating can easily go down, making it harder for you to sell. One bad user experience can cause massive trouble for you.
Bidding might not go as high as you would like on your items, and if you don't have a minimum set in place, you could risk making less or losing more than you want to as a result.
Buyers might never see your stuff. There are LOTS of people trying to sell electronics on eBay, and that means a significant amount of competition.
That seller fee.
2. Gazelle
Odds are you've seen their ads on television. Especially, late at night when you can't sleep and you're wondering if penguins have knees. Just me? Oh sorry! Well, Gazelle is a buy-back platform that also sells smartphones, tablets, laptops and desktops.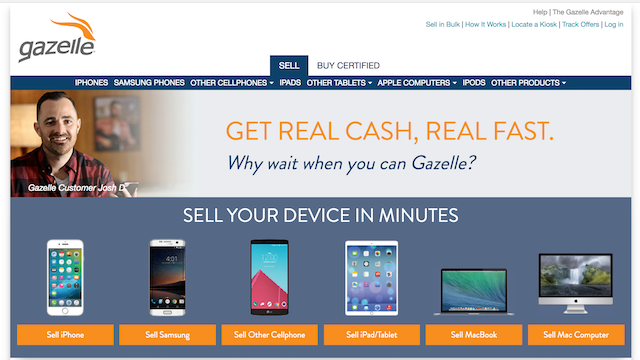 Pros
In under a minute you can find out if Gazelle wants to buy your stuff, and if they buy it you can get paid via Amazon Gift Card, PayPal or check.
It's easy to find out if Gazelle would have any interest in purchasing your stuff. All you need to do is click what you want to sell, click a few more images and answer some questions, and presto! You're told how much your item is worth.
They accept some broken items, too, and offers are valid for 30 days.
Cons
They currently only take used smartphones, tablets, laptops and desktops. So, if you're looking to sell CDs online, DVDs or games — even game consoles — you've come to the wrong place.
Not all electronics will be accepted. The site is looking for very specific items to purchase.
Even after it's shipped, it could be rejected or the amount they quoted you could change. Of course, if you don't agree to the change, they simply ship your item back to you.
3. Facebook Marketplace
Though it only launched in late 2016, Facebook Marketplace is rapidly becoming a popular place to sell stuff you don't want anymore.
Pros
As long as you have a Facebook account, selling on the Marketplace is as easy as clicking the "sell something" button and including the information about what you're selling.
At the time of this writing, there is no fee to list an item for sale.
Users can see the profile of the seller and determine f if they're legit, or a total scammer.
Cons
Buyer beware. While Facebook is working out the kinks, people have already been complaining about dodgy sellers and scam artists. As Buzzfeed called it, it's very much like Craigslist, and not in a good way.
Shipping could be a problem, and you might have to actually leave your house to sell or buy something.
4. Amazon Trade-in
A lot of people have no idea that Amazon has a trade-in program, but they do. It's no surprise that Amazon would make the list of best websites to sell electronics online.
Pros
The program accepts a wide variety of items. From the horse's mouth:
"The Amazon Trade-In program allows customers to receive an Amazon Gift Card in exchange for hundreds of thousands of eligible items including video games, Kindles, books, electronics, DVDs, and more."
You receive an offer for your items quickly, and it is free to ship your items to Amazon.
Cons
You won't get cash for your goods. They pay in Amazon gift cards.
Not everything is accepted. If they meet a quota on a certain product, they might not accept your item anymore. "If your item is not listed in the Trade-In Store, then we currently do not have an offer for it. However the Trade-In program is constantly updated with new items, so check back regularly."
Other websites that could have made the best websites to sell electronics list include, but aren't limited, to:
Always use caution and read the fine print when selling on any of these sites.
Selling electronics as a side hustle
Whether you've been dabbling in selling stuff online or not, selling electronics online as a side hustle might have entered your mind at some point. Even if you're using the best websites to sell electronics, at some point you may tire of using a middle-man. One great way to sell CDs online as well as DVDs, video games, game consoles — even phones and tablets — is to create your own ecommerce website. It's easier than you think.
When you own the site, you take back control and save you and your customer money because you don't have to cover the middle-man costs.
Here are just a few of the benefits of having your own website:
You'll enable more buyers to find your products online. You can create blogs and keyword- rich content that gets more visitors to your site.
Complete ownership and control of your pricing, services, shipping, etc. As I mentioned a moment ago, when you sell on someone else's website, they are the middle-man. The middle-man always takes a cut, and you might have little to no control over how the sales process will be handled.
Expansion and growth is easier. When adding a listing to a website someone else owns, you typically have to enter each listing by hand. When you own your own site, you can create templates that are simple to replicate, making selling additional items more efficient. Think of all the time you'll save, and how easy it will be to get more inventory loaded — all because you control the programming of your site.
Ready to start your own ecommerce website?
If so, here are the first steps you'll want to take:
1. Name your business by registering a domain name.
If you can't find the domain name you want as a .com, consider other domain extensions such as .shop or even .digital.
Go ahead, give it a try:
2. Build a website with ecommerce functionality.
You'll need to think about things like payment gateways to accept payment, an SSL certificate to protect credit card info, and shipping. All this can be accomplished with WordPress plugins for online stores built on the popular content management system, and there are loads of templates available online.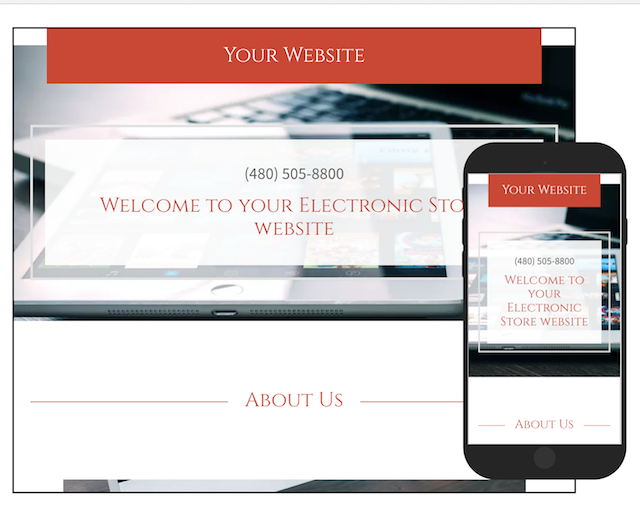 However, one of the easiest ways to get up and running quickly is to start creating a free Online Store with GoDaddy. Just choose a template to get started fast.
3. Next, you'll want to add photos/text to your website and fill your shop with products.
Be sure to write robust product descriptions and add photos from multiple angles. This is what's going to sell your electronics.
4. Spread the word.
Finally, you've got to get the word out about your new website, and draw customers in to purchase your goods. Need some resources for promoting your electronics website? We've got you covered:
Sell your unused gear online
I hope this post has inspired you to sell your electronics online, or maybe even inspired you to launch your own ecommerce website. There are so many options out there for making more money online. You just have to decide what method is best for you, and go for it. And, if you ever need help with domains, hosting, web security, online marketing or a variety of other online products and services, the Godaddy team is here to help you!
The GoDaddy product information in this article is outdated and currently under review for accuracy. For the latest up-to-date product information please visit godaddy.com