This article was originally published on Oct. 22, 2019, and updated on May 12, 2022.
One of the best ways to get traffic to your online store is by appearing in search engine rankings. This isn't always an easy task, since ecommerce sites are focused on products rather than content. While ecommerce SEO might be challenging, the results can pay dividends for your ecommerce business over time. In this situation, numbers don't lie.
Consider:
You can't always compete with the big guys, but you can focus on ranking well for individual product and category pages for less competitive terms, like long-tail keywords.
Related: 50 online search and SEO stats to blow your mind
How to show up in the search rankings
Let's look at the example of women's shoes.
The top spots go to DSW, Famous Footwear, Shoes.com, Macy's, Amazon, Nordstrom Rack, Nordstrom, Shoe Carnival and Zappos.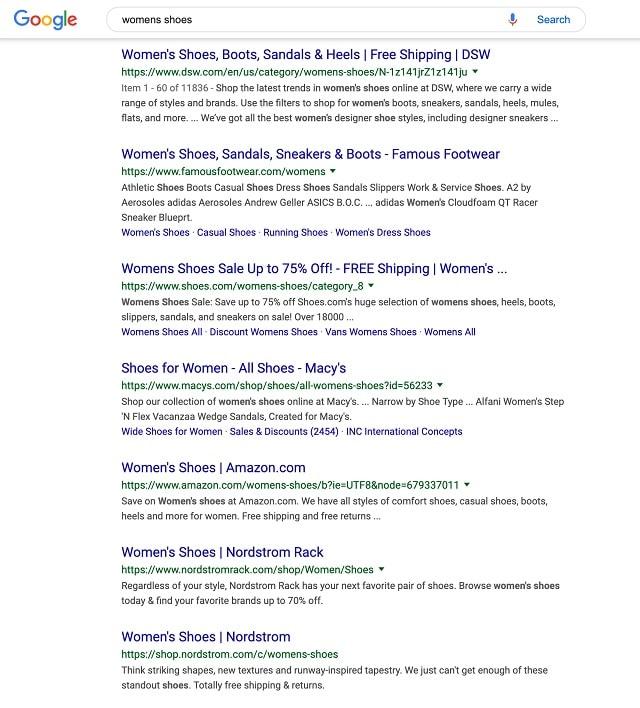 The chances of you knocking out one of these big players is pretty low. But that doesn't mean you should give up on ecommerce SEO.
In fact, you can leverage long-tail keywords — or more specific keywords and phrases — to improve your rankings and gain new customers.
For example, a search for "women's cycling shoes" still has some big names (like Sierra, REI and Amazon). But in position five, the niche site Competitive Cyclist joins the rankings. This ranking can bring them valuable traffic and customers. According to the Q1 2019 Benchmark Report from Monetate, the global ecommerce conversion rate is 2.72%. That means that for every 100 new visitors Competitive Cyclist gets from their ecommerce SEO efforts, they get almost three sales.
Plus, using email marketing and remarketing techniques, they can sell even more to those customers to expand the customer value far beyond their initial value.
How to boost ecommerce search rankings in 8 steps
Successful ecommerce SEO is a little different than SEO for a content-based website. You'll likely have more pages to optimize with less content to leverage. Plus, the threat of duplicate content is much higher.
So, how do you optimize your ecommerce site?
Let's get started.
1. Do keyword research for product pages and category pages
Keyword research isn't just about brainstorming and hoping you come up with the right terms. With tools like Amazon, Google Keyword Finder and other SEO tools, you can create a list of the terms that your target customers are using to find your products.
Option 1: Google Keyword Planner
You can start your keyword research using Google Keyword Planner. You'll have to create a free Google Ads account to use the tool, but you don't have to build any ads or add credit card information to do research.
Once inside, add a few seed keywords. These are just the keywords that you would use if you were looking for yourself.
Don't use your brand name or company name as one of your seed keywords.
Your site will likely rank well for your brand name just based on how often you use it in describing your company.
From the seed keywords you entered, Google will give you more related keywords along with rough search volume. You'll want to pick keywords that appeal to your target audience and show the right search intent.
Search intent is simply the reason people are doing the search. Are they searching to learn, to be entertained or to buy?
One good way to determine search intent is to search for the term using an incognito or private browsing window. Looking at the first few search results will give you a good idea if they are focused on purchasing or merely browsing.
Another way to determine search intent is the cost-per-click. A higher cost-per-click often indicates a purchase search intent because the companies that are paying for those clicks are willing to pay more for the likelihood of ROI.
Google search engine results pages are another great source for new related keywords. At the bottom of each page are searches related to your original term.
Researching long-tail keyword phrases can also help boost your ecommerce SEO. A recent report by Backlinko claimed that "91.8% of all search queries are long-tail keywords." This means there are plenty of opportunities to rank higher in search queries using specific terms.
Aim to have three to five words in your phrase and think about queries your target audience may be searching for. Example phrases could include:
"Bedsheets that keep you cool"
"Fragrance and cruelty-free shampoo"
"Grain-free kibble for small breed puppies"
Even if the search volume might be low, long-tail keywords are likely to result in more clicks and conversions. A long-tail keyword with low competition makes it possible for you to capitalize on a niche market within your industry.
As a best practice, try researching phrases with over 50 monthly searches in your targeted location and opt for ones that have easy or low keyword difficulty.
Related: How to do SEO keyword research to drive traffic to your website

Option 2: Amazon predictive search
Amazon, the world's most powerful ecommerce search platform, can help you find keywords for your site optimization. Start by typing in your key search phrase, and Amazon's predictive search will show you popular phrases related to your entered keyword.
The Amazon Keyword Tool can also help speed up this process.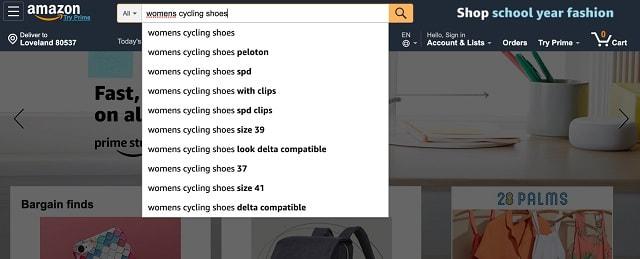 Option 3: Paid SEO tools
Tools like Ahrefs give you powerful, in-depth tools to do keyword research, including which keywords your competitors are using. While it's a paid tool, it can save you a great deal of time and give you powerful insights.
No matter which option you choose for your ecommerce SEO research, don't stop with a shortlist of keywords. You'll need to optimize each page — including product pages and category pages — with a unique keyword.

This is most easily accomplished by creating a spreadsheet with all of your pages, and adding columns for the keyword you're targeting on the page. If you like, you can also use the spreadsheet to create meta titles, descriptions and H1 tags. (You can download a sample spreadsheet from my Resource Library.)

2. Optimize your pages with meta titles, descriptions and H1 tags
Now that you've done your keyword research, it's time to start putting it to work on your website. The first step is to optimize your product and category pages with meta titles, meta descriptions and H1 title tags. Each of these elements should contain your target keyword at least once.
Remember to write every element of your website for the reader, not just for search engines.
You can start optimizing your product and category pages with:
Meta titles
These are important for product and category pages and should range between 50-60 characters. Try including eye-catching headlines to increase ecommerce traffic via CTR. You can use words like "free shipping" or "free returns" to entice more users to click.
These need to be optimized to reduce the risk of Google automatically rewriting it for you. Keep all relevant information at the very beginning of your description and try not to exceed suggested character counts. Regular pages should range between 150-160 characters, while blog posts should include 138-148.
H1 title tags
Keep these between 20-70 characters and address user intent by offering a solution to their pain points. Titles like "cook a family meal in 30 minutes" or "easy leash training tips for new puppies" can inspire users to click on your site.
Most importantly, each of these elements should contain your target keyword at least once.
Related: Meta tags and the head section of a website
3. Create and optimize product and category descriptions
Your product and category descriptions help both your potential customers and search engines understand what you're selling and why your products are unique. Let's take a look at how you can optimize for both.
Product pages
Optimizing your product pages is a good way to increase ecommerce traffic from Google search queries. You must take the time to fill out key details for these pages so you can capitalize on any opportunities for a potential sale.
Your product pages should have more content to help communicate the value, features and benefits of your product and help the customer make the right choice.
Here are some key points you'll want to include in your product pages:
A unique description of the product. Have it range between 150-200 words and make sure to include your target keyword.
Three optimized images of the product. If applicable, try to include one image of the product in use.
Product-specific details. Ensure they are easy to scan for users and include dimensions like measurements, weight, requirements and more.
Add a video. Show users how to use the product and describe why it's better than a competitive set of products.
Make navigation easy to access. Ensure your navigation links are simple and descriptive. Avoid dropdown menus or anything overly complicated.
Don't use manufacturer descriptions. Google is more likely to add your page to SERPs if the content is unique.
Allow user-generated reviews. These provide pages with fresh content to keep search engines happy, but you'll need to moderate it before publishing. GoDaddy Website Builder has an option to install Yotpo reviews in a couple of clicks without the need of a developer.
Include sensory words. Peppering these into product descriptions can inch users closer to a sale. Incorporate words that describe the sights, sounds and smells of a product. Think "decadent" for sweet treats or "cozy" for soft sweaters.
Avoid exaggerating. Be careful not to describe things that might not hold. It might be tempting to say a sweater will keep you warm in "whatever temperature," but unless it's been proven effective by heavy research, you should avoid making these types of claims.
Add a FAQ section. You can place this at the bottom of your product page and apply structured data mark-up, also referred to as schema mark-up.
Note: The advanced SEO practice of adding schema mark-up to products will display them as rich results in Google image searches. You can learn more about Google's advanced SEO options here, along with how to set up structured data for your products.
Category pages
On your category pages, you'll only need a paragraph or two to share details about your products or services. Be sure to use your target keyword in each of your category descriptions.
Here are other key points you should consider when writing your descriptions:
Optimize your category pages. They are easier to rank in competitive marketplaces than product pages.
Don't write to sell the product. The point is to inspire customers to think about a wide range of category listings using 150 - 300 words.
Consider alternative layout methods. Some websites include additional content in collapsible dropdowns and carousels. However, all content needs to be visible in the source code and not generated by JavaScript.
Insert absolute links. Place these in the first paragraph and include matching anchor text to other category pages. For example, H&M's category page for "women's tops" includes anchor text that links to other subcategories like "t-shirts" and "bodysuits."
Keep important information at the top. A recent case study found a 4.8% decrease in clicks from SERPswhen descriptions moved below products on category pages. You can place small paragraphs of copy at the top, middle or bottom of the page. But content that sits higher on the page benefits from higher rankings and increased visibility.
Don't double-up on tags. Category tags need to be unique from product tags. You don't want to have the same tag for both since this can confuse search bots.
Ensure canonical links are correct. If you have multiple pages for a category or filters, you'll want to set the canonical URL for the other pages back to the first category page. This will help you avoid duplicate content. So, if one category is "shirts" and you have enough product to fill three pages of shirts, be sure each page points back to the original category page.
Related: How to create a compelling ecommerce product page
4. Revise and redirect URLs
Friendly URLs aren't just better for sharing, they're also important to successful ecommerce SEO.
Google prefers short, easy-to-read URLs. If possible limit your product page URLs to just your product title, without the category slug.
Ideal: https://www.yoursite.com/product-keyword
Acceptable: https://www.yoursite.com/category/product-keyword
Avoid: https://www.yoursite.com/category/category-keyword/product/product-keyword
Your ecommerce platform might dictate the choices you have for URL structures.
Before you change your URL structures, make sure you track any previous URLs and use 301 redirects to point to your new URLs.
Some ecommerce platforms will handle this automatically, so be sure to check your help site or customer support to find out what you need to ensure your redirects go into place.
Linking out from product pages
You can add links to other products within a product page if it makes sense to your users. Try placing relevant links at the bottom of the page with text like "frequently bought together" or "you may be interested in" to bring awareness to your audience.
It's also important to ensure all links are <a href> absolute links and not JavaScript generated. These should be visible in your source code.
5. Improve images for better loading and searchability
Images are key to a successful ecommerce site, but without proper optimization, they can also hurt your ecommerce SEO.
You'll need to find a balance between small file size and acceptable image quality to optimize your images.
In most cases, you should use JPEGs for images that have a lot of colors, and PNG for simple images. Test several different formats and compressions to find the right mix for the images your site uses.
Be sure to include ALT tags for all of your optimized images as well. ALT tags are used by screen readers to help visually impaired users navigate and use your site as well as by search engines to understand what your images are of.
6. Perform technical SEO
Good ecommerce SEO goes beyond just measuring what content is on your site and in your metadata. There are also technical elements that can contribute to your site rankings.
Improve site load times
Bounce rates increase by 50% if your website takes two extra seconds to load, and conversion rates fall by 12% for every extra second that it takes your website to load. Optimizing your images and removing unnecessary elements improves your search engine ranking and conversion rates.
Create and submit a sitemap to Google and Bing Webmaster Tools
By submitting your sitemap to Google Search Console and Bing Webmaster Tools, you're proactively letting the two largest search engines in the world know about your site. Plus, these tools can alert you to critical issues that Google or Bing encounter with your sites.
Have a valid SSL certificate
An SSL certificate is not just something you need in your shopping cart. Since you might be collecting email addresses on other pages (with things like your email signup form), an SSL protects that data as well.
Most browsers now point out to visitors when a site isn't secure — sometimes even directing them away. Your website host often can help you with an SSL certificate.
Editor's note: GoDaddy's Websites + Marketing Ecommerce solution comes already protected with a Secure Sockets Layer (SSL), so it won't be an additional cost to you or your business to keep your website safe.
Make it easy to navigate
Give customers multiple ways to navigate your site — from the top navigation to subcategories and site search. Search engine spiders use your site navigation to ensure they're finding all of the pages on your site — making them findable to search engine users!
Add breadcrumbs to your site layout
Speaking of navigation, there's another form of navigation that's often overlooked that can impact your ecommerce SEO and site usability. Breadcrumbs help both your users and search engines understand how your pages relate to each other. Breadcrumb navigation is often a feature of your shop theme.
Clean up broken links
Nobody likes reaching a 404 page, including search engines. To improve your ecommerce SEO, clean up broken links by redirecting as many as you can to appropriate replacement pages.
You can find broken links using a plugin, such as Broken Link Checker for WordPress, Google Search Console, or a third-party tool like Dead Link Checker.
You also can create a custom 404 page for your site that helps point people in the right direction when they do encounter a broken link. These pages should contain menu navigation and search bars, along with links to your:
Homepage
Sitemap
Popular pages
All these items are important for keeping searchers on your site and preventing an increase in bounce rates.
Related: How to create a custom 404 page in WordPress
7. Add content for additional ecommerce SEO
Most ecommerce sites don't feature a lot of content, which makes it hard for them to get a good SEO ranking. You can change that by simply adding content with SEO in mind, that's also useful for your customers, such as:
Infographics
Buyer's guides
Gift guides
Comparisons
How-to and learn-to guides
Commonly asked questions
Testimonials
Another type of content that you need to add to your website is reviews. Customer reviews provide more content to benefit your ecommerce SEO including allowing your pages to rank for related long-tail terms, including combinations of "Product Name Review."
Valid customer reviews also describe your products in the terms customers use — not your marketing description — giving you even more terms that you might rank for over time.
Finally, reviews help differentiate your products from others who are offering the same or similar products and services.
Related: How to get product reviews
Leverage an existing blog
Publishing blog content is one of the most popular ways to boost SEO for product or category pages. This is especially true if you're an expert in a particular subject within your industry.
Google's Organic Search advocate, John Mueller, has noted that it makes sense to link products with relevant article topics on your site. He suggested that there should be a "clear structure" that shows "everything is kind of around one central point."
In other words, you shouldn't go crazy plugging in all kinds of product links if they don't make sense with the topic at hand.
Mueller also recommends using a third-party crawler like Screaming Frog to monitor any inlinks on your posts. It's a free tool for small sites to help identify pages that are getting more attention.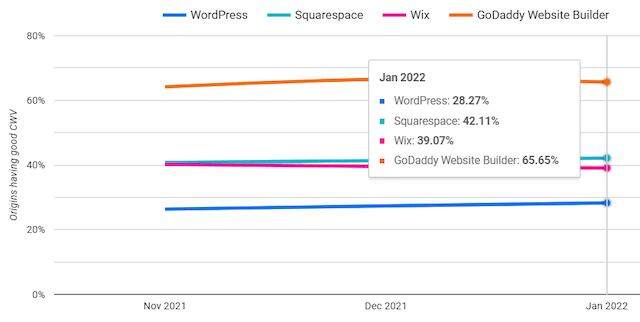 You should also be aware of how your blog pages are performing under Google's new Core Web Vitals update. This report helps you understand where you need to optimize so that users have the best experience on your site. GoDaddy's Website Builder leads the way in optimum performance under these metrics and is a great tool if you want to expand your ecommerce site with a blog.
8. Don't forget mobile search
With all the talk about how to design your site for conversions and search, it's easy to overlook the importance of mobile accessibility. But it's hard to ignore the fact that many of us turn to our mobile devices often when we're searching:
Combine these stats with Google's Core Web Vitals update in summer of 2021 and it's clear to see why optimizing for mobile devices is crucial to your site's success.
It's now more important than ever to pay attention to the mechanics of a site to ensure sustainable visibility, ranking and traffic.
Optimizing your site for mobile search uses all of the same techniques we've already discussed, layered with additional testing and optimization.
Related: Everything you need to know about Google's Core Web Vitals for small business
Ensure your site renders well on mobile devices
Have you ever visited a website that was riddled with pop-ups and overlays that were hard to navigate around or even impossible on your mobile phone? Likely, it wasn't optimized correctly for mobile.
Before you embark on a mobile version of your site, perform a manual check of the following items:
Ensure the call-to-action appears above the fold
Look for pop-ups or overlays that block the screen
Adjust fonts when necessary and make sure it's large enough for mobile users to see
Limit the number of products a user must scroll through before getting to the footer (this may be different from desktop versions)
Shorten a breadcrumb trail if it's taking up too much space
Double and triple check your load time optimizations
As internet consumers, we want everything fast-faster-fastest. The days of being willing to wait 30 minutes for a single song to download are over. Today, Google recommends a target of 1.3 seconds for page loads. Ecommerce sites often have many images that strain mobile bandwidth if not optimized properly.
Make anchors a priority
Using anchors on your pages to link to important information, like reviews and feature lists, makes your site easier to navigate on mobile.
Related: Ecommerce trends that are shaping the world of online shopping
9. To index or not to index
Most of the content on your site should be indexed to allow search bots to crawl for information relevant to a search query.
However, there are some pages you won't want to index since they don't bring any value to your rankings. Here are a few examples of pages you'll need to set to noindex:
Cart pages
Checkout page
Terms and conditions page
Privacy policy
Account/login pages
Search pages
If you need additional information on how to noindex pages on WordPress using Yoast, here's a quick guide for reference.
10. Enable social sharing
Social sharing is an indirect way of increasing conversions, but it does help in the awareness stage of the customer journey. It also leads to an increase in organic traffic and product searches.
Including a prominent social share button on your product page allows users to share your brand with people they know.
One study showed that millennial shoppers are twice as likely to buy a product after they've shared it with friends and family first. These users may feel more inclined to purchase your brand after publicly declaring their interest.
Additionally, your users are exposing your brand to others in their inner circle – which has the potential to boost even more leads for sales in the future.
Unique challenges to ecommerce SEO
Ecommerce websites face additional unique challenges that most content-based websites don't face, including:
Duplicate content
This usually happens when there are multiple variations of a product, and when a user selects a different variation, the CMS appends a variable to the URL, making it a unique page. When this happens all the content is the same on all variations, except for the name of the variation. For example:
https://www.yoursite.com/category1/product
https://www.yoursite.com/category1/product?gold
Unless the product is fundamentally different to the extent that new content can be written for the variation, the URL should stay the same when a user switches between variations.
Another option would be to canonicalize all variations to the primary default product page.
For example, /vegan-shark-tshirt?size=8?color=red would point to /vegan-shark-tshirt.
Faceted navigation
Faceted navigation refers to filters placed upon sets of products. These are common with large product sets, where the website allows users to narrow their result set by selecting additional defining product features, such as narrowing results to only products that have more than 4 stars or are available in a specific size.
The challenge is that if your filters are crawlable by the search engines (which most are), it creates almost an unlimited number of pages and product variations that litter your website with duplicate content and spammy pages. This can cause search engines to get caught in a web of infinite possibilities and waste crawl equity on low-value pages.
The good news is that there are ways to structure your filters/faceted navigation in a way that is beneficial to users and search engines.
Moz has tips on how to deal with faceted navigation if you're a large ecommerce site working toward improved ecommerce SEO optimization.
Putting a product in multiple categories
At face value, this problem is not a concern with most content management systems. It's often helpful to have products in multiple categories to help users find what they're looking for.
Where websites get in trouble is when putting a product in a new category adds the category to the URL, resulting in multiple URLs for the same product. For example:
https://www.yoursite.com/category1/product
https://www.yoursite.com/category2/product
You can combat that by updating your standard URLs so that the category isn't part of the URL. In some ecommerce management systems, you can define a primary category used in the URL while all other category URLs are secondary to that one.
Reduce tagging
If you're a new site with limited pages, it's best not to use tags right away. Tags create extra pages on your site that don't hold a ton of value for Google rankings.
So, if you have more tags than pages, Google could end up lowering your rankings. It'll consider most of your work as thin content (something Google hates) and ignore the posts that matter most.
But if you already have an established website with hundreds of tagged pages, you may want to consider applying a noindex to those links.
Google recommends noindexing tagged pages to avoid partial duplicates of existing pages. If you have a tagged page that has a high volume of searches, you can consider adding a category page instead.
For more help noindexing tagged pages using WordPress and Yoast, you can refer to this handy guide for additional information.
Is ecommerce SEO worth it?
Improving ecommerce SEO has many moving pieces, but isn't without its rewards. With more than 5.6 billion searches per day — that's 63,000 searches per second on any given day, according to Search Engine Land — investing in ecommerce SEO can help you grow your business and reach.
Improving ecommerce SEO has many moving pieces, but isn't without its rewards. With more than 5.6 billion searches per day — that's 63,000 searches per second on any given day, according to Search Engine Land— investing in ecommerce SEO can help you grow your business and reach.
Need some help? Let the experts at GoDaddy SEO Services guide your SEO strategy and optimize your site so it gets the attention it deserves. Contact GoDaddy today to see how you can work less and rank higher.
This article includes content originally published on the GoDaddy blog by the following authors: Bill Ross, Bob Dunn and Ashley Grant. Jessica Resendez also contributed to this article.