When diving into the world of paid search advertising, you'll notice that there are many different synonyms — like PPC advertising or search engine advertising. However you label it, this strategy encompasses setting up ads on a search engine like Google or Bing, where you pay each time the ad is clicked on.
Paid search helps you attract new customers with timely marketing, as well as improve your overall SEO efforts and, most importantly, conversions.
Given the steady increase of digital traffic, paid search is a predominant digital marketing strategy, with 74% of brands agreeing that PPC is a "huge driver of business."
At first glance, PPC can seem like a complicated, pay-to-play system. Instead of shying away, get informed on how paid search works and try the following paid search tactics to get the most bang for your buck.
Related: 30 online search and SEO stats to blow your mind
Glossary of paid search terms and acronyms
As we dive into the seemingly complex world of search engine advertising, let's define a few key terms and acronyms to ensure we're all on the same page.
PPC: Pay-per-click, a form of search engine advertising, where a business creates an ad based on a keyword or phrase and only pays when a user clicks on their ad or call-to-action (CTA).
CPC: Cost-per-click, the actual price you pay when someone clicks on your ad.
SERP: Search engine results page; the resulting websites that a search engine (like Google or Bing) provide from a user query.
SEO: Search engine optimization, an umbrella term that covers internet marketing tactics that help you get your website higher in the SERPs.
DA: Domain authority, a search engine ranking score on a scale from 1 to 100. The higher your score, the higher your rank on the SERPs.
CTA: Call-to-action, a button or phrase with a targeted link, intended to get an immediate response.
CTR: Click-through-rate, a metric that measures the number of clicks per impression that your ad receives.
LSA: Local search ad and also local service ad, see section #7 for further info on this double acronym.
Related: Beginner's guide to search engine optimization
What is PPC?
Search engine advertising is a strategy built around the PPC model, which lets you bid for the top search engine ranking for a given keyword or key phrase. As an advertiser, you only pay when a user clicks on your ad.
PPC is incredibly effective when done correctly.
It quickly gets you to the top of the SERPs to drive phone calls, driving directions, product sales, reservations, website visits or other desired user actions.
Moreover, PPC advertising allows you to take advantage of web users entering queries on search engines, without being as interruptive and intrusive as banner ads or pop-ups.
According to research by Wordstream, 64% of people click on Google ads when they're looking to buy an item online.
Related: What is domain authority?
How PPC differs from other SEO tactics
The main difference between PPC and other SEO strategies is that PPC allows for a very targeted approach with more immediate effects. A common industry comparison is to think of your overall SEO efforts as a marathon, while paid search is a sprint.
SEO, in general, is a long-game.
To rank organically you need to develop valuable content for your site, earn backlinks, build DA and focus on several other factors. Especially with new businesses or websites, it can take years to naturally rank for desired searches and target keywords. Whereas PPC campaigns can render much quicker results (but of course, with a cost).
Related: How to get backlinks to a small business website
8 tips for strong returns on PPC ad spend
Every business owner wants to see the ROI for marketing efforts, and PPC ad spend is no different. Particularly because paid search can represent a significant upfront monetary investment, you want to ensure success.
In this guide, we'll outline the following tactics:
Optimize your site before investing in paid search.
Choose the best PPC provider.
Determine an effective (and realistic) PPC budget.
Refine your PPC strategy based on data.
Use paid search to increase seasonal traffic and sales.
Include ad extensions in your PPC advertising.
Try local search ads to increase local business.
Use PPC to complement other (non-paid) SEO strategies.
Using these eight tips, you'll see stronger and more effective results from your PPC advertising campaigns.
1. Optimize your site before investing in paid search
If you're paying to get users to go to your site, you want to make sure you actually have an effective site to begin with.
For example, if your PPC ad leads to a landing page that is confusing or has little to no valuable information, you just wasted money paying for that click.
Follow some of these basic guidelines to ensure you have quality content to drive traffic to.
Make sure your site and pages are clean and user-friendly. Nothing makes a potential customer bounce faster than a poorly designed or cluttered site.
Include a prominent and persuasive CTA. While this may seem simple on a landing page, you still need to focus on a conversion point (i.e., "book now," "call us," "reserve here," or "add to cart"). Even if your ad leads to an informative blog post, there should be a CTA at the end to direct the customer into your sales funnel.
Your site content should be helpful, informative and relevant to the search terms or phrases in your ad. Tricking users to click on your ad with unrelated copy is the digital equivalent to a bait-and-switch.
For PPC ads leading to customer service-related CTAs (phone calls or emails), fine-tune your workflow. Make sure that you have functioning systems in place from the first inquiry to conversion. In other words, someone should answer those calls and emails promptly to not lose that lead (and your money).
Having high-quality content on your site will also help your overall SEO value —it's win-win!
And while your site doesn't need to rank well to have success with paid search, it certainly helps. Google takes into account the caliber of your landing pages in the quality score. This ranking determines the placement of your ads on the SERPs.
Related: How landing pages bridge the gap between marketing and sales
2. Choose the best PPC provider
There are two primary providers when it comes to paid search advertising:
Google: The Google Search Network encompasses Google SERP, Google Shopping, Maps, and other search partners.
Bing Network Audience: Also known as Microsoft Advertising, this provider reaches AOL, Bing and Yahoo users.
While you might naturally assume Google is the best option as the world's most-used search engine, don't forgo lower-volume search engines like Bing.
According to recent data, the Bing Network Audience sees 7.5 billion monthly searches in the U.S. alone. What's more, the average click-through rate is 2.83% on Bing, which is 50% higher than what they see on Google. This means you can face less competition than with Google, and potentially see better results and lower CPC.
Note: Social media platforms and other websites also provide paid advertising options, but to keep this article sharply focused, we'll only cover search engine advertising. For additional resources, refer to this guide for Amazon PPC Ads or check out this article on Facebook advertising.
3. Determine an effective (and realistic) PPC budget
Keyword cost depends on your industry and popularity.
For example, some phrases like "personal injury lawyer" or "car insurance" can have a CPC as high as $200. However, don't fret — other keywords or phrases that are more niche or locally based can cost as low as 40 cents.
The good news is that you can easily cap your total spend on PPC. Set a budget that makes sense for your business, then research keywords with costs that fit within that.
If you have a lower ad spend, you obviously don't want to target high CPC keywords.
Instead, consider long-tail key phrases that will be cheaper and also show a higher degree of search and user intent. Long-tail keywords could be a detailed term like "personalized gold bracelets for bridesmaids." Or you could also branch out into question-related searches, like "how do I order engraved bracelets for my bridesmaids?"
A long-tail phrase has a higher probability of conversion, and a lower cost and risk, than a single, more general keyword.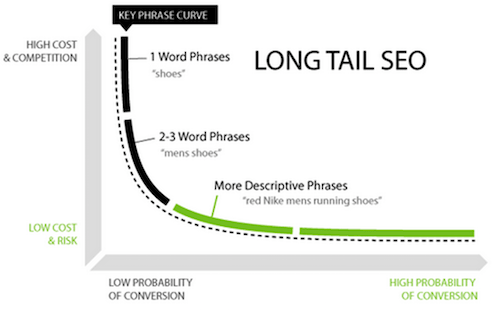 Additionally, it's more likely that someone who searches a phrase like "organic protein bars free shipping" is later in the buying stage than someone who searches "protein bars." Therefore you have a higher chance of conversion.
Related: Using long-tail keywords — Advanced marketing tips for restaurants
4. Refine your PPC strategy based on data
Remember that PPC campaigns without specific goals will inevitably waste money.
As you set up paid search ads and align them with your overall business objectives, keep track of your data to refine your campaigns.
To measure success, make sure you enable conversion tracking on your campaigns.
This allows you to track which conversions you monitor, like website visits, phone calls, etc. Refer to these instructions for Google and Bing for help setting this up.
You'll also want to use your search term report, which allows you to see what the people who clicked on your ad typed into the search engine.
With this report, you can also find negative keywords and filter out users who don't have the right intent and shouldn't be shown ads. Using data from these two sources, adjust future campaigns for better results for your ad spend.
Related: How to make data-driven decisions using Google marketing tools
5. Use paid search to increase seasonal traffic and sales
Paid search is a powerful tool around the holidays when you want to get more eyes on your products, services or store.
To create seasonal-specific PPC advertising, think of key phrases that your target audience would search for during the holidays. These might include "best Christmas gift for in-laws," "back-to-school sales near me," or "Unique Valentine's Day gifts for my girlfriend."
Even if you don't have products or services traditionally associated with holidays, you can still use paid search campaigns to take advantage of the season.
Advertise package deals, gift cards or seasonal events. Just make sure to have relevant content for these seasonal ads.
Your paid search ads will reel in visitors, but your content will convert.
An idea engine like Google Trends can help you find new seasonal search phrases or terms and see their popularity in a given month.
Related: How Google Trends can help you find your next customer
6. Include ad extensions in your PPC advertising
Ad extensions are additional information that appears as snippets below your ad copy. They allow you to give even more information about your business or website to users that will further convince them to click on your ad.
Popular options include:
Location extension: Shows an address or map marker and will take the user directly to the maps page of your location, which can help drive potential customers to your physical business.
Call extension: When clicked on desktop this shows your phone number or automatically calls on mobile.
Message extension: People who see your ad can immediately message you for general inquiries.
Callout extension: This lets you highlight unique selling points for your business, like "25 years in business" or "certified electricians."
Hop over to Google's guide for more extension options. Not only do extensions let you capitalize on your ad real estate by including even more information, but they aide in your quality score as well.
Remember that ad position is determined by the quality score; extensions are one of the factors that can increase your score in the eyes of Google.
In a recent survey, WordStream found that the top-spending and high performing ad buyers use 4,631% more extensions, compared to low-spend accounts.
7. Try local search or service ads to increase local business
Local Search Ads, (LSAs), which look different than traditional paid search ads, use information from a Google My Business page and location extensions to create a unique ad.
See the below example on how a Walgreen's LSA appears.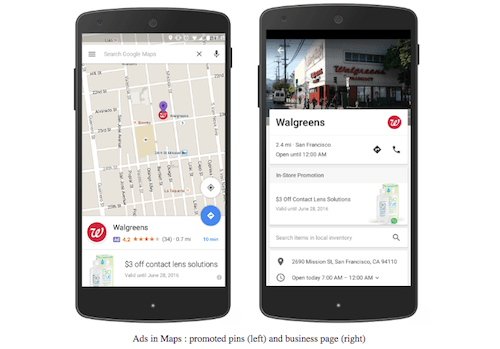 According to Google, more than one-third of mobile searches have local intent, which is why they rolled out this feature for paid search advertisements.
For physical businesses with a GMB page, consider trying this tactic to garner local traffic. Not only will your ad be highlighted differently, but you can include a unique promotion, like the "$3 off contact lens solution" example above.
Editor's note: GoDaddy customers can use Website Builder to create and manage their Google My Business listings at no extra cost.
In a somewhat confusing move, Google also introduced Local Service Ads (same acronym, different type of ad). This ad shows up when users are searching for a specific service-based business near them, like a lawyer, housekeeper or real estate agent. Professional service businesses can also go through a Google screening process, to receive a badge on their local service ads. Badges say either "Google Screened" or "Google Guaranteed."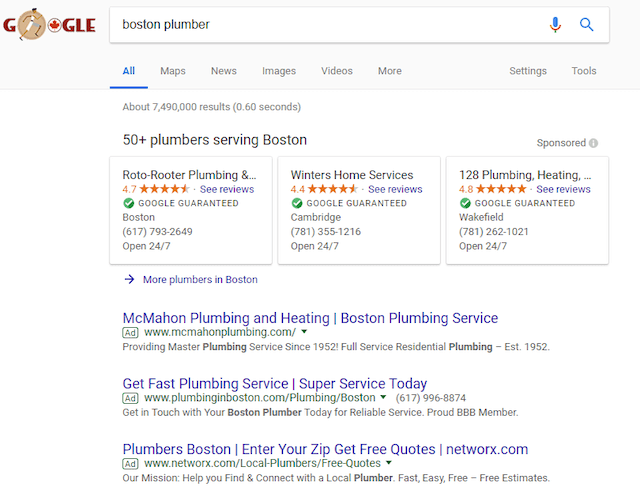 Another difference between the two LSAs is that local search ads are paid-per-lead (not click)—so you only pay when you receive a qualified lead or engagement.
8. Use PPC to complement other (non-paid) SEO strategies
Keywords and phrases not only support your paid search efforts but also your overall SEO and content marketing. A PPC campaign that runs for even 30 days will help you realize which terms and phrases your target audience searches for.
Use your search term report and CTR data to understand the keyword and ad combinations that both users and search engines perceive as most relevant.
From here use the data to inform other SEO decisions.
For example, level up your content marketing efforts by integrating these high-value keywords into your blog schedule, which in turn can help your organic ranking. Alternatively, you can build pages based on the keywords. Alternatively, you can build landing pages or sales funnel entry points based on the keywords.
Bolster PPC campaigns to get the most out of ad spend
Search engine advertising can seem overwhelming when you first start, but with a strong plan in place and strategic thinking, you can see significant returns on your ad spend.
Start by optimizing your website to ensure it's ready to receive increased traffic and convert.
Then choose your PPC provider, set your budget, and get to work crafting an effective paid search campaign, using the above tips.
As with any digital marketing, use your data and refine as you go.
PPC campaigns can give you short bursts of traffic that you consistently evolve to be even more successful.
Don't forget, once you get your PPC campaigns rolling, repurpose the valuable data to help with your other non-paid SEO efforts!
As you find your footing with PPC ads, consider other platforms, such as using Amazon Advertising to help boost your business.
This article includes content originally published on the GoDaddy blog by the following authors: Ashley Grant, Genevieve Tuenge and Matt Hessler.