Creating virtual conference websites with WordPress
In past articles, we've covered having a great topic, a well-defined target audience and getting A-list speakers. In this post, we'll review how to create virtual conference websites with a rock-solid platform like WordPress.
Why WordPress? Because it provides all the functionality you need to run a successful virtual conference. The design is flexible, and you can embed videos and audio files, set up membership areas, and integrate payment providers.
I'm going to share the exact setup I used for the WP Summit, so you can follow along when running your own virtual conference.
Step 1: Pick your WordPress theme
A professional design is crucial for your event because you want to be perceived as a serious conference producer, not as someone who's just playing around. For the WP Summit, I used The Ken by Artbees, which is an incredibly flexible theme. It comes with the Visual Composer plugin, allowing you to create virtually any layout with a drag-and-drop interface. The Ken also has powerful customization options that make using WordPress easy and convenient. 
I can't emphasize the importance of a professional design enough. When you're trying to get big speakers for your summit, they need to see you're building a big event — otherwise, they won't think it's worth their time.
Build a landing page with your favorite theme, and show the topics you want your summit to cover, even before you have the speakers. Just put "to be announced" in the space where you plan to list your speakers. It's important to show your topics because it shows the dimensions of your event. That landing page can drive some opt-ins even before the event promotion begins, and it adds credibility to your event if you build it the right way.
A good idea is to look at how other summits have built their pages. Take the systems and layouts that are proven to work and adapt them to your needs. Note that I'm not saying "copy other summits."
Step 2: Choose the right WordPress plugins
I didn't use many plugins on the WordPress site of the WP Summit because I wanted to keep the site lightweight and fast. Here's the list of the most important plugins I installed:
Wishlist Member
I used Wishlist Member to set up a membership area for paying customers. Then, I connected Wishlist to 1Shoppingcart, which handled payments and the affiliate system.
In Wishlist, I built pages for each interview that only paying members had unlimited access to. Free attendees got 48 hours of access to the interviews, following my structure like an online course. These 48 hours were enough so that people all over the world could work through the interviews at their own pace.
Once the 48 hours were over, only paying customers could access the interviews, and Wishlist Member protected the pages from being accessed by other attendees.
OptinMonster
This one was a game changer! OptinMonster is a lead-generation plugin, which showed an opt-in form when someone clicked on the "Subscribe" button. This opt-in form converted at almost 70 percent for the WP Summit, meaning that 70 percent of people who clicked on the "Subscribe" button actually subscribed.

In total, the conversion rate was roughly 30 percent, which is still pretty good — and above anything I've experienced on my personal blog in the last two years.
Kraken Image Optimizer
You'll want your event website to load blazingly fast. And since summit websites usually display lots of images, you need to optimize those for fast loads. Speaker images, images of yourself as the host, promotional graphics — all of these can be easily reduced in file size with Kraken.
W3 Total Cache
This caching plugin also helped speed up the website. You don't need a caching plugin if your host has caching built-in (like GoDaddy Managed WordPress), but in any other case, it's a must-have. Here's a tutorial on configuring W3 Total Cache if you want to learn more.
Step 3: Purchase third-party services
There are a few services you'll want to connect to your WordPress site to run a virtual summit professionally — things like payment gateways, conversion tracking, split-testing, and similar services. I used three of these services:
1Shoppingcart
As mentioned earlier, 1Shoppingcart handled the payment process and the affiliate system for the WP Summit. The payment provider you can use depends on the services that integrate with your membership plugin. If you're not sure about this, get in touch with the support of your membership plugin.
CrazyEgg
CrazyEgg is a heat map tracking tool, allowing you to see where people click on your website, how far they scroll and how they behave. Heat maps are extremely powerful, as they give you crystal-clear insights into how visitors act on your site. You can see where they click, indicating the areas they're most interested in. By seeing how far they're scrolling you can see if they even recognize the most important content on your pages, or if you need to work on the placement.
For example, here's a heat map for the topic list on the landing page of the WP Summit.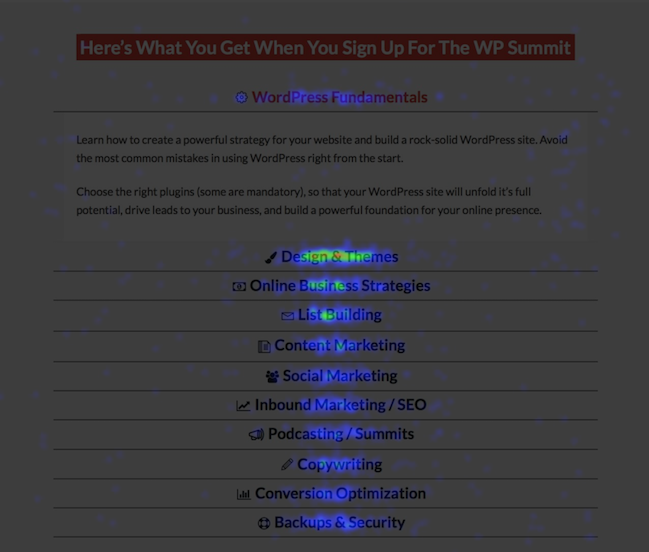 As you can see, the topic "Design & Themes" grabbed the attention of most visitors. Knowing that allowed me to could focus my marketing in that direction.
Vimeo
Virtual conference websites depend on professional video hosting. You can't just upload your videos to YouTube if you're planning to sell them in a premium membership area. When I realized how big the summit was growing, I opted for Vimeo because of its unlimited bandwidth policy.
It turned out that the WP Summit generated more than 15,000 video loads, which means it consumed a huge amount of bandwidth. With Vimeo, this cost me a one-time payment of roughly $180. Other services could have run me $300 or more per month.
Yes, video hosting requires upfront investments. But having reliable video hosting that doesn't crash during the summit is crucial.
Step 4: Purchase solid web hosting
Probably one of the most important aspects of running a virtual conference is having a web host that can sustain traffic spikes. You'll want to make sure to have a host that can handle the incoming traffic when you publish the latest interviews. And, as I said earlier, virtual conference websites need to be blazingly fast.
Even if 2,000 people access it in five minutes because you sent out an email announcing the newest interviews, your summit should load in a matter of seconds (the faster, the better, obviously). I personally also vote for having a web host with a 24/7 support team, because if you have questions, you'll want answers fast.
Now you're ready to dive into your event!