We built The Hub by GoDaddy Pro to streamline workflows and shave time off tasks that typically eat up a workday.
But we aren't done yet.
You can keep track of our progress here, as we regularly publish our updates to this platform custom made for web designers and developers.
Hub updates: Changelog & release notes
In The Works
Google Analytics 4
Adding support for Google Analytics 4 support with the sites you manage. Easily get detailed reports on how your client's websites are performing right in the Hub.
Pro Profiles
We've heard from our users that keeping an up to date portfolio can be a pain. You already manage sites in the Hub, why not let it generate a professional portfolio for you that's always up to date with the sites you build and manage?
New and Improved Client Report
We've been hard at work to build out all the blocks and widgets you'll need to present all the website care you perform for your client's website. Our client editor also uses the Gutenberg editor so those familiar with WordPress should be able to jump right in and create client reports for their clients.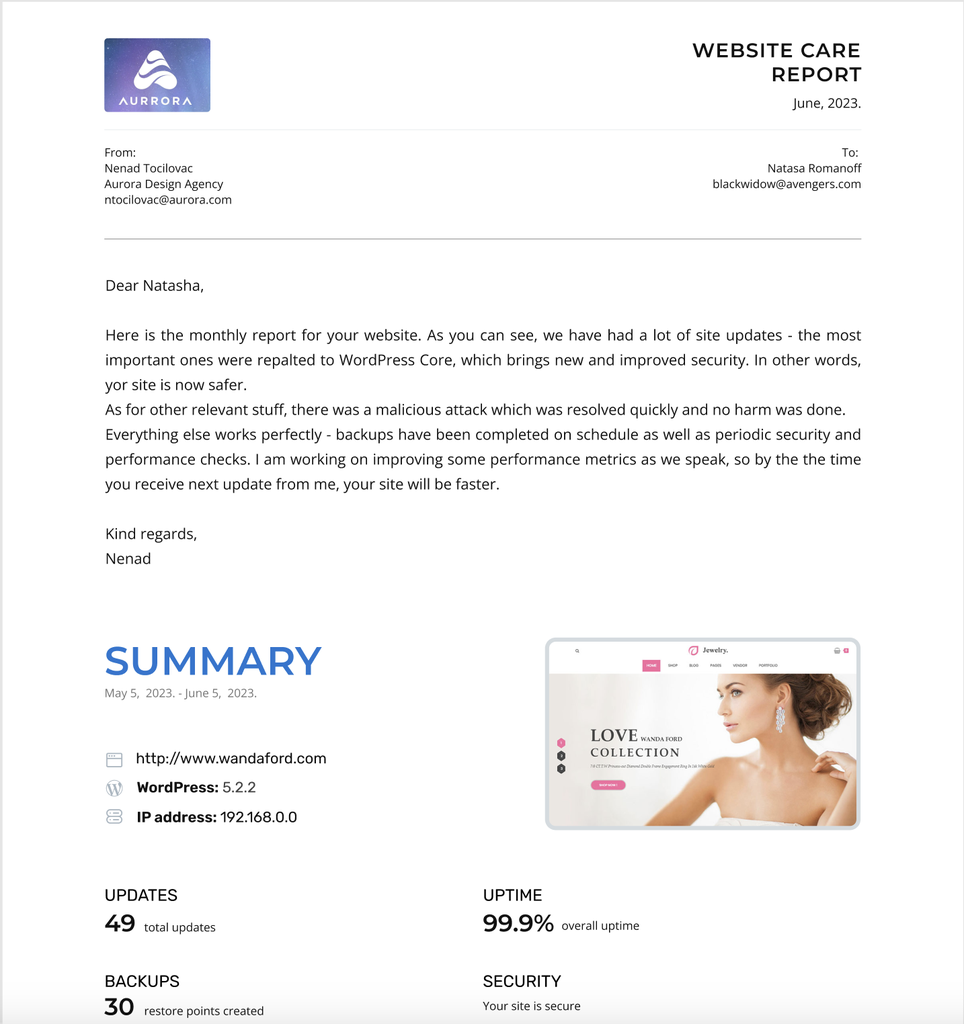 October 2023 Hub updates
Global Site and Client Search
Quickly search between all of the sites and clients you manage in the Hub no matter where you are in the account. You can even use the shortcut SHIFT + Spacebar to open the search bar.

September 2023 Hub updates
Automatic Connections of Managed WordPress Sites
Now, Managed WordPress sites hosted in your account will automatically be added to the Sites list of the Hub making it easier than ever to unlock the premium features you get for free when managing your sites on Managed WordPress.
Easier Activation of Site Features
New modal added to easily activate site features in a single click after adding a site to the Hub.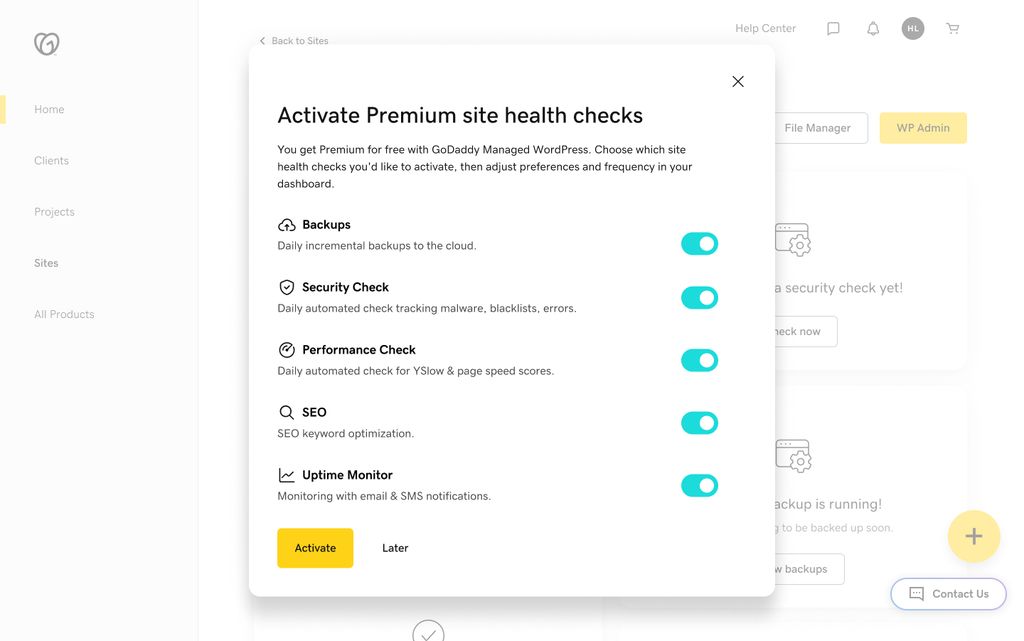 August 2023 Hub updates
Personalized Recommendations
Answer a few questions on the home page of the Hub and get personalized recommendations to manage and grow your web design and development business.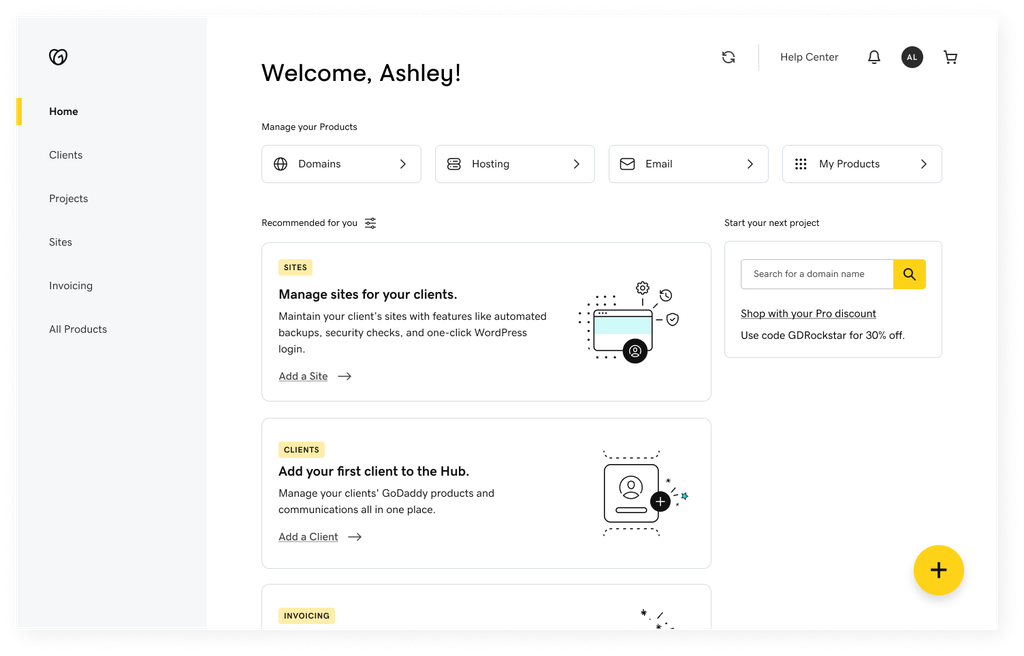 Pro Academy Beta
Learn new skills to up your web design and development game on Pro Academy. Access it by visiting proacademy.godaddy.com.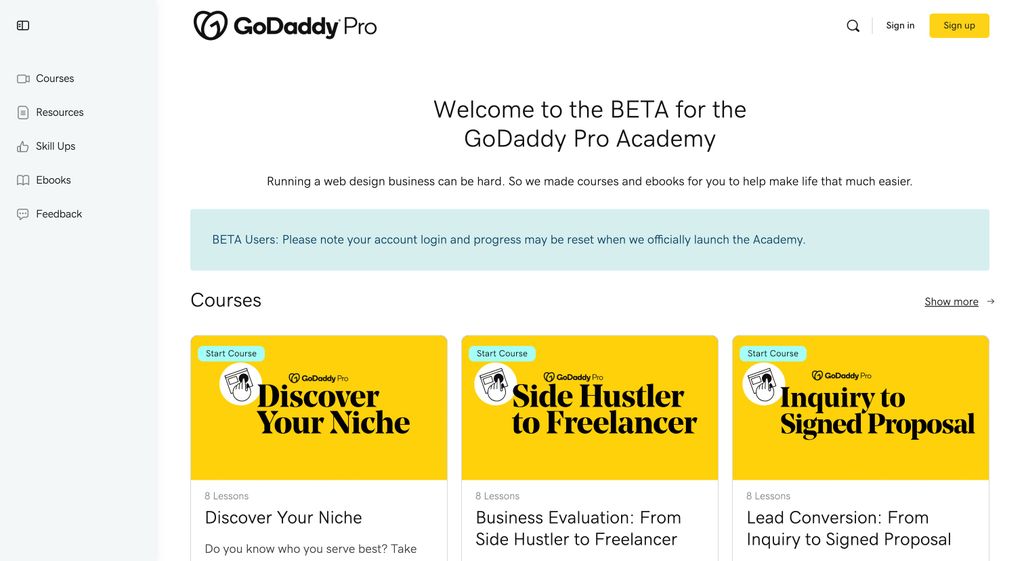 July 2023 Hub updates
Recurring Invoice Tracking
We've added a feature to the Invoicing capabilities that let you keep track of your monthly estimated earnings from recurring revenue invoices.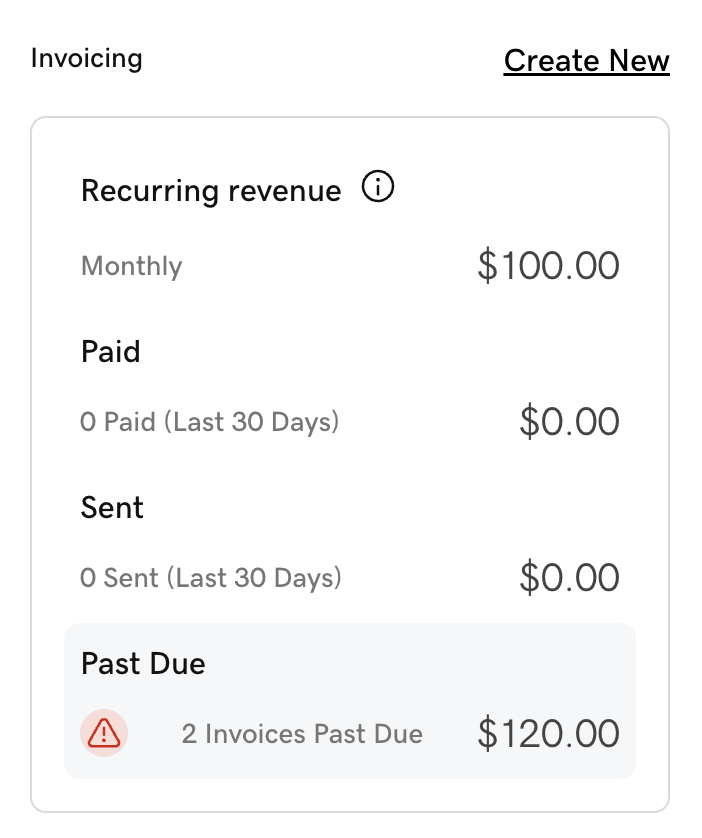 June 2023 Hub updates
SEO Tool
Easily track SEO keywords for the sites you manage from your clients and share the results with them. This feature is free for sites hosted on Managed WordPress or included with our Site Maintenance Packs.
May 2023 Hub updates
AI Assistant Beta
We've added an AI Assistant inside of the Hub to help website designers and developers with the myriad of tasks they have to handle on a day to day. We've given it a GoDaddy brain to be able to answer questions related to our products and services. It can also help you generate almost any type of content to help deliver websites to your clients faster than ever.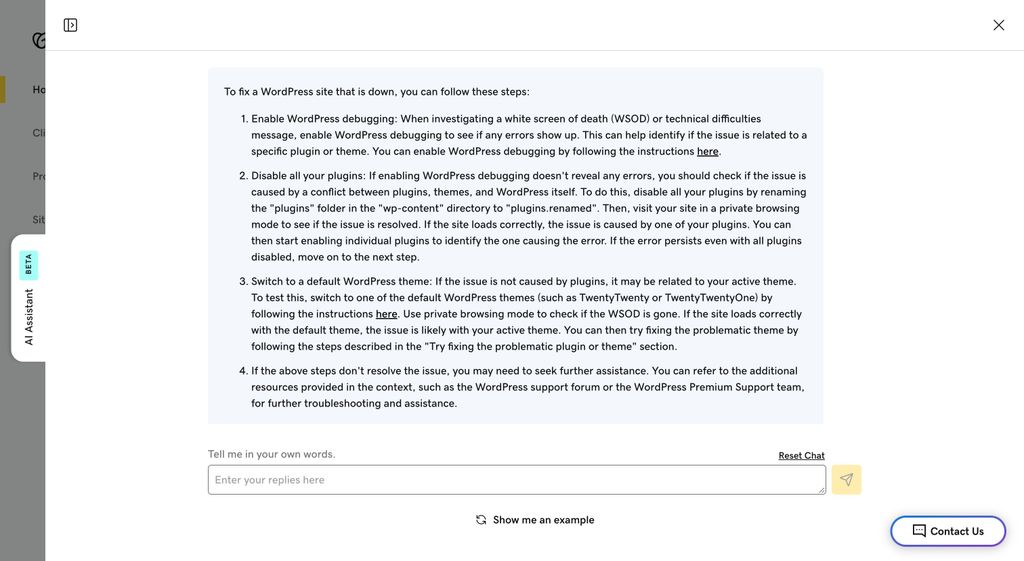 April 2023 Hub updates
Manage Site Settings & 3rd Party Integrations
Want to default to the sites overview screen instead of the sites list? Want to adjust what email notifications you get for the sites you manage? Want to connect the licenses from Envato? You can now do all this from the settings page. Click the settings icon on the sites page to access these options.
Improved the flow to add a site to the Hub
We've made changes to how you add a site to the Hub. Instead of having to differentiate from an external site vs a GoDaddy site, just start typing. If it's a site you manage in your account, it will show up in a drop down otherwise finish typing your domain and then continue through adding the site to your account.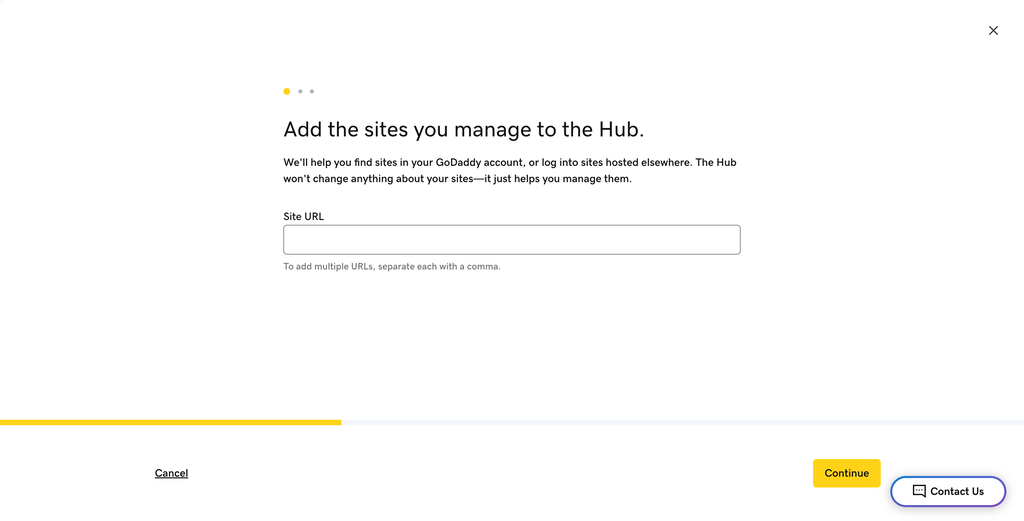 Mobile improvements to the invoicing form
The create invoicing form is now easier to use on mobile devices.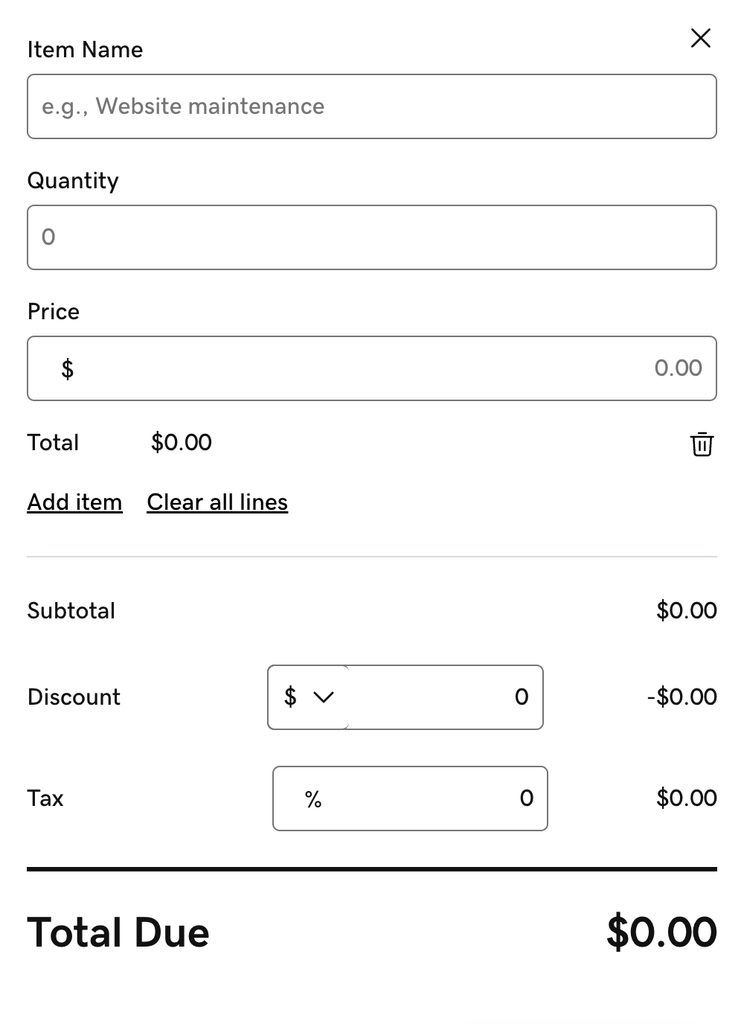 March 2023 Hub updates
Responsive improvements
We've made improvements on smaller devices in our Projects area, search bars, and action buttons within the Hub.
New Clients and Sites Dashboard redesign
We've updated our sites and clients dashboards with a fresh redesign that allows Pros to drag and drop to make sure the most important widgets are front and center.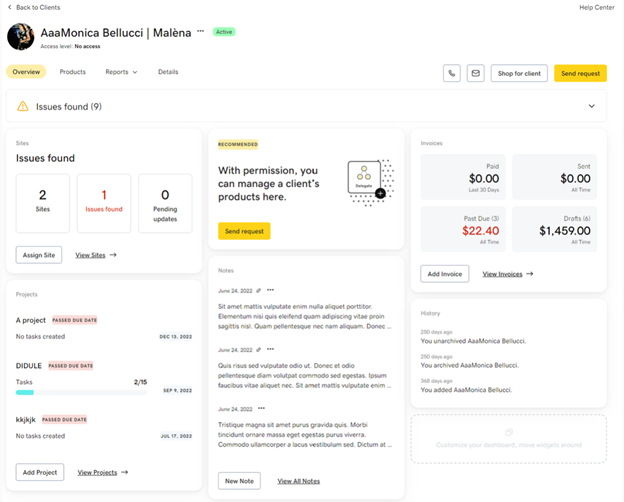 Users can now manage MySQL Settings within the Backup Tool.
Users can now enter a direct database connection to ensure backups are made even faster and more reliable.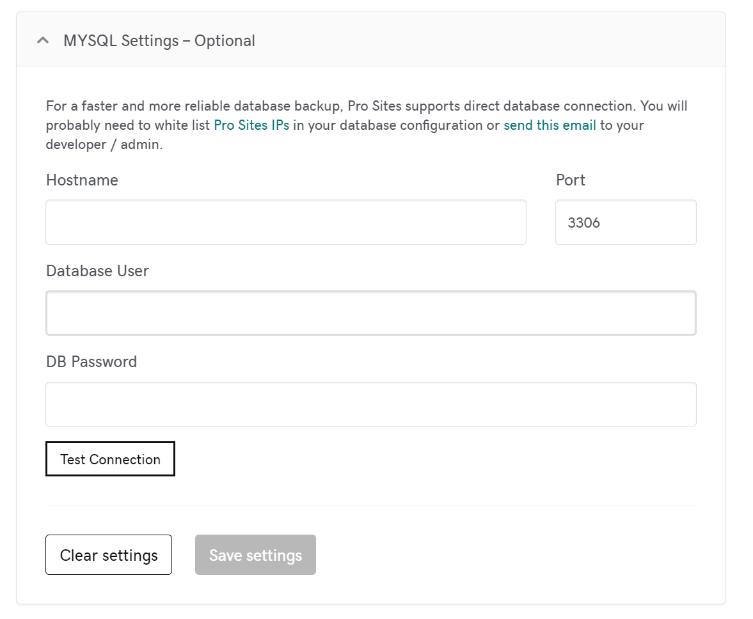 February 2023 Hub updates
Performance Scan and Security Tool design refresh
Updated the look and feel of the Performance Scan and Security Tool for a better user experience.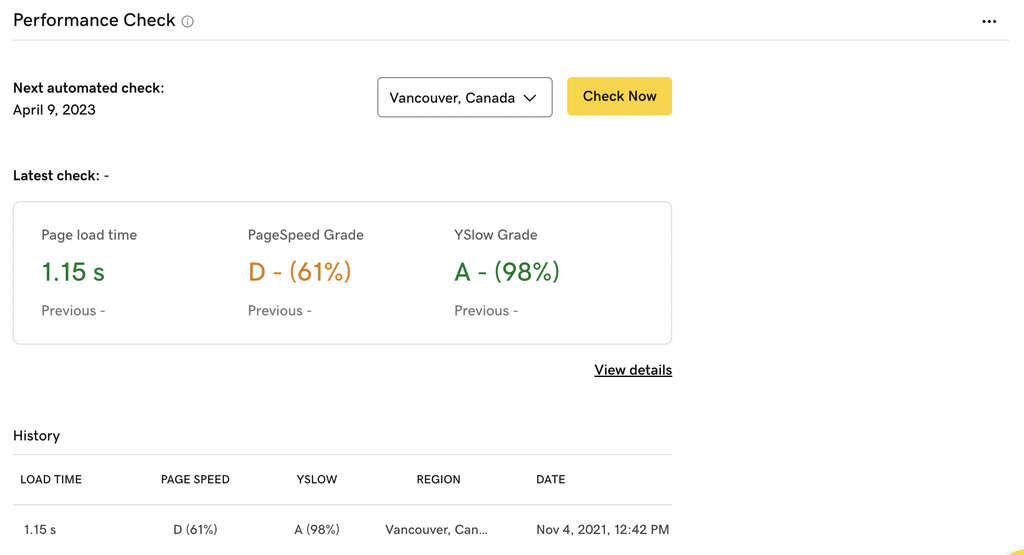 Fixed plugins not showing on mobile
Fixed a bug where plugin names weren't showing on mobile when scheduling automatic updates.
January 2023 Hub updates
Invoicing filter improvements
Invoicing status widgets on the Hub Home and Invoicing pages are now clickable, making it easier to navigate to the filtered Invoicing list for the selected status

Help Center Navigation Updates
Help Center How-To Videos now link to a new location for easier access to helpful resources
Added a link to the GoDaddy Pro Academy in the Help Center menu for more learning opportunities
---
December 2022 Hub updates
Refreshed styles sites features
Refreshed the visual styles for the Performance, Security, Uptime, Updates, and Comments widgets for a more modern look.
VPS and Dedicated Server Improvements
We've improved the loading times for the VPS and Dedicated Server control panels
---
November 2022 Hub updates
File Manager on Site Management
Added a file manager feature, allowing users to easily manage their site's folders and files for any WordPress site hosted with any hosting provider! Visit any WordPress site in the Site management section of the hub to access it.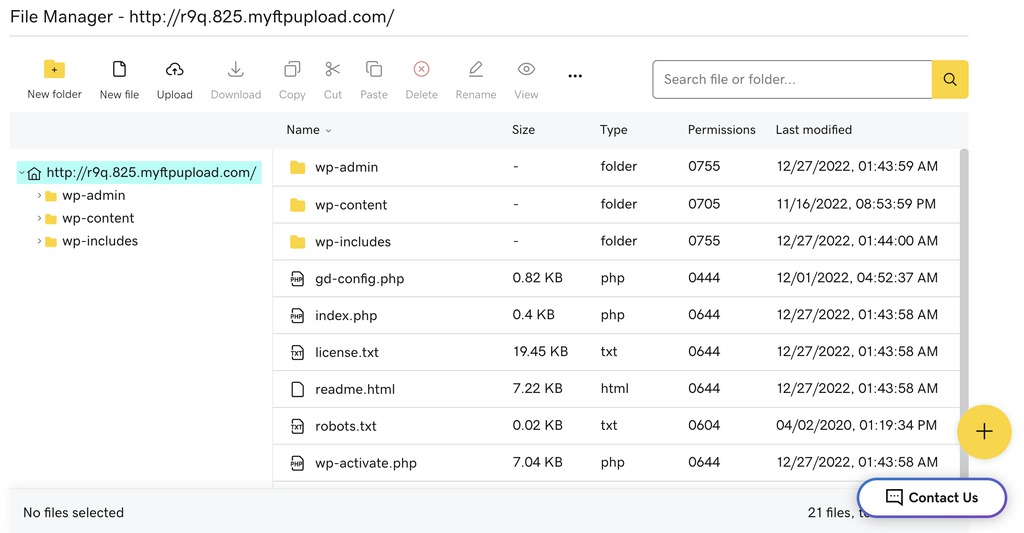 Backup Improvements
Added a feature to backup using FTP Settings, enabling you to enter your FTP credentials as a fallback option in case of website downtime or deletion. We also added the ability to backup and restore from ZIP/URL allowing you to restore your website from a direct download link to the zip file that contains a backup of your website (created by the Hub).
Managed WordPress and Plesk hosting control panels
We've improved the loading times for the Managed WordPress and Plesk hosting control panels
Email Panel Lite
Introduced the Email Panel Lite feature, letting you easily set up, purchase, and manage yoru email plans directly in the Hub.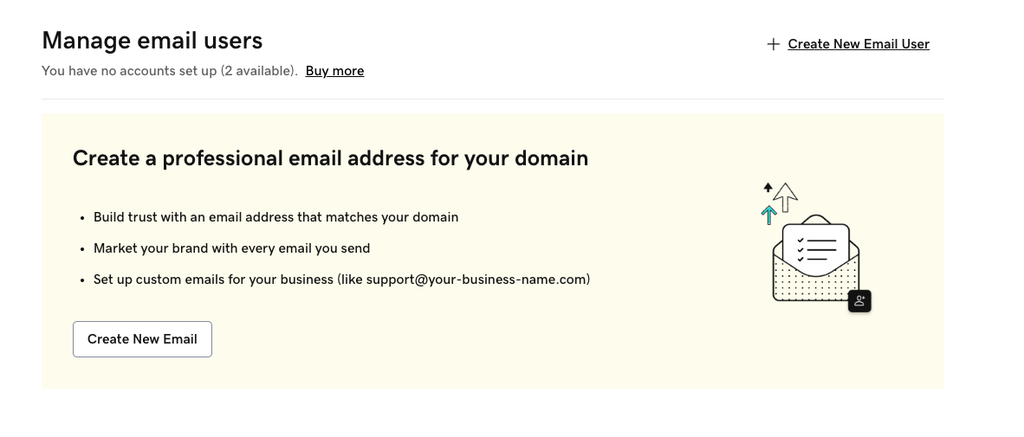 New Revenue Share Campaign
Introduced a new Revenue Share Campaign, allowing customers to earn up to 15% back on their delegated client's new hosting and security purchases.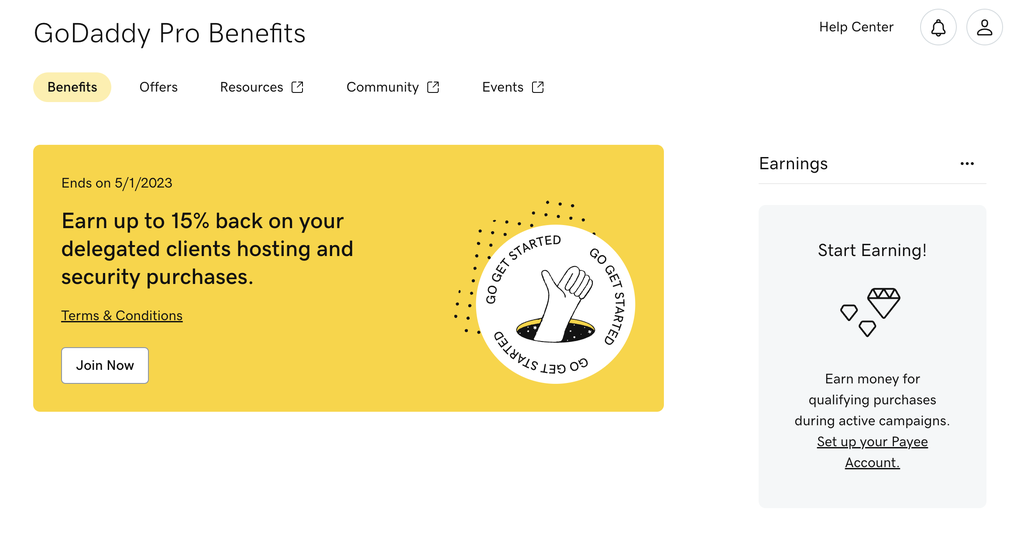 ---
October 2022 Hub updates
Client thumbnail view
A new view for the client list page is a more visual thumbnail, and you can even add a description of the client.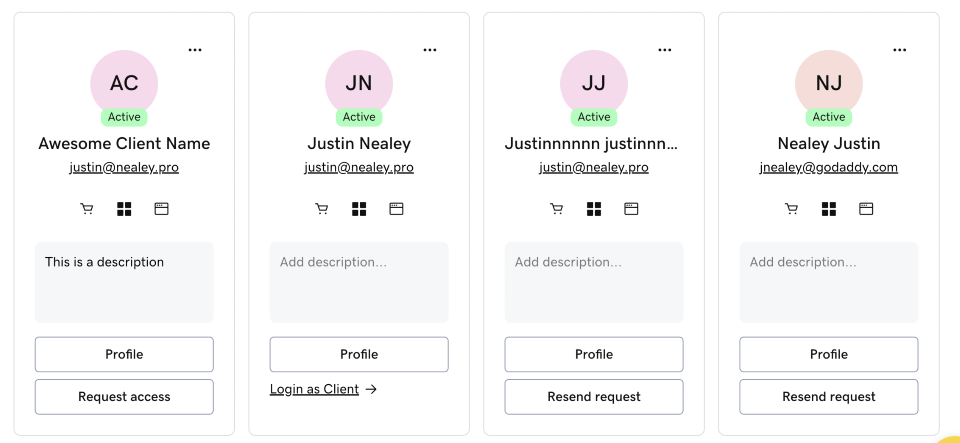 Mobile improvements
The list view of sites and invoicing i now more usable on mobile devices. Instead of trying to squish everything in the view, you can scroll to the right to see the rest of the table info.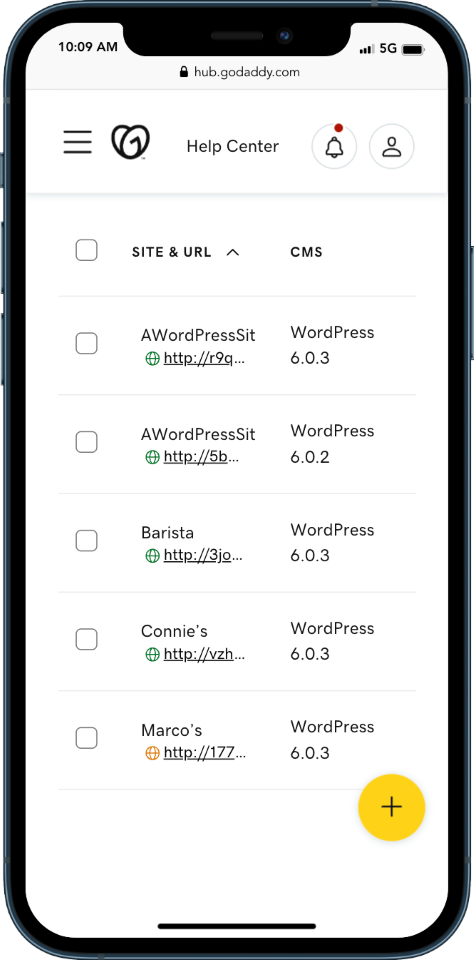 Assign an existing site from the Client Details page
Previously, you could only add a site when managing a client. Now you can assign an existing site to a client.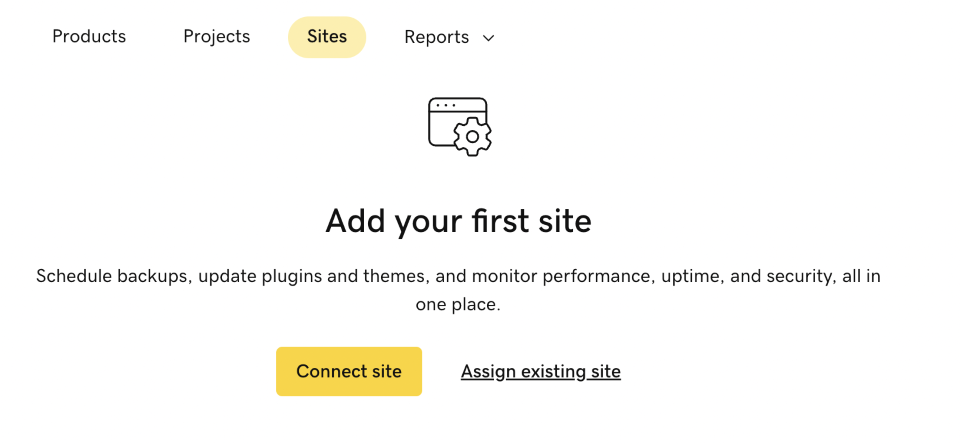 Set number of items per page
You can set the number of items to display on your pages in The Hub. This allows you to customize the page tailored to your preferences.

---
September 2022 Hub updates
File Manager for Managed WordPress hosted websites
Sites hosted with Managed WordPress will have access to a file manager to make changes quickly and easily.

Domain Search widget on the home page
You can now easily search for a new domain for your next project while in The Hub.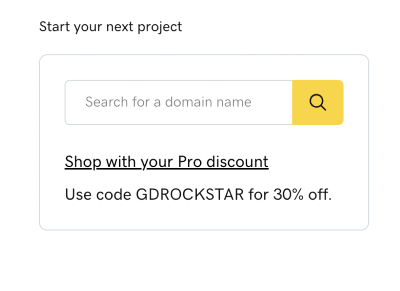 ---
August 2022 Hub updates
New menu items
Flyout menus in The Hub let you quickly get into tasks with fewer clicks. We've added new items to these menus to help you shave a bit more time off those tasks. On the Home page in The Hub, we've added a menu item for Create Invoice. And on the Client page, the menu now includes Create Client Report.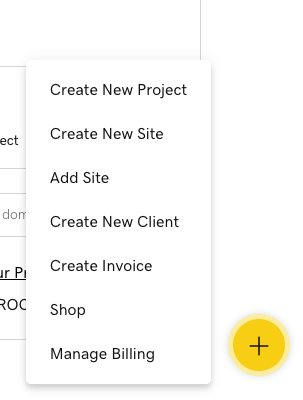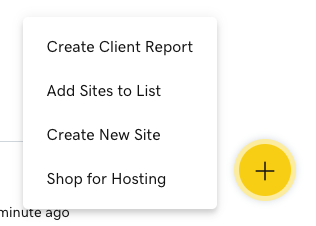 New client communication features
You can now contact clients directly from The Hub. Clicking on a client's email address will open your default email application, while clicking on the telephone number will open your telephone app.​​​​​​​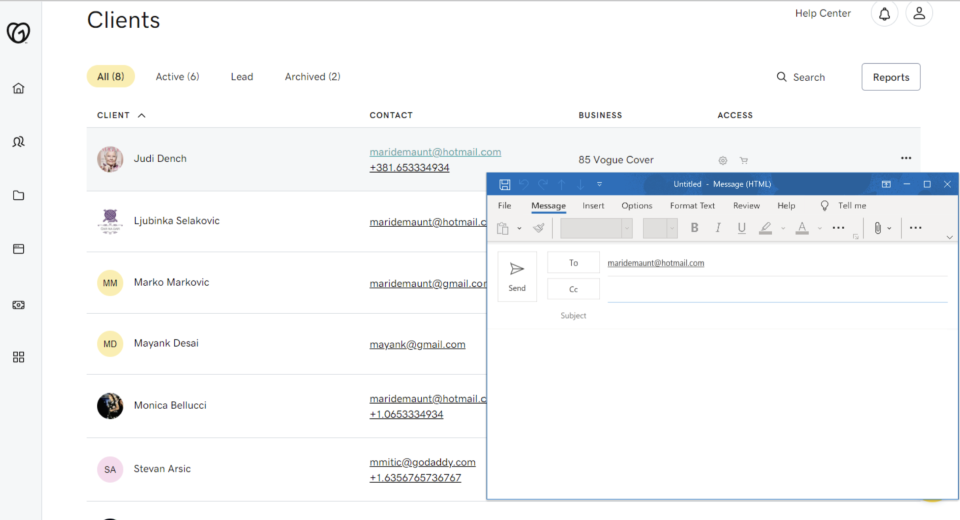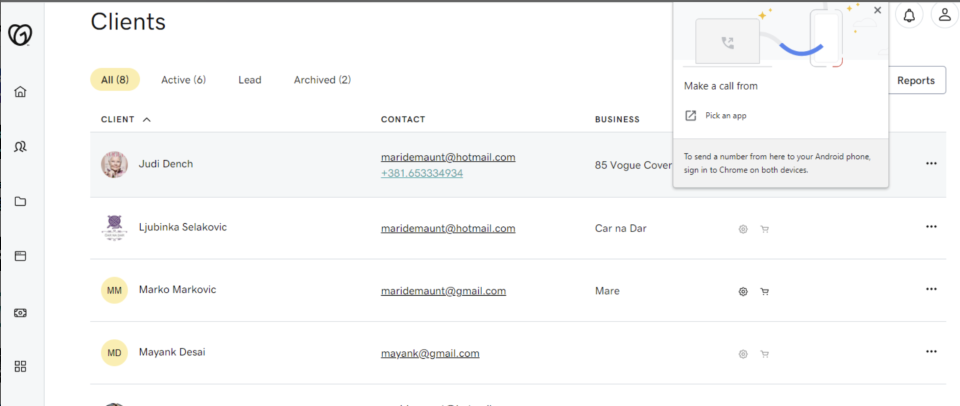 ---
July 2022 Hub updates
Improved opt-in
When you purchase a product from GoDaddy Pro, you'll be taken to a new page where you can opt in to The Hub or proceed without signing up. Previously, GoDaddy Pro purchases automatically opted in to The Hub, which caused some confusion.
---
June 2022 Hub updates
New homepage
We've launched a new homepage that makes it easier to manage products, view errors related to sites and take action on them, and help newer pros get started.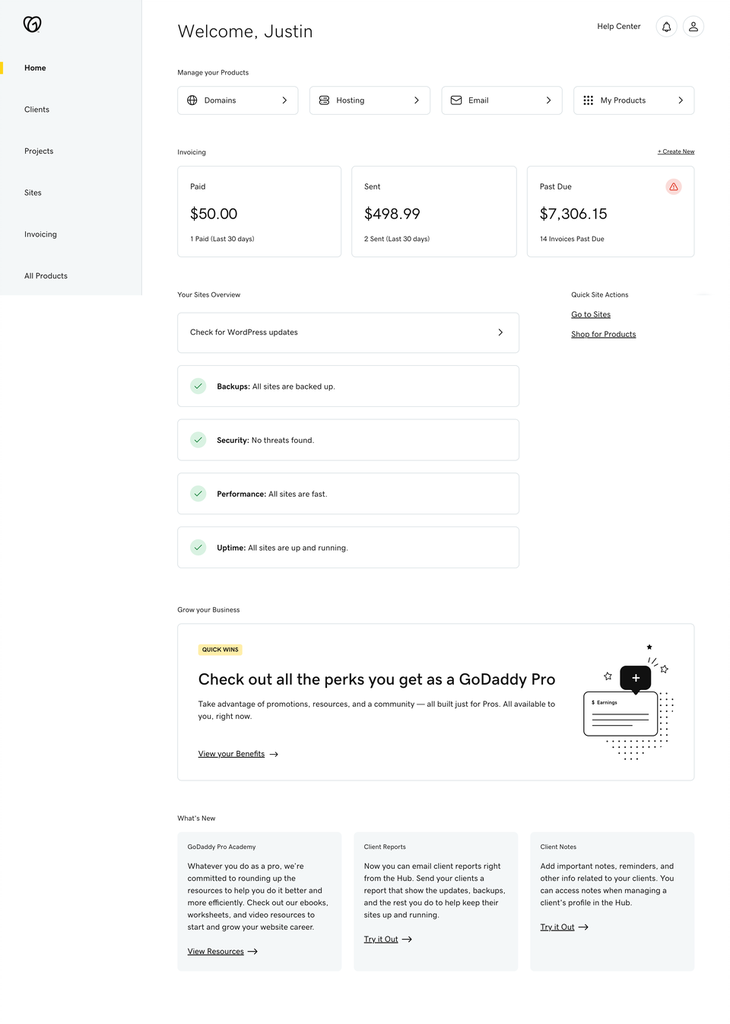 Enhanced client notes
You can now enter as many lead- or client-related notes as you want. It's also possible to pin important ones, so they will be visible "on the first view." This way, you could manually enter and track any important client-related note — without leaving or searching The Hub — to start initial contact and lead/client creation.
Email client reports
​​​​​​​Previously, you could share reports from The Hub by emailing clients a link. Now, you can email the report directly from The Hub — and scheduling these reports are coming soon!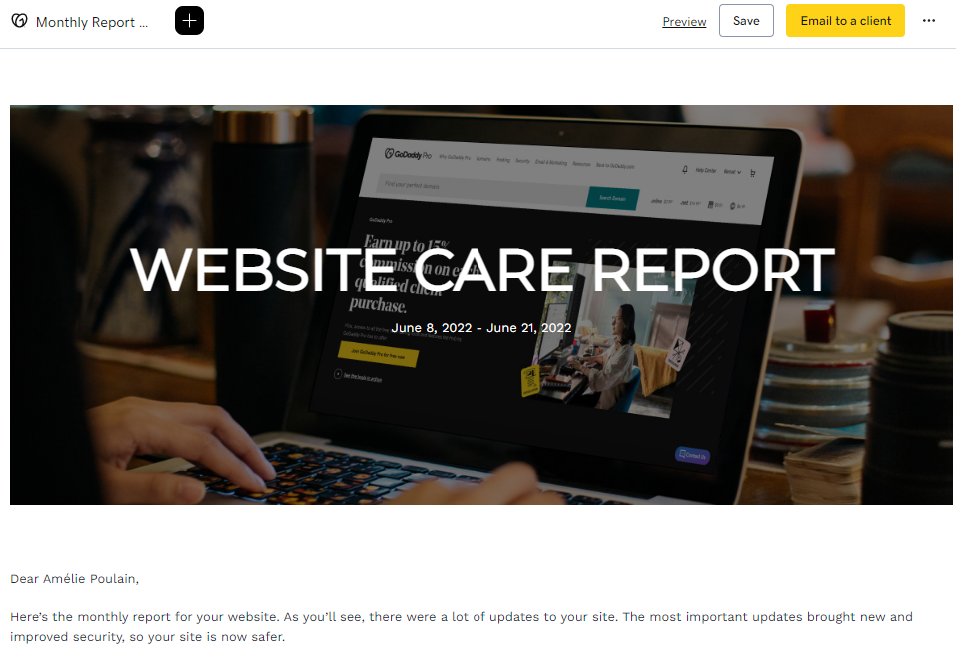 ---
April 2022 Hub updates
Clone tool
If you're using premium backups in The Hub, you can now transfer WordPress sites with ease. Now, you can easily clone a website to another site managed in a client's account, to the same domain but on a new server, or a new server entirely.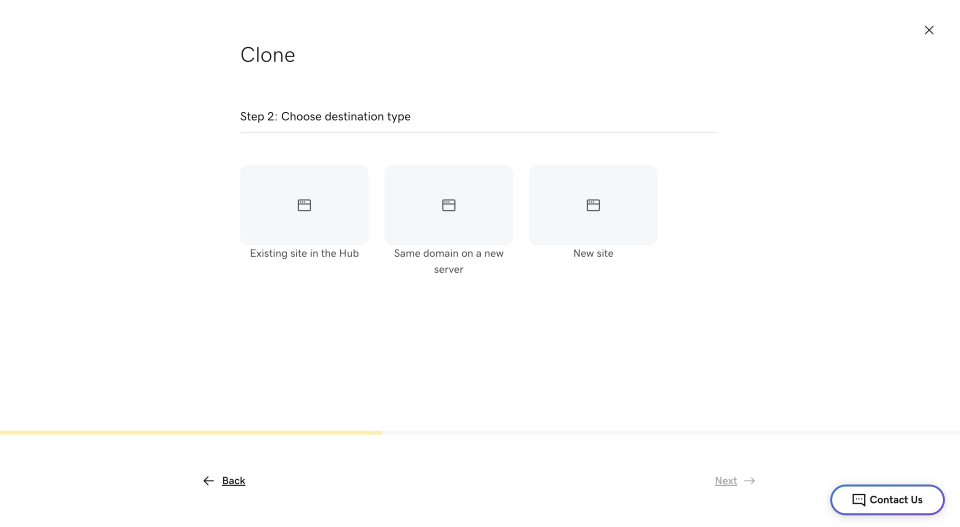 ---
March 2022 Hub updates
Client notes
When you're managing a large stable of clients, it helps to have reminders. What type of business are they operating, and do you have their brand colors handy? You can now add client notes in The Hub, which display prominently in the sidebar on that client's screen.
Keep an eye on this feature, as we plan to continue building out this workstream to keep track of clients' activity.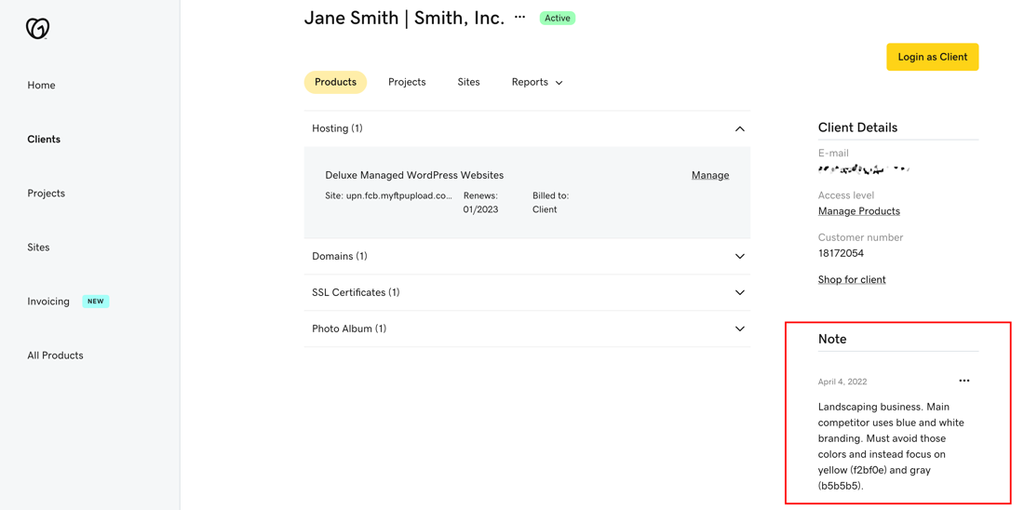 Client lead tracking
When it's time to follow up on leads, avoid patting your pockets or scrolling through contacts. You can now add potential clients to The Hub as a lead, letting you store their contact information and other important details. Once they become clients, simple toggle them as Active, while your other prospects remain Leads.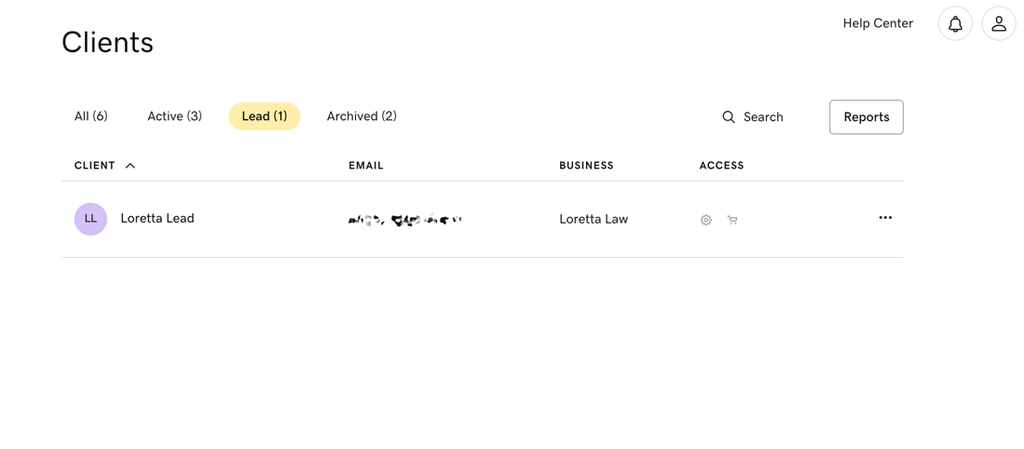 ---
February 2022 Hub updates
Bulk actions tool
Save even more time with The Hub by bulk-managing tasks like plugin, theme and user updates. The new bulk actions tool lets you avoid clicking in to each site to handle these tasks or visiting their WP Admin individually.

Incentive campaigns
If you're base in the U.S. or India, opt in to our campaign that earns you up to 15% cash back on GoDaddy Hosting and Security products purchased for clients using delegated access. Please note, this campaign runs until May 1, 2022.

Client report templates
New templates help you save even more time communicating with clients. Rather than adding client information to reports each time you create them, just do it once, and then save that report as a template for future use.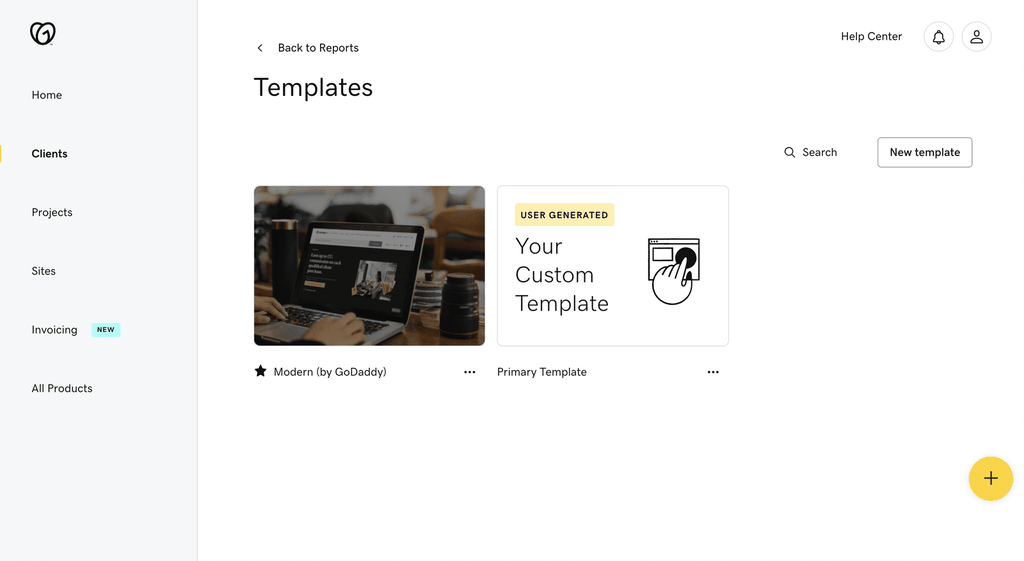 Easy access to Help content
Find links to Help content placed where you might need it in The Hub. You can now quickly access resources like articles from our Help Center and Community, how-to videos, blog posts from The Garage, and updates from our System Status page.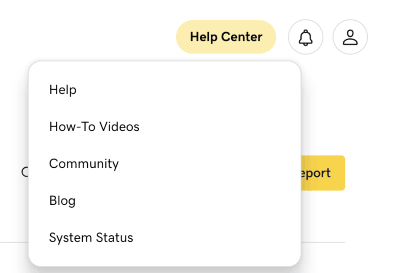 White-labeled worker plugin
To keep your brand front and center, you can now remove the GoDaddy branding from the worker plugin added to WordPress sites managed with The Hub. You also have the option to add a small contact form in the WP Admin of clients' sites to let them message you.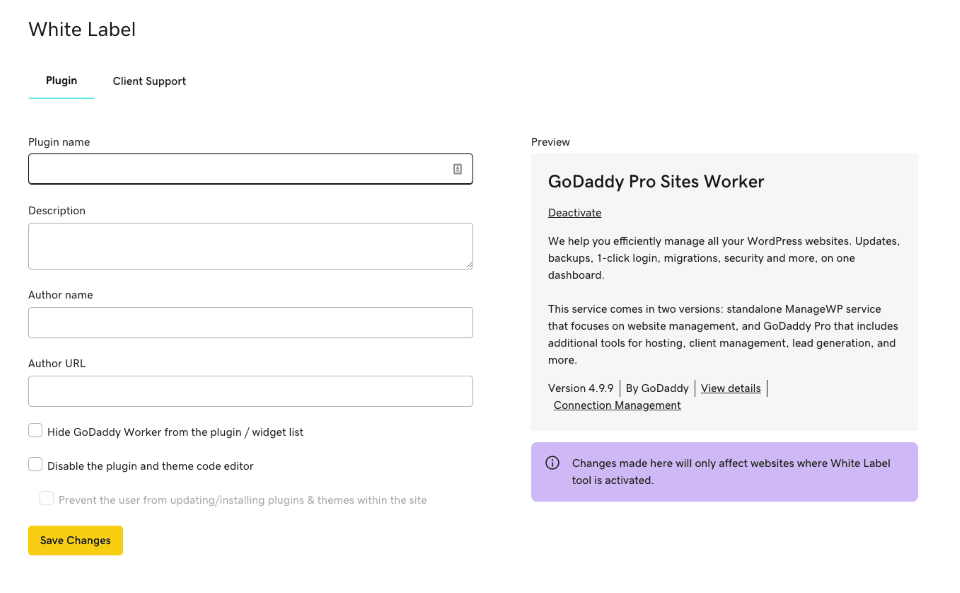 In-app notifications
If there are issues with any sites you added to The Hub, you'll now immediately see notifications once you log in.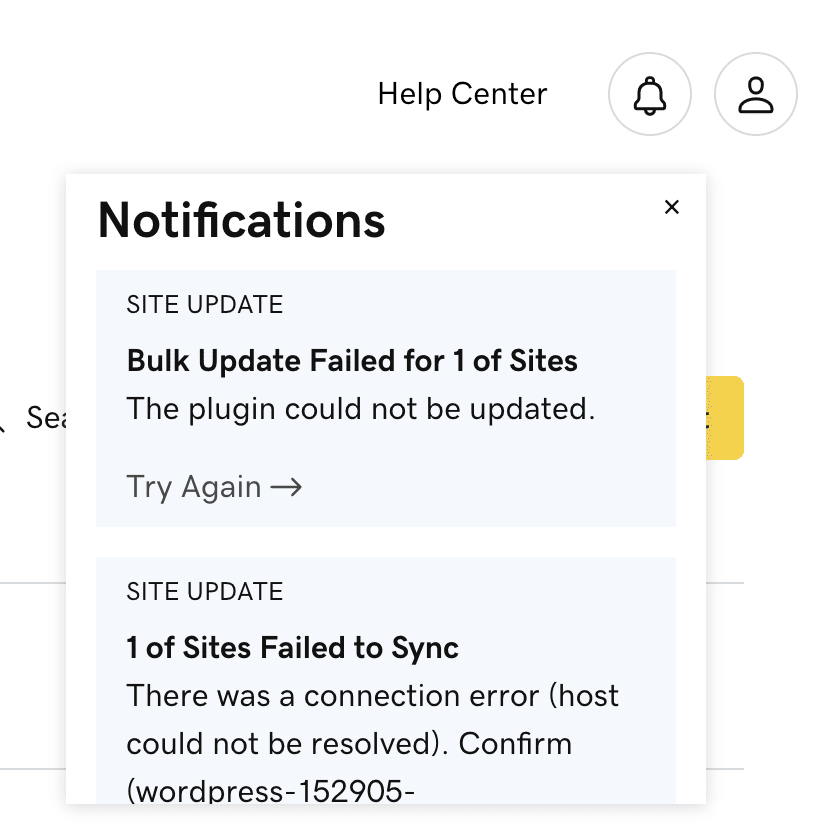 Fixed survey popup
We fixed a bug where a popup continued to display, requesting users fill out a survey. We've updated this popup so it displays only where relevant, and less often.
---
November 2021 Hub updates
Recurring invoices
With the August release of invoicing in The Hub, we've had strong growth and are now excited to announce our first major update: recurring Invoicing. We understand many of your services are ongoing, so we created the option to set up regularly scheduled invoicing and payments. We've discovered that between 20% and 40% of invoices are recurring — and are more likely to be paid promptly. You'll now see an option to set a recurrence of weekly, biweekly, monthly or a custom value. Go to your invoice list to see this option for both a recurring series or individual invoices tagged to belong to a series.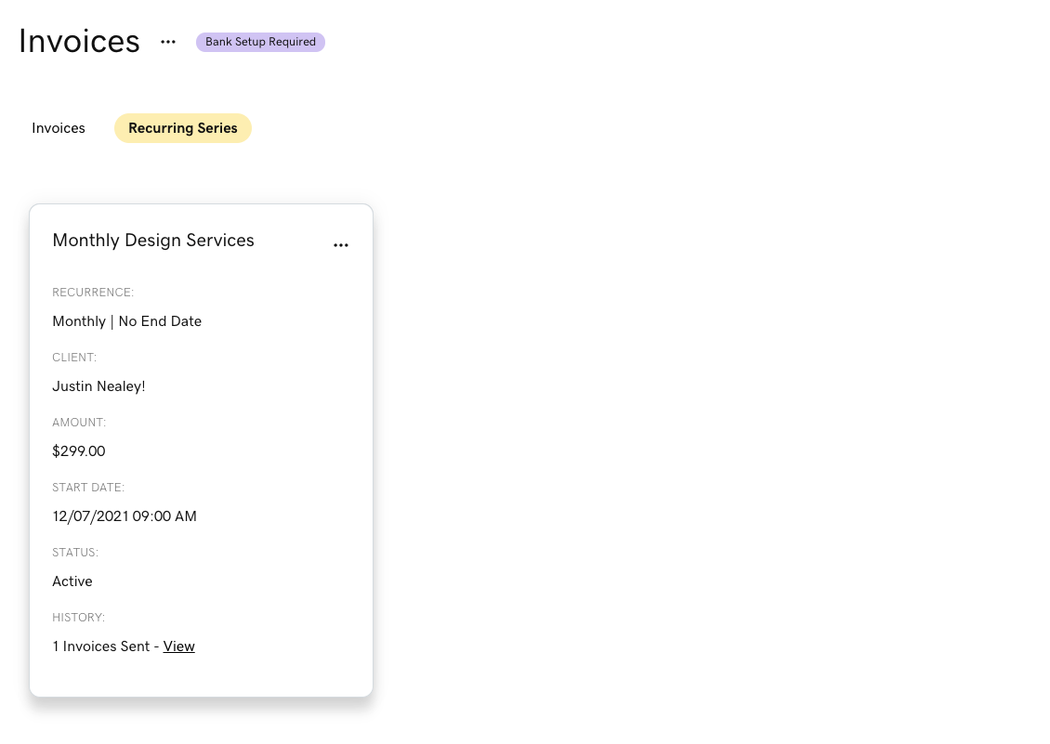 New incentive campaigns in the U.S.
We've added two new campaigns you can leverage for additional revenue when you set up clients with GoDaddy products. First, earn $50 for any new cPanel Web Hosting plan purchased in your clients' delegated accounts. You can also get back 10% on all Managed WordPress purchases you make using these accounts.

Client report editor
Create a report using the Gutenberg editor — the same tool found in WordPress — for an overview of sites you manage. You can then generate a link to send to clients, which is especially useful when you offer recurring maintenance services. In the near future, look for templates, recurring scheduling, reports sent from The Hub, and the integration of more Gutenberg blocks into the experience.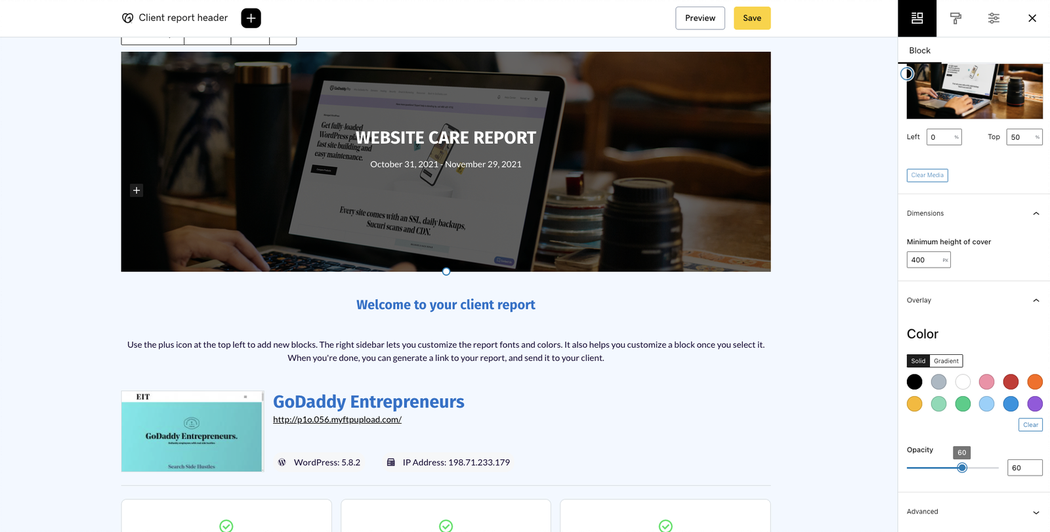 Percent-based pricing for new Resellers
This update is one of the most significant to the Reseller platform in more than two decades. Percent-based pricing lets new Resellers to set a percentage markup rule above wholesale for different groupings of products. It can streamline the pricing experience, from millions of individual price points to a few hundred pricing rules.
More apparent delegation in client list
We've updated the layout of the Clients page to include access-level icons. It lets you quickly tell which clients have delegation permissions. These icons also give quick access to shared shopping and the logged-in experience as a client.

Updated status widget designs
We refreshed the look of your status widget located on the Overview page in the Sites section. This offers a quick overview and status of your sites, including backups, performance, security, and uptime. In the event there is an issue, just click on the site to be transferred to a detailed view of the issue.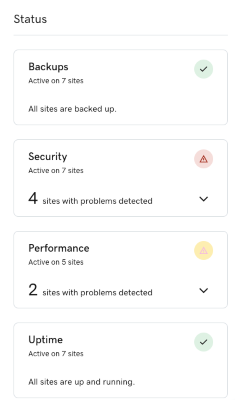 Filters on Overview page
Users can now use the filters tool on the Overview page, saving you a lot of clicks as you no longer need to go back and forth between the Overview and Site list page.

Sign up for Free
---
October 2021 Hub updates
Prioritized ticketing
A new ticketing experience lets you not only submit tickets right from The Hub, but also manage them. You can manage any GoDaddy Care tickets, including Advanced Technical Support, WordPress Premium Support, Paid Migrations, Website Design Services, and more coming soon.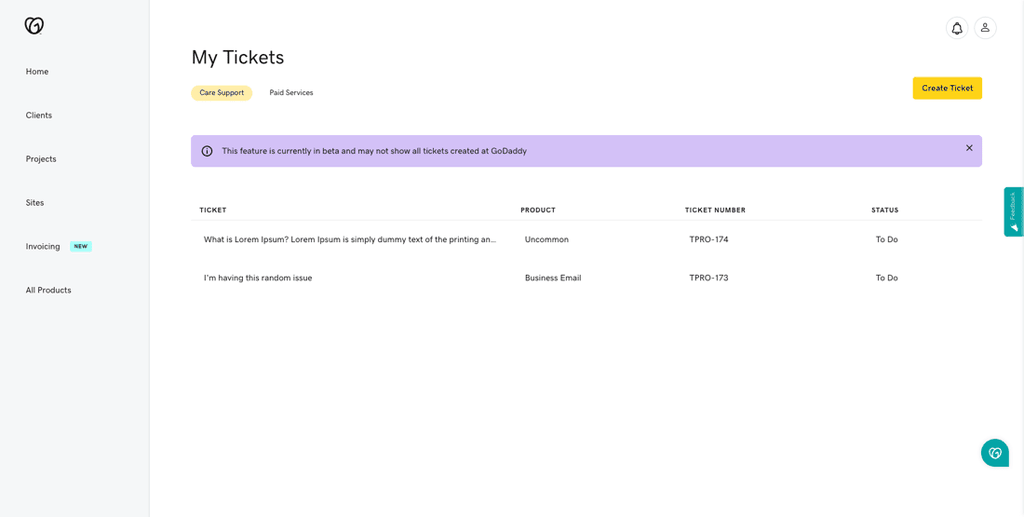 Incentive offerings
If you're based in the U.S., you can now earn money for getting clients set up with GoDaddy products, starting with $50 for any new cPanel Web Hosting plan you purchase from a client's account. These incentive payments are transferred directly to you, not just in store credit. Look for more incentives and availability in other regions to come soon.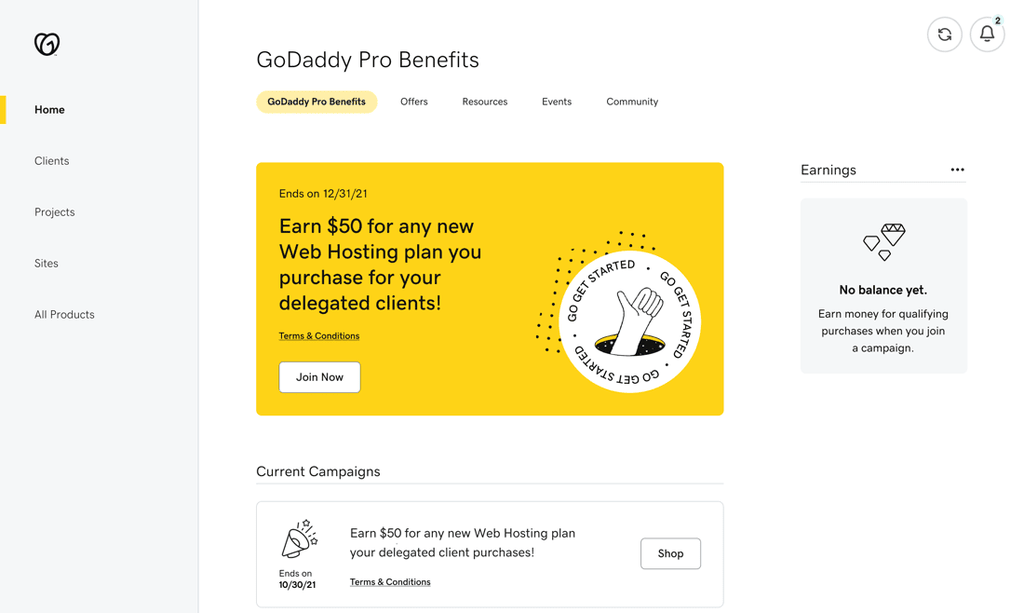 Maintenance mode
Quickly set up maintenance and coming soon pages on sites you manage, right from The Hub. No more wrangling different plugins or having to create one-off solutions. The default templates can be modified or you can create your own custom template.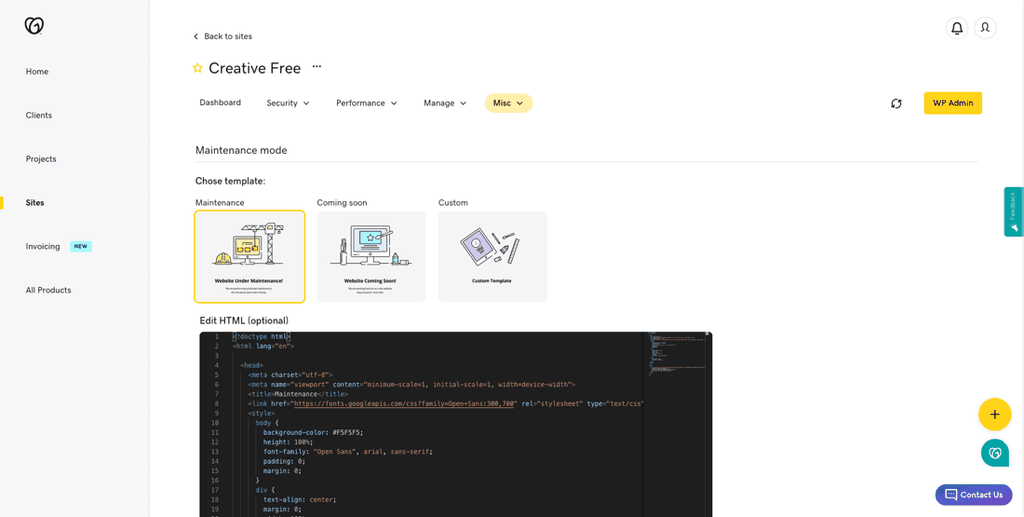 Client reports
Build and share reports that showcase all your work, project progress, and the status of clients' sites, projects, and data. If you used our legacy platform, this feature might seem familiar — but we've completely revamped it. Instead of generating a simple PDF document after clicking a few inputs, you now have full editing capabilities with the WordPress Gutenberg block editor.
User management
Manage WordPress users on every website you manage, right from The Hub. You can add, edit, or remove any WordPress users without logging in or out of clients' websites or leaving the Hub.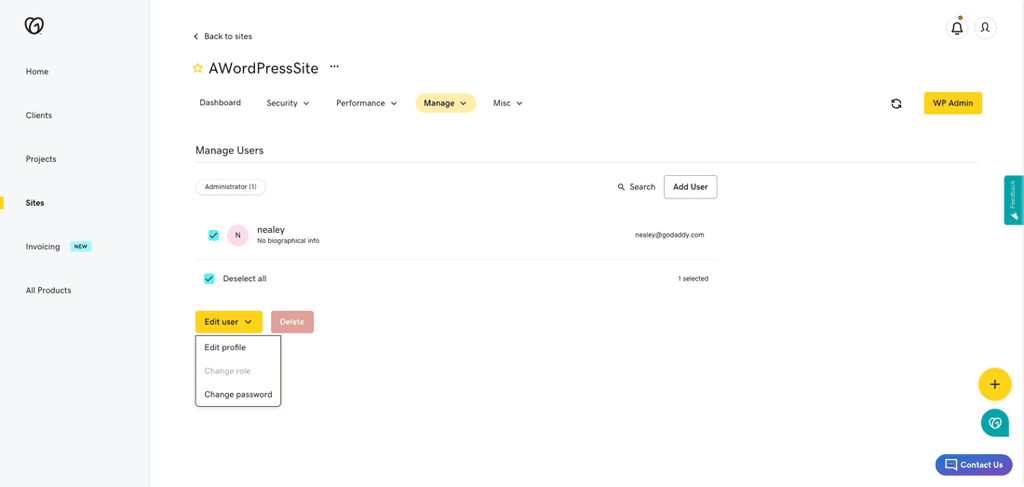 Action history tool
From the Sites list in the Hub, you can check out a site's history by going to the menu button in the upper right, and then clicking Action History. From here, you can view a report of all the actions taken in The Hub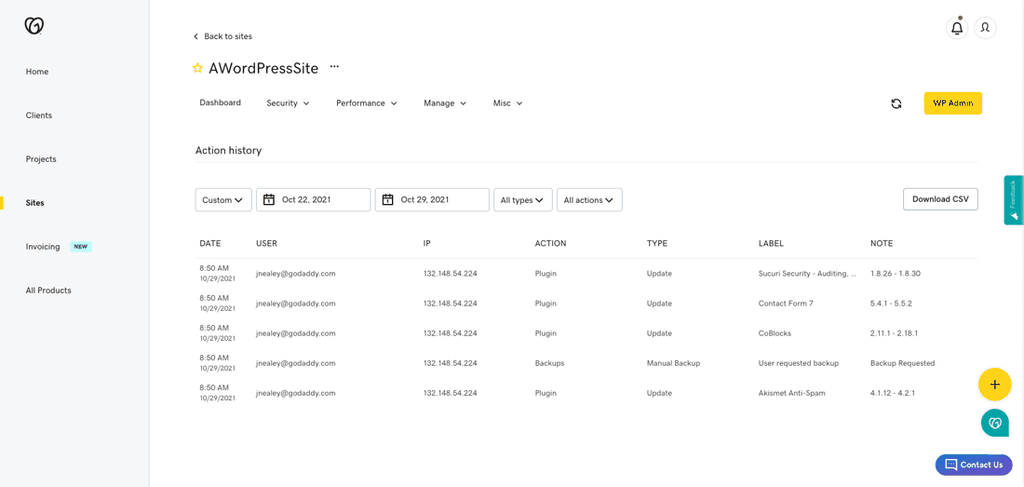 ---
August 2021 Hub updates
Invoicing & payments
The Hub's invoicing and payments feature was just launched to a limited amount of Hub users, with plans for a complete rollout soon. To access the feature (if available), go to the left-hand sidebar, and then click Invoicing.
You must sign up for GoDaddy Payments and follow a quick and easy setup process. Once complete, there are two ways to send invoices:
Create an invoice in The Hub, which automatically emails it to your client.
Use The Hub to generate a payment link, which you can send to your client.
This new feature saves you time and money. It's no longer necessary to buy multiple tools and apps, and the entire billing process takes only seconds. You get a single location in The Hub where you can view past, pending and overdue invoices and payments, as well as issue refunds and receipts.
You'll receive notifications in The Hub as payments are received, become late or get declined. The Hub will automatically email clients about any late payments.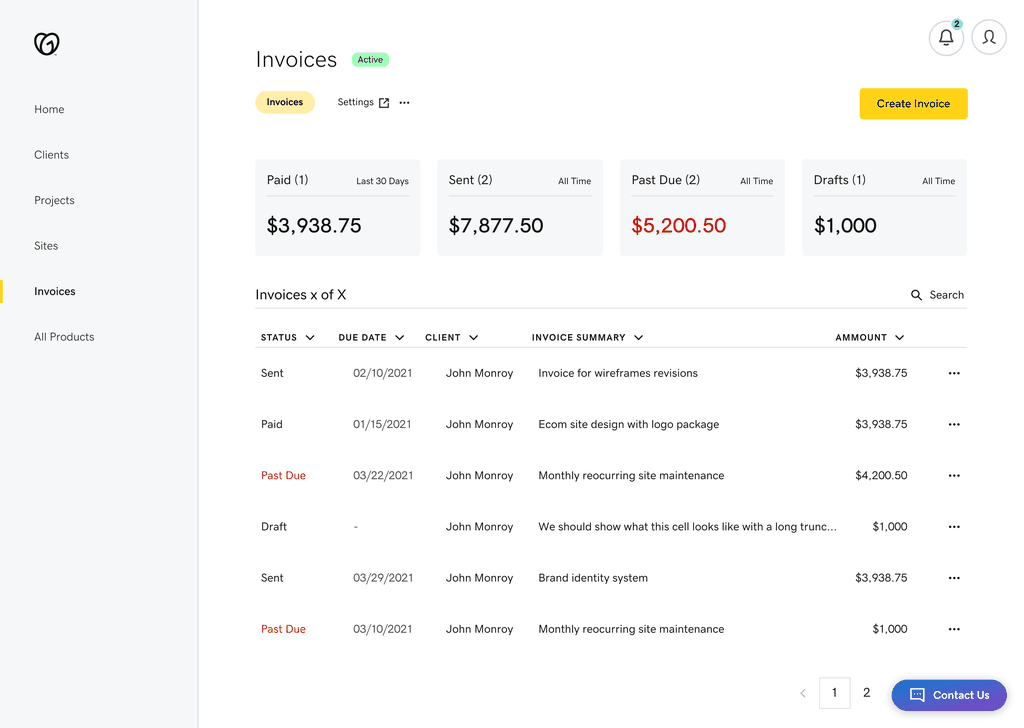 Plugin & theme management
Install, remove and update single or multiple plugins and themes directly from The Hub. You can add plugins and themes via several methods, including the WordPress repository, online storage and manually uploaded .ZIP files.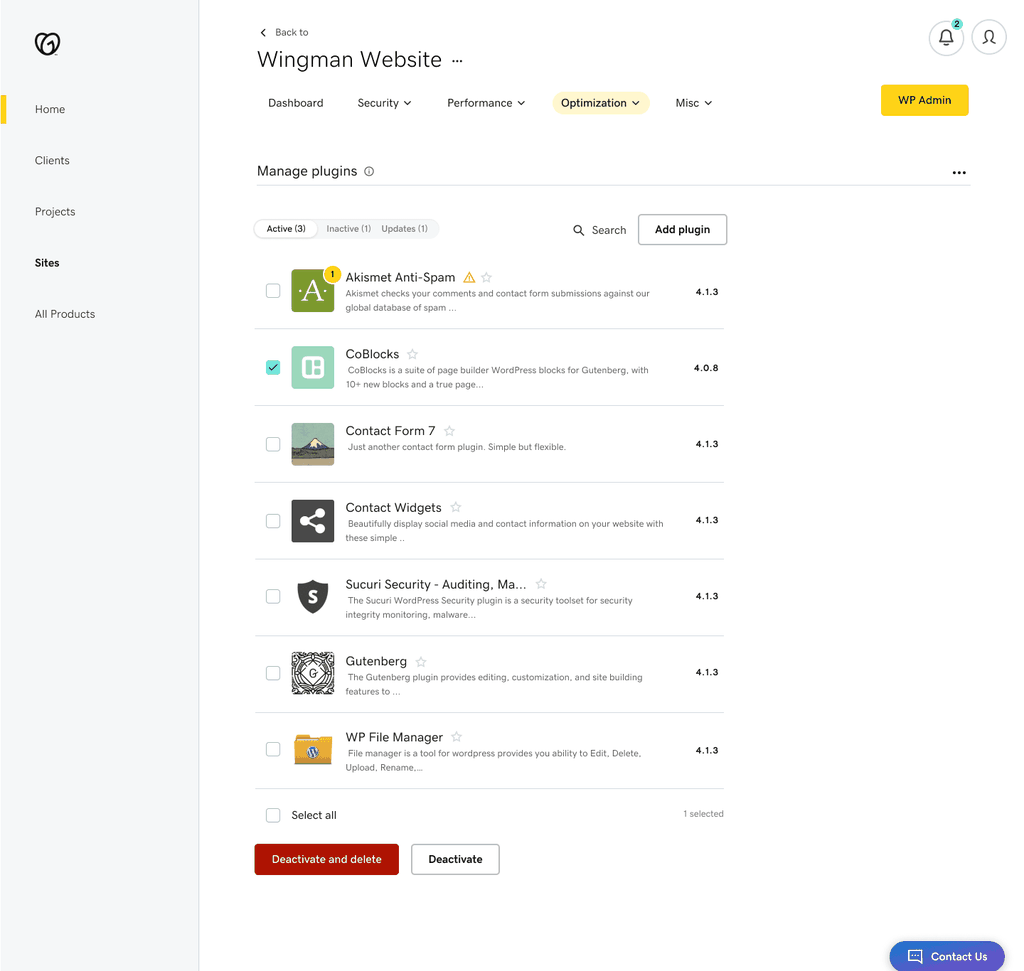 New onboarding experience
We've launched an onboarding experience for new Hub users that walks you through some of the most important areas of The Hub to get up to speed quicker and save your business more time.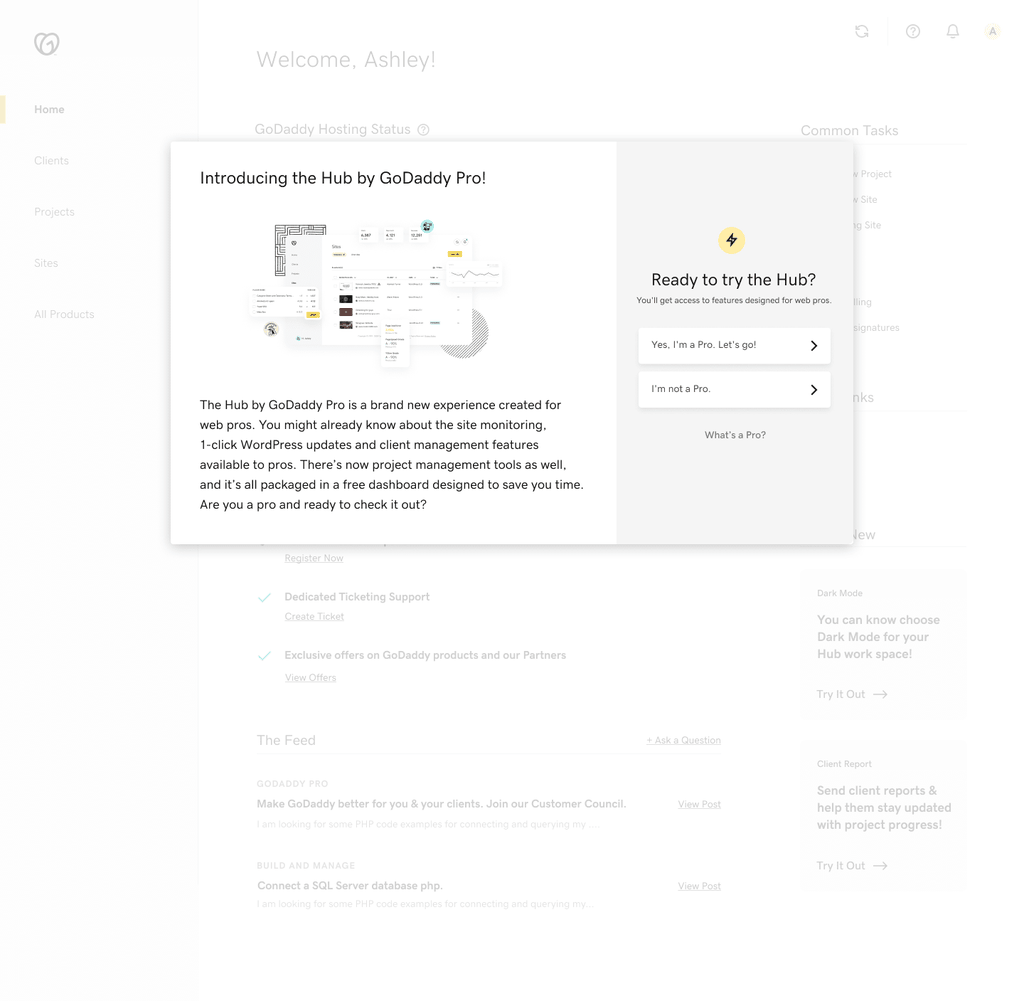 ---
July 2021 Hub updates
Manage tags
Create and name new tags, change their colors, and edit or delete existing tags. Apply tags to your websites in The Hub for easing scanning of your list of websites.
For example, tagging sites with Development would let you see what's yet to be launched. A Live tag could indicate completed websites. You might even want a Personal tag to set apart your own sites from those of clients.
To manage tags, go to Sites, and then from the top-right menu labeled with three dots, select Manage Tags. From here, you can work with your Existing tags or click Create new tag to start from scratch.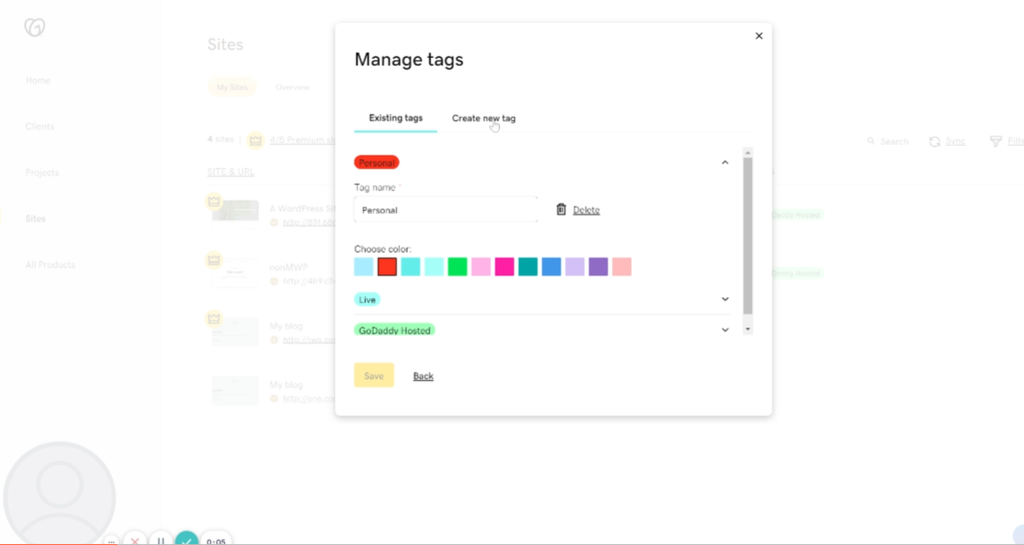 Adding your logo & business name
Now when you set up The Hub for the first time, you can enter your business name and add a logo. This branding can be added to future communication tools planned for The Hub.
Development of big features
Our engineers have been working long hours to bring you a couple of huge features, expected to be released very soon:
Payments & invoicing — Initially rolled out to U.S.-based users followed by all users, this feature will let you invoice clients and receive their payments directly from The Hub.
Plugin & theme management — Handle actions like installing, removing and updating single or multiple plugins or themes directly from The Hub. You can add plugins and themes via several methods, including the WordPress repository, online storage and manually uploaded .ZIP files.
---
June 2021 Hub updates
Hub Office Hours
To connect with users, answer questions, and get feedback, we'll regularly be hosting Hub Office Hours. Keep an eye on The Garage and the GoDaddy Pro Community to sign up for future installments.
Opt-in by Care
Our experienced experts in Care are on the lookout to save our customers more time. They now have the ability to create new Hub accounts for customers during support calls. The next time you contact Care to get that problem solved, don't be surprised if you walk away with more free time on your hands.
Final testing of advanced features
We randomly selected 50% of Hub users and made new features available to them in a final round of testing:
New site setup — When you use The Hub to add an existing site or create a new site altogether, you'll either see at the top right or a floating action button. We're serious about saving you time, right down to every click you make.
Community page — We've created a light version of the GoDaddy Pro Community so you can get a quick glance at what's going on with peers and small business customers.
RSS feeds — Once logged in to The Hub, half of users will see posts from the GoDaddy Pro Community and half will see posts from the GoDaddy Pro section of the GoDaddy Garage.
---
May 2021 Hub updates
Electronic signatures
Electronically sign, notarize and store documents with this new feature powered by Acronis Notary Cloud. It's another big step toward the Hub becoming an all-in-one solution for your business. You'll have convenient access to key documents like contracts and proposals, as well as the ability to send them to clients. To get started, go to the right-hand Common Tasks sidebar, click Electronic signatures, select your region, and then click Get Started.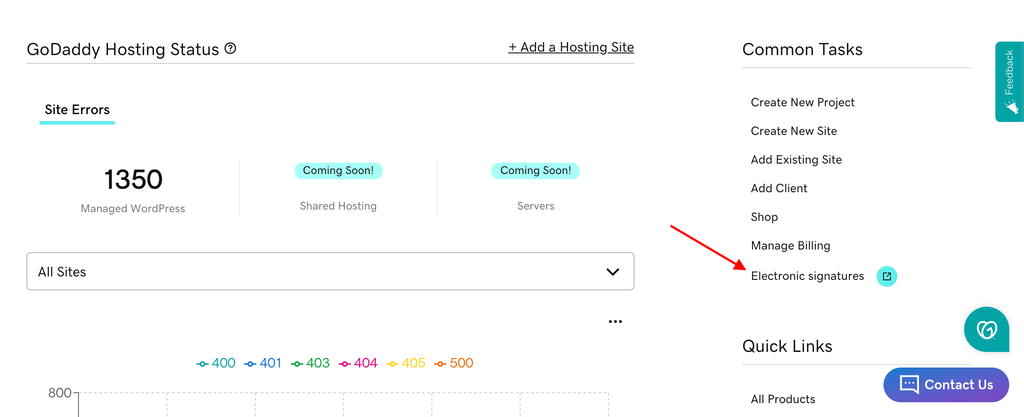 Hub vs. ProSites comparison page
Compare development of the Hub to its legacy counterpart on this page. Longtime users of GoDaddy Pro will appreciate the information as they determine the right time to begin using our new and improved platform.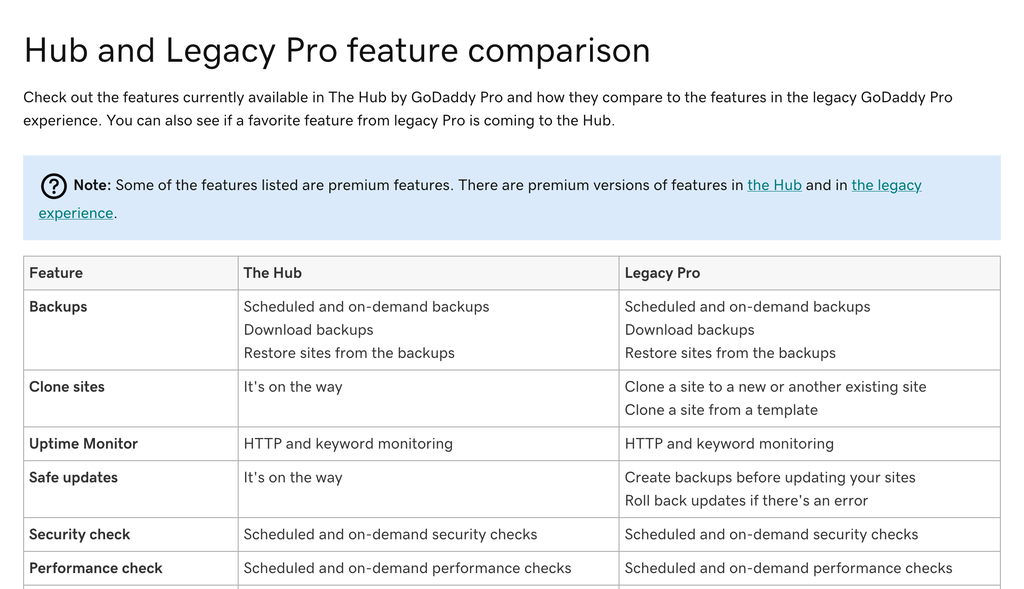 Bashed 431 bug
If you used the Hub to work on hosting-related tasks, there's a chance you might've seen a 431 error — hopefully, it was the last one. We've implemented a fix and created a record to more quickly bash any future 431 bugs.
---
April 2021 Hub updates
Site maintenance packs
You can now upgrade sites individually to get site maintenance packs, which include an array of automated tools to keep that site healthy:
Backups: Schedule backups weekly, daily, every 12 hours or every six hours. You can then select and download any backup you need to restore.
Performance checks: Schedule and view automated performance checks on a weekly or daily basis.
Security checks: Schedule automated checks on a weekly or daily basis and receive alerts if an indicator of compromise is detected.
Uptime monitoring: Automated, continuous monitoring sends you an alert if your site goes down.
Add site maintenance packs from the Sites section of the Hub. Go to the domain of the site you want, open its menu on the right-hand side, and then select Upgrade to premium.
Click Purchase plan, and then complete the checkout process. The site maintenance pack will be available the next time you click into the website.
Bulk comment management
View all comments for all your WordPress sites or review them one website at a time. This bulk tool lets you approve or disapprove, mark as spam, trash, and delete comments more quickly and efficiently.
Add comments on projects
You can now leave comments on projects, a handy tool for keeping track of updates or reminders. In the future, we expect this functionality to expand so your clients can also view, add and update their comments on your projects.
Delete projects
You can now delete projects entirely, rather than archiving them, so these projects no longer display anywhere in the Hub.
Final testing of advanced features — We randomly selected 50% of Hub users and made new features available to them in a final round of testing:
GoDaddy hosting status: When you add a site to the Hub that uses Managed WordPress Hosting from GoDaddy, you can now view any hosting errors (e.g. 401, 403). From the Sites section of the Hub, go to Site Errors, and then from the dropdown menu select the site you want to check. Click View Details for more granular information on any errors the site experienced.
What's new widget: The home page of the Hub now displays a list of the latest Hub updates, including new features and offers.
Pro benefits widget: The home page of the Hub now displays links to benefits available only to Hub users. Just click the link next to the benefit for more details and next steps.
GoDaddy Pro Community widget: The home page of the Hub now displays a feed of the latest posts in the GoDaddy Pro and Website Designer and Developer categories of the GoDaddy Community. It also lets you post your own questions and comments.
If you don't see these advanced features the next time you log in to the Hub, don't stress. We're running the last round of tests right now, so you should get them soon (look for the Hub update).
---
March 2021 Hub updates
Code snippet tool
You can execute custom code right from the Hub, without signing in to a website. This time-saving feature eliminates the need for plugins to run commands like list files, check file readability, remove default widgets and more. It's easy to save, edit and delete snippets to reuse them without re-entering code. To find the code snippet tool, go to the Sites section of the Hub, click into a single website, and then from the Misc menu, select Code Snippets.
Adding sites to projects
When you're running a project, you can now assign it to one of the sites in your dashboard. This action opens several shortcuts: logging in to the site admin, jumping to the site's page in the Hub, or visiting its home page. See it in action.
GoDaddy Pro benefits pages
The GoDaddy website now features two new pages that highlight the benefits of GoDaddy Pro membership and the discounts it includes.
Opt-out for non-pros
It's easier to opt out of GoDaddy Pro (in case you signed up by accident).
More visible privacy policy
The Hub's privacy policy is very easy to find. Just click the link in the account sidebar that slides out from the right-hand side.
---
February 2021 Hub updates
New accessibility features
All forms now have auto-focus capability to allow typing as soon as the form opens. Browser tabs now display the section in the Hub that is open.
Searchable projects
A search field now displays on the Projects page for quicker access.
Searchable clients
A search field now displays on the Clients page for quicker access.
Speed boost
The overall speed of the Sites dashboard has been improved for users who add more than 100 websites.
---
January 2021 Hub updates
More granular projects
Projects can be broken into phases, which can then be broken into tasks. Users can click into and update phases and tasks within a project.
Project templates
Users can create templates of existing projects, and then choose a template for a new project.
Shared shopping carts
Users can shop for clients using that client's GoDaddy account or by sharing a shopping cart filled with the desired products.
Greater hosting compatibility
Sites on any host can be added to the Sites section of the Hub.
Pro Sites opt-out
Users of GoDaddy Pro Sites who were automatically upgraded to the Hub can return to the old experience by selecting the opt-out option from the account menu.