5 ways leaders can inspire newly remote teams during the coronavirus
All across the United States and many parts of the rest of the world, employees are transitioning into remote work. Not by choice, but out of necessity. As the COVID-19 pandemic sweeps America, states are taking protective measures necessary to guard the population from spreading the coronavirus. An increasing number of residents are encouraged to stay home, practice social distancing, and only go into work if their job is essential, such as working at grocery stores and pharmacies.
Small businesses remain the band that plays on.
Many startups and small companies have established remote work policies for their employees, thanks to technology resources that make it possible.
If you have remote work experience, you're likely accustomed to taking video meetings via Zoom, chatting with coworkers on messaging apps like Slack, and reviewing documents through G Suite.
If you're new to remote work, you may struggle initially to integrate into the fold after your workstation has been set up. Add in the fact that we're living in an uncertain time, and thinking about the day-to-day becomes incredibly difficult.
Related: 10 ways for small businesses to weather the COVID-19 pandemic
5 strategies for inspiring your remote team
Let's review a few proven strategies that leaders can use to help remote employees stay on task and create a work-life balance that works for them and their business.
Let's get started learning these important ways to keep your remote team motivated and aligned.
1. Use clear communication
Ben Larson is the CEO of Vertosa, a Bay Area-based cannabis infusion technology company. Larson says that Vertosa transitioned to remote work shortly after San Francisco implemented the Shelter in Place rule.
Part of making that transition successful meant clearly communicating needs with the team. Larson emphasizes the importance of leaders using this time to be direct, not vague or distant, with their teams.
By communicating as clearly as possible, Larson says leaders enable everyone to understand what they can expect of your business in this time of uncertainty.
This is also true of major changes. "If anything changes, address it immediately with all those impacted," Larson says.
What's the best way to stay connected with your team? Carve out several avenues of communication. These may include, but are not limited to, the following:
Chat programs through Google Hangouts, Microsoft Teams or Slack.
Task management programs like Asana, which allows for simple team communication and collaboration.
Videoconferencing websites like Zoom, for a daily call-in meeting with your team.
Phone calls. If one can't be reached through email, chat or text, pick up the phone and make the call. Leaders should provide employees with the best contact number to reach them in case of an emergency.
Related: 5 effective communication tips for leaders
2. Schedule regular team meetings
Five years ago, Laurie Battaglia left her corporate job to start her own company. Battaglia is the CEO of Aligned at Work, which provides leadership training and executive coaching services to leaders transitioning to virtual teams.
Battaglia has discovered that making the transition to virtual teams requires leaders to lead differently. "These leaders need to become intentional with communication and understanding about interruptions during the day, both for themselves and their team members," Battaglia says. "The days of 'if I can't see them, they must not be working' are past."
In order to make the jarring transition smoother, Battaglia advises scheduling regular meetings each morning at an agreed-upon time.
This allows leadership to see how people are doing and if they are facing any obstacles. Leaders can use this time to discuss what the focus is that day, whom/where they need information from, and even how the individual prefers being communicated with while they are home. These meetings can also be held over the phone or through video or FaceTime.
At the beginning of remote work, Battaglia says meetings may be initially long. Over time, as employees become more comfortable with remote work and better understand their specific focus and duties, the meeting length may shorten. And yes, the same rules still apply for taking these meetings as leaders and employees as they would in the office.
Pay attention, don't multitask, don't snack, and mute yourself when you're not speaking.
"People need to feel heard in order to be inspired," Battaglia says. "Start with making them feel heard."
3. Emphasize accountability with team members
Holding your team accountable is not the same thing as micromanaging, which was unanimously agreed upon by all I spoke to as the last thing leadership should enforce on remote workers. Yes, there is more flexibility in working remotely. However, that does not mean any employee should take advantage of this situation.
If leaders have employees who struggle to self-motivate, it may help to use apps that monitor their workloads.
Sean Pour, co-founder or SellMax, recommends using the to-do list system Trello.
"Trello allows us to provide individuals with the tasks they need to accomplish for the week," Pour explains. "We can then watch in real time as they slide tasks that they've accomplished into the completed tab. Then, we can use messaging apps like Slack to ask questions and work in groups on tasks."
Pour also recommends easily distracted team members try working using the Pomodoro Technique. This method better helps with time management skills.
"In this technique, you set up time intervals," Pour says. "Let's say you start with 20-minute intervals. During these 20 minutes, you work your hardest on an assignment. Then, you take a short break around five minutes long in between each pomodoro. This allows you to track your productivity and be at your most effective."
4. Practice self-care
Before Stefan Weitz was the CEO and co-founder of Jetson, he was running a large team at Microsoft on Sept. 11, 2001.
"The world was just confused and numb," recalls Weitz, who is a survivor of multiple sclerosis (MS). "I was a very young manager back then who managed people that were all older than me. I had to decide every day how to leverage their skills and wisdom while maintaining a 'leadership' role."
Weitz was able to do this by listening to people one on one. Then, he took those ideas and fears to the larger group. This helped others feel heard and form thoughts and opinions when they didn't know how to process.
When Weitz and his partner made the decision to close their Chicago office last week, their motivation was not about productivity per se. It was a move to help flatten the curve in COVID-19.
"What we did worry about was the social and emotional safety of our team, especially the younger workers who were barely alive for 9/11 and have never really been through a national emergency," Weitz says.
Now that his team is relatively safe in their homes, Weitz simply wants them to retain their mental and physical well-being. This can be done with a few simple steps.
Move. Get up, stretch, go for a walk outside if you can and use free workout videos on YouTube.
Make a delicious lunch.
Get offline. Decompress by reading a book.
Call a friend or family member and spend 20 minutes catching up and laughing (yes, laughing!) about life.
End the day with a bit of gratitude. Know that we can power through this and send good energy toward those who are scared and suffering.
"I stay calm by focusing on the variables I can control," Weitz says. "When the world is seemingly bigger than you, how can you clamp down and get those little wins throughout the day?"
5. Innovate
Further, leaders and business owners may view this time as one meant to adapt.
"What new opportunities does this situation expose to businesses like ours?" Weitz asks. "How can we leverage the isolation and quiet to do deeper thinking and focused work? As a company grounded in science, I focused the team, and our customers, early on the facts and not the hysteria. We had an entire in-person session before everyone started working from home where I went through the science: what we know, what we still don't know and why you shouldn't be losing your mind."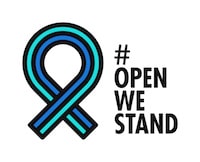 Continue the conversation in GoDaddy's #OpenWeStand community forum.
Connect with other small business entrepreneurs to share creative solutions, exchange ideas, gather feedback, build relationships and troubleshoot technical issues.