Audience, language and other things that make us go woot!
When I first visited Woot to check out their screaming deals, I didn't expect I'd find myself reading their FAQ section so quickly. I certainly didn't have a problem with their products or website, but when I navigated to their "What is Woot?" page, I couldn't help myself. Whoever's in charge of writing Woot's content reeled me in fast — hook, line and sinker. Check out this primo prose:
"Woot is a lifestyle. Woot is a vision. Woot is a pungent aroma that never apologizes for what it is. Woot is the hope in the eyes of a child when that child realizes you don't have to pay List Price for cool stuff. Woot is an ever-evolving deal maelstrom churning around a tornado circling a mystery. If you haven't seen Woot since yesterday, you haven't seen Woot."
And so, Woot's small, introductory paragraph led me to their FAQ section — and more of that wonderfully unique voice that prompted me to read the entire page. I didn't have any damaged or defected items, no problems creating an account, but I sure as heck wanted to find out if their tone stayed consistent (spoiler alert: it did).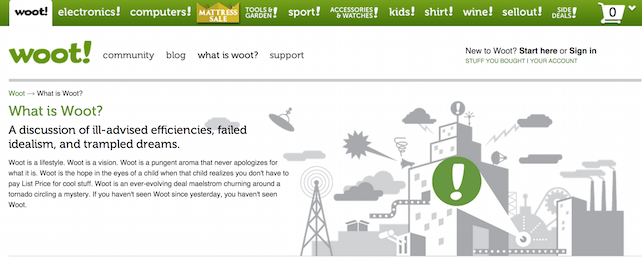 Why am I jumping on the Woot bandwagon? It might be for their joke involving the Russian mafia, or perhaps their reference to blood-driven vampires, but in all reality, it's both. Woot's writers captured my attention and made me want to know more about their business. It's clear they've got the pulse of their target audience and are unabashed when it comes to the type of language they need to use to grab our attention.
When it comes to writing content for your own website, take a page out of Woot's book — don't be afraid to use unique, colorful language that speaks to your audience.
Find your audience
It seems straightforward, but sometimes determining your audience can be a tad difficult. We often find ourselves writing content that sounds good to us but falls flat for our customers. Before you start writing your personal memoirs on your "About Us" page, think twice about who you're writing for. Whether you're a big name like Woot, offering sales to every customer who browses your site, or a small business owner with a specific clientele, take your visitors into consideration.
Are you writing an instruction manual for assembling a dresser? Nine times out of 10 the answer is probably "no." Which means, stay far, far away from lists that offer no insight into your dream, your goals, and most of all, your audience. If you're that small mom-and-pop business right up the street, tell us why you do what you do. Nobody understands your local clientele better than you, so speak to what drives them. Then, sit back and relax as your content starts to work for you.
Read this post to learn more about identifying your core audience.
Language is everything
Now that you've determined your audience, it's time to find your voice. More often than not, customers visiting your website aren't going to jump to your FAQ section just to get a kick out of your language. But if they do, it's likely because you have captivating copy that compels us to find out more about your business.
Again, unless you're writing an instruction manual, we have no desire to sift through endless paragraphs of uninteresting jargon. Don't be afraid to test out fun, playful language.
Instead of this: "Our blenders are better than our competitors' because they have five-speed metal blades."
Try this: "Our blenders create vortexes so powerful that your home garden will purify in a matter of minutes."
Not sure if your text fits the bill? Run it by some friends and family. Nothing is more important than capturing the attention of your site visitors; couple your great content with some awesome photos and you've got it.
Give it room to breathe
Once you've written your website content, sit on it. Let it breath. Walk away and come back to it tomorrow. You never want to rush your content, otherwise your readers will be able to tell it's forced. If you didn't do so earlier, run it by a test audience (and maybe do it again). After a few days off, you'll find some tweaks. That's the joy of writing.
Another surefire way to test out your word choice is to read your text out loud. Trust me, this helps. If your context is conversational and easy to understand, then it's ready for your website. If you find yourself catching on any quirky phrasing, take a moment to see if it needs a quick do-over.
That's it, now you're a pro. Once you've got your audience down, don't forget to check in on other important factors that come into play when writing your content. And, as a rule of thumb, always spellcheck!