Email is still one of the most cost-efficient ways to market and advertise your business since it doesn't cost much to manage, yet can still yield a powerful return. However, its strength is limited by your ability to use an email opt-in to attract more email sign ups.
In other words, the size and quality of your email subscriber list will determine your success.
In this article, we'll explore the following topics to help you to maximize the value of your email marketing campaign.
Let's examine each topic below.
Related: Beginner's guide to starting an email list
Anatomy of an email opt-in form
An email sign-up form is the most powerful tool for collecting email addresses. It's accurate, meets permission-based standards, and is mostly hands-free for you.
You can literally grow your email list while you sleep.
Email sign-up forms are also called email opt-in forms, web forms, webforms and sign-up forms.
You can embed or link to an email sign-up form almost anywhere you have an internet presence. Here are the most effective options:
A prominent place on your website or blog — Embed a web form on your home page, in your sidebar and on your contact page. Add one wherever you think the most visitors to your site will see it, with a winsome note to join your email list.
Facebook — They provide a specific place for a sign-up form. You can also share the link to a form on your timeline.
Share on social media — It's a great idea to share the link to your email sign-up form on your social media channels regularly. Tweet it, too! You'll catch new visitors.
In emails — Make the link to your webform part of your email signature, or include it inline in personal emails.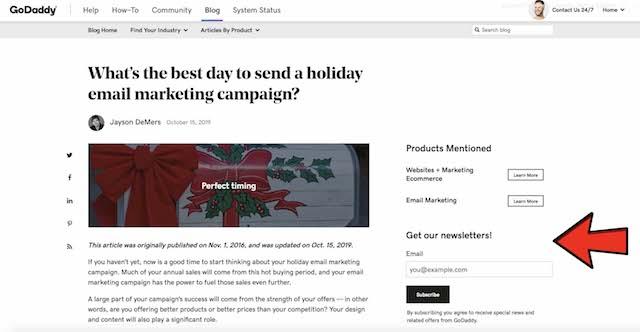 Email sign-up offers and incentives
Even if it's adequately placed, most people won't sign up for your email list without a good reason. If they love your content and your brand, they might be willing to sign up just to hear your latest news and offers — but unfortunately, most businesses don't fall into this category.
Instead, it's typically more valuable to use an offer or special incentive to attract new email subscribers.
It's a way to encourage and offer reciprocity and can help you maximize your audience.
The question is, what kind of offer or incentive do you provide? A good email opt-in offer has three elements:
1. Customer relevance
Do you know who your ideal customer is? I'm not talking about some vague description of someone who maybe could want what you've got. I want you to think of an actual living human being who would benefit from buying your product, and come up with an offer just for them.
Go through the process of creating a persona and you'll quickly discover how much easier crafting that opt-in offer is.
Related: Why a target audience matters (and how to find yours)
2. Problem-solving ability
A good email opt-in also solves some kind of problem. Does it give your subscribers new information they can use to improve their business? Or does it save them a bit of time every day?
Again, think about what's important for your target demographics, specifically.
3. Brevity
When describing your offer, don't bombard your newest fan with too much information, or they'll get distracted from solving their problem. There's a big difference between being helpful and causing decision fatigue (which is something you should never do).
As for the type of offer you provide, there are dozens of potential options, including:
eBooks
Tip sheets
Templates
White papers
Webinars
Video series
Tutorials
Videos
Livestreams
Deals
Free trials
Music
Photos
Apps
After you decide what kind of offer to provide, you'll just have to go through the steps of creating it. Depending on what you choose, this could be both time-intensive and expensive, so manage your resources carefully.
Email opt-in forms on social media platforms
If you're not getting much traffic on your site, or if you're just looking for another way to help your list grow, turn to social media.
Platforms like Facebook, Twitter and even Snapchat make it possible to use ads or organic content marketing to build awareness of your email list.
Because there are so many different social media platforms and so many potential strategies you could apply to them, it's hard to come up with a concise description of the possibilities here. However, these are some of the most important angles you could take:
Post content, and link back to your site
In this approach, you'll capitalize on your onsite email opt-in forms by directing more traffic to your site.
The idea is to post high-quality, audience-focused content on a regular basis, gradually building an audience, then occasionally include links pointing to your home page, blog pages or other strong onsite pages.
Embed an email sign-up form
Some social platforms allow you to create an email sign-up form directly within your profile or company page. If this is the case, you can model an email sign-up form here, the same way you did on your main site.
Use targeted, direct advertising
Most social platforms also have an advertising option. Take advantage of these, especially if you have strong audience filtering capabilities. Appeal directly to your most important demographics, and hit them with a compelling offer.
Run a contest or host a giveaway
There are few better ways to attract attention on social media than through a contest or giveaway. Provided you have an interesting and valuable offer, news of your event will likely be shared quickly, and if you require an email address for participation, you'll get lots of new sign-ups from the opportunity.
In addition, you'll want to choose the social media platform or platforms that best resonate with your target audience. It may not be necessary to involve yourself in every platform available.
Related: Get your business started on social media
Setting up distribution lists and managing email opt-in lists
Distribution lists allow you to group your email subscribers into one or more different lists, for different purposes.
For example, if you attract a subscriber on your blog, you might enroll them exclusively in your "content newsletter" list, but if you attract a subscriber with a social media opt-in form, you might enroll them in both a "content newsletter" and "weekly deals" list.
With the right email marketing software, you can quickly and easily set up multiple lists, and manage them independently.
No matter how many or how few lists you have, there are some best practices you'll want to follow:
Get consent
You should be transparent about what you're sending, and get consent from recipients. Display a clearly worded notification to advise recipients what they're consenting to. Keep this notification available when people opt-in and for future reference. Follow-up confirmation messages to recipients are a good idea as well.
Make it easy to unsubscribe
Keep the process for unsubscribing from your emails simple, and quickly follow up on unsubscribe requests. It's also a good practice to display which distro lists are included in the opt-out. One-click unsubscribe links are great.
Develop a good reputation
Establishing a good reputation means researching and adhering to all the rules and regulations involved with using email (which we'll get into in later sections). You should check with any internet providers and domain registrars, who usually define ways to identify and authenticate types of email communications.
Perform maintenance
Because spammers rarely invest many resources in their schemes, repetitive delivery errors can raise red flags. You should quickly address errors (such as timeouts or too many connections) to avoid looking like a bot pumping out spam.
For example, a real person wouldn't continue emailing an address that throws back a permanent delivery error. But a bot would.
Seek resolution
When errors come up, you should go the extra mile to figure out what happened and how to keep it from coming up again.
Related: Beginner's email marketing guide for small businesses
Managing and growing conversion rates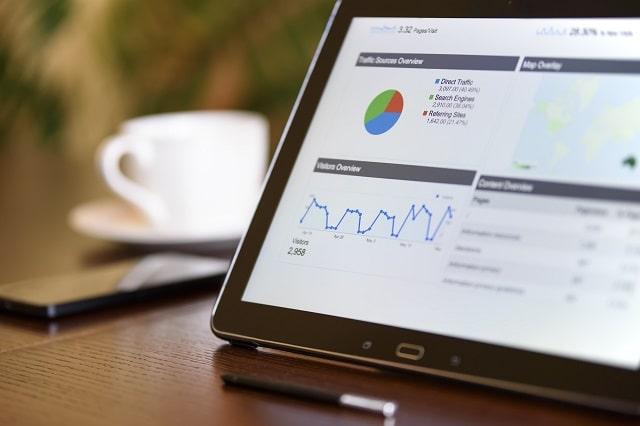 If you want your email sign-up conversion rate to grow, there are a few basic tenets to which you'll have to adhere:
Make the value obvious
People aren't going to hand over their email address without a reason.
Your motivating reason needs to be strong if you want people to convert.
For some businesses, that means offering a free gift, like a downloadable whitepaper or even a gift card. For others, it's the promise of ongoing content and special offers. Either way, you'll need to make the value clear to your potential subscribers.
Use a clear call-to-action (CTA)
When it comes to your email sign up, the opt-in CTA is important. Most people understand the concept of joining an email list or receiving email updates, but they don't always know where to click or what will happen after they join your email list.
Be clear up front about what they can expect.
That might be how many emails they'll get and how quickly they'll have access to your free gift.
In addition, make it really easy for people to understand what they need to do next, by using a CTA. Use words like "click here" and "get free instant access" to give people something concrete to do. It also helps to have a strong headline or title for your opt-in offer.
Blend your CTA with the rest of your content
One common mistake that I see newer business owners make is that they have their call-to-action stand out like an ad. Lots of people do it, and if you're just looking at what your competitors are doing, you might fall into this trap, too. Blend them into your content and into your site design so they look organic.
If it feels like it's meant to be there and it flows with your site's layout, then people are a lot less likely to ignore your email sign-up opt-in box.
Similarly, think about how someone uses your website. They likely read from left to right and top to bottom, so have your opt-in box appear where their eyes "land" after they've read some of your content. That usually means your right-hand sidebar or at the bottom of your blog posts.
Related: 8 costly call-to-action mistakes you're making on your website
Use email sign-up popups (sparingly)
Even though you have a strong call-to-action and you're blending your opt-in offers with your site's design, people are still very ad-blind and might not see your offer in your sidebar or at the bottom of your blog posts.
So what's the solution?
It comes in the form of a tactful lightbox popup. You can get started with this free WordPress popup plugin, PopupAlly, or something similar. The main thing that you'll want to look for is "exit intent tracking." This basically means that you'll display the popup only when it looks like someone is about to click away from your website by using the back button or closing the browser.
Track your results
No matter which combination of tactics you use to improve your email conversion rate, make sure you experiment and track your results.
The only way to improve is to collect objective data, analyze it, and use it to get better over time.
You can also tweak elements like the following:
Positioning — Try placing your email sign-up form in different areas of your site, and see if they make a difference.
Copy — Your headline and CTA are vitally important, so experiment with how you word them.
Design elements — Different colors, fonts, and other design elements can also play a role in your sign-up form's success.
Don't be afraid to be creative, just be sure that you're keeping track of what is working and what isn't.
Adhering to GDPR (General Data Protection Regulation) rules
The General Data Protection Regulation (GDPR) is a privacy law in the European Union, active as of May 25, 2018. It's a good idea to read the entire guide on how to comply with GDPR, but here are a few important bullet points to keep in mind for your campaign:
Consent — Positive opt-ins are required to establish consent. Your email sign-up forms can't have a pre-ticked box; your subscribers must positively opt-in.
Prominence — Email consent must be separate from other terms and conditions. Don't try to lump consent to sign up for an email list into other privacy notices, terms, or conditions.
Convenience — Unsubscribing (withdrawing consent) must be easy. Hopefully, you're already doing this, but make sure your subscribers can opt-out with a single click, with no hoops to jump through and no repercussions.
Evidence — Maintain evidence of consent. Can you prove this person signed up to your email list? You'll need to. Fortunately, most email software programs do this on your behalf.
Related: Quick GDPR checklist — A latecomer's guide to complying with the General Data Protection Regulation
Keeping in compliance with CAN-SPAM
You'll also want to review the CAN-SPAM Act, an American piece of legislation from 2003 that regulates email marketing. Here are some of the highlights:
Don't falsify header information or subject lines — Deceptive "from" or "reply-to" addresses are non-compliant, and you're required to include a subject line that actually reflects the content of the email message.
Disclose ads as ads — There's a lot of flexibility here, but in some way, if your email is an ad, you must describe it as an ad.
Provide an address — In your email message, you must provide recipients with your physical location. PO boxes count.
Make opt-outs easy and straightforward — Overlapping with GDPR, you must make it easy for email subscribers to unsubscribe. You must also comply with opt-out requests in a timely and respectful manner. Requests must be honored within 10 business days, and you can't sell or transfer their email address, even to another mailing list.
Stay aware of what others are doing on your behalf — If you hire someone else to take care of your email marketing, you can still be held liable for what they do (or don't do).
Related: How to avoid sending spammy emails
Conclusion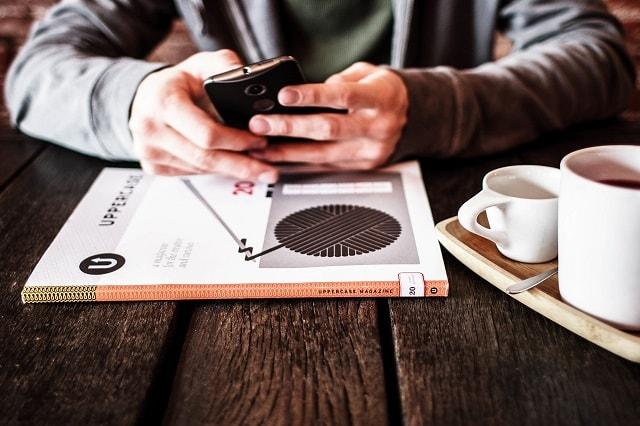 Email opt-in forms are the best way to grow an email list, and email lists are one of the best opportunities to market your business. However, there are many variables you'll need to consider before you can make your strategy a success.
Make a compelling offer for your target audience, experiment with different approaches, and make sure you're measuring and analyzing your outcomes so you can reliably improve.
Ready to create your first email opt-in list? Try using GoDaddy Email Marketing. In a matter of minutes, you can create your first email campaign, and track results so you can measure your success.
This article includes content originally published on the GoDaddy blog by the following authors: Andrea Rowland, Andy McIlwain, Dusti Arab, Jennifer Bourn, Kate Chittenden, Nathalie Lussier and Sally McGraw.