Social media is now more than ever a means of connecting businesses with their customers. Right now, your current and potential customers are online looking to connect with businesses and brands just like yours. They're visiting Facebook, Instagram and Twitter to find great content and decide where they will spend their money next. Get your business started on social media, to connect with those customers, today!
Get your business started on social media
When consumers are doing their research online, they're looking for businesses with an authentic, engaging online presence. They want to see social media content on key platforms that's interesting, varied and showcases what makes one business different from another.
The more genuine and compelling a business's content is on social media, the more likely consumers are to engage with that business, pay them a visit and spread word-of-mouth to their friends.
We have the tips you need to get your business started on social media and see success. Think of this a beginner's guide for using Facebook, Instagram and Twitter.
We'll show you how to get set up on social media, post content that will attract new customers and use these key channels to strengthen relationships with your loyal fans.
Create content that connects with consumers
Let's break down how to use Facebook, Instagram and Twitter effectively, strategically and simultaneously. Scroll to see how you can get your business started on social media to start conversations with consumers, increase engagement and spread word-of-mouth.
Facebook
67% of marketers prefer Facebook as a marketing channel over other social media channels.
Why should you post on Facebook?
Get your business started on social media with Facebook. That's because "Facebook has a large user-base that is diverse in terms of a number of different demographics, including age, gender, and race. Facebook allows marketers to reach a wide group of consumers that may be interested in their product or service offering," according to Lyfe Marketing.
Set up your Page
Get started on Facebook by setting up a Business Page, rather than a Personal Profile. This will help you run ads and track analytics.
Upload a profile photo (this should typically be your logo) and cover photo that truly represent your business.
Add your phone number, email address, street address, website and operating hours so customers know when, how and where to find you.
Add your story. Tell your fans and potential customers how you got started and why you're so proud to be a part of your community.
Invite friends, family and customers to find you on Facebook. Your circle of friends and connections can be your first Facebook fans. It give the page some momentum and get new eyes on your brand.
Post frequently (about 2-3 times per week) to keep your followers engaged.
What should you post on Facebook?
Posting relevant and interesting content consistently on Facebook pulls potential customers in and will make them want to come by for a visit. Here's a rundown of the content your Facebook page should include.
Post photos of your team, products and services. Show off all the elements that your customers love about you!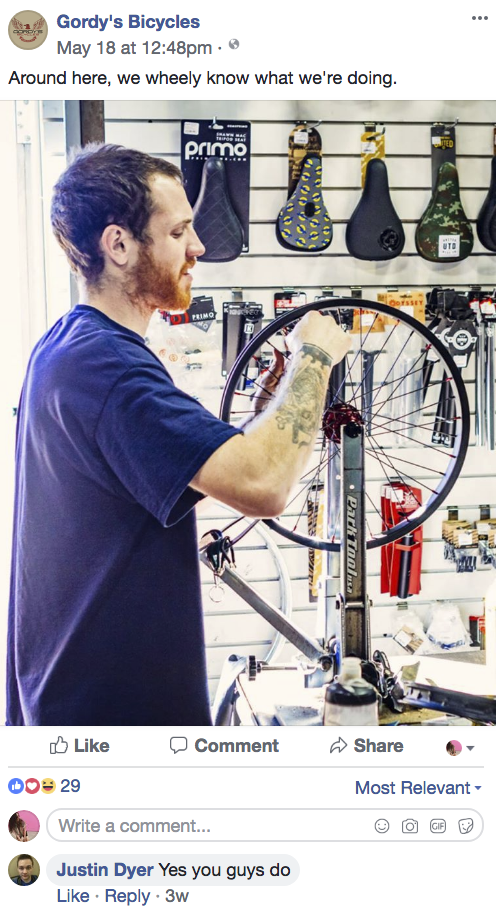 Pose questions to your followers about your business or industry. Engage your audience with polls and trivia. And, start conversations by asking them what their favorite thing is about your business or your community.
Find articles about your business, industry and community and share that with your fans! Any article about your business in particular serves as a testimonial. If local or national publications are putting you "best of" lists, interviewing you or your team or putting you in the spotlight, share it. This coverage only serves to build trust with your audience and build brand loyalty.
Cross-promote customer testimonials. Share great feedback from review sites to show off how much your customers love you. Consumers trust reviews more than recommendations from friends and family. So, share those positive testimonials on Facebook to spread the word about why your customers love you.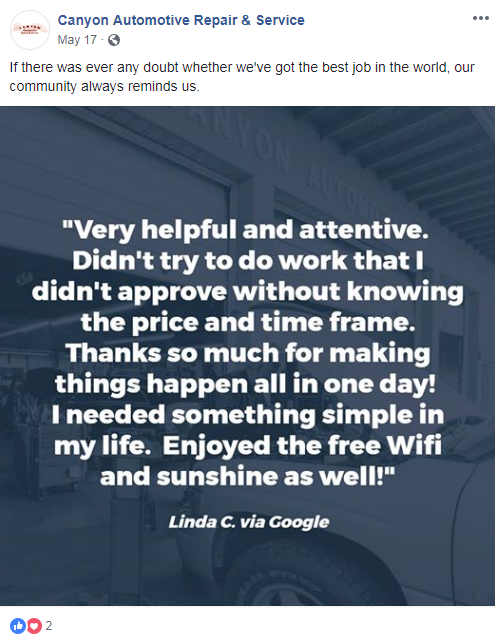 Note: If you're having a hard time seeing success for your Facebook posts try using boosted posts or putting some money towards a Facebook ad.
Since many businesses are on the platform trying to reach consumers just like you are, you can use Facebook ads to increase your reach and stand out among the crowd.
Related: Boost Facebook content to reach more customers
Integrating a paid strategy into your organic content strategy is a great way to get your business started on social media.
Twitter
Why should you post on Twitter?
When you're thinking of how you can get your business started on social media, Twitter might be a mystery. But, Twitter is where people go for their news and updates about everything in their lives, including the businesses and brands they love.
"Ninety-three percent of people who follow small- and medium-sized businesses on Twitter plan to purchase from the brands they follow. Sixty-nine percent have already purchased from an SMB because of something they saw on the network," according to Hootsuite.
Set up your profile
Upload your logo as your profile photo on Twitter. Being consistent with your brand across platforms will make it easier for your customers to identify and recognize you.
Add a compelling cover photo that shows off your business.
Update your profile to include a brief, compelling description of your business, your city, phone number and link to your website.
Tweet every day, 2-3 times a day, using relevant hashtags and integrating retweets and quote tweets into your posting strategy.
What should you Tweet?
Share photos of your team, products and services. When you show off your fabulous team and offerings, your audience will start to get familiar with your business, which helps build trust.
Promote your sales, specials and events. You can tweet these out multiple times to make sure your followers are aware of the specials you're running or events you're holding at your business. Just be mindful and don't spam your followers. Mix in other content as well.
Like, retweet and quote tweet local, community and industry news. It's the best way to interact with other users on the platform and spread the local love.
Join in conversations already happening on Twitter by checking out what's trending. And, start conversations by asking your audience engaging questions.
Use Advanced Search on Twitter to find users tweeting in your area. You can set up filters to find people in your area. See what your community is tweeting about, and if appropriate jump in and invite them in to give your business a try.
Tweet links to your other pages on Facebook, Instagram, Yelp and Google. This can get your Twitter followers interacting with you across platforms. For example, you can use Twitter to bring your followers to your Facebook page to RSVP for an event.
Share user-generated content.Take the great content your fans and followers are posting about you on Twitter and share it on your feed! You can do that by retweeting or by posting the original photo and giving credit in the caption.
Instagram
Why should you post on Instagram?
If you jump into Instagram when you get your business started on social media, you'll be sure to capture a younger audience. Plus, according to Sprout Social, "general Instagram user demographics include 35% of all U.S. adults with 1 billion monthly active users and 500 million daily active users. Its Stories feature alone boasts 400 million daily active users."
Set up your profile
Download the Instagram app on your smartphone. While you can access Instagram from your desktop, the platform is easiest to use on mobile.
Set up a Business Account in order to be able to measure and track insights.
Add a contact button so your followers can call or request directions to your business directly from Instagram.
Once again, use your logo as profile photo, write a compelling bio, (include hashtags and emojis!) and use GoDaddy's link in bio tool to link your website and other social media accounts.
Post 2-3 times a week. Quality, not quantity, is the key with Instagram. Make sure what you're posting is highly visual and engaging.
Use Instagram's editing and filter features to make your photos look amazing before you share!
Switch up your posting days and times to keep your feed varied and interesting.
What should you post on Instagram?
Instagram is all about great visuals. Keep in mind cropping, framing, lighting, and angles with each photo you share. And, above all, make sure the images you post on Instagram are high-quality. Then, pair them with a clever caption to amplify the messaging.
Post photos of your team, products and services. With any social media platform, you want to show off the people and products that make your business what it is. On Instagram, these images should be purposefully curated and well-edited.
Show off your space. Sometimes all your followers need to come visit your business is a reminder of what it's like to be there. Show them your interior and exterior and welcome them back.
Keep your followers up-to-date about events, giveaways and specials. You can run contests on Instagram encouraging followers to tag their friends for your giveaways. You can also use Instagram Stories to document live content at one of your events.
Related: 3 ways to use Instagram Stories for digital storytelling
Mix in video or Boomerang content. Take advantage of Instagram's video features to switch up your posts. Videos and Boomerangs can help make something simple more engaging.
Share user-generated content. Instagram users often tag and geotag brands and businesses. Monitor your engagement and share that content with your audience! Just remember to ask for permission to reshare, and when posting, thank and tag that user. You can also use reposting apps to make the process easier.
And, that's how you can get your business started on social media! Harness the power of Facebook, Instagram and Twitter to spread word-of-mouth about your business, reach new audiences and build relationships online.
Editor's Note: Need some social media guidance for your business? GoDaddy Social can help.
Engage your customers like never before with GoDaddy Social. We help businesses elevate their online presence on the platforms that matter most. Get started with us here.